Kirk Gibbs Extends Points Lead in Australia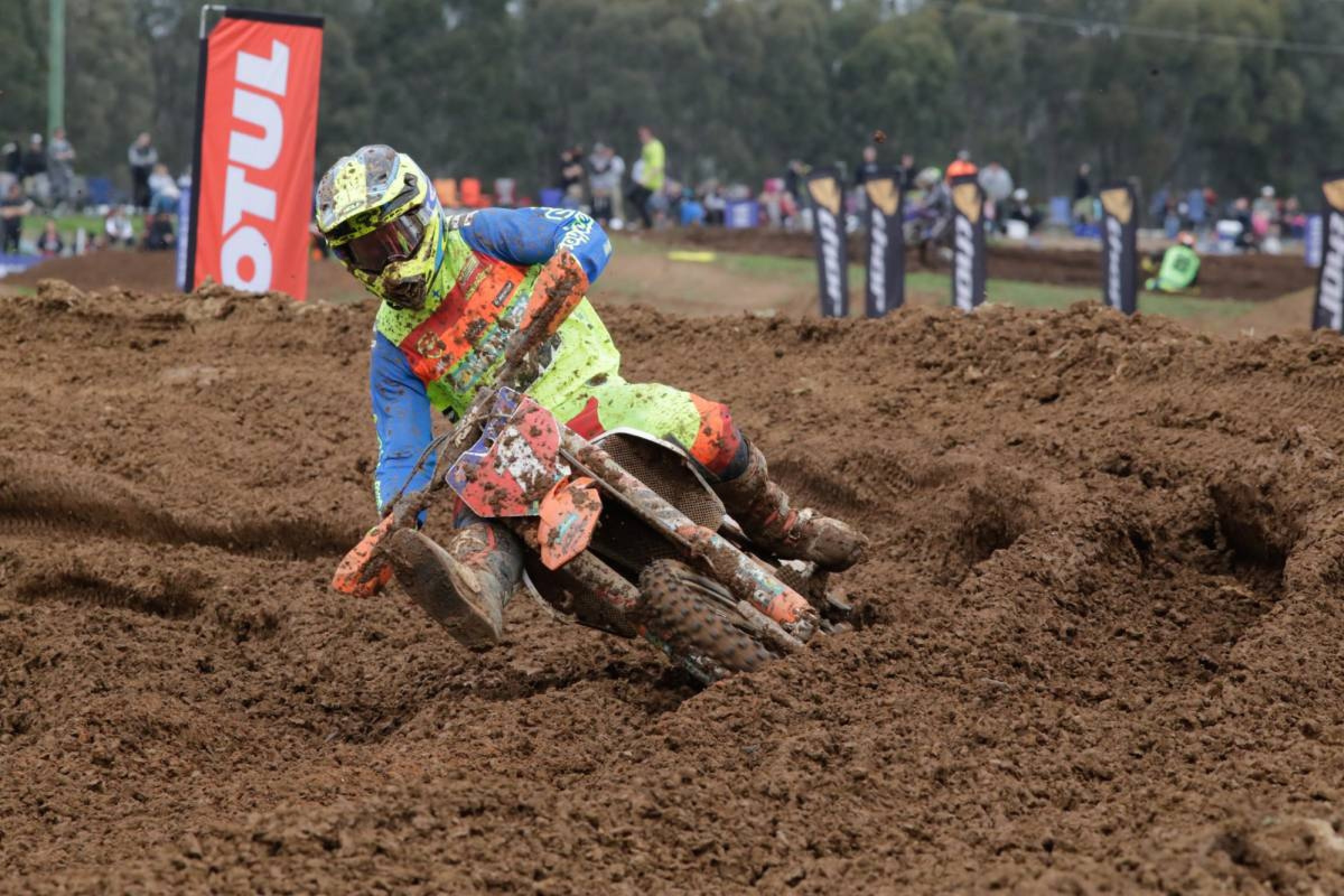 Report provided by MX Nationals Media
MX1
KTM Motocross Racing Team's Kirk Gibbs shined in Shepparton today, taking the Thor MX1 round win in front of thousands of spectators at Round 8 of the 2016 Motul MX Nationals.
With the championship being separated by only six points heading into the weekend, every raced proved to be crucial at Shepparton, with Gibbs eventually edging out tough competition to come out on top.
When the Premier Thor MX1 class headed out on to the circuit for their qualifying session this morning, the sun had well and truly come out, and tons of spectators had poured through the gates to watch the fastest riders in the country throw down their quickest times.
Gibbs emerged as the early man to beat in qualifying, while CDR Yamaha's Dean Ferris was also on the pace finishing the session in second. KTM's Jesse Dobson, Wilson Coolair Motul Factory Suzuki's Todd Waters and NPE Monster Energy Kawasaki's Kade Mosig were the final three riders to progress through to GoPro Superpole at the conclusion of the session.
Once all riders had completed their flying laps, it was KTM's Gibbs who secured his first GoPro Superpole win of the year with a lightening fast lap of 1:40.273, awarding him first gate pick and five vital championship points.
When the Thor MX1 bikes lined up for race one, all eyes were on the number one machine of Gibbs who was starting from pole position for the first time this year, but when gates dropped it was Mosig who secured the MXStore holeshot.
However, it took no time at all for CDR Yamaha's Ferris to move in to the lead, followed by Waters, Mosig, Gibbs and Crankt Protein Honda Racing Team's Wilson who completed the top five positions.
After only two laps, Ferris and Waters began to break away from the group, while Gibbs had moved up into third position, relegating NPE Monster Energy Kawasaki's Mosig to fourth.
By the time riders had completed five minutes of racing, Gibbs began to tag on to Ferris and Waters', and with a second consecutive MX1 championship on the line, Gibbs began eyeing off Water's rear wheel.
After 15 minutes, the running order saw Ferris maintaining his lead on Waters, while Gibbs continued in third position, followed by Mosig in fourth. KTM's Dobson had made his way past Wilson to move in fifth position, meaning Wilson and DPH Motorsport's Jacob Wright maintained sixth and seventh places respectively.
In what was a huge shock to spectators, on lap ten, Ferris made a small mistake, crashing and handing the lead to Waters - Ferris forced to re-join the pack in third position behind Gibbs.
From there, Ferris was under pressure to make up time, and with only ten minutes left on the clock the CDR Yamaha rider had his work cut out for him.
As moto one reached its closing stages, Waters looked more and more comfortable out in front, while Gibbs began to feel the pressure from Ferris who was attempting to claw his way back to the front of the pack.
When riders received the last lap board, Waters was in the box seat to take the moto one victory, but spectator's attention was well and truly on Gibbs and Ferris who were locked in to an aggressive battle for second position.
And it was on the final lap that the action played out. Ferris blew past Gibbs like he was standing still in the front section of the track, and not long after that, Gibbs came off and was forced to re join the race in third position.
But when the chequered flag flew, it was Waters who had reason to celebrate, taking the opening moto win from Ferris who finished in second, while Gibbs concluded race one in third.
Fourth place was collected by Mosig, while fifth was awarded to DPH Motorsport's Wright.
In race two, the hole shot was taken by KTM's Gibbs, followed by Mosig, however once again it took no time at all for CDR Yamaha's Ferris to assert his authority, moving past Mosig and up in to second position.
With the top three out in front with a healthy lead, Waters and Wilson began to battle for fourth place behind them, and before long Waters moved past the Crankt Honda machine to move up in to fourth.
As race two progressed, Ferris once again began to close in on Gibbs' lead, setting the final race up as a dash to the finish line.
By the half way point in moto two, the running order saw Gibbs maintaining a marginal gap on Ferris, while Mosig who was in third, was just fighting off a hard charging Waters in fourth. Fifth place was occupied by KTM's Dobson.
As race two reached its final stages, Waters made the pass on Mosig for third position, where he also began to eye off Ferris's rear wheel. But it was the battle for the top spot that had spectators on the edge of their seats, with Ferris continuing to close in on Gibbs' lead.
And with six minutes remaining, Ferris made a pass on Gibbs that stuck, allowing him to move in to the lead position, relegating last year's champ to second.
By the time riders received the last lap board, competitors were well and truly relieved, with the track getting rougher and ruttier as the afternoon went on, and with only one more lap to steer his CDR Yamaha to victory, Ferris looked ready to take the win.
However, in what was yet another shock to onlookers, Ferris once again made a mistake, going down when out in front which eventually cost him the win - Allowing Gibbs to stream to victory, followed by Ferris and Waters who wrapped up moto two in second and third places respectively.
When points were tallied, it was KTM's Gibbs who was awarded the round victory with 3,1 results, while Waters was handed second position after finishing on equal points to Gibbs on a countback. For Ferris mistakes at Round 8 proved costly, finishing in third position on the overall Thor MX1 podium.
Gibbs retains the red plate after Round 8, and continues to lead the Thor MX1 championship by nine points.
Kirk Gibbs – KTM Motocross Racing Team – Round 8 Overall Winner
"It's good to be up here. As everyone has said, the three of us are all riding very well, and it's coming down to who can put it all together. Two solid motos, with no crashes and no mistakes," Gibbs said.
"In the final moto things worked out well for me. I got the holeshot and I could feel Dean (Ferris) right behind me the whole time, when he made the pass on me, he ended up making a mistake so I'm happy to take the win.
"I'm just super happy to keep chipping away at this championship, and I'll never give up, so I'm going to keep fighting until the end."
Thor MX1 round eight results
1) Kirk Gibbs – 65 points
2) Todd Waters – 65 points
3) Dean Ferris – 64 points
4) Kade Mosig – 56 points
5) Jesse Dobson – 51 points
6) Jacob Wright – 49 points
7) Daniel Banks – 46 points
8) Joel Green – 46 points
9) James Alen – 43 points
10) Kurt Gow – 42 points
Thor MX1 Championship Standings
1) Kirk Gibbs – 538 points
2) Dean Ferris – 529 points
3) Todd Waters – 522 points
4) Kade Mosig – 437 points
5) Matt Moss – 381 points
6) Dylan Long – 359 points
7) Jacob Wright – 340 points
8) Jay Wilson – 320 points
9) Michael Menchi– 301 points
10) Daniel Banks – 299 points
MX2
DPH Motorsport's Yamaha rider Jed Beaton has secured his second consecutive round win, and been awarded with the Motul MX2 championship red plate, after a fiery Round 8 of the Motul MX Nationals at Shepparton today.
There was excitement from the minute bikes hit the circuit, and in traditional Victorian weather conditions this morning, the Motul MX2 class were the first riders to brave the cold and hit the track for their practice and qualifying session.
With 15 minutes to qualify, it was Husqvarna Australia's Nathan Crawford who put down the fastest lap time with a 1:37.717, 1.3 seconds faster than KTM's Caleb Ward, followed by Davey Motorsport's Jayden Rykers who concluded the session with third pick of the grid.
When the Motul MX2 class lined up for the first race of the day, thousands of fans watched on to see who would launch down the straight first, and when gates dropped it was KTM's Rykers who collected the first MXStore holeshot and moved in to the early race lead.
However, with vital championship points on the line, it took no time at all for DPH Motorsport's Beaton to take control of moto one, while Serco Yamaha's Wilson Todd followed suit, passing Rykers to move in to second position.
Red plate holder Crawford became the third rider to blow past Rykers and move up in to third position, and with a championship lead to defend, Crawford was not letting Beaton and Todd out of his sight. A notable absentee from the front of the pack was Ward – after three laps the KTM star was back in 10th position.
With four laps in the books, both Crawford and Todd began to close in on Beaton's lead, and with the lead group already heading in to lapped traffic, back markers added another dynamic to what was playing out between the bar banging trio.
But it was at the 12-minute mark that Todd made his move to the front, making a clean pass on Beaton in the top section of the track, relegating the DPH Motorsport rider to second position.
By the half way mark in moto one, Todd remained in control with the race lead, followed by Beaton, and Crawford, while Rykers continued to maintain fourth position, followed by Proformance Racing Team's Kale Makeham in fifth. Ward, who suffered a poor start had made his way in to sixth place, followed by Dylan Wills (Raceline Pirelli KTM) and Wade Hunter (Serco Yamaha).
With ten minutes remaining, Beaton began to feel the pressure of Crawford, who continued to edge closer and closer to his rear wheel, meaning any mistake at this point would prove critical to the overall championship – and by lap 13 things got aggressive.
Beaton break checked Crawford in a corner before the pair nearly came together over the finish line, but it was Crawford who made a pass stick, moving in to second position, leaving Beaton behind him.
With five minutes left to run, there was no change to positions, with Todd remaining out in front with only a minimal lead, followed by Crawford and Beaton in second and third.
However, in a huge twist of events, both Crawford and Todd were handed 15 second penalties for jumping under a yellow flag, which put Beaton in the lead with only one lap remaining.
And when the chequered flag flew, fans had been treated to an epic final lap, with Todd, Crawford, and Beaton all within striking distance of each other – However, it was Beaton who was awarded the victory from Todd and Crawford once penalties were applied.
Rykers and Ward completed the top five finishing positions, while Makeham and Wills were awarded with sixth and seventh places at the conclusion of the moto.
When race two kicked off, DPH Motorsport's Beaton once again launched out of the gate and in to the race lead, but this time Crawford was hot on his tail in second position, followed by Rykers in third.
After only two laps you could feel the tension in the air. A race win for Beaton in the final moto would see him the new red plate holder, making the last race of the day all that more critical.
With three laps in the books, Beaton continued to lead from Crawford, while KTM's Ward had made the pass on Rykers to move in to third position, where he began applying significant pressure on Crawford. And by the time riders headed in to their next lap, Ward had made the move in to second, relegating Crawford to third position.
With Ward on a charge, Beaton also began to come under fire from Ward's KTM machine, while Crawford continued not to let the lead pair out of his sight. However, by the time race two reached the halfway mark, Ward had gotten by Beaton to move in to the race lead, keeping spectators guessing as to who would emerge from the round as the red plate holder.
With ten minutes in the 20-minute moto remaining, Ward continued to lead from Beaton and Crawford, while Rykers remained consistent in fourth position, followed by Serco Yamaha's Todd in fifth.
As race two reached its final stages, Ward and Beaton had put significant ground in between themselves and third placed Crawford, providing the front pair with a clear track to allow the final battles unfold.
And despite Beaton's every effort to chase down Ward, it was Ward who crossed the finish line for the final time today victorious, followed by Beaton in second and Crawford in third.
But with 1,2 results, it was Beaton who was awarded not only the round victory at Shepparton but the Motul MX2 red plate for the second time this year, while second place on the podium was taken by Ward, followed by Crawford who collected third place at Round 8.
Beaton now holds the Motul MX2 red plate, equal on 507 points with Crawford with two rounds remaining.
Jed Beaton – DPH Motorsports Yamaha – Round 8 Overall Winner
"I'm really happy to finish with another round win here at Shepparton. The championship is coming down to the wire and we all want to win just as bad as each other now," Beaton said.
"When you're that close to each other on the track, and there's three of us going for a championship, then it's going to get a bit heated now and then, but we're all in it to win.
"I had a slow start to the season but I feel as if everything is coming together now. I feel confident and I believe in myself more than ever before so I'm really looking forward to these last two rounds."
Motul MX2 round eight results
1) Jed Beaton – 67 points
2) Caleb Ward - 61 points
3) Nathan Crawford – 60 points
4) Wilson Todd – 58 points
5) Jayden Rykers – 56 points
6) Kale Makeham – 50 points
7) Dylan Wills – 47 points
8) Keiron Hall – 45 points
9) Hamish Harwood – 44 points
10) Joel Wightman – 42 points
Motul MX2 Championship Standings
1) Jed Beaton – 507 points
2) Nathan Crawford– 507 points
3) Caleb Ward – 492 points
4) Jayden Rykers – 449 points
5) Wilson Todd – 412 points
6) Dylan Wills – 381 points
7) Hamish Harwood – 353 points
8) Joel Wightman – 341 points
9) Wade Hunter– 324 points
10) Kyle Webster – 296 points