One of my favorite moments of a national weekend is sneaking over to the starting line before practice and chatting it up with the riders before they head out. This is the ultimate press conference, because riders sit there on their bikes with no place to go and no place to hide from my inquisitive questions. It doesn't work this way in supercross, because a tunnel inside the stadium is so loud you become really annoying if you want to have a conversation, and also the riders often head into the stands to watch from industry seating. At a motocross track, the best and only seat is the one on the bike.
My Washougal's vibe would be good as soon as I saw "7deucedeuce" Adam Enticknap roll up. He hasn't raced since breaking his femur early in supercross, but this comeback ride also tied into the release of his new album, Heat 1, on iTunes. By Saturday it had already reached some ridiculous heights—seventh in iTunes' Hip Hop category, inside the top 30 in iTunes sales overall. 7deucedeuce is always pumped, but now he was returning to racing and hitting the charts at the same time, so I knew this would be off the charts, off the chain and even off the hook.
Dude was beyond pumped and it was, as usual, infectious. As far as the racing, Adam said his leg still hurt and he wasn't up to full fitness yet. However this was somehow delivered in a way that made me want to go buy lottery tickets. Positive thinking is everywhere with 7deucedeuce!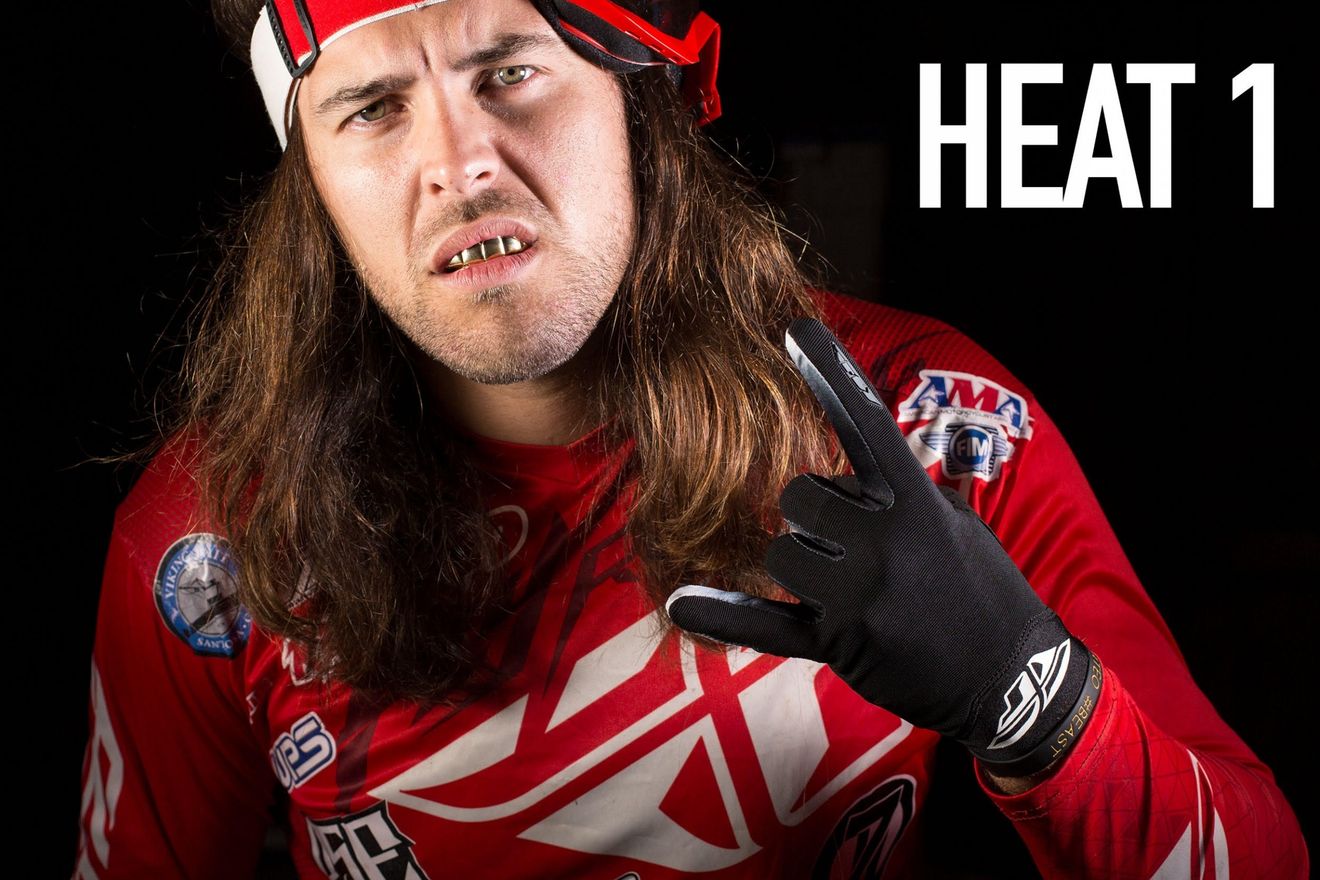 Yeah, how about more bad ass vibes? I chatted up 125 two-stroke mercenary Gared Steinke, who like Enticknap (7deucedeuce) never really goes by his name but rather a moniker, StankDog. Stank had everyone fearing a switch to a 250 four-stroke after he posted some Instagram pics of a 250F and then raced one at the Portland International Raceway money race on Thursday night. Thank God (yes, literally. Thank God. Following Stank's 125 two-stoke heroics has become a religion to the fans) that he was stuck with the 125 for the national. Stank told me it was cool to put everyone on their toes, though, so consider that IG pic of a four-stroke a focus group. Also, any sponsors who want to get on board with him for 2017 are probably going to have to pony up because this act is blowing up.
By the way, I asked Stank how it was possible to actually pass 250Fs on his 125. We've seen situations before where riders can go fast on slower bikes, but actually racing them is hard because you can't make passes. Just try to pass a 250F in a corner on a 125—outside or inside, the other guy will just pull back ahead coming out of the corner or on the next straight. Stank told me the secret: wait until 18 minutes. That's when everyone gets tired and he can start going through them. A two-stroke and fitness? It's like this man was built on an internet message board.
Stank gets the fans talking, but the monster of that category is James Stewart. James has been pretty private throughout his career but even he can't escape the trap that is those 10 minutes before practice. He was all alone, sitting on his bike. So I started talking to him about #dadlife and it turns out that even James Stewart deals with being a new dad the same way the rest of us do. James hasn't been getting much sleep lately, and he was actually happy during one day at the hospital when his mom and some family came in, and the hospital room put a limit on visitors, which meant James had to step out—so he could catch a nap in the parking lot in his truck!
I told him I figured he'd have some palatial suite of a hospital room that held 100 visitors, and that he could just helicopter home if he wanted a nap in a real bed. Nope. James was just trying to catch winks in a chair like the rest of us. And his wife went through several days of labor without sleeping at all, so he officially knows she's tougher than him, too. All in all, it was a fantastically regular conversation about regular stuff with James. And while James might be struggling on the track right now, he seemed just as happy as Stank and Deuce. Why? Because James finally got a full night of sleep on Friday night!
Talking to James didn't feel any different from the next guy, either, Noah McConahy, who I ended up profiling in 450 Words earlier this week. He was pumped to be at his home track and pumped to be scratching out a living on a dirt bike. The privateer stories are always awesome. Later in the day, I ran into Heath Harrison, who, like McConahy, has been opening some eyes this summer with great rides. But Heath woke up sick in the middle of the night the Friday before Millville and struggled big time in the motos. A few days later he was riding somewhere in Nebraska and wasn't even sure he was up to heading to Washougal. Finally on Wednesday he and his mechanic Tony Plaissance decided to load up the Sprinter van and hammer down to the Pacific Northwest, which was about twenty hours away. They drove through the night and made it by Thursday at 4 p.m., just in time to roll into Portland International Raceway, where Plaissance rolled a bike out of the van and went racing!
On Saturday evening at Washougal, I saw Harrison—who took sixteenth overall—stopping by the BTOSports.com-WPS-KTM truck grabbing used plastic. Privateers will take whatever they can get. Harrison and Plaissance were then going to figure out their next destination, with two weeks between Washougal and Unadilla. He said they might just drive all the way back to home base in Alabama. Harrison said if he could just make it to Tennessee it would at least "feel" like he was home. That's life as a road dog.
Lots of action at the BTOSports.com-WPS-KTM truck. While Harrison was bumming plastic, Justin Brayton's mechanic was trying to rebuild a bike that got thrashed in a huge crash in the whoops. Brayton was inside, trying to put himself back together after that crash. Not far away was Andrew Short, now covered in silly string thanks to Washington superfan Moser, who had a special day planned for his favorite rider. Since Shorty is retiring, Moser presented him with a gold watch and fanny pack. Then, as the final 450 moto ended, he bombarded the race track and covered Shorty with silly string. It was awesome.
[Video by: Pookie Matthes]
But no part of the Washougal weekend packed the vibes of the 125 Dream Race during intermission. I bolted out of the TV truck during our brief break and saw what seemed like the entire industry down near the mechanics' area watching. These people were pumped! And with familiar names Tedesco and Ping doing some real battling, all the heavies had something to root for.
[Video by: Grant Langston]
Of everyone down there during that 125 race, though, no one's presence was bigger than Stank Dog, who actually rode his bike down to the mechanics' area and laid it against the fence. He stood next to the track and gave hand signals to all of the riders, as he's now the leader of the 125 brethren. He was especially pumped for his mechanic, who was out there racing on the KTM 125 Stank raced last year. But Stank didn't just cheer for his wrench. He gave love to every rider on every lap. Positive vibes. Saturdays at the races are full of them.