Washougal, WA
Washougal
Lucas Oil AMA Pro Motocross Championship
Washougal time! Round 9 of the Lucas Oil Pro Motocross Championship took place in the beautiful Pacific Northwest. Besides the awesome scenery, the PNW features a variety of these little drive-thru coffee huts that serve up deliciousness all damn day. I, along with a lot of people in the pits, love heading to this race—the track surface is not ideal, the viewing of said track is also not ideal but everything else is awesome.
The 250MX class is heating up! We all knew it would at some point because history says that's what happens when you throw a cup of pressure in with a pinch of fame, a handful of money and some youth all into a bowl. You get a powder-keg of emotions ready to blow up!
I spoke with Joey Savatgy last week and he mentioned that he's had to make something happen at Washougal or in his words "it ain't gonna happen" and I pretty much agreed. The early season points leader, Savatgy looked awesome all year until a crash at RedBud seemed to knock the wind out of his sails while Yamalube/Star Racing Yamaha's Cooper Webb started to set sail.
The drama in this race started in the second moto when Savatgy got by Webb down a hill on the first lap. Joey drove it in pretty deep and probably couldn't stop that well, so he pushed Webb far to the outside and both riders lost a spot to Austin Forkner. Could Joey stop in time to make the middle of the corner and make the pass? We'll never know. In my opinion, he probably wanted to show Webb what's up a bit with the move. It wasn't dirty, but it was a bit greasy. When you're fighting for a 250MX title though, greasy is fine in my book. Once you have the number one plate, a legacy in the sport, all the money—no one really remembers the grease, bro.
But, if there's one guy that you don't want to make a greasy move on, it's Webb. For reasons that are only known to Savatgy, a few turns later he went a bit wide in a turn (note to racers everywhere: don't pull a greasy move on a rider and then leave the inside open shortly after. EVER!) and Webb smartly dove to the inside on the left and then in the immediate next right he just stopped. Whether he lost some balance and did that on accident can't be determined. But I think he knew exactly what he was doing. His plan was to pass Savatgy on the inside, brake check him, and HOPEFULLY knock Joey down and then go on to win the moto.
But it didn't quite work out that way as Savatgy plowed into Webb and both riders went down! Bye-bye went Webb's overall win, bye-bye to Savatgy making up any points on the day and in the melee, bye-bye to Jeremy Martin's race, as he was also taken down (as were a bunch of other racers) in the tight turn. Webb got up and rode great to salvage a sixth and third overall; Savatgy went down again later and ended up eleventh and afterwards everyone was mad at each other for something.
Savatgy's move on Webb was, as I said, a bit greasy but defendable. Webb's move on Savatgy was also greasy but not that smart. His pass on the inside was great but he's got to make the pass, take off after Forkner, pass him and go 2-1 for the overall win. Then as you're getting the trophy, you inform Joey that despite his move, you still won and suck on that fact for a while. Instead he wanted to punk Joey a bit (in my opinion, if he did indeed not mean to brake check him then I offer up my apologies) and instead he goes down. Once that happens, you never know. Maybe his bike breaks, maybe he gets run over like Jeremy Martin and hurts his ribs. Maybe he loses a ton of points, etc, etc.
When fighting for a title, sometimes you need to have bigger goal in mind and play it safe, but this is stuff that I've typed before about Cooper. His emotions are a bit of what makes him special and he'll learn what I'm talking about one day as he gets older. They all do.
Still, Webb came into Washougal 38 points up and left 51 up. So, yeah, there's that. Kids, please don't brake check people and think that your points lead can actually grow—this was a rare case!
All this stuff overshadowed Alex Martin winning his first moto of the year and his second overall of the season. A-Mart's been so close to winning a moto this year and might have gone 1-1 last week if not for some mistakes. This week Alex didn't falter despite big pressure from Savatgy through the entire first moto and in the second one he was the beneficiary of Webb's move because he was about tenth or so and came out fifth after the chaos. Martin's fitness has been on point all year long and he slowly worked up into second behind Forkner to take the win. Great work by Alex. Out of Cooper, Joey and his brother Jeremy, Alex has been the most inconsistent of the four but this win allowed him to pull within four points of Jeremy for second in the series. By the way, these four riders have won every overall this season, every moto but two and led all but 56 laps.
Oh, hey, Austin Forkner won his very first professional race at Washougal! Granted a nine-second lead by the Webb/Savatgy issue, Forkner brought her home in style and looked great out front. It was basically a practice moto for the 214 and congrats to him. His 10-1 score got him second overall and it's been a little quiet to me just how good this kid has been.
Jeremy Martin was really the poor victim here as Webb's move left him on the ground, and then Adam Cianciarulo had nowhere to go and ran him over, breaking two of his ribs. J-Mart was dead, dead, dead last and gave it all he had to end up seventeenth. I wrote last week that I thought Jeremy was just over this year and wants a fresh start. He's never told me that, but the thought again came into my head in the first moto when Webb caught and passed him. 2014 and 2015 Jeremy would've made a run at Webb, and might have outlasted him instead of just sort of letting the points leader go. Maybe the "old" Jeremy wouldn't have passed Webb back but I would bet you that he would've fought like hell over the spot.
Jeremy's taken to pitting out back of the Star Racing team truck in his own little area with an E-Z Up the last few races. All you people want to tell me that all is cool over there with Star, Webb and J-Mart? Go ahead. I'll be over here in Jeremy's area listening to you babble on. Actions speak louder than words sometimes.
In the 450's it was another Eli Tomac/Ken Roczen show but for the second time this year, it was reversed! Tomac was the one who hunted down Roczen in the second moto, passed him and left him behind to take the overall win with 2-1 scores. Late in the first moto Tomac made up some serious time on Roczen and I was thinking that it was Kenny relaxing a bit with a comfy lead but maybe not. Perhaps Tomac found something as the track got way harder, slipperier, and rougher. Whatever it was, the second moto was a tour-de-force ride from #3 and had to be, like Southwick, a relief.
I know the Kawasaki guys well and they're tired of all this talk about Tomac, his bike and how he's only good at Daytona (the only supercross track that is like that) and Southwick (the only national track that is sand) and how the bike sucks. They've now won on hard, dry, rough dirt so that has to be a relief to everyone involved.
Roczen didn't seem too worried about the second moto and why would he be? He's got a nice lead in the points and he didn't lose any of them to Tomac. Afterwards Roczen told me this:
"I'm not pissed about the day at all….This was the hardest and the driest I've seen this track in general. Plus it was sketchy. The sun came out. We were racing a lot later. Obviously I was trying. I kind of let Eli by just because I knew he was going to be faster and I kind of wanted to follow him and this and that, but I couldn't hang.
"I just kind of rode around there and just kept it safe, honestly. I think once the race was done I was more just happy that I can get out of here safe and we have a couple of weekends break now. We're off racing, so I think that will come in handy for all of us, not even the practice part or the training part but actually just being at home over the weekend and not having to travel. So it's whatever. I'm pretty stoked on it. It's one of the weekends we got another one done. I think first and second is not necessarily bad"
People want to get on Roczen for making excuses when he loses but in the quote above he said he "couldn't hang" with Tomac so that seems to be pretty honest.
Washougal is always a great track for Marvin Musquin as he's won three out of the four motos he's raced there. The problem is those were in the 250MX class. Still, we thought Marv would be very fast and he was. In the first moto he was making moves coming from around tenth to fourth and all over Tomac. Then he fell, which generally would've been the end of that charge. But oh no! Musquin got up and started catching Tomac AGAIN! Eventually Tomac picked it back up and Musquin settled for third. In the second moto the Frenchman couldn't match the pace of #3 and #94 but he was way better than anyone else and basically rode around by himself to go 3-3 on the day.
When Ryan Dungey went out of the series we wondered who would fight for third. After Round 4 (the first race with no Dungey) Musquin sat eighth in the points. Now, with three races left, he's third with a thirty-nine-point lead on Justin Barcia and has podiums in five out of his last six motos. Yeah, there have been some injuries in the class but Musquin has raised his game significantly.
Hey, what about Team USA and the Motocross of Nations? That's coming up and I know from past years that manager Roger DeCoster likes to have the team announced by Unadilla, which is in two weeks time. I asked RD about it at Millville and he said he hadn't thought all that much about it. That's weird to me and perhaps Roger just didn't want to tell the media guy about it, but usually when you ask Roger DeCoster a question, you get a very honest answer.
Don't worry Roger, I've got it all figured out! As I've said on various shows, my Team USA would be Eli Tomac (who said on the Pulpmx Show two weeks ago that he'd go despite having to do two USGP's right after the last national. There's ZERO chance Tomac wants to do these races but the big green claw has spoken) and Cooper Webb on a 450 and whomever finishes the highest between J-Mart, A-Mart and Savatgy in the 250 class. Yeah, I know Barcia's been good at this race but he isn't the same guy this year. Webb's been great, he rode a 450 last year and he was very fast. Plus, he's going to 450 next year so just make it happen.
As far as 250's are concerned, as I wrote last week Jeremy is changing teams next year and I think relations are strained so I'm not sure the team would want to spend what it would take to get Jeremy there. However, Jeremy himself told me he would go and ride a Yamaha if selected. His brother Alex is also leaving Star but I think things are better with him so maybe he goes. And Savatgy hasn't been there (DeCoster has told me values past experience in the event) before but if he ends up second in the points, then I think he's earned it. Plus Mitch Payton and Pro Circuit are always pumped to support this race. Part of me would like Alex to go because it's a hell of a story that a past Team Puerto Rico rider who is American gets to actually ride for Team USA.
As a mechanic for a long time on a lot of teams (PJ1 Yamaha, Moto XXX, Red Bull KTM, Yamaha) I can relate to everyone having a bad day at the races. Funny that the competitor in all of us seem to remember the bad days more than the good, right? Well, Rockstar Husqvarna had one of "those" days at Washougal. Let's add them up: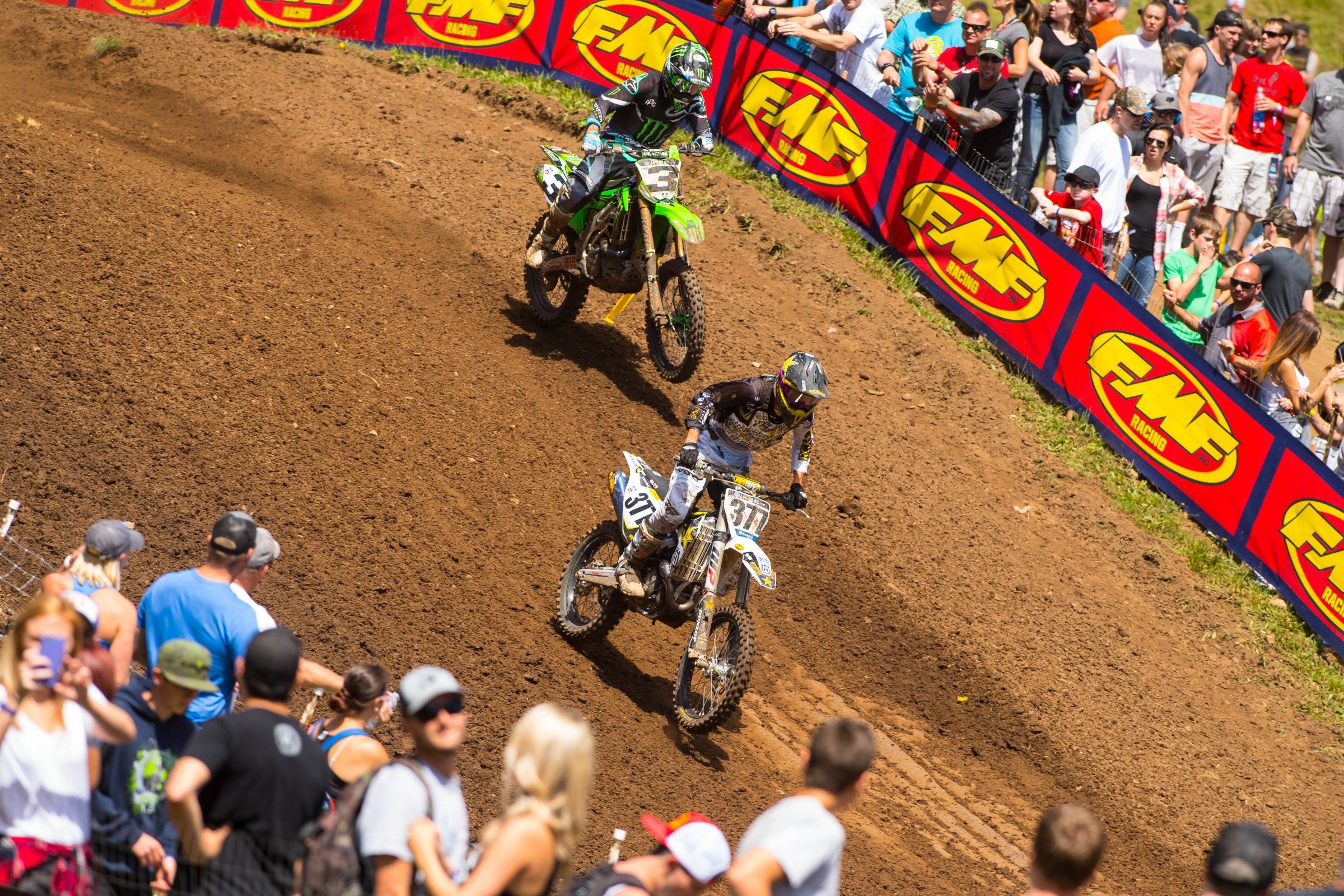 In the first 450 moto Christophe Pourcel was having a great moto, running in second place for twenty-seven minutes. With three laps to go Tomac had just gotten the 377, but Pourcel had third place in the bag when a scrub went wrong and he crashed hard. That's a DNF and a bruised body right there.
Zach Osborne's fifth in the first moto was good and he was looking for another one when his bike went BANG up the famous Washougal hill. There's a DNF.
Not to worry though, Martin Davalos was crushing it out front in second and looking good to wind up with a podium when, like Pourcel, with three laps left in the moto, he flew off the track and into the crowd over by the podium in what witnesses said was a scary crash. He was okay but that was a DNF.
And to top it off, I heard the Rockstar Husky truck had some battery/generator issues and caught fire.
So 12-5-DNF-DNF-DNF-6 finishes for the three riders and one broken down truck. Rough day for Bobby Hewitt and the guys. I've been there and these types of days really suck. Oh what could have been for the team!
Let's take a look at the results shall we?
(Note: I'm up in Park City, Utah, for the SCOTT goggle launch and trying to finish this column. If I don't comment about a rider, it's not because I hate him. It's because it's late and I've got to wrap this thing up.)
250MX Results
1 26 Alex Martin Millville, MN Yamaha YZ 250F 1 2- It's unbelievable that A-Mart's risen above his modest beginnings in the sport to now be winning and stuff. He got off Privateer Island in a big way! Congrats to him.
2 214 Austin Forkner Richards, MO Kawasaki KX 250F 10 1- I know, I know I keep saying it but it's true, bro—wait till you see this kid in supercross.
3 17 Cooper Webb Newport, NC Yamaha YZ 250F 3 6
4 37 Joseph Savatgy Thomasville, GA Kawasaki KX 250F 2 11
5 36 Justin Hill Yoncalla, OR KTM 250 SX-F FE 8 4- WHOA! Look who's back—the always "he's coming back soon" Justin Hill! We've been waiting for Justin to make it back but it always seems strange when he's not there. I didn't think he'd ride for the TLD KTM team again but he came out for his hometown race and showed great speed all day. Should we look for him at Unadilla? The mind wonders…
6 44 Adam Cianciarulo Port Orange, FL Kawasaki KX 250F 6 7- AC felt bad for running into J-Mart and hurting his ribs but he really had nowhere else to go. Of course this hasn't stopped me from telling him how I can't believe he ran over the champ and is the "rib killer". I think I hit him so bad that he actually texted Jeremy sorry.
7 23 Aaron Plessinger Hamilton, OH Yamaha YZ 250F 9 5
8 66 Arnaud Tonus Switzerland Kawasaki KX 250F 7 8- I bet Tonus might be the ONLY guy who's stoked about having to race the two USGP's at the end of the year. He's looking for a ride and all his buddies will be there so if he performs he can show people on both sides of the ocean he's back.
9 13 Jessy Nelson Paso Robles, CA KTM 250 SX-F 16 3- Hey, look who's back! Nelson's had a terrible year due to injuries and I have to admit that when I saw him up front in the second moto I wasn't sure he could stay there since he hasn't been riding much. But full credit to him, he fought A-Mart to the end and got a podium. This is a sign of how fast the dude is. If he's healthy next year he could win indoors and out.
10 42 Mitchell Oldenburg Alvord, TX KTM 250 SX-F FE 11 9
11 1 Jeremy Martin Millville, MN Yamaha YZ 250F 4 17- We got the news yesterday that Martin's got a rib injury and we'll have to see what happens from here but in my opinion we've seen the last of him at the nationals. Those injuries aren't easy to deal with.
12 45 Kyle Cunningham Aledo, TX Suzuki RMZ 250 13 10- Cunningham was upset at me for something I wrote a few weeks ago about him being a 250 class lifer. I like Kyle, hopefully he gets over it. But the facts are: he is, in fact, that. No matter, nice work by him at Washougal and he's picked it up lately.
13 16 Zachary Osborne Abingdon, VA Husqvarna FC250 5 33
14 46 Luke Renzland Hewitt, NJ Yamaha YZ 250F 15 12- Renzland got screwed because he got to his hotel on Friday early but couldn't check into his room until, get this, 3:30! What hotel actually doesn't have rooms until then? So if you saw a scruffy looking dude with a Yamaha hat sleeping in a hotel lobby on Friday, it was not a hobo. It was Renzland.
15 31 RJ Hampshire Hudson, FL Honda CRF250R 18 14
16 49 Martin Davalos Ecuador Husqvarna FC250 12 32
17 48 Anthony Rodriguez Venezuela Kawasaki KX 250F 39 13- Word is A-Rod is going to move to 450's for Unadilla and his teammate Tony Archer is going to take A-Rod's 250. Stay tuned.
18 403 Tristan Charboneau Tenino, WA Honda CRF250R 19 16- Back from injury, Charboneau is looking to try and get back the mojo he had at the beginning of the nationals.
19 84 Jimmy Albertson Shawnee, OK Suzuki RMZ 250 17 18- Millville was a good track for Top Jimmy and as he pointed out to me, so is Washougal. Two motos in the top twenty I'd say proves that point.
20 289 Mitchell Harrison Brighton, MI Yamaha YZ 250F 14 35
450MX Results
1 3 Eli Tomac Cortez, CO Kawasaki KX 450F 2 1- Well, now we're back to wondering if this win can give Eli the confidence in the last three races to race with, and beat, Roczen more often. We'll have to wait two weeks to see.
2 94 Ken Roczen Germany Suzuki RMZ 450 1 2- Have you seen KR's Instagram? There might not have been a rider more looking forward to the two weeks off than him. Monday AM he was #lakelife, Tuesday he's #rockclimblife, Wednesday he's probably renting a space shuttle or something.
3 25 Marvin Musquin France KTM 450 SX-F FE 3 3- Life must be rough for Marv with Anderson and Dungey hurt. He's with trainer Aldon just getting bored and putting in the work all by himself. At least he's got KTM's GNCCer Kailub Russell down there to keep him some company.
4 28 Weston Peick Menifee, CA Yamaha YZ 450F 7 5- Bad crash at Millville and then Peick puts in his second best race of the year. He probably would've went 7-4 but he stalled it in front of Barcia with two laps to go. Maybe Peick should get clipped in the head by a 450 in the air more often? I wouldn't recommend it but the crash at Millville seemed to inspire him.
5 51 Justin Barcia Madison, FL Yamaha YZ 450F 10 4- Whenever Barcia has his teammates Peick or Nicoletti in front of him or when they pass him, he does seem to get extra angry. Maybe the team needs a Peick jersey on a stick hanging in front of him?
6 29 Andrew Short Colorado Springs, CO KTM 450 SX-F FE 6 7- Short says injuries to other riders are why his results are better lately but that's just him being humble. He's gotten way faster in the second half of the season and is going out the right way. Want to know how to act with your team, the media and fans riders? Follow this guy's lead right here.
7 167 Benny Bloss Oak Grove, MO KTM 450 SX-F FE 5 9- I don't think Benjy likes ANY of my crazy ideas about what he should do next year and that's okay. He can go his own way which I think would be a good salaried ride on a full 250 team next year. You know what? He might just get it if he keeps these rides up.
8 34 Phillip Nicoletti Cohocton, NY Yamaha YZ 450F 4 11- Phil holeshot the first moto and was two feet from leading a lap when Roczen passed him at end of whoops. Afterwards, Phil called Roczen "a prick" for not letting him have some glory.
9 15 Dean Wilson United Kingdom KTM 450 SX-F FE 8 10- Wilson was pissed after the race but he went 11-11 last week and 8-10 this week so that's better, right? I think Dean-O is suffering from the "Benny Bloss" effect where if this three digit giraffe is beating you, you're pissed.
10 43 Fredrik Noren Sweden Honda CRF450R 15 8- Fast Freddie is good at Washougal and set a season best with his ride in the second moto. First moto he had to come from a long ways back to get this spot.
11 53 Tyler Bowers Danville, KY Kawasaki KX 450F 12 12- The Bear's best ride of the year so far and he was steady the whole day. With two weeks off to ride some more he might start to get into the top ten at 'Dilla.
12 96 Noah Mcconahy Spokane, WA Husqvarna FC450 11 13- Nice ride by Noah at his home track. Seriously, really good for him.
13 377 Christophe Pourcel Dade City, FL Husqvarna FC450 37 6- I fully didn't expect CP to line up for the second moto after his big crash the first time around but props to him for doing that and getting inside the top ten.
14 63 Jesse Wentland Elk River, MN Honda CRF450R 14 14- Wentland hasn't had a great season but he was good at Millville but then again, it's his home track. So the jury was out on Jesse's "goodness" until after the second moto where he logged some more good scores. If he catches fire and starts being top privateer each week at the last three races, no one will remember the crappy beginning.
15 7 James Stewart Jr. Haines City, FL Suzuki RMZ 450 9 36- Stew was back again and Stew rode well again to get a top ten in the first moto. Then he pulled out again. His mechanic told the media blisters at Millville but JS7 seemed to indicate it's not that and he's just not in shape to do two motos. Anyways, like I said last week: he's just got to build small victories each week and soon it will add up to something. I can't believe I'm typing all of this about James Stewart.
16 99 Heath Harrison Silverhill, AL KTM 450 SX-F FE 19 15- Heathcliff was sick at Millville and couldn't ride so it's good to see him rebound at 'Shougal with more strong rides. With him riding a KTM that's orange and named Heath, I'd like to see Heathcliff the Cat butt patch ASAP.
17 11 Kyle Chisholm Valrico, FL Honda CRF450R 18 16- Chiz has a new suspension guy and he's reborn! Well, kind of anyways.
18 10 Justin Brayton Fort Dodge, IA KTM 450 SX-F FE 13 34- Scary crash for Brayton in the second moto where he appeared to be out cold for a bit.
19 68 Cole Martinez Rimrock, AZ Yamaha YZ 450F 16 20
20 95 Dustin Pipes Madera, CA Suzuki RMZ 450 23 17- Yeah, Pipes with his first points of the year. Nice work for him, he was really on the pipe this weekend. Sorry, I couldn't help it.
Thanks for reading, appreciate it. I'm back in this space after Unadilla but in the meantime I'm cooking up some columns and podcasts to take up some space while there's no races. Email me at matthes@racerxonline.com if you want to chat.