Southwick, MA
Southwick
Lucas Oil AMA Pro Motocross Championship
Welcome back, Southwick, or The Wick 338 as it's been rechristened by the new generation of event organizers that include local hero Keith Johnson, his father Rick "the OG" Johnson, John Dowd, and the man who put up the money to get racing back on track, Mike Grondahl. The Wick hasn't been on the Lucas Oil Pro Motocross schedule since 2013, when Red Bull KTM's Ryan Dungey won here for the third time on a 450. Unfortunately RD1 is not here this time due to a neck injury. So for a refresher on this long-awaited return to the series, we thought it might be cool to look back at every Southwick National winner ever in an event that ran from 1976 to 2013, and of course illustrate it with the man who's almost certainly shot more photos at this race track over the years than anyone: Paul Buckley, a New England MX institution in his own right.
DOUG HENRY: One of the all-time most popular riders ever at Southwick is Doug Henry, who joined his friend and neighbor John Dowd in the winner's circle in 1998, both on Yamahas, Dowd winning the 125 Class on a YZ125 while Henry topped the 250s with 1-1 scores aboard his YZ400F. But Henry had other national wins here too, taking the '93 and '94 overalls in the 125 Class while riding for Team Honda, en route to the 125 National Championship in both seasons.
JOHN DOWD: Then there's the ageless Junkyard Dog himself, Dowd. He won his hometown race twice, in 1997 (250 Class) and 1998 (125). He was riding a Yamaha both times, and while the first one was memorable as a wild crowd pleaser, the second one was probably more special in that he beat Rick Carmichael straight up in the second moto, after winning the first as the GOAT's bike expired in the Southwick sand (a terrible problem over the years for Mitch Payton's Pro Circuit Kawasaki's here).
RICKY CARMICHAEL: But don't feel bad for RC losing that one, because he got the job done on a 125 in '97, as well as '99, and then from 2000 to 2007, he won every single time! That's a record for any track—nine straight wins—and ten all together (really puts Dowd's victory over RC in '98 into perspective). He did his winning (in order) on Kawasaki KX125s (twice), a Kawasaki KX250, a Honda CR250 (twice), Honda CRF450 (once) and a Suzuki RM-Z450 (three times). Carmichael's work at Southwick is similar to what Jeffrey Herlings has done at his hometown sand track of Valkenswaard, where he's never lost a moto since turning pro in 2010.
RYAN DUNGEY: His three wins all came in the 450 Class, and it might have been four if not for a motor problem that saw him miss the start of the second moto in 2011, though he made a minute-back-from–last-scramble to salvage seventh-place points. Dungey, by the way, never won here in the 250 Class.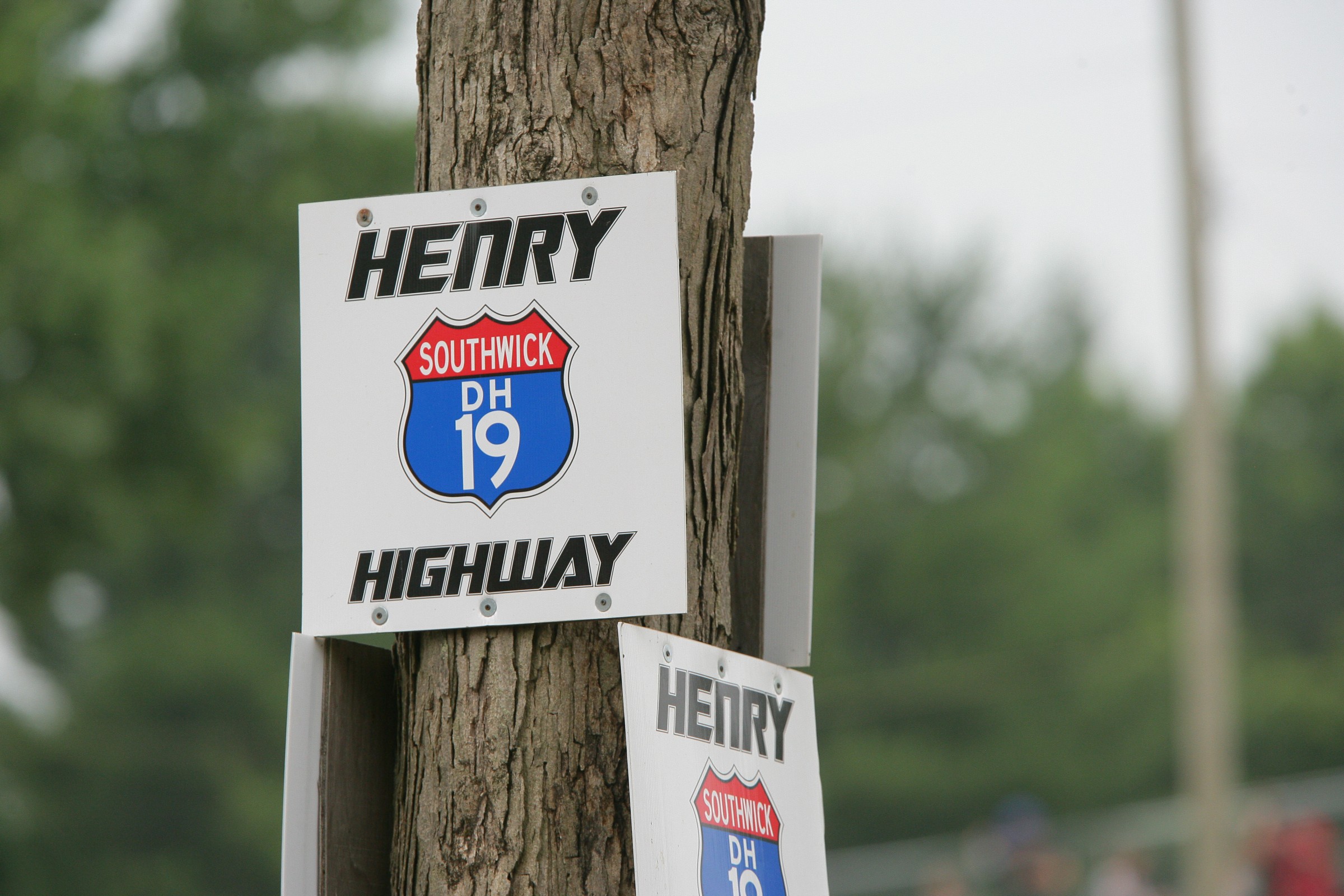 BRETT METCALFE: When Dungey couldn't make that start in 2011, the recipient of the good luck that befell him was Suzuki's Brett Metcalfe, who would take his one and only AMA Motocross win that day, much to the delight of his family, who were here from Australia to see his best day as a pro. Metty was owed this one, because a year earlier, on a GEICO Honda, he had a straight-up moto victory in the bag until his bike ran out of gas!
MATT GOERKE: Maybe one of the most unlikeliest winners ever here was Yamaha's Matt Goerke, back in 2009 on a mostly miserable day. Goerke was a fill-in for an injured-riddled Team Yamaha. The Floridian won the 450 Class with 6-1 moto scores on a wet, rough day. Like Metcalfe, this Southwick represents his one and only AMA win…
CRAIG ANDERSON: …As it also does for Yamaha of Troy's Craig Anderson, the Australian who was an unlikely winner in 2003. Ando was fast, no doubt, but this was the rare race where it all came together for him. Rather incredibly, Southwick marked the only win for both Metty and Ando, and the wins came at a place a place where their much more successful countryman, Chad Reed, never won at. Reed was fast here and won a 450 moto once after a rare Carmichael bobble in 2005, but bad luck always plagued him here in the overall.
DANNY SMITH: And let's not forget about Idaho's Danny Smith, who had a few big breaks in 2002 to take the overall with 1-5 moto scores for his one and only success as a professional. Riding for Blimpie Suzuki, he was helped by a blown engine for rookie James Stewart and a shoulder separation for Chad Reed in the middle of the race. But he was also racing the week after he lost his older brother in a farming accident.
ELI TOMAC: While we're focused on the small-bore class, let's mention a couple of guys that have won here on 250s, but will now try on 450s, including Eli Tomac, who was once tackled by a tree here near the Buckley Berm while trying to mount a comeback. The GEICO Honda rider did get the 250 win here in 2013. He will be back this year, of course, looking to put a stop to RCH Racing's Ken Roczen's brilliant run in the 450 Class. As for Kenny, he's never won the O/A at Southwick!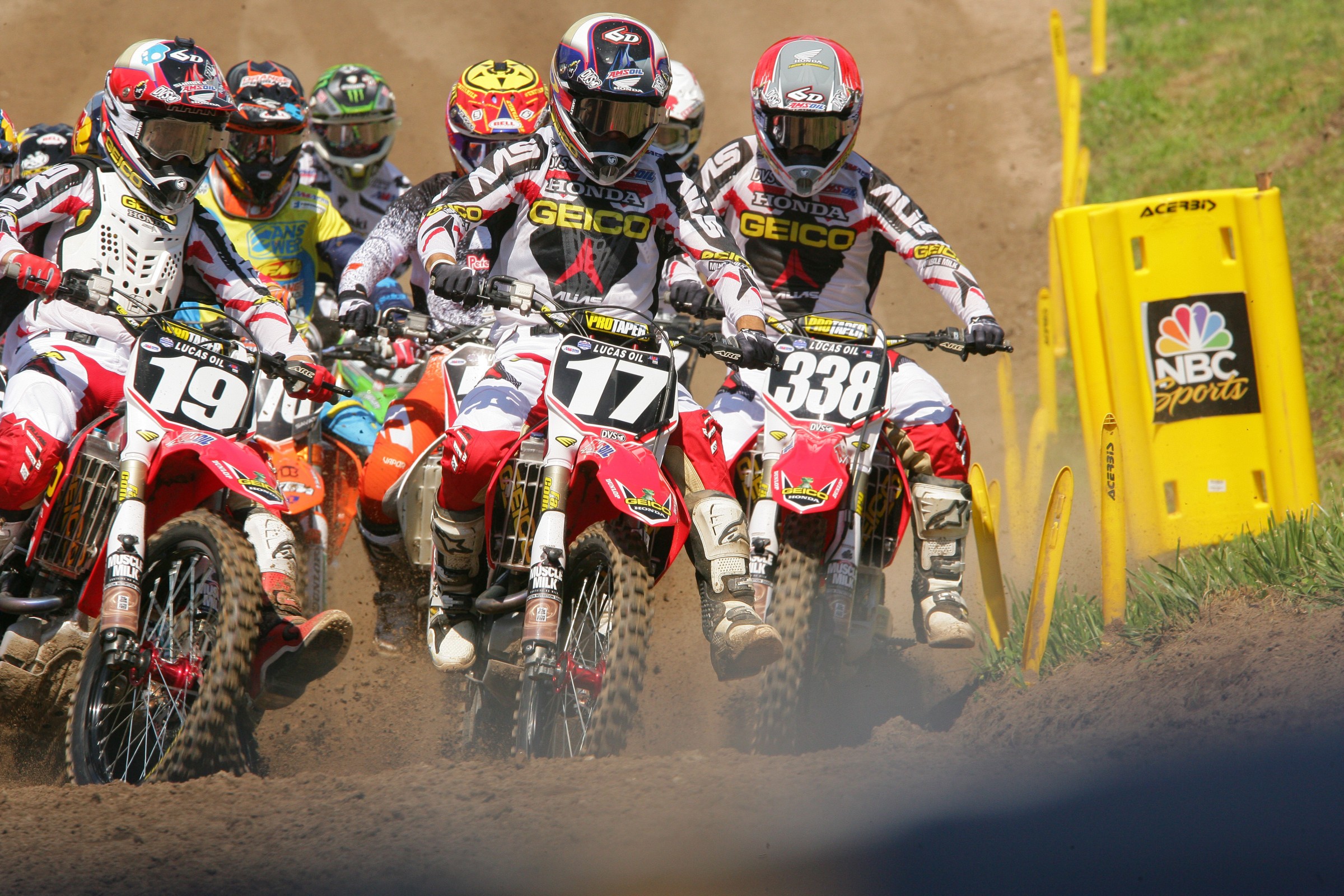 BLAKE BAGGETT: Staying with the 250s, Blake Baggett was a rare recent winner here for Mitch Payton's Monster Energy/Pro Circuit Kawasaki team, taking the overall on his way to the 2012 Lucas Oil Pro Motocross Championship.
JUSTIN BARCIA: The winner in his rookie pro season in 2009 while riding for GEICO Honda in the 250 Class, Barcia is now on JGRMX Yamaha and he could use a win here in a very big way. Along with Tomac and Baggett, he's the only guy here who could repeat, as current points leaders Ken Roczen (450) and Cooper Webb (250) have yet to win here.
TYLA RATTRAY: Several South Africans who came to the U.S., Greg Albertyn, Grant Langston, Gareth Swanepoel, became very, very fast in the sand. Rattray is another one of them, as he won Southwick twice for Mitch Payton's team, in 2010 and '11. He now helps train the TLD KTM team, so he should have some secrets to share this weekend (as will Swanepoel, who trains the Yamalube/Star Racing Yamaha riders, and once won a moto here riding for that team).
RYAN VILLOPOTO: This one is puzzling. RV is an all-time badass, any class, any track, any time. But Southwick was his Achilles heel. He only won here once, and that was in 2008, while on his way to his third-straight AMA 250 Motocross Championship. Seems like he should have won more, but the 'Wick was wicked him.
KENT HOWERTON: Let's take a quick detour back to the late seventies/early eighties. The Texan Kent Howerton, dubbed "the Rhinestone Cowboy" by Cycle News' legendary Jim Gianatsis, won Southwick four straight years. The first three came in the 250 Class on Suzuki RM 250s (or whatever they called their works bikes then) and then he won in '82 in the 500 Class while riding for Kawasaki. Those four years of success in a row are only surpassed by Ricky Carmichael at the 'Wick.
BROC GLOVER: El Cajon produced a lot of great and versatile riders, and Broc Glover must be at the top of the list. He won Southwick three times: In 1978 and 1980 in the 125 Class, and in 1981 in the 500 Class. That's a big jump for the Golden Boy, but he did it often!
DANNY LaPORTE: The only other 500cc Class winner was Danny LaPorte, who won in 1979 on his way to the 500cc AMA Motocross Championship aboard a Suzuki. Danny was an amazing sand rider, but he only got one win here in his career, as he spent his last couple of years as a pro racing (successfully) in Europe.
BEN TOWNLEY: An absolute task master, BT101 showed up healthy at Southwick in 2007 and showed his true potential while riding for Pro Circuit Kawasaki, getting a solid win at the 'Wick. From 2003-'11 foreign imports won the 125/250 Class here five times.
ANDREW SHORT: Riding a factory Honda (not GEICO) Shorty got a popular win in the 250 Class in 2006, with 1-4 moto scores to top Brett Metcalfe's 3-2 and Mike Alessi's 2-3. He will ride the 'Wick for the last time as a professional this Saturday for BTOSports.com-WPS-KTM.
GRANT LANGSTON: When the 2000 FIM 125cc World Champ showed up here in 2001 he promised that he would beat Travis Pastrana, but he hurt himself in practice and only managed to gut out some points. Langston avenged himself in 2005 when he came back on a Pro Circuit Kawasaki and won…
TRAVIS PASTRNA: …But Travis was good at the 'Wick, and he took the 2000 win, as well as the 2001 win in the 125 Class, while slightly rattled from another crash.
JAMES STEWART: Bubba's bike blew up here in 2002, then he missed it in '03 with a broken collarbone, then laid down the law in '04 on a Kawasaki KX125. He wouldn't win again here until '08, and he suffered some hellacious crashes in between. Honestly, seeing that JS7 only won here twice over the years seems like a misprint in the record books.
STEVE LAMSON: When Doug Henry moved up to a 250 in '95, it opened the door to his teammate Steve Lamson to get some Southwick wins, and he did just that in both '95 and '96.
JEREMY McGRATH: While never considered a top sand rider, McGrath could do it all, and in 1996 he took Southwick in the 250 Class while in a furious battle for the AMA 250 Motocross title with his rival Jeff Emig.
EZRA LUSK: Ezra won more often in supercross than motocross, but he was always fast at Southwick. When Henry was trying to cap New England's perfect day in 1998, "Yogi" made late charges in both motos to nearly pull the upset. A year later, he dominated the race with a 1-1.
JEFF EMIG: One year earlier, it was the then-Yamaha-mounted Emig who took the Southwick win, swapping moto wins with McGrath but ultimately taking the overall. Ironically, Emig lost the title to McGrath the year he beat Jeremy at Southwick, and Jeremy lost the title to Fro in 1996, the year he beat Jeff at Southwick.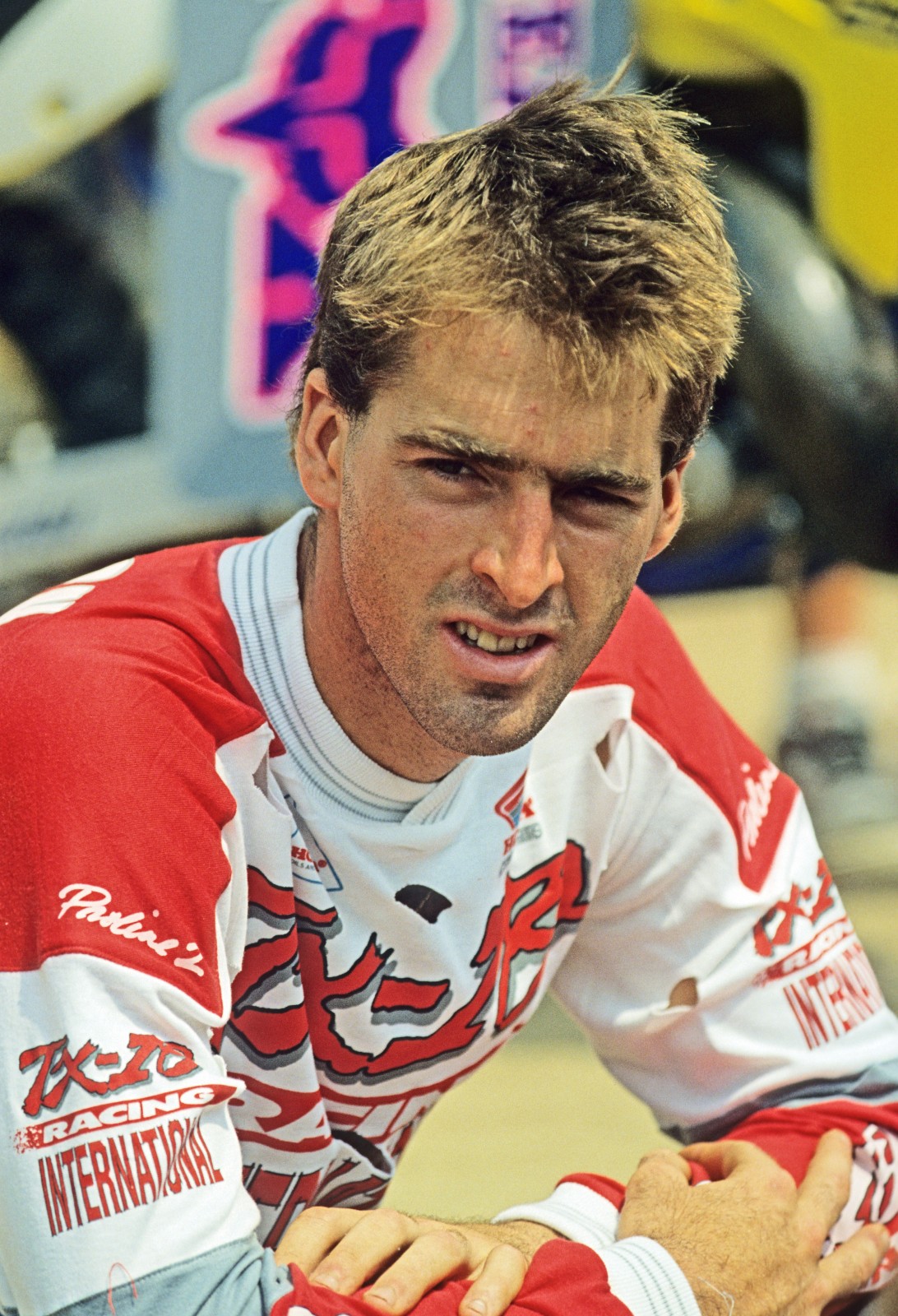 MIKE LaROCCO: The current GEICO Honda team manager was a Kawasaki factory rider back in 1994, not to mention an excellent sand rider. He swapped moto wins with his teammate Mike Kiedrowski, getting the overall nod with his second moto win.
MIKE KIEDROWSKI: One year earlier, Kiedrowski also swapped moto wins, only this time with Honda's Jeff Stanton. But it was enough for the "MX Kied" to get himself the Southwick win in '93. The race marked one of the last moto wins in Stanton's Hall of Fame career. And Kiedrowski would also win here in 1991 aboard a Kawasaki KX125.
JEFF STANTON: From 1989 through '92 Stanton was literally unbeatable at Southwick, winning all four years, always aboard a Honda. Add in his '93 moto win and you could certainly assume that the 'Wick was the Wolverine's best track.
LARRY WARD: Larry Ward was always tough at Southwick. He got his first-ever AMA National win here in 1989 while riding the #971 Honda CR125, making him the highest-number rider in AMA Motocross history to win an overall. He also won in '92 aboard a Suzuki RM125.
GEORGE HOLLAND: One year before Ward won Southwick as a Honda support rider, George Holland won as a true Honda factory rider on his way to the 1988 AMA 125 National Championship.
MICKY DYMOND: And the same thing happened the year before that for Micky Dymond, the defending AMA 125 Champion in 1987. He topped an all-California podium that included Erik Kehoe and Ricky Ryan.
KEITH BOWEN: In 1986 Yamaha's Keith Bowen got the Southwick win, no doubt putting to use the sand-riding skills he picked up in Michigan at tracks like Baja Acres.
JEFF WARD: In 1988 Jeff Ward got himself a Southwick overall in the 250 Class while en route to the AMA 250 National Championship.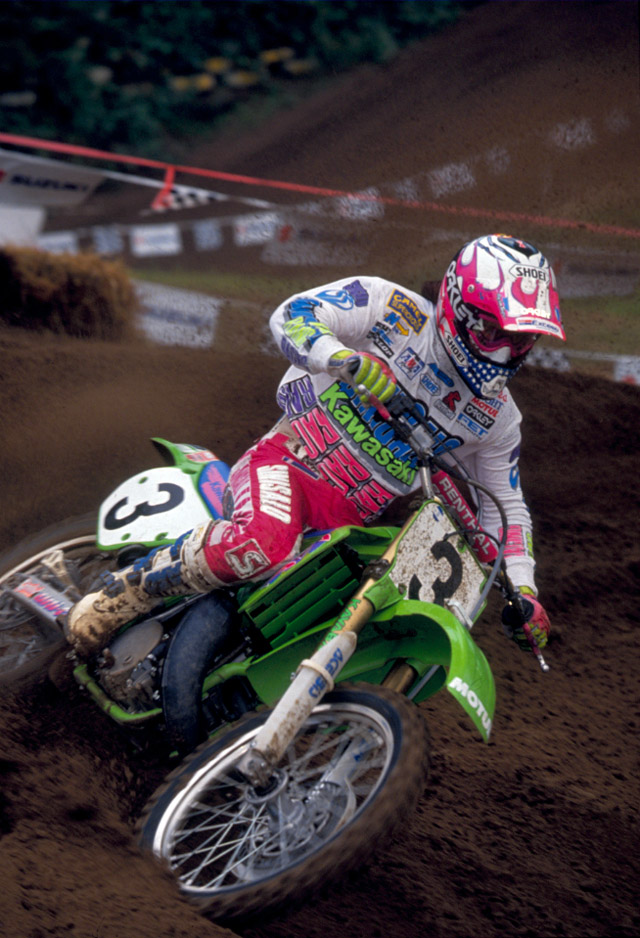 RICK JOHNSON: In 1986 and '87 Rick Johnson was the sand master at Southwick, winning the 250 Class each time out. This was following MX-338's return to the schedule, as there was no Southwick National from 1983-85.
DONNIE HANSEN: Donnie "Holeshot" Hansen was known for his excellent starting technique, but he was also a fine sand rider, helping Team USA win the Motocross des Nations at Lommel, Belgium in 1981 and the Swedish 250 Grand Prix at Vimmerby the following year. In between he won the Southwick 250 National in the summer of '82.
BOB HANNAH: Bob "Hurricane" Hannah was a rider known for his great sand-riding technique, but he only got one Southwick win in his epic career, which came in 1978 in the 250 Class aboard a Yamaha.
MARTY SMITH: Team Honda's Marty Smith got himself a Southwick win in '77 aboard his works Honda, beating his teammate Jim Pomeroy and Suzuki's Tony DiStefano.
PIERRE KARSMAKERS: Finally, the first-ever Southwick MX-338 winner, the Flying Dutchman himself, Pierre Karsmakers. He took the win in 1976 aboard a factory Honda. We've posted this old video before, but if you haven't seen it, here is some rare old footage from that first-ever 1976 Southwick National: