San Bernardino, CA
Glen Helen
Lucas Oil AMA Pro Motocross Championship
We expected answers last week at the season opener at Hangtown, and we got some. But the opener also has a way of creating more questions than it answers. After all, it's the first race and guys are still working on dialing things in. Surely Ken Roczen wouldn't be able to mop the floor with Ryan Dungey for the second straight weekend in a row, and no way Jeremy Martin lets Joey Savatgy be perfect again, right? Well, Roczen didn't beat Dungey today and no, Joey Savatgy wasn't perfect. But it's not that simple. Let's dive into Saturday Night Live to find out more.
Let's go ahead and address the elephant in the room. On paper Dungey won the 2016 FMF Glen Helen National, but anyone who saw the race knows it was a byproduct of Roczen's misfortune late in moto one. But what exactly happened? The air forks on Roczen's Suzuki lost pressure after a seven dollar fitting the team installed failed. When it did, Roczen could no longer charge and was unable to jump almost anything and was reduced to scrubbing his way around the track. This allowed Dungey to catch back up, and with about a lap left Jason Anderson and Eli Tomac also nipped Roczen, dropping him to fourth. Heartbreak for Roczen, especially if he ends up losing the title by just a few points, but these things happen in racing. Remember when Dungey's fuel boiled at Freestone a few years ago?
There's a lot of talk about Eli Tomac and his poor starts, but even a pair of holeshots may not have delivered a win today. In the first moto Tomac just didn't seem to have the pace of the leaders, and he even got caught and passed by Jason Anderson. In the second moto he was ripping, but nobody had anything for Roczen, whose average lap time was over a second faster than Tomac's.
Cole Seely repeated his streak of having a good first moto but wasn't able to follow up in the second, going 5-10 for seventh overall. That's due in part to a small crash in the second moto. Afterward he remarked how tough it is trying to test for the Nationals since none of the tracks they test on ever have the same conditions. He also said he's putting extra effort in to get better at motocross.
"I'm working really hard between races, and if that means I have to sacrifice a little energy on the weekends that's fine," he said. "I'm trying to be a better outdoor rider and get myself in better shape, and maybe I might struggle a little this season here and there, but I think in the long run, going into next year and years past that, it's going to make me a better rider, especially outdoors."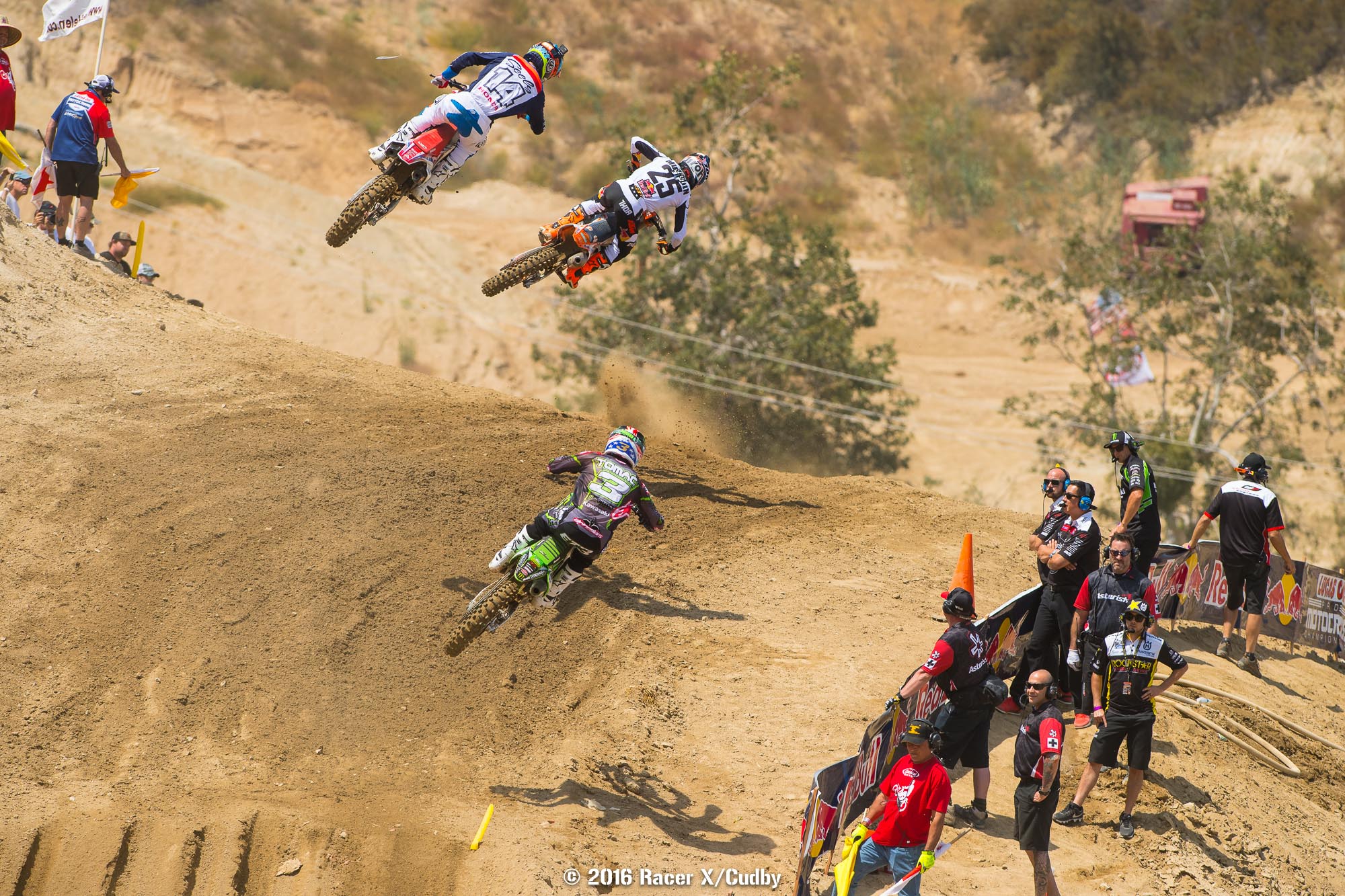 Not a bad day for Trey Canard, who went 7-4 for fifth overall despite a crash on the opening lap of the first moto. "I had good starts, which is huge for me, I haven't had that all year," Trey said. "It makes a big difference, but I washed out on the first lap of the first moto and went back to somewhere in the top fifteen. I didn't feel totally comfortable, but we made some changes between motos and I felt a lot better. I rode really flat in the second moto though and I didn't have a lot of push."
Canard went on to voice his concerns about the safety of the track design, calling it dangerous and some of the obstacles "ridiculous." "I don't know what these guys were thinking, honestly," he said. "I know entertainment value is big but you're dealing with people's lives here and it's not cool. There's that big triple in the back and it claimed a couple people. It's not that we can't do it, we can do it easily actually, but doing it in a group for thirty minutes plus two, with chuckholes on the track, the margin for error is too small. I'm all for big jumps, but you're doing almost 70 mph and there's no escape. It's not good. I don't want to complain, but I feel compelled to speak. We can't have this in our sport."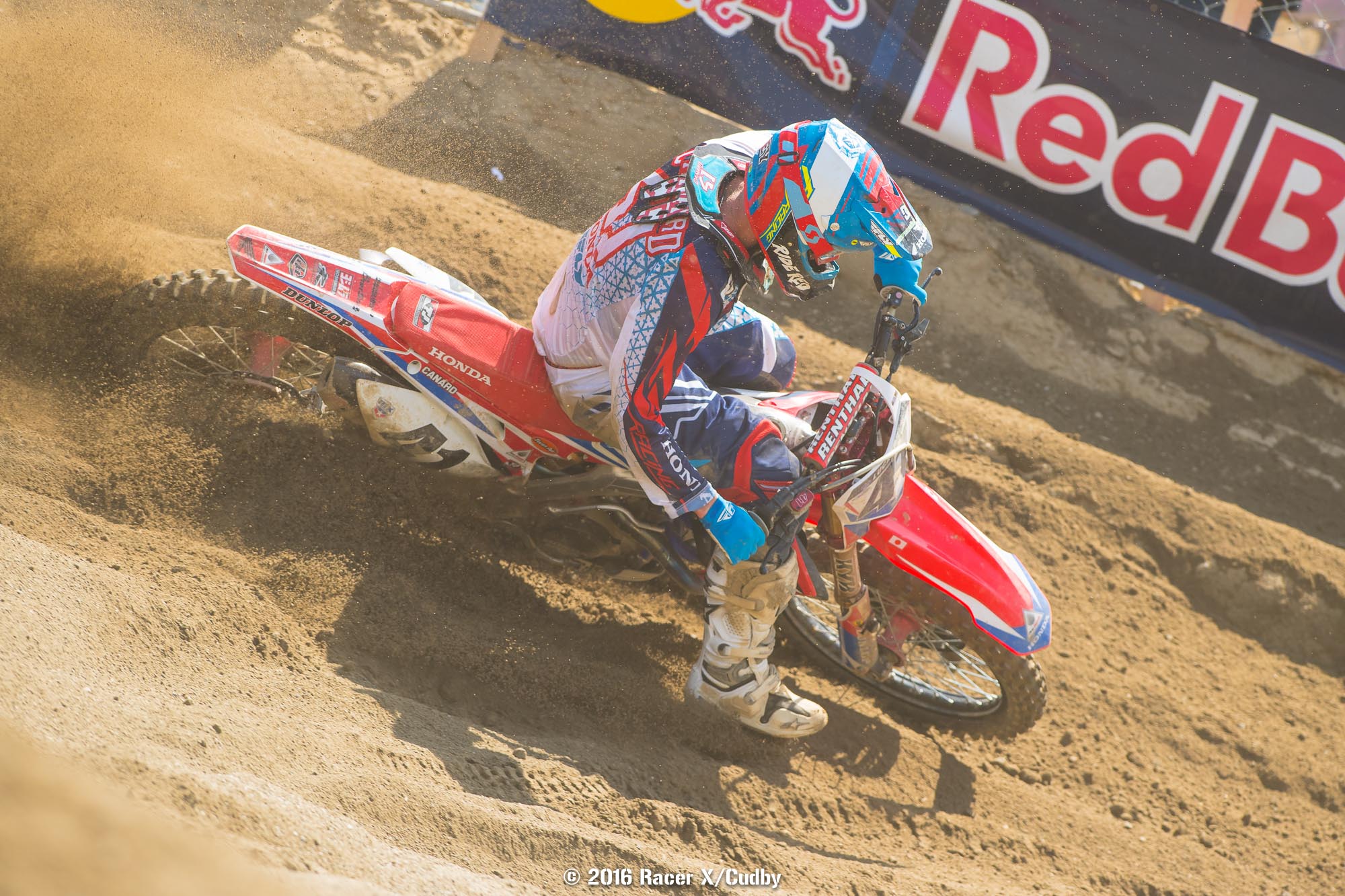 Dungey echoed Canard's sentiments in the post-race press conference and Seely also agreed, calling the track "borderline dangerous."
Not a great day for the AutoTrader/Monster Energy/Toyota/JGR Yamaha crew. Justin Barcia suffered a mechanical problem in the first moto that resulted in a DNF, and Weston Peick crashed hard in the same moto and tore up his bike. He knocked himself around too, so much so he had to sit the second moto out. The team told us his bike was so mangled they may not have had time to even get it completely ready to go for the second moto anyway.
Speaking of teams that had a rough outing. Yoshimura Suzuki's day was just about done before it even started. Both James Stewart and Blake Baggett were dealing with injuries suffered at Hangtown but decided they would try practice to see how they felt. Stewart's hurt shoulder didn't feel good enough to race, but surprisingly Baggett's broken collarbone, which he had surgery on earlier in the week, held up. Baggett raced the first moto, finishing sixteenth, but sat the next one out. Here's hoping they can both get healthy soon.
Alex Martin had to be bummed after the first moto after leading almost the entire race before succumbing to a hard-charging Cooper Webb at the end. But good things were in store for Martin in the second moto. Martin's brother Jeremy, you know, the reigning champ, ran away with the moto win, but Alex worked through a few guys, finally getting around Jessy Nelson for second late in the race, which put him in position to win the overall. Webb was charging forward though, and for a few moments it looked like he could catch Nelson for third, which would put the overall in Webb's hands. Nelson held on though, which delivered Alex Martin his first ever overall National win, as well as the points lead. A good day for Martin and an even better day for the whole Yamalube/Star Racing Yamaha team, which owned all three spots on the podium with Alex and Jeremy Martin, and Webb.
We know what you're thinking. How did Martin gain the points lead when Savatgy came into Glen Helen fifteen points up? Well, Savatgy simply didn't have a good day. The Monster Energy/Pro Circuit Kawasaki rider got bad starts, especially in the first moto, and just wasn't able to move up quickly. He ended up going 9-7 for seventh overall. Definitely a bummer for Savatgy, but he's got ten rounds left to get the red plate back.
Austin Forkner came close to ending up on the podium in just his second career national. He took third in the first moto and had second on lock before making a mistake at the top of a hill that ended with him dropping a few spots. Had he held onto second he would have taken second overall and Jeremy Martin would have won the overall. Instead Forkner wound up in fourth and J Mart was second. Still, fourth is excellent, and how cool is it two brothers went one and two for the day?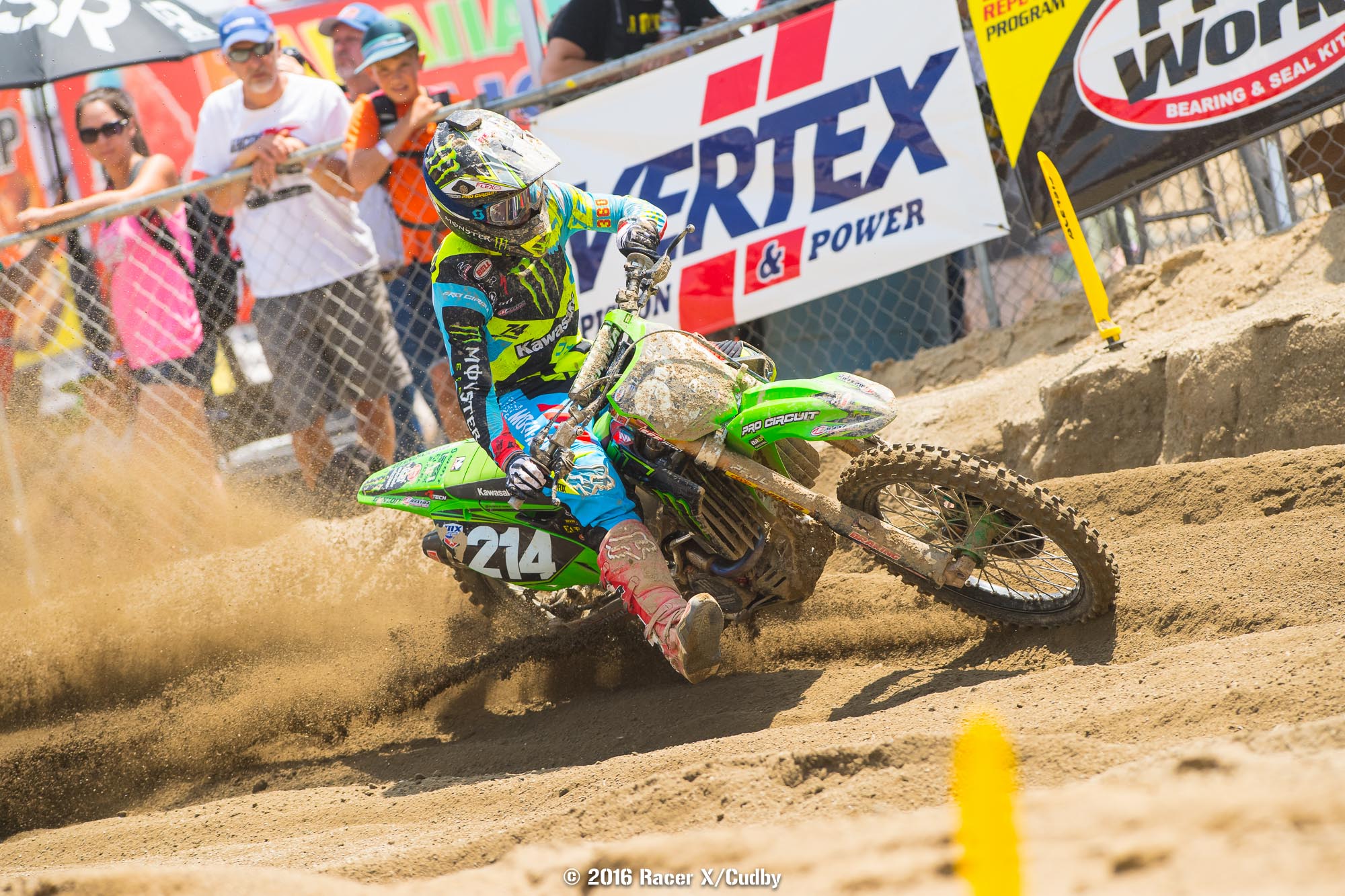 Elsewhere, in news that isn't cool, Christian Craig broke his leg today. He and Jordon Smith got together in the first moto and Craig went down hard, breaking his tibia and fibula in the process. It's unfortunate for Craig, and GEICO Honda team manager Mike LaRocco was visibly bummed about it after the races.