Indianapolis, IN
Indianapolis
Monster Energy AMA Supercross Championship
Earlier this year, BTOSports.com-KTM-WPS' Andrew Short announced that 2016 would be his final year of racing. One of the nicest, most well rounded guys in the pits, Short has made his mark in many different ways. Unfortunately, he hasn't had the sendoff he deserves, as he's missed ten of twelve rounds due to injury, his latest a concussion suffered in Atlanta.
We recently had the chance to talk with Short about injuries, his last year and the sport in general.
Racer X: This is the final season for you and you've barely even got onto the track. Does that bother you? Is it just another year that's decided by injury or is it different because it was supposed to be the last year and you feel like you're missing something?
Andrew Short: Yeah, it's been very different. I've been missing something. It's awkward. For most of my career I've been healthy and very thankful and feel blessed that I've had a career this long. I think that was one of my strong suits throughout my career was being healthy and being able to be there each and every week. This last year has been anything but that. It's been really difficult—bad crashes. One before the season started and now three races in when I started at Atlanta I had another big crash. So it's a different mindset. Mentally it's a lot harder to cope with it. Normally you're battling the wear and tear of racing week in and week out and now I'm at home trying to get back to normal and get a baseline.
I know you feel bad about how that crash actually went because it wrecked a couple other guys, too. That probably doesn't help.
Yeah, it wasn't good. Coming around the first turn it was a lot of shuffling. I believe I got hit by [Phil] Nicoletti from behind and then that next rhythm section I was a little off line and cross jumped him. I felt bad. My bike went into Wil Hahn. That guy's had some bad luck. Unfortunately I think some of it's been his fault but this one was completely 100 percent not his fault. For it to knock him out that long, it's a real shame. I definitely feel bad about that. Not a good thing. I don't remember it all that much, how it all unfolded exactly, because I hit my head.
Not like you were planning on coming out and riding and waving to fans while they played "There Goes My Hero" for your final season, but you probably had a little idea in your mind of what things would be like this year. This is not sticking to that script at all.
No, it's not sticking to the script at all. Regardless, I love racing. There's nothing more than I love lining up on the gate, getting sucked into that zone. You can't think and you're just reacting to what's happening in front of you. It's a feeling that's addicting. I love hanging out in the paddock. I love the bikes. I love all the preparation. Everything that's associated with the racing I've grown to love. It's something that's going to be very difficult to let go of. I kind of knew it's time. I'm getting older and my reaction times are slowing down. But I wanted to make the most of it, and I still feel like I can this summer with outdoors. But I was really hoping to have a more successful supercross season.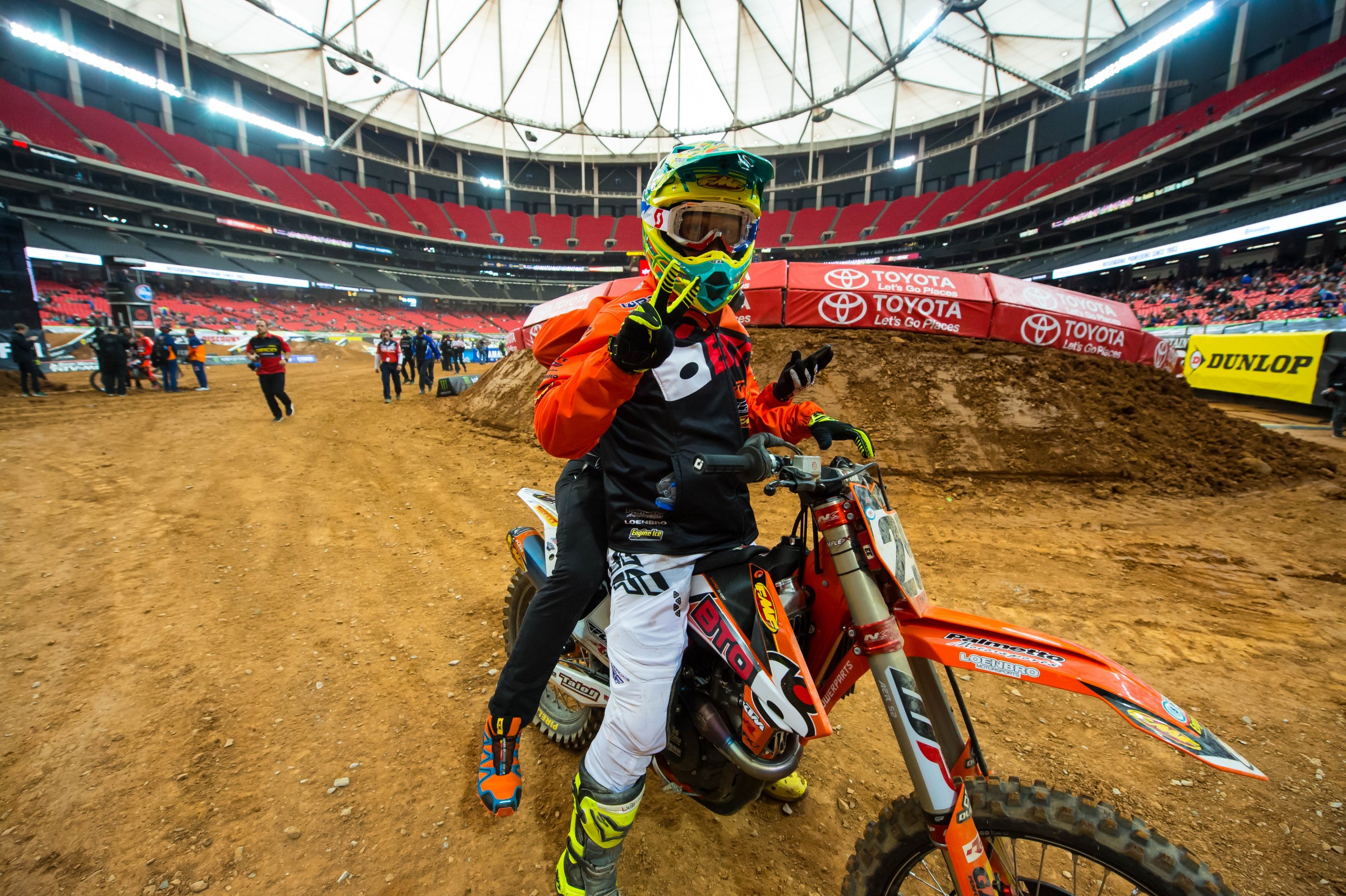 So where are you at time-wise? Do you even know, or is this one of those mystery things to deal with?
I don't know where I'm at. I'm waiting for tests. I've gone to a couple doctors that are associated with UCLA and they're doing studies on concussions and sports management. So I'm waiting for them to get a full report and all the doctors to coordinate and give me their best diagnosis of where I stand. I should say I'm going with their best educated guess because that's kind of where it is with concussions at the moment. There's a lot of emphasis on trying to study the brain and how it works and the long-term damage. You keep reading in the news about the NFL and some of the action sports athletes that have taken their lives. I think it's a very serious subject and it's not something that I want to take lightly.
Not what you wanted to be a part of in this final year. This was supposed to be fun.
A lot of people don't like talking about it but it's part of motorsports. It doesn't matter. You want to have fun and do something that you love; it's just a side effect.
Do you have any idea of how you felt coming into the season before you got hurt the first time? Do you have any idea of where you would have been or anything?
No, there's a lot of speculation there. That's the beauty of racing. Last year I had a good year, I believe. A lot of that I attribute to having a good off-season. I was healthy and I worked really hard and I was able to prepare how I should. That equals good results. When you come in unprepared in the middle of the season it's very difficult. I think you saw that with Justin Barcia this week. I'm not sure exactly what happened. But you can ride all you want at home, but to hop in the middle of the series is really difficult.
The sleep, the training, all those things, and that doesn't necessarily equal a good human or a good dad. At some point I need to recognize that. I don't want to have any regrets.
Your decision for this to be your last year, was it a totally physical thing, the reaction times? Or is it—I think you had even said this—you're a dad, you've got to think about some stuff like that and just being there for your family?
The only thing I think about for my family is I want to be there more for their activities. I don't want to be so selfish. As a racer to be successful you have to be selfish. You have to be dedicated. The sleep, the training, all those things, and that doesn't necessarily equal a good human or a good dad. At some point I need to recognize that. I don't want to have any regrets. I don't want to be selfish in that aspect and them to look back and think that I wasn't there for them. Obviously I love my kids. I want what's best for them. But also at the same time enough is enough. I'll always ride motorcycles and two wheels. I love riding. But it's definitely time. It's going to be a difficult transition but I hope to fill that gap some way.
Any idea how you fill that? It sounds like the competitive part is something you're still… you're not burnt down on that.
No, I don't really care so much about the competitive part after this season, but I would love to ride good bikes still and be around like-minded people that want to be the best and wake up day in and day out and want to better themselves. So I think if I can surround myself with the right people I'd be really happy and I'd be fortunate to be in that situation. If that comes about I'd be really happy.
You've been doing this for fifteen or sixteen years, why is it that you're still this enthusiastic? A lot of riders wouldn't be at this point. They'd be like, "Dude, I'm done." You're retiring but you're not like, "I hate this, I don't want to get on a bike anymore."
I'm internally motivated. I'm not externally motivated by money or success. I think all those things fade away and I don't think they're long lasting. While that might work for some people I think I'm internally motivated and I have that passion for racing, always have. I was never the best, but that's what got me to the level that I was. A lot of the kids I grew up racing with were a lot more successful but for one reason or another it didn't work out, and I stayed at it and worked hard. It was a dream of mine and it worked out. For me to say that it was good luck or these things happen, who knows. But it did and I feel very blessed. It was a dream. I feel like because I have that internal motivation that's what's allowed me to have a long career and I've been able to enjoy it.
You look at your success and Brayton or Cole Seely, Weston Peick or even Dungey, who wasn't this mega star at 12 years old. It seems like there's more guys that figured it out at the right time. They figured it out when they were pros. With Carmichael and Stewart you just knew they were going to be good. At like age six they were already marked. I feel like these days more than ever, we're seeing top riders that figured it out at the right time and maybe didn't get burned out.
I don't think they figured it out at the right time, but they are a product of their environment. I think when you grow up with all those expectations and judgments you let that burn inside you. You don't have that same mindset. You feel like you have more to lose than to gain and eventually it eats you up. I think then you have social problems after that because you feel like you're letting people down. When you don't have those expectations and you're given those chances, I feel like you're giving yourself a better opportunity to succeed. I think that's why you see kids that are coming through that you wouldn't necessarily expect. I think that stands true for any sport. If you look at the psychology behind it it's no different. I think our sport could definitely grow in how they develop kids and how they approach it. I think some of the team managers and manufacturers are starting to realize that and capitalize on that. But you're always going to have the greats. You're always going to have the Carmichaels and Stewarts and people like that. But you look at Chad Reed, I don't know if it's just because of where he grew up, and coming from Australia if he wasn't necessarily that great, it seems to me that he was a guy that was internally motivated and had great skills, but he put the right people around him and he was able to do something great.
So it's almost like you've got to somehow find a way to keep the pressure or the hype away from these young guys?
No, everyone's different. We're all a product of how we're raised and of your environment.
So the teams are almost too far down the road by the time they got a hold of somebody?
Well, I think then you get a good pulse of how kids are going to develop. You look at Eli Tomac. His parents were really successful athletes but they also had the mindset of what it takes. I think when you grow up and you can visualize that and that leads to success. Even I was talking to Justin Hill today, he saw his brother do some things that he didn't agree with and he didn't think was the best decisions, but I told him also his brother did a lot of amazing things and he got to see that. He got to see how the industry works from all angles. He's really proud of his brother what he did. I think that's a cool situation that he has and now that his brother has to cheer on his little brother. Every situation's different. It's all what you make of it and you can direct it, I believe.