Santa Clara, CA
Santa Clara
Monster Energy AMA Supercross Championship
The eighth round of the 250SX West Region in Monster Energy Supercross falls at an interesting time this year—four rounds (and the Easter break) after their last race and four more races before they get back at it for the Dave Coombs East/West Shootout in Las Vegas, which pays championship points this year. The lone West Coast race is a departure from the norm; in the past the west would typically resume for a pair of races closer to the end of the season. So does its placement on the schedule make it hard for guys who are using the break to try to get ready for Lucas Oil Pro Motocross, or does it even make a difference? We talked to the top three 250SX West finishers from Santa Clara to find out.
Cooper Webb
I don't know, I think it's a little stupid, but it is what it is. I'm not a big fan of having a four-week break, really a five-week with Easter, then coming to race one race and then having another four-week break before going into a race where the points are combined [East/West Shootout]. It'll be exciting in Vegas, I think that's cool, but I think they could have made it a little easier on everybody. I'm sure the truck drivers aren't very happy about it. We've been working a lot on outdoors and maybe haven't put enough emphasis on supercross, but it all worked out. Maybe we'll do a little more supercross before Vegas. The Shootout is going to be exciting; I definitely want to get that win.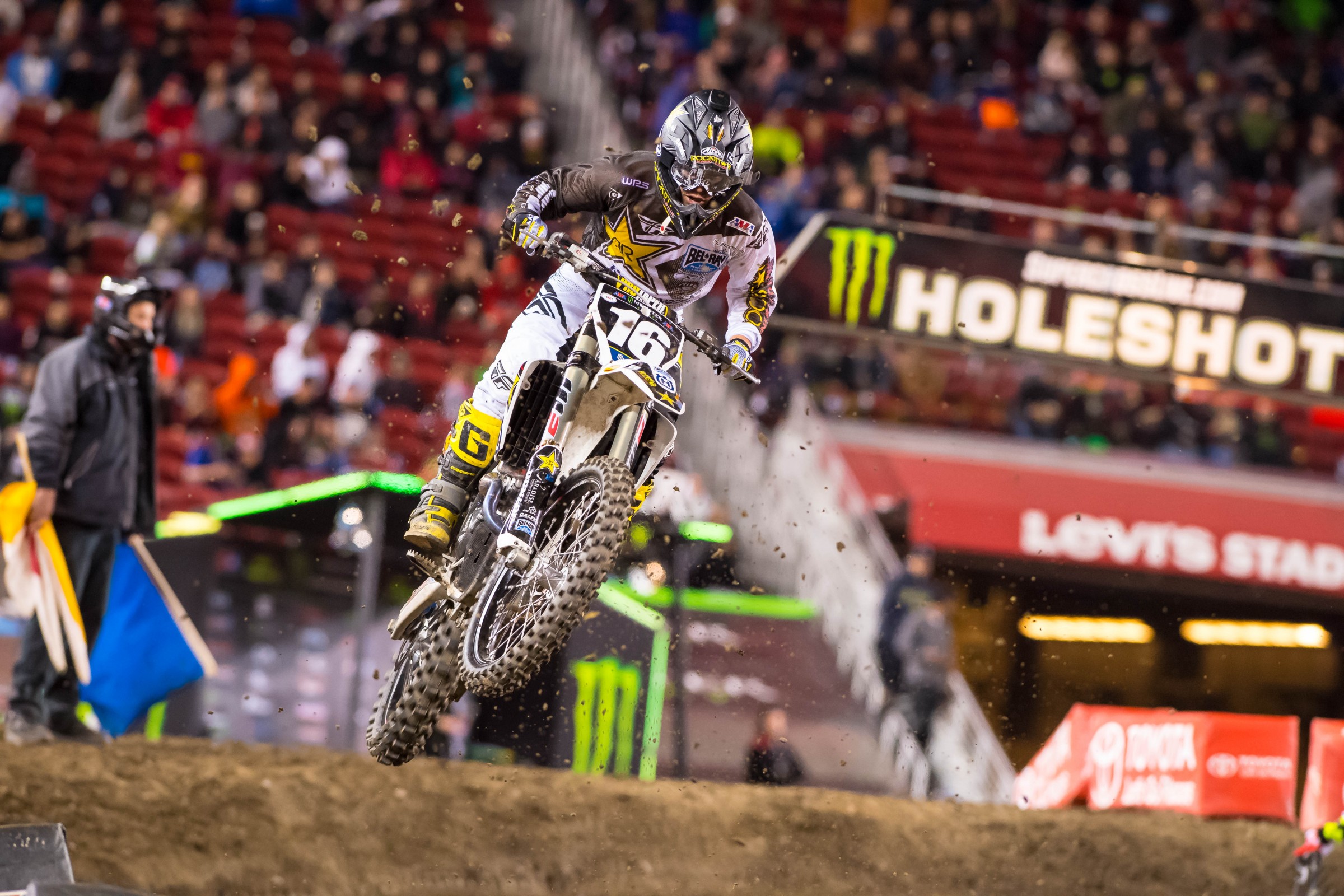 Zach Osborne
I hated it when we started the season, but now, having done it, I kind of like it a little better. At some point in time the 250SX Class was a feeder class, but I feel like it's not anymore. I think we should do all the races. We're on that level and it needs to happen. But I still think it's better to leave this race until a week before Vegas. I think it's way easier on the teams, but either way it's fine with me. It does interrupt the outdoor testing though. I did four weeks of outdoor testing, then three days of supercross to come here [Santa Clara]. Maybe it wasn't enough, but it worked out for me. It definitely makes for an awkward little gap. Same thing with Monster Cup being in the middle of October. It's just a weird time for us.
Should the 250 Class race all 17 rounds of Monster Energy Supercross?
Yes 1567 votes - 77%
No 467 votes - 23%
Joey Savatgy
We had seven in a row and you start clicking off the races and you get used to it. Then you take five weeks off and you come back for one race, now we're off again for four weeks. You get going, you stop, you go for one race, stop again. But all in all, it's racing. They guys who are going to win, who are going to be fast, are going to show up and do that no matter what, whether it's a two-week break or a six-week break. It doesn't much matter. It is a little frustrating though, to get the ball rolling again and get back on the gate, then have to wait again. It's all good. It doesn't really interrupt the outdoor testing too much, we're still getting good testing in, probably more than the East Coast guys.