Ford Field
Detroit

,

MI
Detroit
Monster Energy AMA Supercross Championship
1. What did you think of penalizing Dungey two positions?
Steve Matthes: I didn't like it. In Jason Anderson's case back in San Diego his move helped him make up time on Cole Seely and perhaps allowed him to make the pass on the #14 Honda so I get the penalty there. This move by Dungey in the main did not affect the race one way or another and should perhaps have been met with a fine or a warning. "Rules are rules, Matthes!" is something I can hear you guys yelling and I get that but this decision now opens up a massive can of Canadian beavers (yeah, bigger than worms, bro!) and there will be teams filming riders breaking the rules every weekend and running to the FIM/AMA to try and get some spots for their guys. Every single weekend I witness either A) Horrible flagging by AMA people or the volunteers or B) Riders breaking the rules. The flagging isn't on par to the point where we can expect the riders to behave the right way all the time and this was Dungey's point.
So IF you're going to penalize Dungey despite video evidence of riders breaking the rules all over the place on social media but not getting penalized, get ready to have plenty of teams looking to get someone else penalized. If the move by a rider directly affects his positioning on the track, sure, dock them. But this didn't and they went ahead and did it anyways.
Jason Thomas: I don't agree with the penalty. I understand this is what the rulebook states but I agree with Matthes in that the flagging is very inconsistent and we can't even be sure that Dungey was aware that the red cross flag was out. I have personally witnessed so many examples of poor flagging and execution of this exact situation that I tend to side with Ryan. He is not a rider that anyone would ever accuse of reckless endangerment. In fact, he's probably the last rider anyone would ever associate with a lack of caution.
From my own experience, I know how tough it can be to see the red cross flag if it's not displayed in a good spot. Ryan says that he wasn't able to see it because of his line and where it put him on the exit of the corner. That's very likely if he was on the opposite side of the track from the flagger. Riders have tunnel vision in these races and are laser focused on their line and what they are doing. To think they have full peripheral vision and are processing all of these outside visual images in is foolish thinking.
Ryan won the race in my mind and to think that this cost him valuable points and tens of thousands of dollars is brutal. The decision was made far too hastily in my opinion. The inconsistency shown on Saturday night alone was inexcusable between the heat race incident that Dungey spoke about and then the penalty he was handed after the main event. I don't envy the job that Kevin at the AMA and John with the FIM have, but I also think that if you begin reviewing recent events such as the black flag handed to Reed in 2015 and now this Dungey penalty last weekend, there is a pattern of questionable decisions.
David Pingree: This was a bad call and another of many of these situations with the AMA where the punishment didn't fit the crime. Flaggers are typically posted on the inside of turns to protect them from getting hit by crashing riders. That's the safest place to put them, but if a rider's line is all the way around the outside of a turn, as Dungey's was in this case, it makes it very difficult to see the flag. In fact, unless it is being waved vigorously a rider won't even notice it, and that is exactly what happened to Ryan. Okay, so they look at the tape and the flag is being displayed but not waved and Dungey jumps the obstacle; he says he didn't see it and they say the flag was out. So, what do you do? I get that this is a situation where something has to be done, but where in the hell did they arbitrarily come up with two positions? Nice, even round number? Number of beers they chugged before they made the decision? How about instead of random numbers or fines or slaps in the face with a leather glove they actually do something that makes some sense? You could have a rider roll through each section of the track where a red cross flag could come out and time him rolling through it. Then time a top rider going through it at speed and dock the rider the difference in time if he fails to roll the section. At least that way there is some common sense to the punishment. They could have had Dungey stop, get off his bike and do ten burpees and he still would have won the race! It is complete insanity that he had a win taken away from him given all the facts and his history as a rider. To call this whole ordeal last weekend a circus is an insult to bearded ladies everywhere.
2. Is there a better way to alert riders than the current flag system?
Matthes: Good question and I'm not sure. They have lights out there to help, and that's a good thing. The dude-with-a-flag thing is probably the best we have but how about a dedicated group of guys that travel to the races? Yeah, it's more expensive but there's enough money there to make it happen and this way we'll have dudes that are the same every week, they'll know what to do, you can get guys that want to do it and want to be good at it. A good flagger/AMA official is willing to potentially put himself in harm alerting the riders and I don't see this done enough.
Thomas: I think it's a good system but the lack of consistency with the flagging group overall is troublesome. I have seen flaggers that have no clue what they are supposed to be doing and have seen riders injured because of it. Alerting riders to danger ahead is hugely important and should be taken as seriously as possible. The biggest problem I see is that to really fix this issue, there would have to be a week in-week out team of flaggers that are trained and experienced. That costs a lot of money and commitment and unfortunately I just don't see that being a reality any time soon.
Realistically, the flagging situation for our sport is no different than when the NFL dealt with their substitute referees a few seasons ago. There were problems in every game, the fans and players both were flabbergasted with the mistakes, and it shed light on the importance of having professionals at the helm. Flagging is the same in that our current crop is made primarily of weekly volunteers that have minimal training and while doing their very best, are not dedicated pro's to their craft. I understand that the red cross flags are run by AMA officials, but the fact that a downed rider's safety can depend on a volunteer yellow flagger that may or may not understand exactly how to protect him is a scary thought to ponder.
Pingree: They have flashing lights on the triples… put them in the rhythm lanes. You'll still have the grey area where a rider sees it last-minute and can't back out of the jump but at least you take the human factor out of it. Maybe Jason Anderson could use some of the $100K he pocketed for his freebie win on Saturday and spring for a couple sets?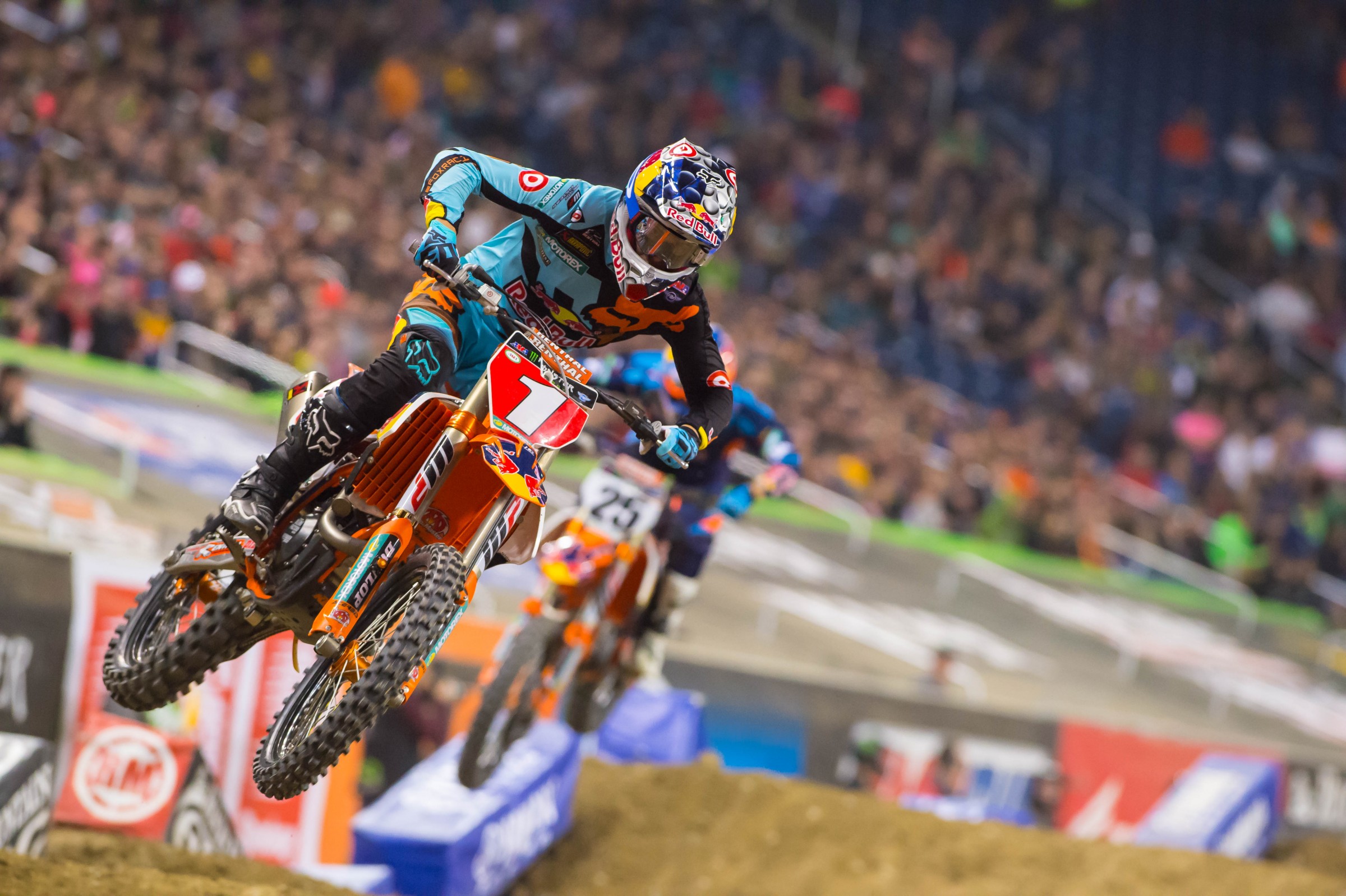 3. What about the timing of the announcement? Should it be made earlier, later, or was this the best that could be done?
Matthes: I know DC says that you can't allow the fans of an event to leave the race without knowing the winner and I understand the point of that, but I don't agree with it. Getting a call right, whatever it is, means more to me and if the fans have to find out afterwards that the winner is different, so be it. I don't think the timing matters to me at all. When making a decision like this you should talk to everyone, watch all the video you can, sleep on it, etc, etc—just get it right. To me, this is yet another blunder by the officials of our series. Get ready to start docking, boys, because now every team will have a video camera focused in on every red cross situation.
Thomas: I would always tend to say that more insight, thought and perspective is better. There is way too much time, work and money at stake to jump to any conclusions until all angles have been exhausted. No one is put in harm's way by delaying a final result on a dirt bike race. People will understand that this decision affects a lot of people and needs to be carefully worked through. Rushing to put out a final tally simply for the sake of having final results is foolhardy and unnecessary. Getting the decision right, regardless of the timeframe, is always the best course of action.
Pingree: There's no good time to make a shitty decision. A fine is one thing but when you start talking about really affecting the way a championship or a rider's career plays out you better get it right. This was a swing and a miss by the officials.