Kailub Russell Seeks Fourth GNCC Title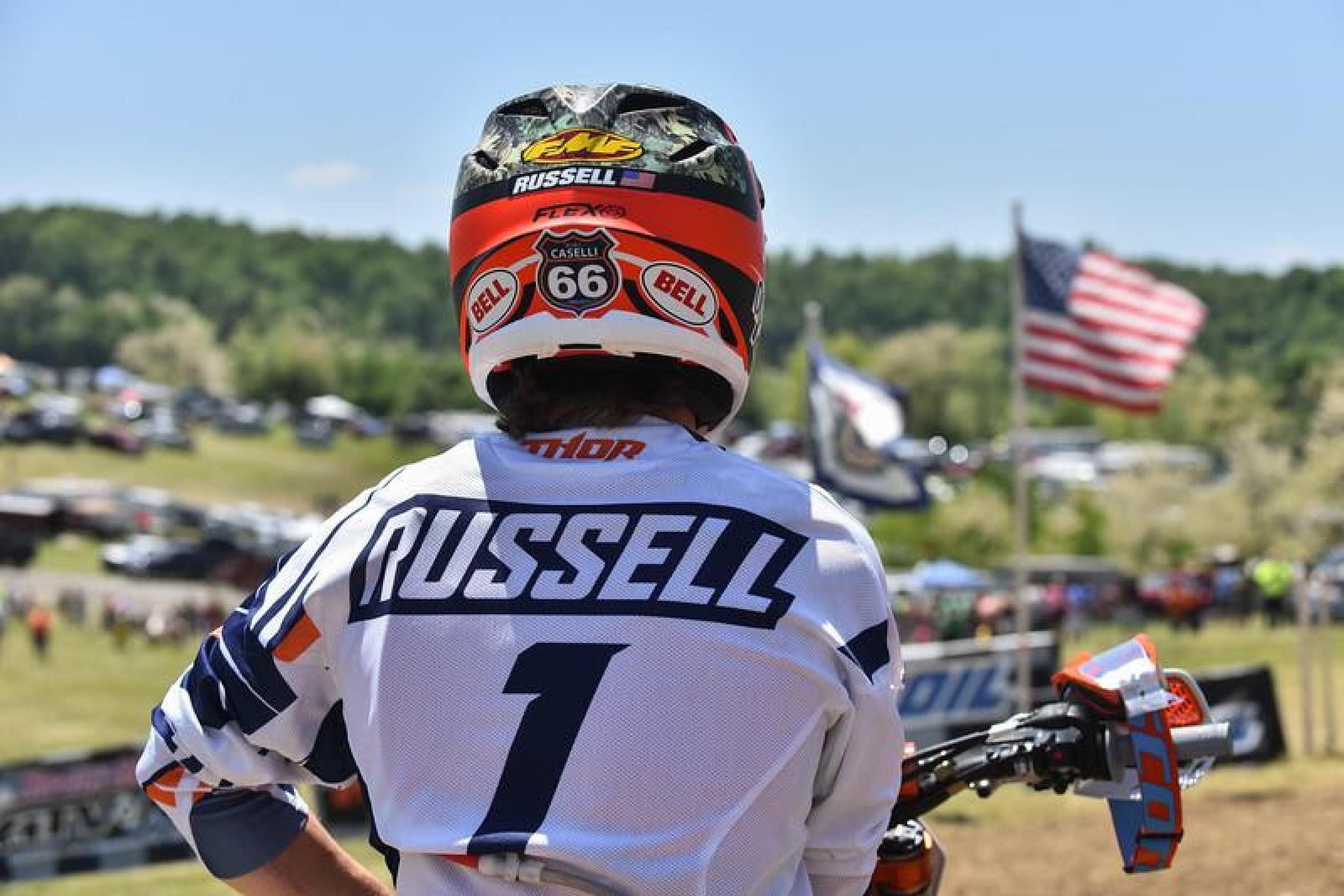 MORGANTOWN, W.Va - In just three short days the world's fastest off-road motorcycle racers will descend upon the popular Rodman Plantation in Palatka, Florida for the first round of the 2016 AMSOIL Grand National Cross Country Series (GNCC) presented by Maxxis, an AMA National Championship.
Situated just an hour north of Daytona's Bike Week festivities, the season-opening GNCC is always a crowd pleasure. With so much momentum for one event, this round typically consists of action-packed racing and fun-filled activities while drawing fans from all disciplines of racing. The unique sand course mixed with mud holes and grueling obstacles is a staple stop in America's premier off-road racing series.
After undergoing surgery for a torn ACL, FMF KTM Factory Racing's Kailub Russell will be leading the way in the XC1 Pro class as he strives to earn his fourth consecutive National Championship. The journey to stay on top will not be easy for Russell as he battles with a host of previous champions and race winners all starting beside him on the first row.
Russell was named the 2015 Rider of the Year by Cycle News and while he looks to live up to that title his fellow competitor Ryan Sipes will look to do the same. Coastal Racing/Rockstar/Husqvarna's Ryan Sipes was selected as the 2015 Rider of the Year by Dirt Rider. Although Sipes comes into the new season nationally ranked number six, he is equipped with a new team and determined to win. Sipes made several podium finishes last year, proving that he has what it takes to be on top. The battle between the Russell and Sipes will brew over the Florida sand.
After an impressive rookie season, N-Fab/AmPro Yamaha's Grant Baylor enters the season with a career-best national number two rank. The South Carolina native finished tenth at the Wild Boar GNCC last year, but comes into this round with a whole season of experience under his belt and hopes to improve his overall result in the Sunshine State.
JCR Honda/Lucas Oil/Maxxis/Fly Racing's Chris Bach will be looking to repeat last season's success where he was able to take home to the overall victory at the Tomahawk GNCC. Returning with the same program and after training in California, Bach will be prepared to make it happen aboard his Honda CRF450R.
Rocky Mountain ATV*MC/KR4/FAR Racing Husqvarna-backed Thad Duvall started the 2015 season off strong, but suffered with mechanical issues at the last few rounds. This year Duvall will run his earned number of five in honor of his father instead of his signature number 989.
FMF KTM Factory Racing's Charlie Mullins will return after a season off. Last year Mullins suffered from a double wrist injury, but is fully healed and ready to make an appearance on the front row.
The 2015 XC2 Pro Lites Champion Jason Thomas will move up the ranks to the XC1 Pro class holding a number eight rank from last season. His absence will allow for a new champion to emerge. JCR Honda/Lucas Oil/Maxxis/FLY Racing's Trevor Bollinger will have his eyes set on taking home the championship after his strong finish at last year's season finale where he took home gold in the XC2 Pro Lites division. Bollinger has spent the off-season getting adjusted to his new team, but his biggest competition has been doing the same. The N-Fab/AmPro Yamaha-backed Nick Davis will contest against Bollinger on his Yamaha YZ250FX.
Unique to this event, GNCC offers a practice session for all bike racers on Saturday before the event. The cost is $20 per rider. The practice course will be separate from the race course, but it will incorporate a small preview of what racers can expect when the green flag drops on race day.
On Saturday, Youth Bike practice will begin at noon, followed by a 1 - 4 p.m. practice session for all other Bike racers, including 10 a.m. classes and 1 p.m. classes.
Sunday's race schedule is as follows: Youth Bike racing begins at 8 a.m., followed by amateurs and women at 10 a.m. and pros and top amateurs at 1 p.m.
Adult (12+) gate admission is $20 for the full weekend and $10 for kids (6-11), with kids five and under free. Gate admission includes pro pit access and pro autographs at no additional charge.
Local racers expected to compete this Sunday will be Chad Carlson (Vet C 30+), Jerald Curtis (Masters A 50+), Luke Parsons (XC2 Pro Lites), Garrett Edmisten (XC1 Pro), Jesse Ansley (200 A), Michael Hall (Open B), Thomas Jaudas (Masters A 50+), Jackson Parks (125 Jr. 8-11), Dylan Rash (Open A) and Amanda Richardson (Women Amateur).
For a complete schedule of the weekend's activities, please visit the Wild Boar GNCC event page on the series website by clicking HERE.
Tune in to RacerTV.com on Sunday at 1 p.m. EST to catch LIVE streaming of the Pro bike race. For more information on GNCC Live coverage visit www.racertv.com.
For more information on the series, visit the official website at www.gnccracing.com or call (304) 284-0084. Also follow us on Facebook, Twitter, and Instagram for exclusive content and to catch the latest news, and always be sure to hashtag #GNCCLIVE.