San Diego, CA
San Diego 2
Monster Energy AMA Supercross Championship
Australian Lawson Bopping ended his home country's Penrite Supercross Championship on a high—winning the final round in early December. Instead of waiting around a few months for the Australian outdoor series to start, Bopping made the decision to come to America and race Monster Energy Supercross.
This isn't Bopping's first rodeo in the United States, although it is his most successful stay. In 2014 he made the same trip, but ended up crashing right before Anaheim 1. The crash left him unable to ride to his potential and he didn't make any of the night shows that year.
We're five rounds into supercross this season and it seems like Bopping has been everywhere on the track. If there is a good battle for a transfer spot he's apart of it and he's holding his own against the best racers in the world. He's made four of the five 450SX mains. In Glendale his past weekend, Bopping took a hard hit in practice and ended up dislocating his shoulder. Regardless of the injury, Bopping came away with a career best US finish of 16th.
We caught up with the friendly Australian earlier in the week to get his take on the weekend and to find out what he had to do in order to race in America.
Racer X: What's going on in Lawson Bopping' world today?
Bopping: Oh, it's going pretty well I suppose. I'm pretty sore and I've had the flu the past couple of days. That's not ideal (laughs).
No! That's not good at all. That's a bummer too because Southern California is getting some top-notch weather at the moment.
Yeah, it's hot! Yesterday was really good. It was pretty warm all day, but it's all good. I'm just resting up at the moment because my shoulder is pretty jacked up. I'm just chilling.
Your shoulder is messed up from your practice crash in Glendale?
Yeah, just from that. I popped it out and that was the first time I ever popped a shoulder out. That wasn't cool at all. When I got up I thought that I had actually broken my collarbone. I ran off of the track and luckily the Asterisk guy was there and he told me it was my shoulder. He told me to relax it and he pulled and twisted it right back into place. It wasn't out very long, which was good. Man, it wasn't a good feeling at all. I just iced it up for the race. Somehow I was still able to ride okay. By the final it was super dead and I didn't have any strength in it.
It's pretty impressive that you can go through all that in practice and still finished 16th in the main event.
(Laughs) I know! It honestly didn't hurt as bad as I thought. It was sore, but it just felt like a dead arm. I got back from Phoenix Sunday night and my shoulder had the worst stabbing pain. I went to the doctor yesterday to get some work done to it. The doctor told me that it was still kind of popped out. He put it back in again. I'll go see him again tomorrow and I should be feeling a bit better before the weekend.
Sitting out this weekend isn't an option then?
No, not really (laughs). I didn't know what to do. Lining up for the heat race I didn't know if it was going to pop out again. They say once your shoulder pops out one time it's easier to pop out the next time. Then in the heat I ripped an awesome start, which was good, but I was like questioning what was going to happen with my shoulder. I flat landed the triple and yeah, it stayed in. That's when I knew I was good. I ended up being pretty tentative and people shuffled past me really quick. I was still stoked though. It was an awesome night to receive my best result. I have to focus on the positives.
Right on. How are you able to come over here and race? You're doing this on your own, right?
It's pretty much all up to me. We just finished racing at home in Australia in early December. I didn't really want to wait around for three months until our outdoors started. I just kept riding supercross at home. I ended up having enough money to come over here to do this. I had won the last round, which had helped. My team back home, DPH Motorsports helped me out a little bit with some of my parts. They also paid for my license too. It's pretty expensive to get the license and insurance that goes with it. Before that I was trying to get a bike lined up with Yamaha of America because I had done that before. It's a loaner bike basically. You pay for how much you're going to ride it for and then give it back to Yamaha when you're done with it. That didn't work out so I looked around quite a bit before I bought one. I ended up buying a new 450 from Langston Motorsports. He gave me a bit of a deal, which was good.

I brought over my suspension, bars, pipe, pipe, ignition, and some other bolt on parts. Then I went racing. My mechanic from back home flew over for the last three rounds, which was good because he knows how I like my bike. This weekend will be my last weekend racing.
That was my next question. This weekend is the last go-around no matter what?
I'm scheduled to fly out next Thursday the 18th. Obviously I'd love to stay and I'm doing everything I can possible to continue racing here. I'm really enjoying it and my results are getting better. It's hard privateering it. It's not so bad on the West Coast because you can drive to all of the rounds, but on the East Coast it would cost me a lot to do them. The people helping me out have been awesome, but you need a lot of support to do all of the races. A team ride would be ideal.
What we need to do right now is get the internet fans to back you. If you have support of the fans you could possibly attract a team to help you out. That way you'll have results and fans. It could happen.
Yeah, for sure, I don't even feel like I'm riding my best right now. I know I can ride a lot better.
You are on a team back at home, so that looks good as well. You're a front-runner in Australia.
Yeah, I know what you mean. The guys from SKVI underwear and Moto XXX have been helping me out the past two weekends. I'm pitting with them and they've been good to me. They are a nice group of guys that are trying to find me more support so that I can stay and get some more funding.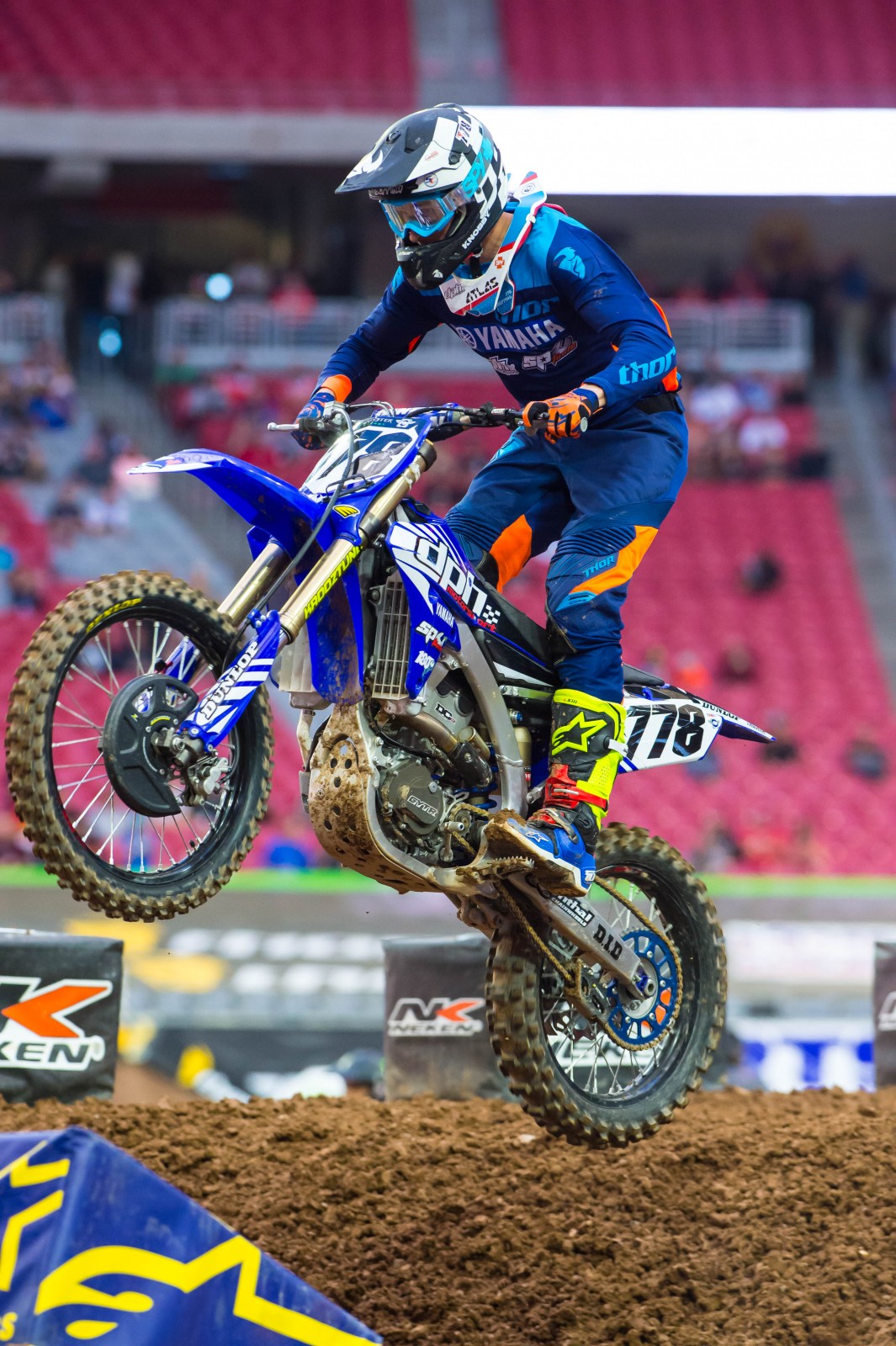 It seems like you're always up in the mix, whether it's a heat, or a semi. Wherever you're at something is always happening. You're getting a lot of TV time.
That's been awesome. I've been getting a lot of recognition on TV. I've been getting good starts in the heat races and I won an LCQ. I'm just doing my thing and riding and I'm getting on TV. It's good!
It seems like right now the Aussi invasion is stronger than ever. Of course you have Reed, but now it's Luke Clout, Hayden Mellross, and now yourself.
Tommy Hahn's mechanic is an Aussi dude, too. We came over here at the same time. I'm bummed for Clout though. He had a nice little setup going. He was only here for two weeks and he broke his leg.
Do you stay pretty tight with those guys?
I've known Luke forever. We were on the same team in amateurs. I was 14 in the 125cc classes and he was riding 65ccs. I've known him his entire career. He comes down to ride my track back home. I've known Hayden for quite a while as well. He's only two hours from my place. We're all pretty cool.
Have you been able to do any sightseeing since you've been here?
Not a whole lot. I went to Las Vegas a few years ago and did the Hollywood thing as well. I'm just looking at a supercross track all day. That's all I'm really into at the moment. I just want to ride. When you're here by yourself you don't have a lot of time to do anything else. You go ride, come back and wash everything, and prep for the next day.
What's the biggest difference coming over here to race opposed to Australia?
The track prep is the biggest difference. Although, it was pretty weird for me walking the track at Anaheim 1 and not knowing anyone. Everyone knows one another over here. I was walking through the pits and no one even knew who I was, which was cool. It's just different to what I'm used to. I'm just really impressed with the track prep. It's always perfect. There isn't much I don't like about American supercross. It's great.
That's a good thing not knowing your competition. The guys over here have been racing against one another forever. They don't know your speed and you don't have to be intimidated by them. You don't know where you'll fit in.
Every race I line up I'm like, "Who are these guys." (Laughs). I see them on TV every week if I'm back home and then I'm here in the tunnel with them. It's like, "Whoa." The first round I was kind of star struck like, "There is Dungey, or there is Tomac." It's a funny feeling. I'm just sitting there thinking how sick their bikes are and then it's like I have to race this guy in five minutes. That wore off pretty quick. Everybody has been pretty sweet to me so far and I've been talking to a lot of people lately in the pits. It's been all good
Bopping is looking for some more help in order to continue racing in America this year. If you're a sponsor the best way to reach him is via his Facebook or Instagram accounts.
Facebook: facebook.com/lawson.bopping
Instagram: @lawsonbopping70