RV, MC and Wey Go Flat Tracking
Flat track racing is one of the oldest forms of two-wheel racing. It's origins date back to the early twentieth century, an American take on a popular form of racing developed from the French-style velodromes. Recently, seven-time AMA Supercross Champion Jeremy McGrath, four-time AMA Supercross Champion Ryan Villopoto and the recently retired Nick Wey teamed up with X Games Harley-Davidson Flat-Track Racing gold medalist Bryan Smith to spin some laps. Kawasaki put together this pretty cool video.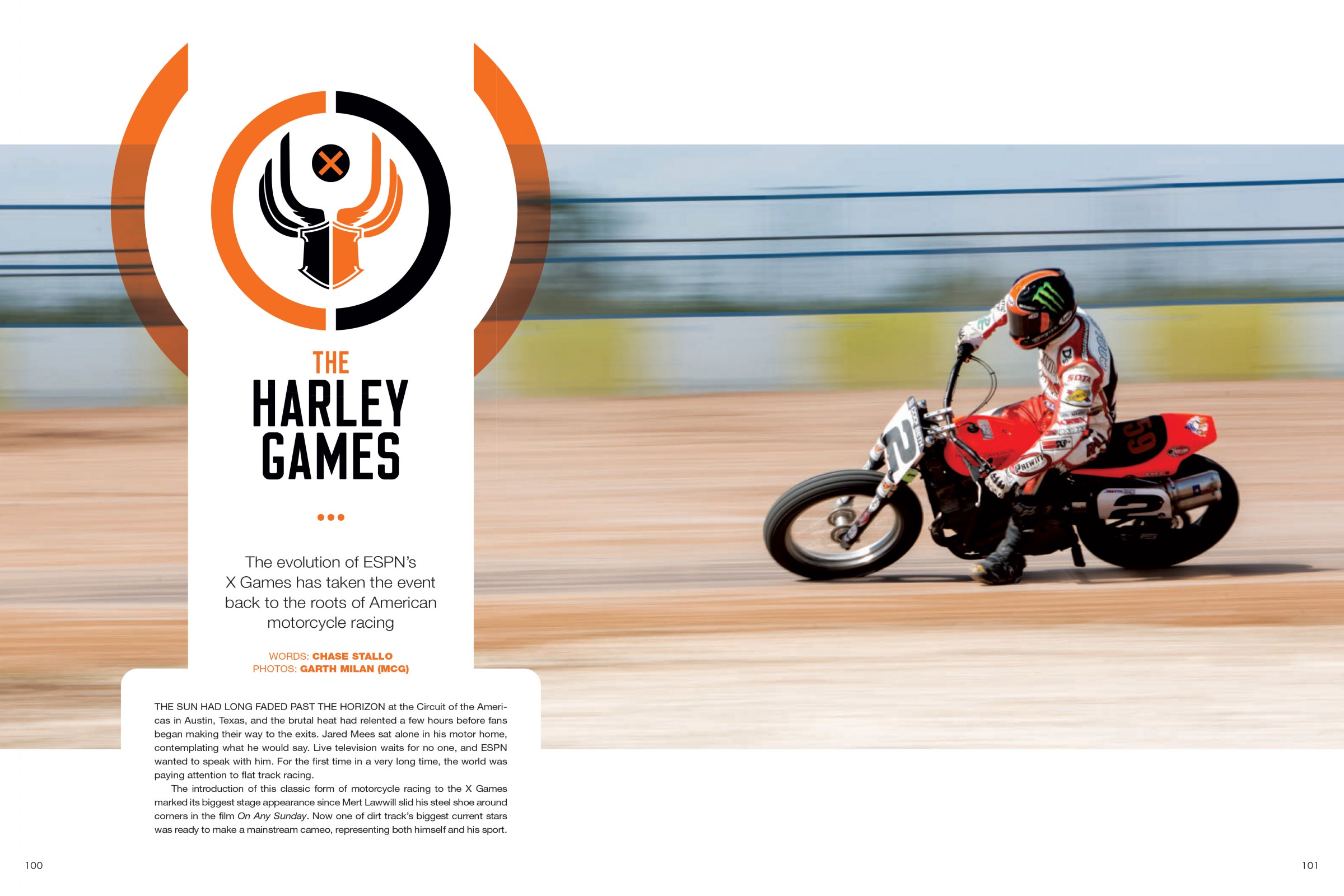 MotoGP Crash
The first official test of the 2016 MotoGP season ended on Wednesday at Sepang in Malaysia. Reigning champion Jorge Lorenzo took the fastest time ahead of Valentino Rossi, Marc Marquez, Cal Crutchlow and the retired Casey Stoner (more on that later). But the talking point of the week came on Tuesday, when Avintia Racing's Loris Baz walked away from a frightening 180mph crash after his rear tire blew. Video of the incident can be seen below.
Sepang test: Confirmed, Loris Baz accident has been due a tire failure…no mechanical failure… pic.twitter.com/DjYKCxM1bf

— Manuel Pecino (@pecinogp) February 2, 2016
What do you say when you walk away of a "290kmh crash" with a bruised elbow and nothing else? BIG THANKS YOU TO Alpinestars

— Loris baz (@lorisbaz) February 2, 2016
Stoner Return?
When the two-time MotoGP World Champion returned to Ducati this off-season to serve as a test rider, questions arose of a full-time return to racing for the Australian, who won Ducati's only MotoGP championship in 2007. Well, it's not happening, despite the fact that Stoner set some blazing times in Sepang this week. He told Cycle World, "I have no intentions of racing. It was nice to be back on track with them, mainly to get the data, but I think I am still going to enjoy staying on the side of the track watching the racing, rather than being involved." More from the report.
Stoner later said, "I am impressed with the GP15. It was a little strange at first–new bike and new tires all in one go, and my first time back on a bike since Suzuka, but we got used to it quite easily. Every step we make we can feel positives and negatives, and we can see the direction.
"Today was the second day on the bike for me and we can see they have a good package, we saw that last season. Every setting we made was some progress, we understood what the bike was doing, I am getting more comfortable with the Michelins, where the limits are and where you can push."
Read the full report.
Droneboarding...
May one day prove to be a cool sport—it's not there yet.
You Know, Just Wheeling Over a House
Skateboarding in Slow Motion
This is an amazing video produced by Beyond Slow Motion. According to the YouTube description, it was shot "with the Phantom V12.1 high-speed camera at frame rates up to 6,900 frames per second and my Sony FS700 to shoot on the fly at 240fps."
GoPro Partners with the PGA Tour
Similar to their partnership with the NHL last year, GoPro is teaming up with another major sport—golf. This week, GoPro and the PGA Tour announced a deal that will start with the Waste Management Phoenix Open (which begins today and runs through Sunday). More from Venture Beat:
In Phoenix, the PGA Tour will stream the Pro-Am tournament from the stadium-like 16th hole at TPC Scottsdale's Stadium Course. This new Pro-Am show will be hosted by Erik Anders Lang from SkratchTV, creator and host of a new digital series called "Adventures In Golf." PGA Tour Entertainment will utilize GoPro's HeroCast technology and production expertise to capture and broadcast unique coverage of the Pro-Am, including on-course interviews.
Check out the full report.
Cycling Cheating
The cycling world was rocked last weekend when, during a check of a bike belonging to European and Belgian U23 champion Van den Driessche at the UCI Cyclo-cross World Championships, officials found a motor concealed in its tubing. A MOTOR!!! I don't know jack about cycling, but I'm pretty sure you're not supposed to have a damn motor in your bike. That's some next level cheating right there. Oh, just in case you thought it was cool and all to have a motor, it's not. She is facing a ban of at least six-months and a 20,000 Swiss franc fine, per Cycling News. More from the report:
Van den Driessche and her father vehemently denied that the bike found in the mechanic's pit during the under-23 women's race at the cyclo-cross Worlds was hers. She claimed that the bike in question belonged to Van Muylder and that she sold it to him a year ago.
"That bike belongs to a friend of mine," she said. "He trains along with us. He joined my brothers and my father. That friend joined my brother at the reconnaissance, and he placed the bike against the truck, but it's identical to mine. Last year he bought it from me. My mechanics have cleaned the bike and put it in the truck. They must've thought that it was my bike. I don't know how it happened."
Also, her brother Niels is currently serving a suspension for doping.
Just when you thought Van den Driessche's story couldn't possibly get any more bizarre - it does.
A report on hln.be Tuesday says that Van den Driessche's father, Peter, and brother, Niels, are facing criminal charges for trying to steal two expensive parakeets from the pet store De Gouldamandine in Varsenare. If convicted, they could receive prison sentences of between one and five years, and a fine of up to €3,000.
When stolen parakeets are only the second part of the story, you know its bizarre, that's for sure.
This Week in Golf
Some guy pulls of an amazing trick putt…
…while a robot nails a hole in one and fans immediately celebrate by throwing beer. Awesome.
Now, That's a Wave
Ever wonder what it's like to fall from a 40-foot wave? Tom Dosland found out last week as he toppled from the top of Maui's famous Pe'ahi (Jaws) wave.
X Games Snowmobile Flip
We're not worthy.
In case you're wondering, the trick won Joe Parsons a gold medal in Monster Energy Snowmobile Freestyle.
Blast Power with Seely
Cole Seely has a new personal sponsor—Blast Power Gum. The candy, according to their website, packs 80mg of caffeine, the equivalent to a cup of coffee or a standard energy drink. It contains zero calories, no sugar or aspartame, and is also gluten and nut free. Check out the commercial the brand recently produced featuring Seely. (And credit again to Seely's agent Brian Siegrist, who is always working the angles.)
"No Bro, I Don't Have A Death Wish"
Is the title of episode 1 of MX Yoga, a documentary that follows filmmaker Terry T. Miller as he tries to compete in motocross. (Spolier: Terry knows absolutely nothing about moto.) From the YouTube description it will follow the "beginning his career as an newb beginner, T-Dawg will get pro-tips from MX Yoga's Reiki Masters (AMA riders) and coaches hopefully finding enough inner peace along his whooped out path to survive the devastation of inevitable failure." It's pretty cool.
Changes at Fox Racing
Fox Racing announced this week that they are closing its offices in Morgan Hill, CA and relocating the finance, IT, and sales functions to the Irvine, CA global headquarters. David Durham has been promoted to creative director, while Pete Fox has moved to the company's board of directors. Check out more for the Fox press release about the move.
Fox Racing (Fox) today announced four steps in the execution of the company's long-term strategy intended to improve effectiveness and align the business with its five-year plan.
Firstly, the company is closing its offices in Morgan Hill, CA and relocating the finance, IT, and sales functions to the Irvine, CA global headquarters. Fox has extended relocation offers to all Morgan Hill employees. The Morgan Hill office will remain open until June 30, 2016.
Further, the women's lifestyle apparel design and development divisions are being reduced in order to reinvest in core performance product categories.
Additionally, David Durham has been promoted to the position of Creative Director overseeing product design across all categories.
Finally, Pete Fox has transitioned from an operating role to serving on the company's board of directors.
"Our vision is to be the world's number one brand in motocross and mountain biking" said Fox CEO Paul Harrington. "Getting there requires relentless focus and consistent execution. Moving the company under one roof and investing in the brand's authentic core are essential steps to realizing this vision. I also want to thank Pete Fox for his many contributions. His efforts to help achieve our vision in the years ahead will be most impactful at a strategic, board level, and I look forward to working with him in that capacity."