Anaheim, CA
Anaheim 2 (A2)
Monster Energy AMA Supercross Championship
Red Bull KTM's Ryan Dungey has won two in a row, sits at the top of the Monster Energy Supercross standings, and hasn't finished off the podium in over a year. Yet somehow he seems to still be improving each week, with this Anaheim 2 performance being one of his most impressive ever.
Dungey has always been a great rider, but early-race passes were never his specialty, and at times he and his KTM have struggled in big whoops. On Saturday night, he mastered both of those aspects to rail to a very impressive victory. We asked him about it as soon as he hopped down from the podium.
Racer X: Take us through it.
Ryan Dungey: It was a good night. Got a good heat race win, lined us up good for the gate. We really needed a good gate pick because there wasn't really a lot to choose from. So we were able to pick a good gate with a good exit and that really helped with the drive off the start in the main. Almost got the holeshot. Davi [Millsaps] stole it from me. Then for about three laps we were behind him. That was good; I was able to kind of pick up on some different lines that he was doing that I felt like were better. And then I was able to kind of apply that when I got into the lead and just tried to open up a distance. All the guys were on it tonight, from practice to the heat. Ken [Roczen] was putting the pressure on me in the heat, so I really wanted to kind of get out front. That perfect story doesn't happen every time but we were able to get out front and open up a little bit of a cushion and come in for another win. It feels good.
There's rumors you got injured this week. Is that true?
No, thankfully.
What did you learn from following Millsaps, track-wise?
Millsaps has always been very good in the whoops. I think that's been one of his strongpoints on a supercross track. He's a good rider all the way around. These whoops were no joke. They were very tough. They were hard to get through. You're hanging your wheel on them and it was taking away your momentum every time you hit a whoop. By the time you got to the end it slowed down. So it was kind of maybe a little comforting to know that a guy who's really good in the whoops, we're not so bad [compared to him]. So I tried to just maintain that. By the time I got in the lead I tried to keep the roll in the turns and tightened up some lines. If you kept on the outside it got really harsh and choppy so I tried to stay a little bit tight and got a little bit better grip even, too. The track had a lot of moisture in it, surprisingly.
These days it looks like you're a lot more comfortable attacking early.
Yeah, it's always a work in progress but early in my career…I realized working with Aldon [Baker, trainer] that you've got to practice like you race, or race like you practice. I really feel like I've worked on those areas, and with Aldon putting that in his hands, and the structure he puts together of how many laps we're doing at a time each time we go out, I'm working on those weak points. I think it's a combination of a little bit maybe a different mental approach, and different physical preparation as well coming in. So I feel like now during the week I do that, so it's not such a shock when I get to the race day. It's not easy. It's difficult, but a good start and clean laps and an open track in front of you is always key.
You're racing all week long, aren't you?
Yeah. We've got Marvin [Musqiun], teammate of mine. We battle with each other. Then a couple days a week Jason Anderson as well. I've said it before, we find ourselves in those race pressure situations but without the stress of the actual race. So it doesn't wear on you. I feel like it builds you up but it doesn't wear on you like a race would. The stress of being there and having to be good and those things [can wear you out]. So I think it's been beneficial to the program and the preparation.
Can you experiment more? When you're in those race situations, go for it a little more?
Well, yeah. When you're out there riding by yourself on a track you've got to find the motivation. I'm self-motivated—that's not the issue. But if there's somebody you're chasing or if you're the rabbit, then you're going to say, "Hey, I don't want this guy to catch me. I want to put the hammer down and attack." It draws out that intensity. Intensity, I guess that's the main word I'm looking for.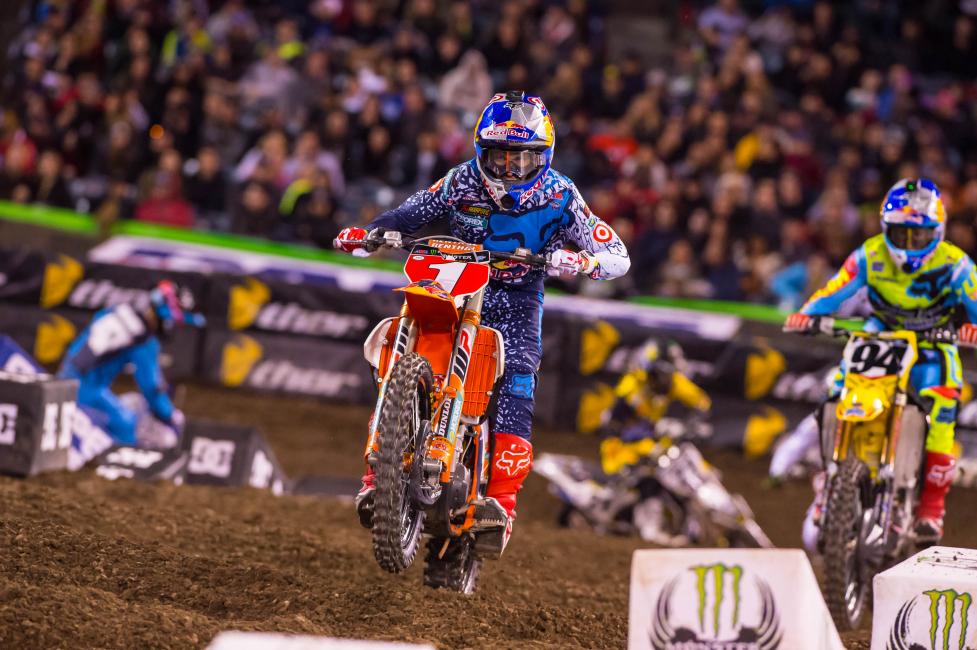 Towards the end of the night you were one of the few guys blitzing the second set of whoops. What was the plan with that?
I tried to jump through them, but I wasn't really fond of that. It didn't really feel too good, especially with the highs and the lows. But I felt like just a little gas and just kind of going dat-dat-dat [with the throttle] so over the highs and the lows I could gather it together and still get through it smooth and clean and straight and drive, and not sketchy. Jumping was all sketchy.
These are gnarly whoops.
Oh yeah. If you take a look, it's tough. It's impressive how much the tire actually hooked up. They were tricky.