Last weekend, Trey Canard and Jeremy Martin ventured over to Japan to do some work in front of the factory bosses, winning the 450 and 250 Classes, respectively, at the All-Japan MJF final at Sportsland Sugo. As a result, they joined Cooper Webb (Martin's teammate and last year's 450 winner, as well as this year's 450 runner-up) on the list of Americans who have had some success on the East Asian island. It prompted us to look a little further into the history of American riders racing in Japan.
STEVE MARTIN: The OG American motocrosser to have an impact on motocross in Japan was Florida's Steve Martin. A former Honda factory rider and longtime sand-riding specialist (he finished third at the 1979 AMA 125 National at Sunshine Speedway in St. Petersburg, FL, his home track), Martin left the AMA circuit after the 1983 season, where he finished fifth in the 500cc National Championship. He had been offered a gig in Japan to race and teach Japanese riders how to train and ride. He won two All-Japan 250cc titles, in 1984 and '85. He finished second the next year to Yasuo Tofukuji in the MJF (Motor Racing Japan) Nationals.
LON KINDER: But before Martin even showed up in Japan, a young rider named Lon Kinder was racing on the national circuit. He grew up on the Kadena Air Base in Okinawa and raced on the track there known as Pacers, turning pro in 1982 after graduating from Kubasaki High School; fellow grad Mike McLemore also was racing some Japanese rounds. Kinder reached seventh in the Japanese Nationals in 1989 on a Suzuki factory bike, but then quit racing due to a slipped disc hernia. (We found this photo and the information on Kinder on the Kubasaki High School Alumni Forum; anyone who has more info on him or his career, we would love to know more!)
Of course, the world being a small place, I was able to track Lon down today and find out more about his life and career:
"I was born on Tachikawa Air Force Base in mainland Japan but grew up in Okinawa," Kinder writes in a response. "My mom is Okinawan [native of Okinawa] and my father is from Charleston, West Virginia. Kinda funny. I am a U.S. citizen. I raced in the eighties on the national circuit and we had a few Americans there. Domo arigato."
Amazing to track Lon down in Hawaii, only to find out his dad is from two hours down the road from me here in West Virginia!
RICK JOHNSON, JEFF WARD, DAVID BAILEY: That was the podium at the 1986 Supercross of Japan, where basically every factory rider in America on the four Japanese brands traveled over to race! Among them, and finishing nineteenth, was Eddie Warren. He would return some years later.
EDDIE WARREN: Once one of the most promising riders in America, Michigan's Eddie Warren turned a Kawasaki Team Green ride into a factory ride, winning a handful of AMA 125 Supercross and National races. But his time on the AMA circuit was short lived, and he ended up moving to Australia, where he still lives today. He also spent a few full seasons racing in Japan.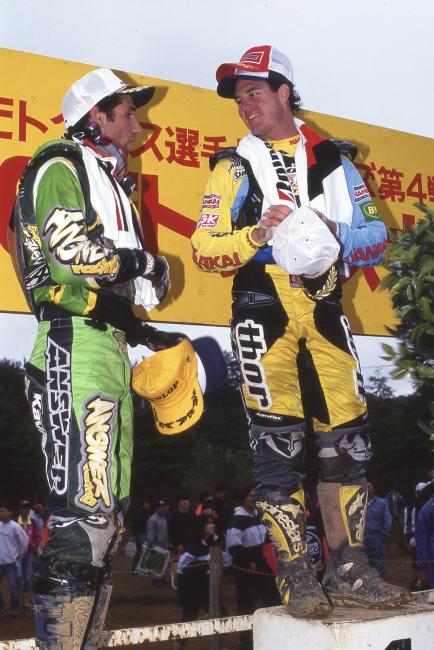 RON TICHENOR: Ron Tichenor left the AMA circuit and followed Steve Martin's path from the St. Pete area to Japan in 1993 as a hired gun for Suzuki, who hoped to beat Kawasaki's own hired gun in Eddie Warren. Tichenor got the job done, and then repeated over Warren the following year as well.
JEFF MATIASEVICH: After seeing Suzuki win for two years, Kawasaki in Japan stepped up their game in 1995 and hired the best-known American yet to actually move there to race. Jeff "Chicken" Matiasevich was a two-time AMA 125 Supercross Champion and also a 250 main event winner. He had won the 1990 Tokyo SX on his way up through the AMA ranks, but was now on his way down. Japan offered him a lucrative second chance, and he took it, winning the 1995 MFJ title on a Kawasaki KX250SR. He topped Tichenor in '96 and then won again in 1997 for a third straight title. But finishing third was the next American imported to become Japanese Champion.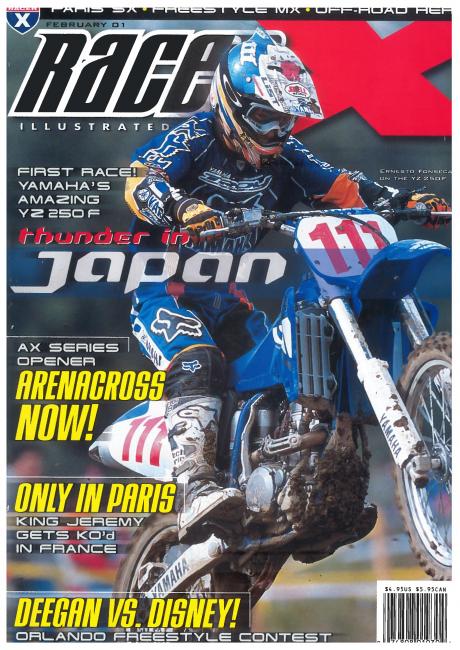 KYLE LEWIS: A journeyman in America, the superbly talented Kyle Lewis was a Californian who held the record as the youngest AMA rider to win a 125 supercross main event from 1987 through 2002, when James Stewart showed up and broke his record. Lewis raced for Suzuki and won a pair of All-Japan titles in '98 and '99, but he was also the last straw in some regards: the Japanese OEMs all decided against hiring top Americans as mercenaries to come across the Pacific Ocean and win their national championship.
EZRA LUSK: Back to those big supercross events. The last ones were held in 1997 as part of the all-but-forgotten FIM World Supercross Championship, in Tokyo and Osaka, and the winner of both was Team Honda's Ezra Lusk. There was also an FIM round in Japan in 1996, dubbed "AMA All-Star Race," and the winner was Jeff Emig, the AMA 250 National Motocross Champion at the time and soon-to-be AMA Supercross #1. (Other winners over the years included Kevin Windham, South Africa's Greg Albertyn, and Jeremy McGrath, who swept both races in 1995.)
TED CAMPBELL: Another journeyman, only at the privateer level, Ted Campbell did a handful of rounds in 2001. By this point the series was almost entirely made up of homegrown talent.
ERNESTO FONSECA: Okay, we know "Lobito" was from Costa Rica, but while riding for Yamaha of Troy on the AMA circuit, he was invited to Japan in the fall of 2000 to race the All-Japan motocross final on Yamaha's new YZ250F four-stroke, winning the 125 race at the Honda Airport Circuit. That very same day, in the 250 Class, another AMA-based rider, Sebastien Tortelli of France, debuted what Honda was calling the "CR-4," which eventually became the CRF450. Like Fonseca, Tortelli won, and the whole world started getting the message that four-strokes were coming from all brands, and racing in both classes. Oddly enough, Fonseca ended up moving over to Team Honda and debuting its new CRF250R in the same way he did the YZ250F—by winning on it in Japan!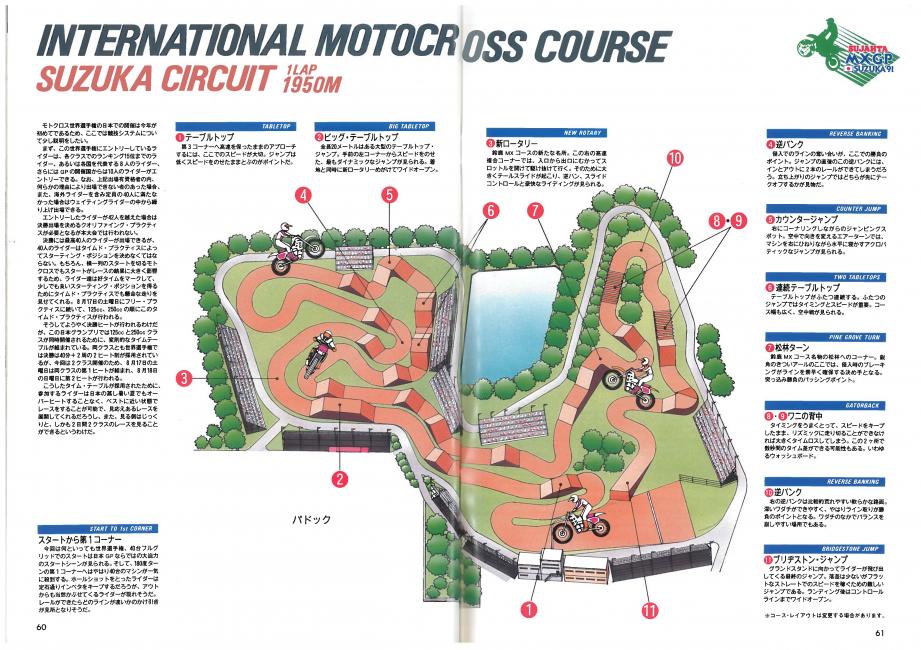 COOPER WEBB: Last October, Yamalube/Star Racing Yamaha decided to send their team to the fifty-second MJF Grand Prix at Sugo, which was effectively the final round of the 2014 series. Jeremy Martin, the recently crowned AMA 250 Motocross Champion, was also slated to go but then broke his foot at the Motocross of Nations in Latvia, so Webb went alone. He ended up having a great time and rode a fantastic race on his 450, sweeping both motos.
JEFF STANTON, MIKE KIEDROWSKI: In 1991, the season-ending FIM World Championship round was held at Sujahta, and several Americans were vying for championships: Bob Moore and Donny Schmit in the 125 Class, and Trampas Parker and Mike Healey in the 250 Class. Adding to the drama of the final round was the fact that two actual AMA National Champions that year, Kawasaki's Mike Kiedrowski (125) and Jeff Stanton (250), were also sent over to compete. Kiedrowski and Stanton would end up winning their classes, but the bigger deal was that KTM-mounted Healey felt that Stanton screwed with him and messed up his bid for the 250 FIM World Championship because he was trying to help Parker, who also rode a Honda that year. That led to the infamous photo below of Healey literally flipping Stanton off in the middle of the race!
JIM HOLLEY: Perhaps the American tied most closely to Japan is Jim "Hollywood" Holley, who raced there and then built a cult industry by bringing aspiring Japanese pros over to California for training. "In the early 1980s the economy was really strong in Japan, the supercrosses were big, and I made a lot of connections," Holley tells us.
"I tried to entertain the fans by doing whips and one-handers over all the jumps and they loved it. They'd always call it 'Action Jumps!'"
A man named Hiro Sato asked Jim if he could host riding schools over there, so on off weekends from the AMA scene, Holley would head over to teach a school.
"Race a supercross, fly to Japan, teach a school, come back, and race a national," Jim explains. "I think I paved the way for Steve Martin, Tichenor, Matiasevich, and all those guys."
Holley even learned to speak Japanese, and Yamaha asked him to build a program to train and house Japanese racers in the U.S. Holley estimates he's trained at least thirty top Japanese pros over the years, and plenty more via an amateur program run by his dad, Al.
"I was really surprised when I heard that Trey Canard, who has raced with Honda for almost ten years now, had never been to Japan until this weekend," says Holley, who today hosts the Supercross Live! broadcasts for Feld Motor Sports.
"Back in the eighties every factory rider would go there at least once a year. But the economy took a hit, and also I think they found the tracks weren't similar enough to America for testing to work out like they wanted."
With over thirty years of work on the Japanese-American moto connection, Jim-san should be nominated as a U.S. ambassador!