25th Annual DC Vet Homecoming Race Report
MORGANTOWN, W.Va. -The 25th Annual DC Vet Homecoming took place this past weekend, September 26 and 27, with the ultimate tribute to the veterans of motocross and Big Dave Coombs. The legendary High Point Raceway in Mt. Morris, Pennsylvania, hosted an epic "throwback" fun-filled weekend of racing and activities. "DC" was Big Dave Coombs, one of the most influential motorcycle enthusiasts in the history of motocross and off-road racing. Together with his wife and partner Rita, from their home in Morgantown, West Virginia, Coombs was the driving force behind the creation of motocross and off-road motorcycle racing as we know it today. To honor his involvement, this special event takes place annually at High Point Raceway, a national track co-founded by Coombs.
On Saturday, September 26, the Grand Prix Moto-X Country race took place, featuring a mix of obstacles including a grass track, woods sections, and a motocross track. Eight-time Grand National Cross Country (GNCC) champion Barry Hawk competed in 40+ A/B, 35+, and 30+, winning all six motos. Honorary Grand Marshal Chuck Sun dominated both the 50+ and 55+ classes after traveling to the East Coast from Las Vegas, Nevada. Sunday's 25th Annual DC Vet Homecoming was fully dedicated to motocross, offering classes ranging from 65cc support to 60+ classes. Sun raced the 50+ A division where he finished 6-3 for fourth overall. During intermission, Sun switched from racer to judge as he picked the winners of the bike show and vintage contests. The Vintage Bike Show competition consisted of bikes ranging from pre-1996 to 2005. In the classic four-stroke division (pre-1996), Don Green's BSA Dick Mann replica bike stole the show, winning his class division and being voted "Best in Show."
The judges were won over in the golden era (1970-1978) division by Gaylord Plants' 1973 Maico motorcycle. In the pre-modern era (1978-1982) Joseph Maliski took home the blue ribbon with his 1979 Husqvarna. LJ Talgo's 1983 Honda CR 480 rode away with the win in the modern era (1982-1989) competition. The 1994 CR 250 owned by Terry Bernard won the millennium era (1990-2005) class. In the other vintage contests, the memories were relived with Ryan Dustman's Yamaha Fox Yoko jersey, claiming the vintage race gear section, while the oldest race program was won with a 1976 Mid-Ohio Trans-AMA program. High Point memorabilia dominated two of the competitions, with James Stanley's 1981 High Point National event shirt and Paul Frey's 1981 High Point trophy. With the weekend being all about vet racers, it only makes sense for there to be an oldest competitor contest. Sixty-three-year-old Henry Hauenstein from Ohio claimed this honor. Hauenstein finished seventh overall in the 60+ division. All vintage contest winners received two all-day pit passes for the 2016 High Point National, in addition to a free one-year subscription to Racer X Illustrated.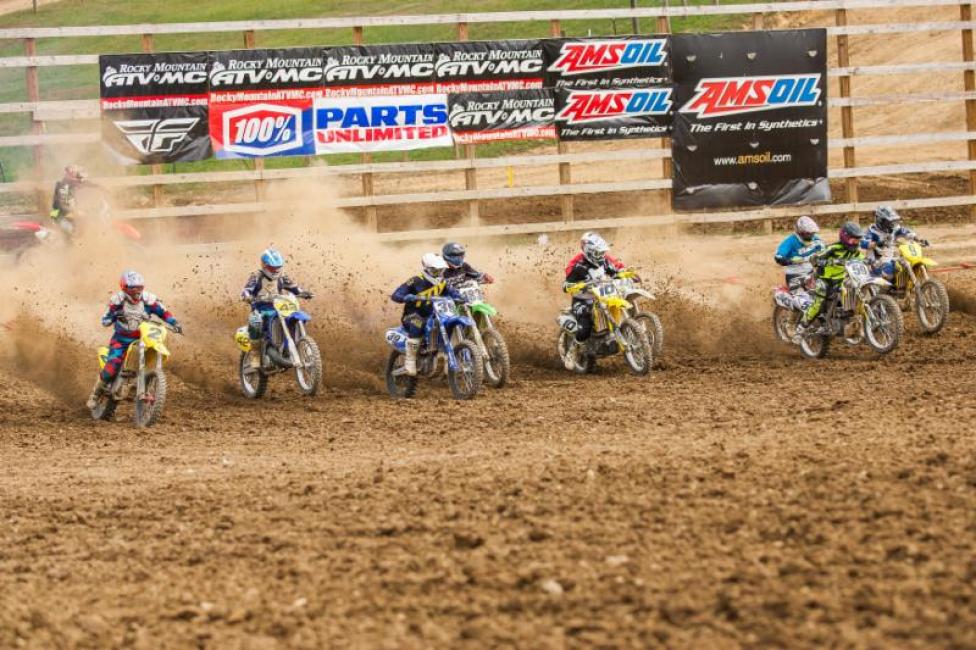 Possibly the biggest contest was the furthest traveled competitor, who took home two VIP Super Pass tickets for the 2016 High Point National—a $400 value. Colorado's Sean Rhoten will make his way back to Pennsylvania next summer after securing this esteemed award. Rhoten placed twelfth overall (11-13) in 25+ and seventh overall (8-5) in the 18+ Support division. The weekend hosted a total of 445 riders who enjoyed the electrifying atmosphere throughout the event. Family friendly fun was generated with a mix of 1980s music, a live band, bench racing, barbecue dinner, and a swap meet.
For more information on this past weekend's activities, please call (304) 284-0084 or visit the official website at www.racerproductions.com. Also follow High Point Raceway on Facebook, Twitter, and Instagram for exclusive content and to catch the latest news.