Ernee, France
Motocross of Nations
Motocross of Nations
Marvin Musquin's 2015 season has been superb, but a pair of heartbreaks has also soured it over the last month. He lost a shot at the Lucas Oil Pro Motocross 250 Championship when his bike broke at the season finale, and then his brother, fellow racer Mickael Musquin, broke his neck the same weekend. Marvin found some magic again, though, this weekend, with a historic French victory at the Monster Energy FIM Motocross of Nations on home soil—the first time the French team has won at home.
Marvin pitched in big with 4-3 scores on his 250, best in the MX2 class. The always-friendly rider talked about it at the post-race press conference and again one-on-one with our Steve Matthes.
FIM Press Conference: Marvin Musquin, the MX2 rider with third- and fourth-place finishes today, and also the class winner in MX2—tell me about your day. The first race was electric between you and Justin Barcia.
Marvin Musquin: I was really looking forward to getting a good start like yesterday, and unfortunately both of my starts were not that great, but I was lucky to be inside. I kind of impressed myself on the first lap. It was really tough. Many riders were doing mistakes and crashing, and I went through those guys and then got third at the end of the first lap, so I was really happy. On the 250 since the beginning I came here and rode, I knew I was capable of doing good against the 450s. So that was a good thing. I was ready. I really liked that track. It was really technical. It was easy to make mistakes.
That first moto today, I wanted to catch the leader, Justin Barcia. It was just really cool. But I got too excited. I was doing too many mistakes, and the crowd was going crazy. Like I said, I was doing a little bit too much mistakes, and then I finally went down. It kind of scared me. I landed on my back. When you have a crowd like that behind you, you're not hurt. You just want to come back on your bike and give 100 percent, and that's what I did. It was a tough one, and I was thinking about the second moto. I was like, that's going to be a tough one to get back right away. To get a fourth place, it was not too bad considering the crash, and the second moto same thing—not a great start, but I was able to have a good speed. But I rode a bit smarter the second moto, and I was happy about that.
To get third in the second moto and first in MX2, that was great for me. I'm really happy. Always, we forget to say congratulations to the other teams. The Americans, they always fight really hard, and they showed a lot of heart today. They're always really competitive. I've been racing in the U.S. for many years, and I know how tough they are. Obviously, today the crowd was cheering for us a lot, and that supported us a lot. To be in France, it was huge for us. Really happy to win, but obviously they fought really hard. Congratulations to them, and to the Belgium team also, and everybody.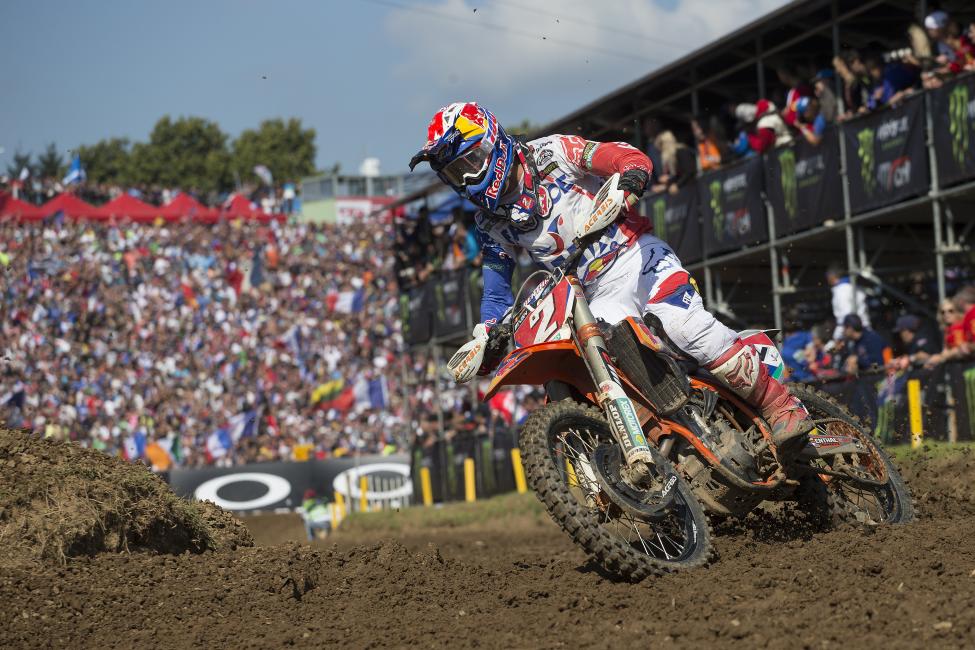 Steve Matthes/Racer X: Congratulations. You did it without [regular mechanic] Frankie [Latham].
Yes, thanks! I was really looking forward to this race and bringing Frankie back to France. He's a big part of my program, as you guys know. It was a bummer, but that's for him and his wife; they're going to have a baby, so that's important. But I talked to him all weekend long, and Jade Dungey, who was my mechanic, gave 100 percent, and I'm really happy for him that he was with us. I'm really happy the way I rode.
Your first moto, you had phenomenal opening laps. You were almost two seconds faster [on your best lap] than everyone else. That had to have been pretty cool.
Yeah, I think I had better lines. The crowd was pushing me, helping me I feel like. I felt like I was flying because of that crowd. But I got a little too excited, and I was doing small mistakes. To be able to pass Justin Barcia on my 250, that was awesome. But from the beginning, I knew I was capable of doing something really good on the 250 on the track. It was really technical, so the 250 was good. I had so much regrets after that crash and got fourth. I was like, "Oh, man, I should have take[n] it easy and gotten second; that would have been great." So get fourth; that wasn't too bad, but I could have gotten better. And then second moto, it was even better result, third. It was good. Being able to see Romain [Febvre] in the first place, it was cool.
Did you know both times it was Jeremy [Martin] behind you?
Yeah, I was looking back. For a couple years I've known how his Yamaha sounds. So I knew. That's only also one thing that I'm proud of this weekend, to be able to be the best 250 guy all weekend long. That was the goal, but obviously I didn't expect to do that in that first moto, for example.
You were left off this French team a couple years when most of us thought you probably should have been on it. You didn't have the greatest years here before that. It has to be some nice satisfaction being on the team, coming through, winning your class, helping the team win.
Yeah, it's huge. I had a tough season in the U.S., as you know [last year]. And it was a bummer not to be picked on the French team, but that's the way it is. They pick the riders that race the GPs over here. But this year, Pascal, the team manager, he came over to America twice. And he could see that my program with Aldon Baker; we were doing good. So he picked me for the 250 class. I really wanted to do good. To be back on the French team for des Nations riding at Ernée in France, I didn't want to disappoint anybody and I gave my best. I'm so happy for all those guys.
I was thinking watching you and all your guys out there how incredible feeling that must be to come by and just have these people go crazy. It must be just a phenomenal feeling. Is this the biggest win of your career maybe?
Yeah, it is, of course! The U.S. has been good to me—winning the championship there, sure—but this crowd, everybody knows that the French fans are pretty unbelievable. I knew it was going to be great today. I was really happy on my bike, almost riding with a smile. And then that second moto, I was third and starting to have some pain on my hand—blisters and stuff like that—but I was like there is no way I can slow down or anything like that. So I kept pushing, and I was happy about myself.
I think us American fans, your teammate Romain Febvre, we saw him last weekend and we saw him today. He's really good.
Yeah, he's a really, really good rider. Since this year, obviously on the 450, he's doing great. I knew he was capable of winning both motos honestly, but there is always a "but." And then today was the day that he had to win, and that last moto, actually he was getting pushed by [Ben] Townley from behind. So he did great. He's a smart rider, and we all three did good, but obviously he did really well.