Fans of motocross on both sides of the ocean are familiar with Tyla Rattray. The 2008 MX2 World Champion rode for Monster Energy/Pro Circuit Kawasaki for many years, finishing second in the 250MX championship twice, along with winning six overalls during his time in the States.
Earlier this year Rattray announced that he is hanging up the boots after a great career. Before his last race, I caught up to the friendly South African to talk about what he's going through and what's next for him.
Racer X: Tyla, you've had a great career and announced a while back that you were done at the end of this year. Kind of fitting that you're here in America but racing the world championships to wrap it all up.
Tyla Rattray: It's definitely a great place to do it for me. I raced over in Europe for eight years, managed to win a world championship. Came over here, raced for Mitch [Payton, Pro Circuit owner], managed to win some races, fight for national championships. I've always been pushing the edge, but this year's been kind of tough. Knowing that you're going into retirement, and I knew kind of really early on in the year that I was going to stop, and just the motivation and going to the starting line saying, "I want to be safe. I don't need anything crazy to happen now." It always goes through your head.
So I've had a great career. There's a whole young generation coming up now that's crazy, where I've been there, I've done that. I've taken those risks. I've done crazy things. I've been landed on, jumped on people. So I just want to have a solid day tomorrow, have fun, and I think it'll be good to get in the top ten. There's a lot of good guys here, so I think if I can push and get him a top ten, I'll be happy. [Ed Note: Rattray finished fourteenth overall at the MXGP of USA.]
Did you kind of know going into the year it was going to be the last one?
No, I didn't know because I was working with RV. But just for me mentally going into the off-season and doing all that work and trying to get ready for another season, I can't even think of that now. It kind of happened; I figured I was going to retire when RV got hurt because me and Ryan were riding together. We were doing our motos together. When he got hurt, then I had to do that all my own. I had no one to go and do it with. It wasn't fun anymore. It was hard, and I really had to push through it, and it was getting harder. There's no regrets I have in my racing career. I'm happy with what I've accomplished in my career. I've won twenty-one professional races, managed to win a world championship, finished second twice in the AMA motocross championship, been on the podium in supercross.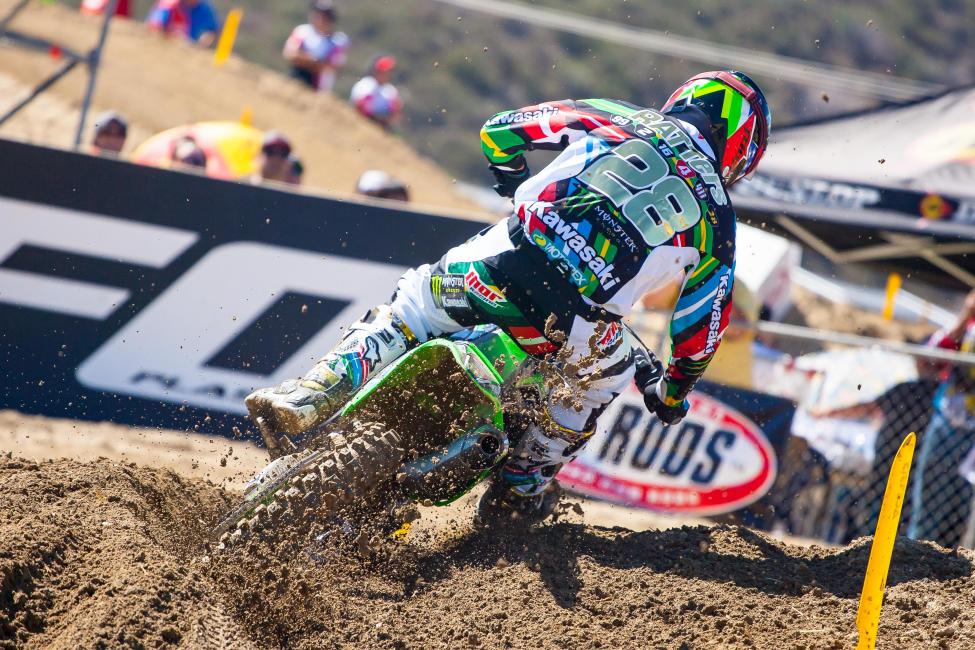 You were leading the series at one point I remember.
Yeah, leading the series is something I never thought I'd be able to do in my career. Coming over and racing supercross, even being on the podium was always a dream of mine to come over and race supercross. To be on the podium was a huge accomplishment for me. I came over when I was 23. So you got all these guys riding supercross at 10 years old, so it just shows the amount of work and determination I had to try to be on the podium in supercross.
You're the perfect guy to ask the differences between the racing in the two series. Everybody likes to talk about how America's lost the last three Motocross of Nations. You raced there forever, came here at your peak, raced there in your peak, you're back now. What's the differences?
I get that question a lot from fans too. You cannot compare Europe racing and America racing. The guys that win in the U.S., your [Ryan] Dungeys, [Justin] Barcias…. In America they're the best. Your [Romain] Febvres, your [Gautier] Paulins, your [Antonio] Cairolis—the guys that win in Europe—they're the best. When they come here, will they win? Maybe if the American guys having a bad day, or vice versa, they go there for Motocross of Nations. And same thing with the tracks. The tracks are so different. There's different regulations with the bikes. You've got completely different suspension. You've got tracks that are way slower, not as fast as here. So at the end of the day it's still a motorcycle, but the way it's set up is completely different. So you cannot compare Europe racing and the U.S. racing, and that's what I try to tell people. The guys that race in Europe are gnarly, and people need to respect that. And guys that race in the U.S. and win are gnarly, and people need to respect that.
I guess it depends on where it is.
In the middle of the ocean. You need to meet halfway. You can't compare it. It's hard to compare racing here and racing there. When the Americans go over for des Nations, will they win? Probably not. France has an unbelievable team. They know their track. They've grown up on that stuff. So it's going to be hard for them to win. And vice versa, if they came here, will America win?
We disk and water every national track in America. You run the same tire at every track. I think in GPs, sand, hard-pack, it's more of a mixture.
Here in America you need to work hard. You need to be on your bicycle; you need to be at the track pounding motos. Europe, way more different. So what does that mean? That means getting on your trials bike, going trials riding, jumping logs in the trees in the forest. Getting that feeling of bunny-hopping stuff, wheel-tapping stuff. The guys have it in supercross, but the tracks in Europe get holes everywhere, so you've got to learn to bunny-hop and be light on the bike over those holes. You don't want to be in them. So it's just so different. But I'm happy in my career that I got to experience both sides of the world and race supercross. I came out in front of 45,000 people and raced. It's always been my dream. I think every kid's dream growing up to come and race in America, and especially race supercross.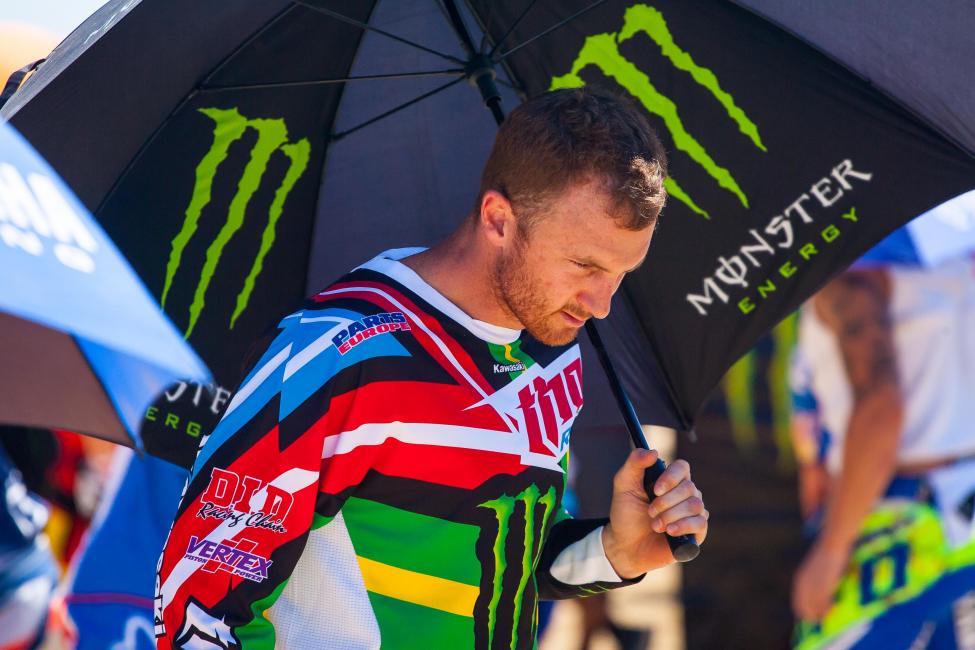 You were going to help Ryan with the GPs and training and getting around and all that. We were all excited. It didn't work out like many of us thought it did, and what's your take on his attempt at the GPs?
It's ballsy. Will we see another American do it? I don't think in the next twenty years. RV, he won everything. He went over there and it was tough. Like I said, the Euros are good. You go to their terrain, they will be good. It's not easy. There's different bike setup. When we went to Qatar we did a lot of riding. Actually I did some testing. Went over to Europe; did some testing there. We thought we rode good. We went to Qatar; boom, we were way off with our chassis. So then it was back to the drawing board and trying to soften up our stuff and try to get our suspension better. During all year, you're always doing a bit of testing during the season in Europe, because the tracks are just so different.
One weekend you're on sand. One weekend you're on hard and slick. One weekend you're on rocky. It's just so different. But all in all I feel like I've had a great career. I've met a lot of great people in the U.S. I've met a lot of great people in Europe. I've met a lot of great people in America, and to see my last race, and also the Europeans families are here to see my last race.
Career highlight? Obviously the world title, but what else stands out for you?
For me leading the supercross series was a big surprise. It was something I never thought would even be possible when I was racing guys like [Eli] Tomac and Barcia and [Dean] Wilson and guys like that. It was always my dream to come over and race supercross, and to be leading the series, I thought, was pretty cool. Even though it was only for one race, I was consistent through the first year and that's what counts. Obviously finishing second in both national championships in 2010 and 2011 with Mitch—that was a highlight too. Obviously the main one was winning my world championship in 2008.
Hard to express how much Mitch Payton means to you?
Yeah, definitely. Mitch brought me under his wing when I first came over, and I was there for five years. I had a great career with him and Kawasaki and Monster over here in the U.S., and ending it off with Kawasaki and Monster here in Glen Helen.
I hear now you're going to be working with Dean Wilson?
I'll be working with Deano, [Shane] McElrath, [Jessy] Nelson, and [Sean] Cantrell will be my amateur kid that I'll be working with.
So we're going to see you all the time.
You're not going to get enough of me.
The next day, Tyla went down in the first turn of the first moto and fought hard to get inside the top fifteen. He rode steady in the next moto for a twelfth and wrapped up a great career.