The cover headline of the dog-eared and yellowing issue of Cycle News (July 22, 1992. Number 28) reads, "Stanton Wins It All, Bradshaw Falters in Los Angeles."
True to the cover story, in a miraculous, almost unbelievable turn of events, Jeff Stanton had managed to defeat Damon Bradshaw inside the riot-battered and bruised Los Angeles Memorial Coliseum, and in doing so, won the 1992 Camel Supercross Championship. However, and to those who actually chanced upon it, there was also a small and succinct news item on page two of the "IN THE WIND" section of that very same issue that was, in a way, even more newsworthy.
"Both Team Honda's Jeff Stanton and Yamaha's Damon Bradshaw have said that they will not represent the U.S. at the Motocross des Nations in Perth, Australia, September 6. They both said that they want to "give other people a chance" to compete on the U.S. team and try to win the Motocross des Nations for the 12th straight time. The three riders most likely to form the team are Suzuki's Guy Cooper and Kawasaki's Mike LaRocco and Mike Kiedrowski."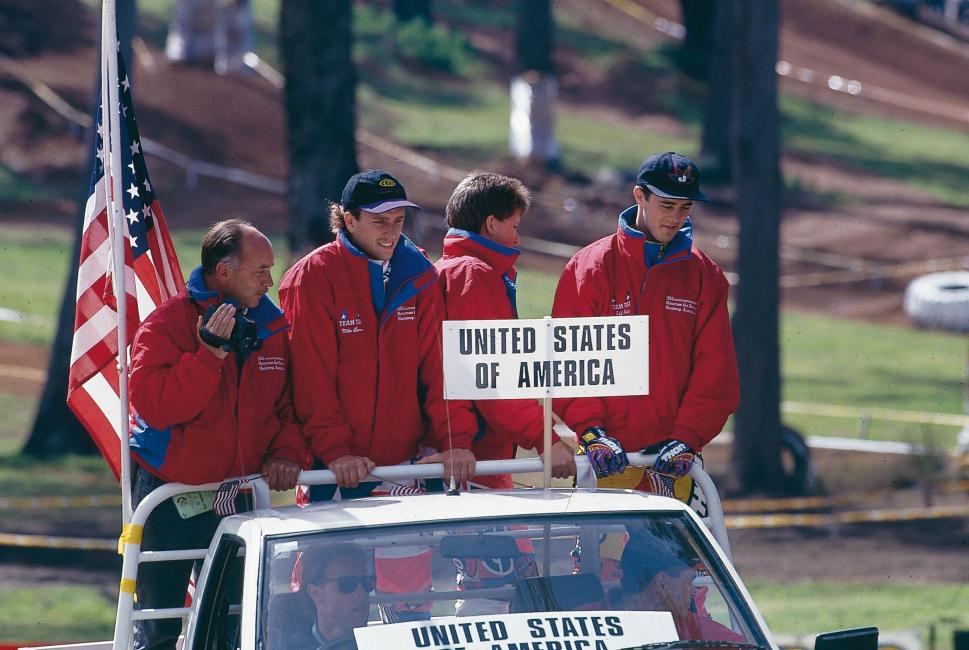 Stanton and Bradshaw, two of this nation's greatest riders, wishing not to be picked to represent Team USA at the Motocross des Nations? This can't be… For eleven straight years, beginning with America's first shocking upset win way back in 1981, Team USA had been able to—whether by skill, strength, brute force, or the fair hand of luck—prevail in the "Olympics of Motocross" and keep a stranglehold on the Peter Chamberlain Trophy.
But then came two very close calls at Vimmerby, Sweden, (1990) and Valkenswaard, Holland ('91). Jeff Stanton (500cc) and Damon Bradshaw (125cc) were on the team in Sweden that beat Belgium by a single point. Then, at Valkenswaard, Stanton (500cc), Bradshaw (250cc), and Kiedrowski (125cc) barely beat back the advances of the best Grand Prix teams of Europe to keep the U.S. win streak alive. But the handwriting was on the wall: Team USA was going to lose the Motocross des Nations sooner or later. It was just matters of who, when, and why.
Hence the conception of "the B team." As early as mid-July of '92, Stanton and Bradshaw, weary from a long and hard AMA Supercross Championship that had been delayed by several weeks due to the Los Angeles riots, not to mention the ongoing AMA Motocross Series, made it clear that they wanted to pass on representing Team USA at the 1992 Motocross des Nations in Manjimup, Australia. Soon after, Mike Kiedrowski and a host of other American-born, world-class riders also waived off the assignment. Excuses and reasons ran aplenty, but the stone-cold truth of the matter was that, down deep, nobody wanted to be on the team when America's luck ran out. Even Team USA's longtime manager, Roger DeCoster, decided to pass on the assignment in 1992, himself in transition from American Honda to a GP team in Europe. It was starting to feel like there might not even be a Team USA at the '92 event….
As the summer began to wind down and the outdoor nationals were in the home stretch, Roy Janson, the AMA's director of pro racing, stepped in and started to cobble together a team that would represent the U.S. in Australia. It took resolve, resourcefulness, and the bending of some edges, but Janson was bound and determined to make it happen. He needed a brand new set of riders, and into the spotlight stepped two feuding young 125cc riders named Jeff Emig and Mike LaRocco, who just happened to be deep in the throes of a vicious fight for the '92 AMA 125cc National Championship. LaRocco would ride the 250, Emig the 125, even though they still had two rounds to go to settle the AMA title. For the 500cc assignment, Janson tapped a Grand Prix journeyman from Georgia named Billy Liles.
"We had heard all kinds of rumors that year," said Liles, a perennial 500cc World Championship contender. "You know, Roger DeCoster wasn't going to manage the team and nobody wanted to ride on it. Roy Janson contacted me and asked me if I'd be interested in representing the United States of America at the Motocross des Nations. Of course my first question was, 'Who am I going with?'"
"I told Billy got Mike LaRocco and Jeff Emig who, obviously, had yet to become the champions they became known as," recalled Janson. "He was fine with that, and all three of our riders were determined to give it everything they had.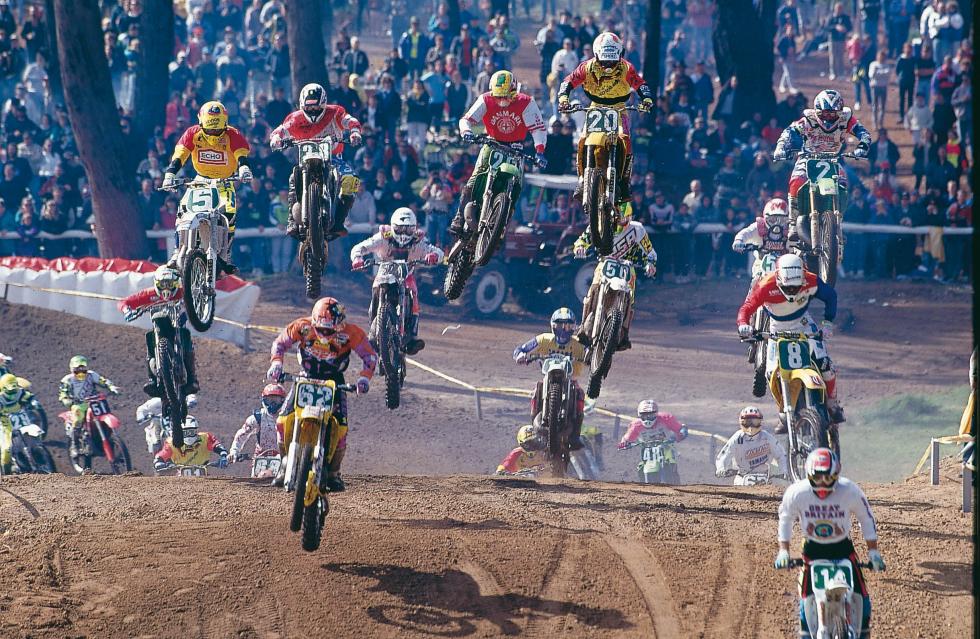 Emig was all about being a part of the American team. "Us all being rookies to the whole des Nations thing, there was this real team unity feeling between us," offered Emig, who was riding a Yamaha YZ125 at the time. "It was like, Hey, we can't let everybody down so we have to get it together. And fortunately the four main players on this team—Roy, Billy, Mike, and myself—we had a tremendous amount of support backing us."
Despite the fact that Australia had never hosted a round of the world championship, the FIM had tapped the tiny town of Manjimup, in Western Australia, to host the forty-sixth annual running of the Motocross des Nations. Located 191 miles south of the state capital of Perth, the town hummed along with the support of its countless dairy farms, fruit and vegetable farms, vineyards, and timber industry. The setting for this international showdown would be the 1.2-mile-long Cosy Creek circuit, a track comprised of sand and gravel, which skirted a natural valley.
Sunny skies and cool temperatures greeted the teams on Sunday and a crowd of nearly twenty thousand fans found their way into Cosy Creek. The opening moto would feature each participating nations' 125cc and 500cc class riders. When the card went sideways and the gate clanked into the gravel, thirty-two racers disengaged their clutches and rocketed up the start straight and into a right-handed hairpin first turn.
Leading the pack out onto the rutted and whopped-out circuit was the sensational Jean-Michel Bayle of France. Kurt Nicoll of Great Britain, Liles, and Georges Jobe of Belgium followed JMB. Bayle, the remarkable Frenchman, was just 23 years old, but he already had a boot out the door from motocross, having signed up to go road racing the following year. This would be his last major motocross event as a professional. Bayle immediately wicked it up and just plain disappeared.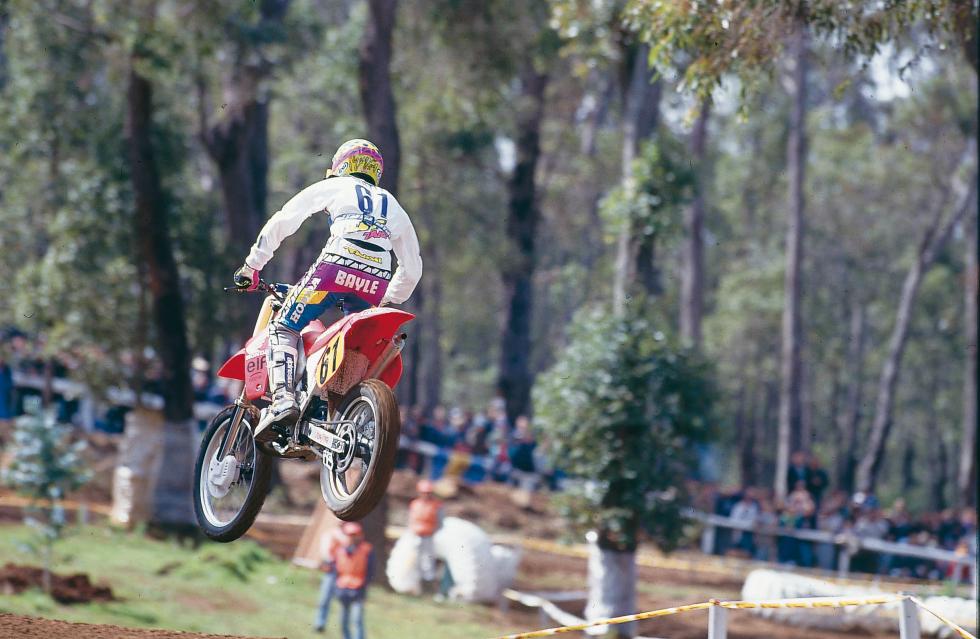 Six laps into the moto, Liles motored up on Nicoll, and on lap eight, made the pass for second. And that's where the Team Johnson/Action Workshop rider would stay to the finish aboard his Honda CR500, followed across the line by Nicoll and 500cc World Champion Jobe.
Back in the 125cc ranks, a titanic tussle was being fought between the sprinting Emig and the Belgian sand specialist Stefan Everts. The two riders, easily the two fastest 125cc riders on the track, would ultimately collide and end up in the sand together!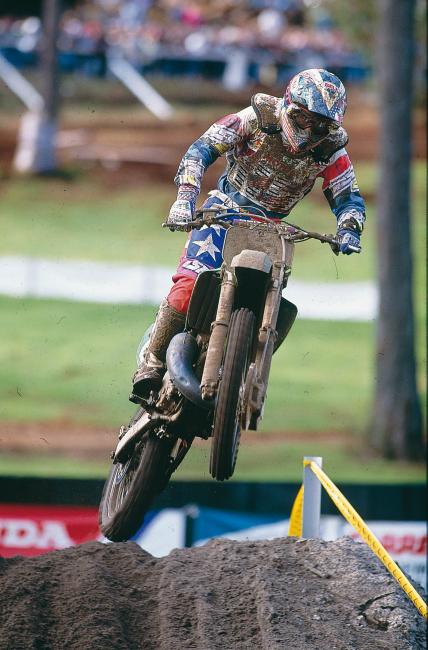 "We both had fairly poor starts," explained Emig of the skirmish. "We both had to battle with the big bikes because it was 125/500 moto. Both of us were flying through the pack and we were just plowing through riders. Basically, in the 125 class, it was him and I. We had a great battle going. We wanted to prove to everyone who the best 125 rider in the world was. We came to together. He was on my left side. We both went down. From my viewpoint, Everts jumped into me and hit me. But if you talk to him, maybe I blocked his line and fell on top of him.
"We both got up and started our bikes and he got up just behind me and we took off in the same position we fell down in," added Emig. "Talk about some intensity!" Emig and Everts would ultimately place first and second, respectively, in the class.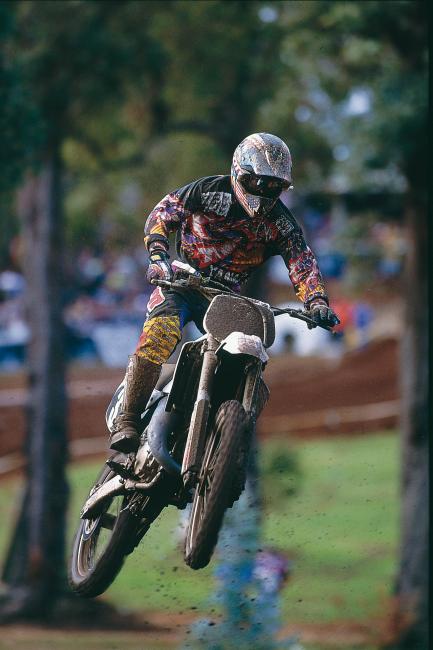 England's Rob Herring holeshot the 125cc/250cc moto ahead of Frenchman Yves Demaria and Belgium's Marnicq Bervoets. Mike LaRocco was back in fifth, but charging forward. Back in the frenzied first-turn section of the circuit, Emig was pulling his Yamaha YZ125 from a yard sale of a pile-up. Once he got going, he slashed his way through the pack, into the top ten by the moto's twenty-second mark. Up front, Herring had hit the ground, so Bervoets and LaRocco were now running one-two. The Belgian and American would fight to the end, Bervoets winning the moto over the American by a scant five-hundredths of a second. Behind, Emig had kept on coming, getting all the way back to an amazing seventh overall, second only to Dutch 125cc rider Remy Van Rees.
"At the start of the second moto I was on the ground," explained Emig of the first turn donnybrook. "I felt a huge sense of urgency. I was thinking, On the ground. Not good. Gotta get up. Gotta pass riders. Gotta move through the pack. Gotta haul ass. I'm moving through the pack, pulling tear-offs, getting roosted, and trying to pass 250 bikes. It was just brutal."
But as Emig was trying to make it up through the pack, his nemesis Everts was about to have a worse moto. The Suzuki rider, very early in what would ultimately become the greatest career ever for a Grand Prix racer, seemed well on his way to victory when a flat rear tire literally ended his moto and severely damaged Belgium's chances. Everts was so bummed out that he literally laid his bike over and then sat down on it in the infield, his head down in his hands.
But still, going into the final moto of the day, Team USA and Team Belgium were tied on points with 7 each. So down it came to Liles and LaRocco versus Jobe and Bervoets. America's chances took a huge hit when LaRocco was taken down in yet another first-turn clash. When he got back on the KX250 and got going, he was dead last.
"I was on the ground at the start of the last moto," said LaRocco. "I took a hard hit, and I remember panicking. That was a scary feeling knowing that you had everything on your shoulders. I remember plugging away and watching the board and getting done what I needed to get done."
Up front on the sand shifting 500s, Kurt Nicoll and his KTM took control, chased by Edwin Evertsen (Holland), Liles, and Bayle. Bervoets was also slotted in quite well, running near the lead pack, while Jobe was struggling mid-pack. Despite making a few mistakes and actually falling on two separate occasions, Liles gathered himself back up and rode his way right back up to third at the finish. LaRocco, concurrently, had blitzed all the way back to fourth overall and second 250. America, once again, had won the Motocross des Nations.
"It was a 50/50 mix of relief and excitement," explained Roy Janson. "It was relief to think we weren't going to give that Peter Chamberlain Trophy back and the excitement of knowing that these three guys were going to get a chance to taste the experience of victory like they had never experienced before. True athletes and true sportsmen rise to the occasion, and that's what these three did that day. They weighed up the competition and said, 'We can beat these guys.' And we did. I've been in this business for forty-five years, and it is, or was, one of the greatest experiences of my life in this business. You know, I think it was the shining moment. 1992 really was the greatest. It really was the highlight of my motorcycling career to have a chance to have been associated with those guys and to have been there to witness it."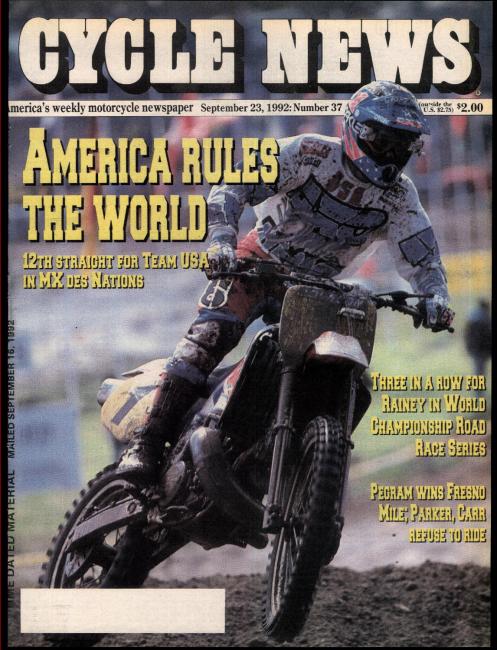 The once-dominant Belgians would get yet another year—twelve in a row now—without winning a race they used to dominate. Their day would come, but not until someone else's did first.