As the 2015 Monster Energy FIM Motocross of Nations approaches on September 27 in Ernee, France, Racer X Online will count down the days by looking back at each of the twenty-two versions of Team USA that have won the MXoN (and, until 1984, the Trophee des Nations). Team USA's success at the "Olympics of Motocross" dates back to 1981, and continued through 2011, with the occasional loss. Now it's up to the trio of Justin Barcia, Jeremy Martin, and Cooper Webb to travel to France this time—where Team USA is undefeated over the years—and bring the Peter Chamberlain Trophy back home!
We begin with 1981, and the team that almost wasn't.
Motocross was born in England, named in France and reigned over at various times by the British, the Swedes, the Belgians, and even the Russians at one time or another before 1981. By that point the United States had begun growing as a global motocross power, but never had they managed to win either the Motocross des Nations (which was for 500cc motorcycles) or the Trophee des Nations (250s) from the time they first started participating in 1970. There were flashes of brilliance from early pioneers like "Bad" Brad Lackey, "Jammin'" Jimmy Weinert, and Bob "Hurricane" Hannah, though the only victory the Yanks could claim was a single moto win by Jim Pomeroy at the 1975 Motocross des Nations in Italy.
What America did have was a growing influence of their riding from supercross, a form of motocross which can trace its origins back to the Great Victory Day races in a soccer stadium in Prague, Czechoslovakia, but its actual zenith to the 1972 Superbowl of Motocross at the Los Angeles Coliseum. As SX grew, so did the abilities of the Americans, as well as their confidence.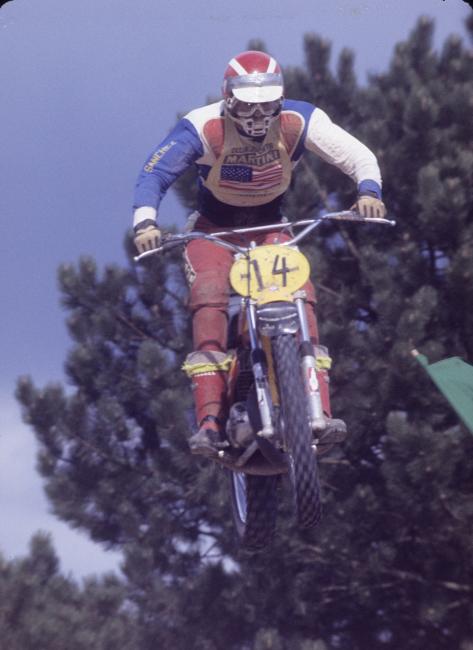 But the Motocross and Trophee des Nations races were difficult to follow since they basically happened in the autumn, right after the AMA Motocross Nationals were ending and the Trans-AMA Series was beginning. That late, great tour had a profound impact on America's growth as a racing power, yet it also held them back on the global stage because race team budgets didn't often account for sending (at the time) four riders and eight bikes (250s and 500s) to Europe for two weeks. In fact, after a few loose efforts in 1977 and '78, the Americans completely passed on even going in 1979 and '80, and it was starting to appear that they would miss 1981 as well.
It was during this downtime for Team USA that a secret weapon emerged from an unlikely place. Roger DeCoster, the most famous motocross rider in the world at the time, hailed from Belgium, but was a frequent visitor to these shores as a racer, not to mention a global ambassador. The five-time FIM 500cc World Motocross Champion was always the favorite to win the U.S. Grand Prix at Carlsbad every June, yet somehow he never did win it! But after DeCoster retired in 1980 from professional racing, winning the last GP he ever entered in Luxembourg on a Honda, he took a job in the U.S. as an advisor to Team Honda, which at the time was not the juggernaut it would soon become.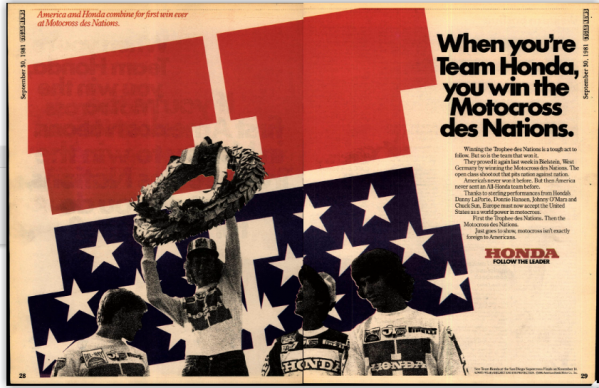 DeCoster's first order of business was to help get the Red Riders back up toward the front, bringing his years of GP knowledge with him. Roger was also a very important figure in the Motocross and Trophee des Nations—he led Belgium to an astonishing sixteen wins during his time in the saddle.
When the annual question of who exactly would go to the 1981 Motocross and Trophee des Nations, there weren't a lot of takers. Yamaha's Broc Glover (500 MX Champ), Bob Hannah, and Mike Bell were either injured or unavailable because Yamaha's then-boss Kenny Clark didn't seem to be interested—both Glover and Bell would later say they would have gone in a second had they actually been invited by their boss. Suzuki's Mark Barnett (the new AMA Supercross Champion and 125 MX Champion) and Kent Howerton (250 National Champ) also didn't seem to have the backing to go. With no firm takers, there was little hope that Team USA would attend the race, let alone contend for the win.
It was at that point that a group of industry folks started pushing to make something happen. Motocross Action editor Dick Miller teamed up with Hi-Point's Larry Maiers (better known as a TV host) and Bel-Ray's J.J. Hanfield to get some folks behind the race. American Honda, shut out of the winner's circle for much of the domestic season, was interested, according to team manager Dave Arnold. And this of course led to Roger DeCoster joining in. With Miller, Hanfield, and Maiers leading the fundraising, Honda volunteered four riders, only two of whom had ever won an AMA National or Supercross. The veterans Chuck Sun and Danny LaPorte would be joined by Donnie Hansen and Johnny O'Mara, of which only part-time GP rider Sun and the teenager O'Mara were really known in Europe, in O'Mara's case because he somehow won the 1980 Valvoline 125cc U.S. Grand Prix on a hand-built Mugen Honda.
With enough money in hand to go to Europe, the team left LAX and headed for Belgium for what has since become a track synonymous with rough, nasty sand: Lommel. That's where Team USA would plant its flag first on 250s at the Trophee des Nations. Much of Europe—and actually, most of the American media—regarded the four Honda men as some kind of "B team," which in turn motivated them beyond anything else. They were being taken lightly, especially given that the race would be in the sand, where the Belgians almost always reigned supreme. What no one knew was what DeCoster and Arnold knew: LaPorte grew up in the desert, Sun on the dunes of Oregon, and O'Mara and Hansen were good on everything, just not well known.
Their anonymity played perfectly in the sands of Lommel, as did their matching all-white JT Racing gear, provided by John and Rita Gregory, who also got on board early. When the gate dropped for the first moto all four Yanks surged to the front, shocking the Belgian fans and others who had taken them so lightly. Only Belgium's own Andre Vromans, who practically lived at Lommel, was able to get ahead of all of them, followed by O'Mara, LaPorte, and Hansen. And despite a blown rear shock, Chuck Sun somehow finished eighth!
"Everyone was bewildered and shocked," legendary GP journalist Jack Burnicle told our own Eric Johnson when he wrote the definitive Racer X story of the team, entitled "When We Were Kings." Said Burnicle, "If you've ever been amongst Belgian motocross fans, you know that they are furiously supportive of their favorite riders and they couldn't admit to themselves that their guys had just been beaten, and beaten badly. While the Americans were trouncing them during the race, they still thought that their men would win and they all hung over the ropes shaking their fists and screaming at their guys to go faster!"
More than three decades later, the same could be said of American fans and their expectations at these races.
So the wake-up call was delivered, and the Belgians and everyone else came out swinging in the second moto, but so did the Americans—and DeCoster! Believe it or not, Roger, who was extremely well known in Belgium, as you might imagine, was being heckled in the signaling area by a fan who kept yelling at him to get out of the way. With Dave Arnold there next to him, DeCoster had finally had enough and walked over and smacked the belligerent fan.
"Roger was trying to concentrate, but the guy just kept yelling," recalled Arnold. "Finally Roger got up, walked over, and just smacked him! It was unbelievable. And when the guy found out it was Roger DeCoster who had slapped him, he thought it was the greatest thing in the world!"
Vromans again won the second moto, but LaPorte was second, O'Mara third, and Sun sixth—more than enough for an easy team win for Team USA, and a game-changer at that. All of the work that the industry friends in America had done to get the team there had come true beyond anyone's best hopes.
"For years, the press in Europe always thought that they were the best, but that win shocked the status of the [FIM] World Championships and showed how competitive the U.S. had become," said Arnold.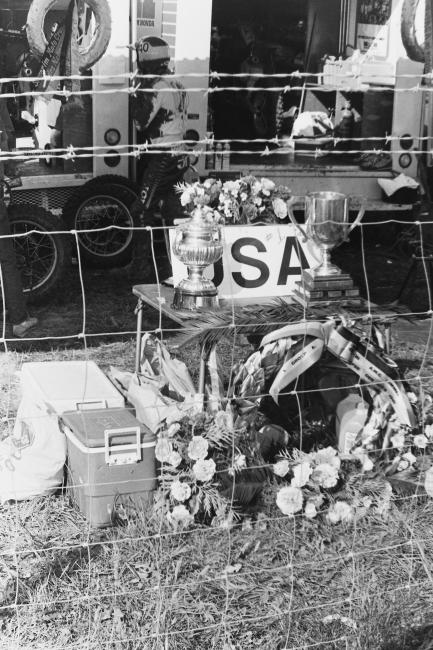 But there was still another race to be run, one week later at the Motocross des Nations in Bielstein, West Germany (yes, this was back when Germany was split in two). This time the track would be hard-packed, and everyone would be riding 500s—a class that O'Mara had never even raced!
This time it was Hansen who would emerge first from the American squad, chasing after Sweden's legendary hero Hakan Carlqvist, finishing second even after crashing down an embankment at one point. LaPorte was sixth, O'Mara eleventh, and Sun was twentieth, despite his chain falling off twice.
Unlike the previous weekend, it was now the British team of Graham Noyce, Dave Watson, Geoff Mayes, and future multi-time 500cc World Champion David Thorpe that would give the Americans their biggest challenge, and for awhile there in the second moto it seemed like they might take the win. With rain falling and the Americans struggling—Sun was out with an injured ankle—the Brits were on their way to winning before Noyce suffered a DNF. Just like that, Team USA had another direct shot at the win, and they clinched it when LaPorte passed Belgium's Gerard Rond as they crossed an asphalt road. Team USA toppled the world for a second straight week, and now they had the Motocross des Nations for the very first time.
Incredibly, it would be a dozen years before they lost their grip on the Peter Chamberlain Trophy, as Great Britain would avenge itself for that '81 defeat. But that's way down the road…
One year later, Donnie Hansen would win both the AMA Supercross and 250 National Motocross Championship. LaPorte would move to Europe and win the FIM 250cc World Championship. Sun's days were winding down, and the '81 race would mark his last hurrah. As for O'Mara, he would battle for the 125 National Championship. He would also be the only of the OG Team USA heroes to race again in the Motocross and Trophee des Nations. All four would later enter the AMA's Motorcycle Hall of Fame; all four will forever be regarded as the greatest "B team" to ever line up together behind a starting gate.
Tomorrow: Magoo in '82!