Miller Motorsports Park
Tooele

,

UT
Utah
Lucas Oil AMA Pro Motocross Championship
BTO Sports is your number one source for all of your motocross parts, gear, accessories and apparel. BTOSports.com is a motocross company who is truly dedicated to the sport and to the customer. Proud sponsor of your Racer X Podcasts and the BTO Sports race team.
Round eleven of the Lucas Oil Pro Motocross Championship took place at Miller Motorsports Park, which is about thirty minutes outside of Salt Lake City, Utah. It's the third year they've had this race at the road-race facility, and although there's no one in the pits that would say Utah is their favorite track, in my opinion, it's not nearly as bad as everyone thinks it is.
It obviously has good things like a press box (though it's too far from the track for my liking), level asphalt pits, a washing area for the teams, and amenities for the fans like a Jumbotron and nice shaded bleachers. It's not Millville or RedBud (two tracks that scream "AMERICAN MOTOCROSS, BRO!!!"), but it's also not this terrible place that should have a bomb dropped on it either. It's motocross in 2015, bro.
Just like we're always saying a series should have a sand track or should go to the Southeast or whatever else you feel strongly about, maybe one race of the series should be a purpose-built track like Utah. I wouldn't want twelve rounds of Utah, but I also don't mind switching things up.
I have to admit, though, it's a bit of a sterile experience watching the motos. There aren't fans lining the fence like a usual national, the dirt looks a little weird, and I'm watching from the press box a long ways from the track. I found myself watching the race from TV, even though the race was right in front of me.
But one thing I never heard from any riders was the track being easy or smooth. This was motocross—no doubt about it.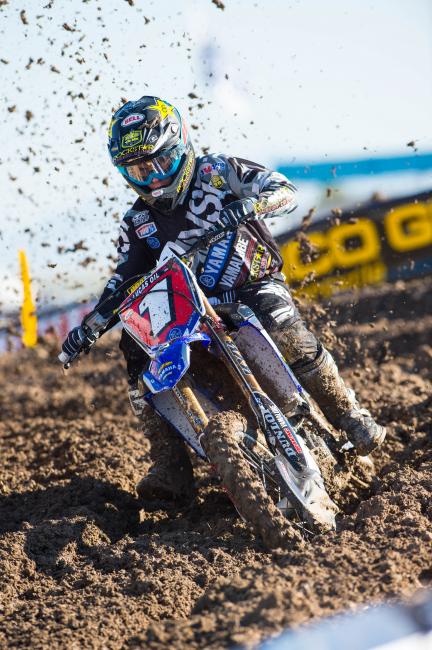 The 250 Class came into Utah with Jeremy Martin and Marvin Musquin separated by 2 points, and they left separated by 2 points, as the riders tied in points with Martin getting the overall win. But it could've been way worse for Martin. If he wins this title, Utah just might have been a key for him. Wait, when it's this close, isn't every round key?
In the first moto, Jeremy started on the far inside because he saw that the tractor disking up the start straight hadn't gone all the way to the edge of the track, so the dirt was hard-packed on the far left. This was the move to try at High Point for about five years until someone caught onto it and made sure the dirt was deep everywhere. Not a bad strategy by J-Mart, but it backfired terribly when he got a bad jump and came off the line basically in dead last. It was a boom-or-bust type of scenario, and this one went bust. To make things worse, he got caught up in a crash and had some serious work to do.
Although it took him a while and he didn't do it with his usual flair, Martin eventually worked his way up after getting RJ Hampshire for third when RJ fell in the last turn. Bingo, bango, RJ's crash gave 2 points to Jeremy right there. In the second moto, Martin was on fire and ripping through the pack when he came up on leader, and teammate, Cooper Webb. Webb simply slowed down and let Martin right on by. Bingo, bango—that's 3 points for Jeremy. Not to mention Martin's other teammate Aaron Plessinger basically pulling over for Jeremy in the first moto. So, as I said, Utah could've been a bad day for Martin, but to tie Marvin in the points for the day is pretty sweet.
Martin was really fast in the second moto and probably would've caught Webb without the help of Cooper pulling over, but who knows? We've seen Webb dominate at times since his return from injury, so I don't think it's a given Martin would've won. Do I have a problem with any of this? Nope. Not at all. This is why you have teammates, right? It's not like they were moving over for Martin and then trying to take Marvin out.
And then, as far as Marv is concerned, he told us this after the race: "…the two Yamaha guys [Jeremy Martin and Webb], I'm not going to lie, they were faster than me and they got around me. Jeremy was doing really good, so to leave Utah with the same point gap is actually really good."
So Marvin is happy, Jeremy should be happy, and we're heading into the last two motos of the year with only 2 points separating the top two. If either guy goes 1-1, they win the 2015 250MX title.
As far as the 2015 450MX title, well, that's Ryan Dungey's once again. The KTM rider clinched his third outdoor title with a nice ride in the first moto to zap Kenny Roczen late and take the win. Dungey's season didn't start off great with him being unable to do anything about Eli Tomac, but he didn't panic. Dungey just grinded away, and by the end, despite some too-little-too-late pressure from Justin Barcia, he was the man. The old saying about winning titles on your worst day is true, and for Dungey, his worst days are ones where he's third. Or second. It's pretty tough to stop that.
For me, Dungey's high point of the season came at, and please excuse the pun, High Point. That first moto where he went from sixth to first in 4:41 was epic. There was no sitting back for Dungey; this was aggro-Dunge at his best. He was on it, used some balls-out moves, and won the moto going away. When I think of Dungey's 2015 450MX title, moto one at High Point is what I'll think of. He didn't even win the overall that day, but that first moto showed he had "it." Just like I thought James Stewart was "different" last year, I think Dungey has been "different" this year, and High Point was an example.
Okay, I don't think we really knew what was up with Kenny Roczen all these weeks. He's been saying that he's not happy with this bike, there are/were tensions between him and the team, and some of the team guys weren't pumped with him fading a bit in motos. And me, heck, I'm just looking from the outside and wondering how this dude that was unstoppable last year could go back to being a dude that could barely break into the top three at times.
Well, before Washougal he went out testing with the team and went back to a Showa spring fork; he's been better since then. Also, Roczen's wrench, Kelly Lumgair, is going back to KTM next year, and the team hired Chad Reed's old mechanic and suspension guy, Oscar Wirdemen, to work with Roczen next year. Only, he actually started this year already and has been down in Florida working with Kenny. Guess what Chad Reed rode in 2009 on his way to a 450MX title? A Suzuki RMZ-450. You know what Roczen rides, right? You know that the bikes haven't changed much, right? Wirdemen is a smart dude, and from what I hear, Roczen's spring Showa fork is very, very close to what Reed ran in 2009. And it's made a difference!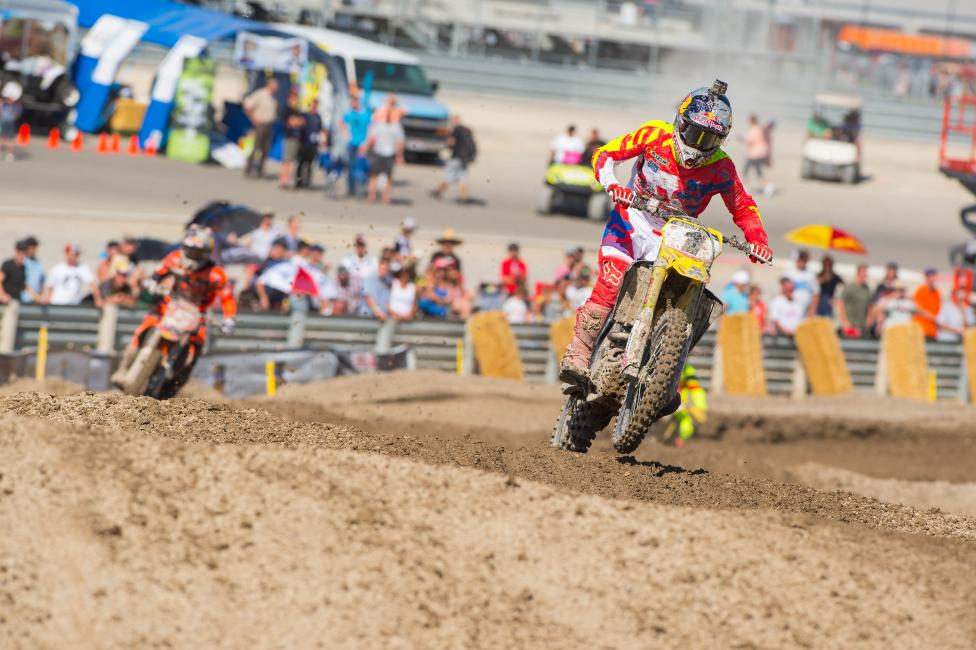 I asked Roczen after the race—well, actually, former World Supercross Champion Jim Holley ambushed me and grabbed my mic to ask Roczen about his switch to spring fork, and this is what Kenny had to say. (And I swear the question was on my mind, so don't go acting like Holley was Woodward and Bernstein here.)
Holley: Talk about the front end. I was over talking to some of the mechanics, and you're not using the air forks.
Roczen: No comment. I can't really say a whole lot about it. It's a lot more fun to ride, and it's more predictable for me. I finally feel like I can turn and I feel a little bit more like myself out there. Obviously, Ryan is really strong right now and he's really confident, but I think if I could have had what I had now from the beginning on and not have an injury and stuff, I think it would have been a whole other story.
But he did great this year, and the KTM team too. So it is over and the season's over too. I'm bummed that I finally now just started picking things up and everything, but, like I said, better now than never. It'll give us a little bit relief for next year.
You can read the whole interview HERE. Roczen dances around the issues he's been having with his bike. It's super weird that he says no comment. Like, we can all see it! Other teams are talking about it, bro! He says he "can't say a lot," meaning someone has told him to not say that he's back on it. Meanwhile, other riders like Chad Reed and Eli Tomac have had no problem telling everyone they've switched forks. I don't get it. Add Roczen's answer to the list of things I don't understand about the sport.
One thing I think we can eliminate—and I was on-board with this by the way—is that Roczen's fitness isn't good. Yeah, Dungey appears to be a bit fitter judging by the way he caught Ken in both motos this weekend and pulled away last weekend a bit, but it appears that Roczen's claim of the bike not being set the way he likes it is a bit true. He's 100 percent, without a doubt, been a better rider the last few weeks since changing settings and going to spring fork.
Let's take a look at the results, shall we?
250MX Results
1. 1 Jeremy Martin; Millville, MN; Yamaha YZ250F; 3-1
2. 25 Marvin Musquin; France KTM 250 SX-F; 1-3 – Oh, man, when Webb caught Musquin in the first moto, I thought there was going to be trouble. This was basically the genesis of my entire column last week—Webb is going to cause trouble for Musquin, and not because he wants to help Jeremy, but because he feels Marvin has been dirty. Anyway, Webb tried everything he could do to get around Marvin before he tipped over. Crisis averted.
3. 17 Cooper Webb; Newport, NC; Yamaha YZ250F; 2-2 ­– Musquin was saying that Webb was once again yelling at him down on the starting line. I've praised Webb over and over for being a chip off the old block and yet also a breath of fresh air, but if what Musquin was saying is true, then that means that's at least twice Webb's talked some trash to Musquin down on the line. I don't know—that's a little much to me. Like, why bother? Musquin's a two-time world champion and a 250SX champion, it's not like you're going to scare him or something.
4. 157 Aaron Plessinger; Hamilton, OH; Yamaha YZ250F; 4-4 – Nice job by Plessinger, who, I've been told, is battling some ankle injuries and waiting for the season to end so he can heal up.
5. 38 Matthew Bisceglia; Tualatin, OR; Honda CRF250R; 6-6- Great riding by Matt this weekend. You hear a lot about his teammates, but guess who is the top GEICO rider in the points? Yeah, that's right—the Bisch. Yes, the position is ninth, but still….
6. 16 Zachary Osborne; Abingdon, VA; Husqvarna TC250; 9-5 – Osborne was better in the second moto than he has been recently, and I wonder if the complete 250SX and MX season (something I don't think he's ever done) is catching up to him. Plus, he's been in Colorado with the Tomacs, and I don't think that program is easy.
7. 80 RJ Hampshire; Hudson, FL; Honda CRF250R; 7-7 – Oh, what could have been for Hampshire. He led laps and was third in the first moto when he thought a Yamaha-mounted lapper was Jeremy Martin and pinned it in the last turn. Then, literally ten feet from checkers, he went down and couldn't start his bike. A third went to a seventh just like that. Poor RJ. He was not happy after the race, but hey, overall it's a good thing to know you have the speed. Yeah, what happened blew chunks, but still a good day for Hampshire.
8. 31 Alex Martin; Millville, MN; Yamaha YZ250F; 8-8 – A-Mart had bubble guts all day long from something he ate or some sort of sickness. He wasn't feeling good all day and was sort of out of it. So an 8-8 on one of your crappy days (pun totally intended by the way) is pretty good.
9. 37 Joseph Savatgy; Thomasville, GA; Kawasaki KX 250F; 5-11 – If this were the old Mickey Thompson stadium series, then Savatgy would easily win for most passing points. Years from now people will see Joe Dawg's 5-11 scores and just say, "Ehhh," but you had to be there to see how fast he was and how many people he passed. He went from thirty-eighth to fifth in moto one and came from outside the top thirty to eleventh in moto two. It was seriously impressive. I went to go interview him after the race, but he was gone—probably to go lie down. I can't say I blame him.
10. 28 Jessy Nelson; Paso Robles, CA; KTM 250 SX-F; 11-9 – Nelson was up front in the first moto before he had a bad crash that set him back. He's lucky he wasn't hurt. The battle for third in the points between Savatgy, Nelson, Osborne, and A-Mart is going down to the wire with two motos left.
11. 40 Shane McElrath; Canton, NC; KTM 250 SX-F; 12-10
12. 718 Toshiki Tomita; Japan; Honda CRF250R; 15-13 – The Japanese MX2 points leader had a nice Utah National. Toshiki has been here since Washougal but couldn't race 'Dilla last weekend because of a hand injury. He's done now, but he did a nice job.
13. 95 Nick Gaines; Ringgold, GA; Kawasaki KX250F; 16-14 – Wow, Nick Gaines is actually figuring this whole thing out. The dude's fast and now consistent!
14. 68 Christian Craig; Plymouth, MN; Honda CRF250R; 10-32 – Craig ran up front for a bit, but a back injury he suffered at Unadilla held him back in both motos. He DNF'd the second one.
15. 47 Martin Davalos; Ecuador; Husqvarna TC250; 25-12 – I had a guy on another team tell me that he doesn't think Marty likes me very much. I completely understand this and accept it. I have been harsh on Marty over the years because I just don't get what's been going on with him year after year save the Pro Circuit season.
16. 963 Chase Marquier; Newcastle, OK; Honda CRF250R; 14-19 – MotoSport.com/GPI Honda Racing had no riders at the race with Tommy Hahn and Kyle Peters out with injuries, so they brought Marquier to the race straight out of Loretta's. And the kid did well—he qualified well and racked up a couple of nice finishes.
17. 232 Marshal Weltin; Ubly, MI; Yamaha YZ250F; 13-35 – Nice job by Marshal—golf claps all around.
18. 450 Hayden Mellross; Australia; Honda CRF250R; 21-15 – Remember Mellross—the Aussie kid who put in some good rides at the beginning of the Nationals? Well, since Muddy Creek it's been a bit of a struggle for Hayden (maybe it's the Pulpmx Show curse?), and he hasn't been able to back up those strong rides earlier on. This week he did, though, and that's good to see for him.
19. 77 Justin Starling; DeLand, FL; Kawasaki KX250F; 18-18
20. 397 Brandon Scharer; Los Angeles, CA; Suzuki RMZ-250; 22-16 – I don't know much about Brandon besides he's a lone solider on a Suzuki 250F and that my wife and his old/maybe current mechanic are Howard Stern super fans. I do know that a sixteenth in the second moto is strong. With Suzuki giving away some 250Fs next year, I think they should hook up their one guy that's been flying the yellow flag in the small-bike class for a few years now.
450MX Results
1. 5 Ryan Dungey; Waconia, MN; KTM 450 SX-F FE; 1-1 – Dungey's been on the Pulpmx Show a couple of times this year, and I don't think I can ever remember him being so relaxed and at ease doing interviews. He's never been great at expressing emotions and making jokes, but he seems to be much better at these things now.
2. 1 Ken Roczen; Germany; Suzuki RMZ-450; 2-2 – I'm going to make a crazy prediction: If Roczen stays with this team next year, you'll see some air forks back on his bike at Anaheim 1. That's the way these things work.
3. 51 Justin Barcia; Madison, FL; Yamaha YZ450F; 5-3 – Not a good first moto for Justin. It was very weird to see him get dropped like that. In the second moto, he was much better and hung with the top two guys. If you follow Justin on social media, you can see that he's really into racing his bicycle (sometimes the day after a national!), which kind of goes against what a lot of trainers believe, but, hey, it's working for the bearded one.
4. 4 Blake Baggett; Grand Terrace, CA; Suzuki RMZ-450; 4-4 – Consistent day for the Chupacabra, but it's one where I'm sure he wished he would've gotten better starts. He was very fast and fit, but he didn't give himself a chance to get on the box in either moto with his horrendous starts.
5. 20 Broc Tickle; Holly, MI; Suzuki RMZ-450; 3-7 – Tickle, like Baggett, was under the radar in Utah. His first moto was something to behold, as he ripped from the back to get his first podium of the year; he was on fire. It's rides like this that you wonder why he can't replicate them more often. Still, it was great for him and the team, who is wrapping up a contract to stay there in 2016.
6. 41 Trey Canard; Edmond, OK; Honda CRF450R; 7-6 – Trey had a very uncharacteristic day in Utah. Last year, he won both motos going away, but this year was a bit different, as he was caught and passed late in the second moto by Dean Wilson.
7. 15 Dean Wilson; United Kingdom; KTM 450 SX-F FE; 10-5 – Wilson, in his second race back after a long layoff, improved quite a bit over last week. He actually charged hard the second moto late in the race and passed Trey. His fastest lap of the moto was his last one, and overall it was a good day for Dean.
8. 33 Joshua Grant; Riverside, CA; Kawasaki KX 450F; 8-8
9. 377 Christophe Pourcel; Dade City, FL; Husqvarna FC450; 9-9 – Pourcel had the pole position until late when Dungey snatched it away, so you knew he could go fast on the track. But we didn't see any of the speed in either moto; he looked to be just going through the motions. You can tell how CP's moto is going to go by the way he starts.
10. 46 Phillip Nicoletti; Cohocton, NY; Yamaha YZ450F; 12-10 – Filthy was not a fan of the track (much like his teammate Weston Peick, who crashed out of the first moto and was too banged up to continue in the second moto), but got good starts and ran up near the front for a while. In the second moto, he weirdly faded back pretty far, and then he said he got pissed and charged back up near the front. His charge was weird—you don't normally see guys do that—but, then again, its Phil. Everything he does is different.
11. 21 Jason Anderson; Rio Rancho, NM; Husqvarna FC450; 6-16 – I can't figure Anderson out. He's by far the most up and down rider out there. In the second moto, he crashed (I assume) and then looked to be just riding around out there as dudes whizzed by him. I'll tell you what, though; he's got speed and speed is something you can't teach.
12. 11 Kyle Chisholm; Valrico, FL; Kawasaki KX450F; 13-11 – All season long Chiz has told me he wanted to get into the top ten after getting approximately seventy-three eleventh-place finishes. Well, he was tenth in the second moto until Filthy Phil got him (after Chiz had passed Phil when Phil was in his "I don't know how to ride"-mode, this was before Phil went into "Now I'm mad and moving back forward" mode) with two laps to go. Poor Chiz….
13. 29 Andrew Short; Colorado Springs, CO; KTM 450 SX-F FE; 11-14 –I think he wanted to tell me, "I don't like this place. It sucks and I'm miserable from my day," but instead I got, "It's got great facilities, track's not too bad, and we learned some things today. I'm healthy and looking forward to going to Indiana."
14. 19 Justin Bogle; Cushing, OK; Honda CRF450R; 14-12 – I took heat from the Bogle camp last week when I rated him below Wilson in the 3 on 3 column, along with me talking about what I've heard from managers about his asking price next year, and the triple whammy of mentioning that he looked to be pretty tired. I like Justin—he's been nothing but cool to me over the years. I'm just not sure why being a tad critical is equal to "hating" on a dude. Oh, well, this week didn't go as well as Unadilla for Justin, as a collision with Anderson made sure to spoil one moto.
15. 35 Kyle Cunningham; Willow Park, TX; Suzuki RMZ-450; 15-13 – Cunningham qualified well and had a strong day in Utah for the Teddy Parks Experience privateer team. If he has a great day in Indiana, he can end up just outside the top ten in the points, which is pretty decent for him and his support.
16. 42 Ben LaMay; Wasilla, AK; Husqvarna FC450; 16-15 – Since coming back to the Nationals, LaMay has averaged 6 points per moto that his bike didn't break in, and that's not too bad. What is too bad is that Ben couldn't find funding to start the Nationals at the beginning because he's a better outdoor guy than indoor in my opinion.
17. 285 Tony Archer; Waldorf, MD; Kawasaki KX450F; 17-18
18. 131 Noah McConahy Spokane, WA Honda CRF450R 19 17- Although he's not racing now and hasn't been out there all that much, I usually have to double-check McConahy because he's #131 on a Honda with Fox gear, and Tommy Hahn is #130 on a Honda with Fox gear. #doppelganger
19. 58 Killian Rusk; Durango, CO; Yamaha YZ450F; 18-19 – As I wrote last week, Rusk has turned around his fortune a bit in these last few races, but the season is coming to an end a bit early for him as he just begins to get momentum.
20. 181 Dustin Pipes; Madera, CA; Suzuki RMZ-450; 35-20 – Pipes, one of the good guys in the pits and a privateer warrior, sneaks in for a point in the second moto, which is cool to see.
Thanks for reading. If you have any questions at all, feel free to email me at matthes@racerxonline.com and we can chat. One more to go!