In the world of dirt bikes, Damon Huffman has done it all. He earned multiple factory rides, dominated the 125cc Supercross Class for two seasons and also won a 250cc main event in 1997. Toward the end of his racing days, he switched over to the off-road world and earned a medal at the notoriously difficult International Six Days Enduro (ISDE).
With his racing days now behind him and a family to support, Huffman made the transition to a career in law enforcement. Today, he is a full-time police officer with the LAPD, where he currently works the beat in the traffic division.
We managed to track Damon down in between calls while he was sitting in his squad car.
Racer X: What are you up to these days?
Damon Huffman: Well, I'm basically just super-busy with family and kids. We have three kids, and they are 10, 8, and 4—and that's two boys and a girl. Also, I'm really working two different jobs. My primary job is a full-time gig with the LAPD. I normally work three days a week on twelve-hour shifts. But then, also, my wife and I, we have two shaved ice trucks. They are called Kona Ice, and we also run that as a small business. We have three employees and just juggle all that. So on my days off, I'm running an ice cream truck. It's fun, but a lot of work!
That's awesome. I've always enjoyed the idea of running an ice cream truck.
Yeah, I know. Never say never—I never thought I would be a police officer or driving an ice cream truck after I was done racing, but it all came together in a good way. I guess now that I'm in the middle part of my life right now, it's all worth it, though we are super busy. However, it's a lot of fun at the same time.
How did you get into the LAPD? I know some of the other top retired guys found that path a bit tough to break into.
Well, my first instinct after racing was to take the fireman route. I went through the EMT path. I also had a high school diploma, but it was basically the bare minimum requirements. So, after about a year and half, and also seeing what [Mike] Kiedrowski went through, I realized it wasn't going to happen. Ahead of me were all the younger kids—they were stronger, fitter, and healthier. It was just more competition for me. I was still doing [riding] lessons and teaching some motocross schools. One night I had dinner with a friend who was an LAPD detective. He told me they were looking for someone like me, someone who had great life experience, and who could perform under pressure and had a clean record. So I did the written test and got a high score.
How was the process of getting hired?
Well, after I passed the tests, I had to go through all these steps, and it took about fifteen months or so. Then I got the call; I had an academy start date. All of a sudden, I was scared. It was surreal, but I made it through, and today it really is a great job. It's long hours for sure, but I am outside. Basically, my role is to just help people. The retirement and pension is great, as are the benefits. I really encourage any riders to go this route after racing. I mean, they should take it as far as they can, but then working into something like this has been great. For me, I had some good success with racing, but I raced ten years too early with respect to earning some of the really big contracts. So, I did pretty well, but I didn't make it that big time, not with a wife, three kids, and living in Southern California. But overall I'm really proud about what I did—and all the countries I was able to visit, as well as win races in. It was just an amazing time.
Going through the academy, your probation time was really hard. I didn't enjoy it—makes you really appreciate how good you had it when you were racing, and your only job was training and riding. It was a difficult transition. But now that the hardest part is behind me, I realize what a great job I had when I was racing.
Tell me about what things are like day to day as cop?
Well, I work out of traffic division right now. I basically handle all kinds of different traffic-related issues, including accidents, drunk drivers, and some ticket writing. I deal with a lot of city vehicles that require reports. I did my probation on patrol. Within LAPD, there are literally 250 different jobs you can do. If patrol is not your cup of tea, you can do different details. Right now, I'm thinking about taking the next step to becoming a motorcycle cop. So I'm looking at that, but we shall see. I have plenty of time—it's no rush. If I don't go the motorcycle route, I might want to do air support, which means I'll be up in the chopper, which I also find really interesting.
Do you fly?
No, I don't. Air support is basically sitting in the co-pilot's seat. I'm too busy off duty to learn to fly right now.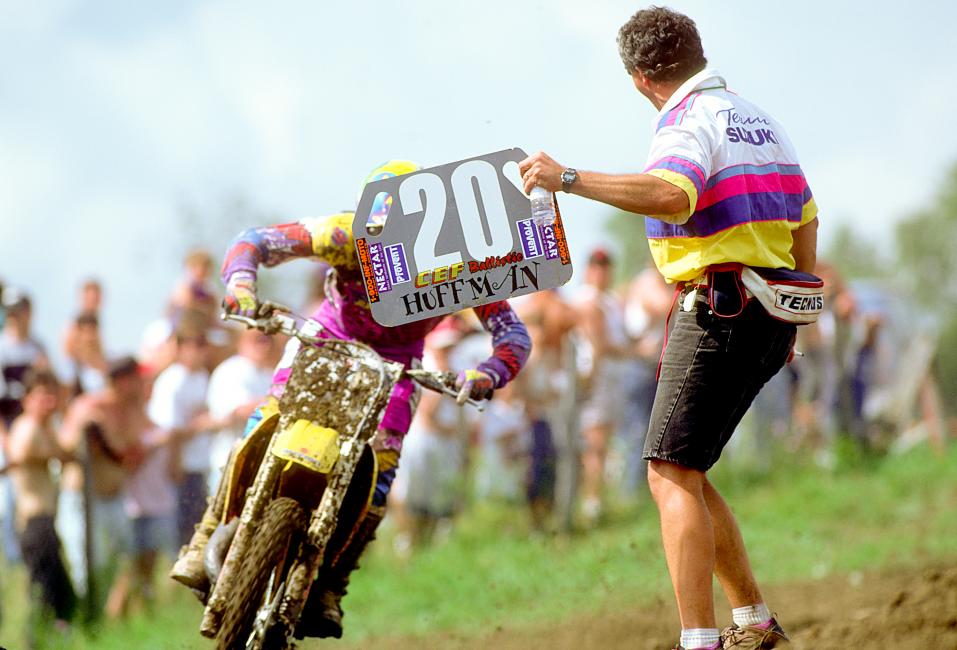 So here is the question: when you are on duty, have you ever been noticed as a former racer?
Yeah, it has happened a few times while I was on duty. It's usually when I'm directing traffic at an accident. Someone driving by will yell my name. I'll give them a smile and a nod, but I have to keep it professional. A couple of the firemen know what I used to do, as do some of the other fellow officers.
Let's talk about your racing days—what are some of your personal highlights?
I did seventeen years as a professional racer. I was very lucky to have done it that long and be in one piece. Highlights would be my two 125 championships, in 1994 and 1995. I think the way I started the season off in 1995 and winning six races in a row, that was really cool. Back then they didn't have a season-ending shootout, but they did have some combined rounds. I think in 1995 they had three of them, and I won all three. So 1995 was a great year. Then, even when I moved up to the big bikes, the way I started in 1996, I was running with [Jeremy] McGrath. I had four second-place finishes before getting hurt. Then my win at the U.S. Open in 1998—that was a pretty crazy win for me. I was coming off a broken leg, and it was a bit strange. Of course, then in 1997, my Atlanta win was huge.
I honestly felt like I should have won more main events; there were times I had the confidence, but I didn't have the starts down. I do feel like I underachieved in the 250 [now 450] Class. But I did win the world supercross title, and also won races in Europe. And I won three EnduroCross races—those were really fun. Looking back on it, I liked that kind racing. It wasn't about speed; it was about keeping it on two wheels and not getting hung up. I won three out of six races one season, but then I broke my finger. I won the final race in Vegas, but missed a championship by one race. One little injury did that title in. And then I finished off my career by going to the ISDE in 2009. That was crazy as well.
You know, I forgot you did that. How gnarly is the ISDE?
It is a grueling event. I earned a gold medal, which was really cool. I also think that Kiedrowski did that as well, and maybe Mike Brown? I'm not sure. But, yeah, it was six hours on the bike for six days in a row. You are doing your own tires and maintenance—it was just brutal. I will tell you what, the off-road guys don't get the respect that they deserve. Some of the gnarliest and toughest races I've ever done have been off road. Unadilla and Southwick have nothing on the WORCS or GNCC events. I've been to the point where my legs stop working, but you still have to keep pushing. Those three years off road were a great extension of my career.
Do you still follow racing today or ride?
Yes. I normally record all the races. I do attend a few races every year, normally Anaheim or San Diego. I look forward to seeing some old mechanics and all the riders when I raced. But I have moved on now, so it is just fun.
Last time I rode was back in December at one of the Kurt Caselli ride days. Before that I did the Fire Police motocross series in 2013. I did all of those; it was six different rounds. I won those, which was fun. But the idea of racing or going to a track to ride isn't that appealing to me. Maybe going out to the desert to ride does sound fun, but again, my spare time is so maxed. When I do have a little extra time, I might go and play some golf, or go mountain biking. For me, riding is not anything new, so I have kind of moved on.
Where are you and your family living now?
We are in San Clemente. We love going to and living at the beach, though I'm not much of a surfer.
At this point in the conversation, I hear in the background the radio in Huffman's cruiser go off, and Damon asks me to hold on. I hear the siren turn on, and he quickly tells me he just got a call, and that he has to run. That's Damon's new life—when the call comes, he has to go!