With his most recent triumph coming in the form of a double moto sweep at the sandy Lommel, Great Britain's Max Anstie has now won five of the last six MX2 World Championship motos. The 22-year-old Monster Energy DRT Kawasaki racer has certainly been on a reign of terror in Europe as of late, and despite being 46 points out of the lead at the moment, he still has four Grands Prix—Montova, Italy; Assen, Holland; Leon, Mexico; and San Bernardino, California—to pull off something of a mathematical miracle to snag England's first FIM world MX title since James Dobb in 2001.
Things appear to be going right for the likeable, well-spoken rider, who, back in 2010, actually contested the AMA Supercross and Motocross championships for the Star Yamaha outfit. Now on hiatus until MXGP heads to Italy for the final run of the world championship, Anstie is using the reprieve to get both his mind and body dialed in for what he hopes will be a continuation of his winning ways.
Racer X: Hey, Max. How are you?
Max Anstie: Oh, I'm doing okay. I'm doing all right. I'm standing out in the middle of a field trying to get cell service so I can speak with you. I'm near Swindon, which is very close to where I live, and it's all going well so far, so I'm happy.
Swindon? I've been there. That's right there where the old Foxhill Grand Prix circuit is, right?
Yeah, that's it. I'm literally ten minutes from Foxhill. I raced the British Championship at Foxhill two weeks ago. It was pretty good. The track still goes. It's still pretty much identical to when you would have been there because they haven't changed anything.
The MXGP series is now off until the MXGP of Lombardia, which is set for August 23. What are you up to during this bit of a summer break?
I've literally been racing for twelve weeks in a row, and it's been a lot of traveling to a lot of different countries. I'm just taking this week completely off. I'm not doing a lot this week. After Lommel—which is probably the hardest race on the calendar due to the track and how physically demanding it is—I thought I'd take the next couple of weeks to get myself to feeling good so I'm ready to roll for the last seven races. Including the British Championship, I've got seven races to go and a lot of traveling to do. We'll go from the north of England to Mexico and then to Glen Helen and then back to des Nations [in France], and then after the des Nations I have another British race to do, so there is still quite a lot of racing to go for me. So during these two weeks, I'm not doing much. I'm just going to let the body recover.
Stefan Everts just told me that the track at Lommel was the roughest he had ever seen it. That bad?
It was pretty gnarly, I tell you. It was crazy because they had so many classes and so many people racing on the track that there was no time to do any work on it, so, yeah, it definitely got pretty bumpy. It was definitely more of a marathon than a sprint. It was a tough day.
Hailing from the UK, how did you learn to ride the sand so well?
[Laughs] I obviously grew up racing in England, which had no sand. When I was turned 10 years old, my dad used to take me over to the sand in Holland every weekend. Every weekend we used to go and race, and to be honest, it was against most of the same guys I race against now—guys like Jeffrey Herlings. I was riding 65s and 85s over there, and it took me four or five years to really master it and learn it. With a lot of these things, you have to learn them young. When I was just about 15, I got the opportunity to go to America, and that's when I came to the States and did a few of the amateur races. I learned to ride the sand in the early days. Come every weekend, on a Friday after school, we'd go over there to Holland and I'd be back to school on a Monday. We'd drive over, ride the sand all weekend, and that was that.
Fans in America may not know it, but your dad Mervyn was a very good 500cc Grand Prix rider, wasn't he?
He raced Grands Prix for ten years, I believe. He won a Grand Prix in Czechoslovakia in 1994 on the 500. Yeah, he's been around a lot of the tracks. It's in the family.
"I don't know who is going to be up there with me on the start or who I'm going to be battling with, but I can be sure it is someone I am going to have a great battle with—whoever it is or whatever color bike they're on."
Going back to MXGP of Latvia, you've been on one hell of a run, winning five of the last six motos in the MX2 class. What do you attribute it all to?
To be honest, a lot of the pieces of the puzzle have come together. The team and I have worked really hard. They've been learning a lot about the bike, about what breaks or what is not breaking, or what they need to keep together…. I've also just been able to just focus on my riding and focus on myself and focus on my work. When it is time to go out on the track, I can be down there early and I can do the practice sessions in completion. I can get the laps and the time that I want on the bike and not have to stress about anything. I think that's been the main thing. The troubles that we had at the beginning of the year with being a little bit inconsistent with a couple of things not going to plan, I think that now, touch wood, we've learned a lot and we've come a long way as a team.
The MX2 class is extremely competitive. On any given Sunday six or seven riders are capable of winning any moto. Consistency has become critically important, hasn't it?
To be honest, it's crazy how there are so many of us that can win. There are six or seven of us that are right there and can lead the championship and be in the hunt to win it. The guys I race against are all going really, really fast; it makes for some good racing. And there is not one manufacturer that's dominating and there's not one person that is winning everything at the moment. You've got to put yourself in good position at the start, and you've got to put yourself in a good position out on the racetrack and do your work. The main thing I've learned this year is that you don't have to win every race; you just have to be there. It's crazy how long the season is with all these Grands Prix, and it's all about who is there every week scoring points. You have to score points and be up there and be on the box. That's what makes the difference. We have four rounds left, and there are seven of us within 45 or 46 points, so it's really anyone's game at the moment.
So do you still have a shot at this thing?
You know, I'd like to try my best, and all I can do is do what I am doing. You know, I've never been in a position this late in the series where I'm actually in with a shot. You know, anything can happen. I've got a lot of great competitors that are also pushing. I just need a bit of luck. I can't really think, Oh, wow! I need to do this and I need to do that! Basically, I've got to go out and do my job and do my work and win races. If I win races, I'll put myself in a good position. If it happens, it happens. It's just awesome to be racing. I'm just enjoying it. I don't know who is going to be up there with me on the start or who I'm going to be battling with, but I can be sure it is someone I am going to have a great battle with—whoever it is or whatever color bike they're on. I'm just continually growing and learning it with each step. It's good to be in this position. I'm really enjoying it now because I've had a few years to check myself and learn a lot of things. It might not always go to plan; at the end of the day, I'm happy with the situation I'm in now. I think it's taught me a lot.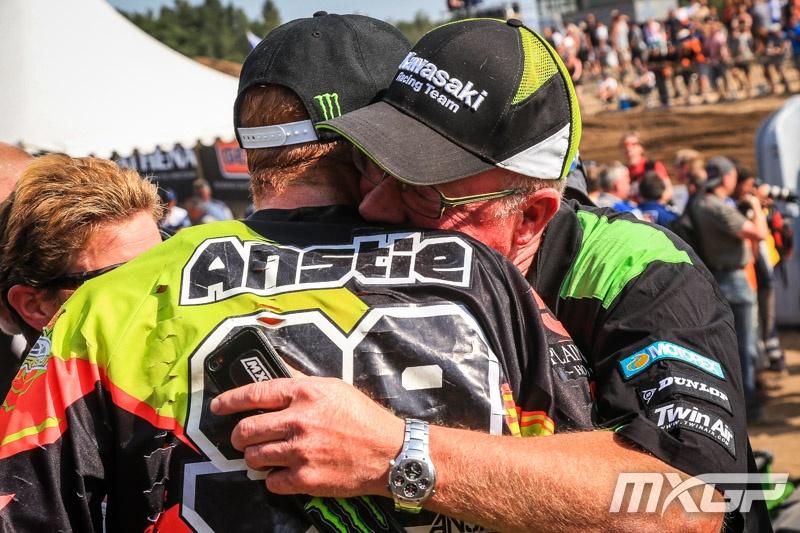 Before I let you go, how did you like racing in the United States? I remember talking with you back in the day, and it always struck me that you enjoyed being here and racing both motocross and supercross. Would you ever want to race here again?
I would. Honestly, I would. It's a difficult one because it's hard to really go and do a decent supercross season or something over there and then come back and be ready for the outdoor season over here. I am really happy with where I am at with the World Championship, but by all means, I do miss supercross. I've got a supercross track built here in England, and I still keep my hand in it and do it a little bit every now and again. I would love to come back, but it also depends on how things go over here and where I'm at with myself and going forward with the championship. As you've seen with riders coming here or going there, it's a complete change. To just want to switch and say, "Right, I'm going to do a season over there." You can't expect to go in straightaway and go win. It just doesn't happen like that. You need to be settled in your environment, and I think either way, Europe or America, they're two completely different things to be honest.
Ryan Villopoto could probably relate to what you spoke about, couldn't he?
Yeah, definitely. Obviously, I don't know Ryan, but he is the boy in the States with the championships and the riding, but it doesn't matter how much you win. I'm sure if you took the top guys from Europe and put them in America, it would be a different story as well. It would be a culture shock. It's greatly different, and it is difficult to really adapt. Both championships take a lot of respect, and you've got to respect every element of it to go and be a competitor for a championship.