Unadilla MX
New Berlin

,

NY
Unadilla
Lucas Oil AMA Pro Motocross Championship
Una-effin-dilla. It's a race rich in tradition and legacy. Many of American motocross's finest days were held in the rolling hills of New Berlin, New York. American wins of the Motocross of Nations and USGPs are fond memories that will live on in Unadilla infamy. Days of yesteryear are what created Unadilla and have cast an aura on the race that continues to current times.
The track itself has changed significantly over the years. Maybe not so much in the layout, but the soil certainly has seen its share of variation. Back in the 1970s, Unadilla was known for its loamy traction. The opening laps of the weekend would be waist-high grass, and that would slowly be ground down into big berms and soft bumps. As the years rolled on, all of that topsoil was carried out of the facility by dirty motorcycles and muddy riding gear. What was left by the late 1990s was a hard base of rocky New York terrain. The loamy Unadilla was a distant memory, replaced by brutal roost and slippery conditions. What was once the favorite track of many riders became one loathed by the majority of the field. Damon Bradshaw and Ricky Carmichael have both shared some harsh words for the deteriorating conditions in past years, but to be fair, things had gone downhill from Unadilla's glory days.
Recently, though, the promoters have made a marked effort to improve the track conditions. Topsoil has been brought in to improve traction, and the notorious Unadilla rocks have been sifted through. The first year I noticed the change was in 2012, and had it not rained the night before, the track would have been the best I had ever seen it. Hopefully those efforts are sustained, as the natural terrain and flowing layout have the makings to once again be a world-class track.
Unadilla has its share of signature obstacles, much like many other tracks on the circuit. Gravity Cavity, the SkyShot, and Screw U are all staples of the Unadilla Valley Sports Center venue. Each has its own flair, but the steepness of Screw U can't be overstated. It is easily the most radical grade of any climb or descent that the riders will face all season. The SkyShot gives riders a chance to really let loose, and press day is a free-for-all in that regard. With an incredibly long jump face and even longer landing, riders have ample room to see just how far they can push the envelope.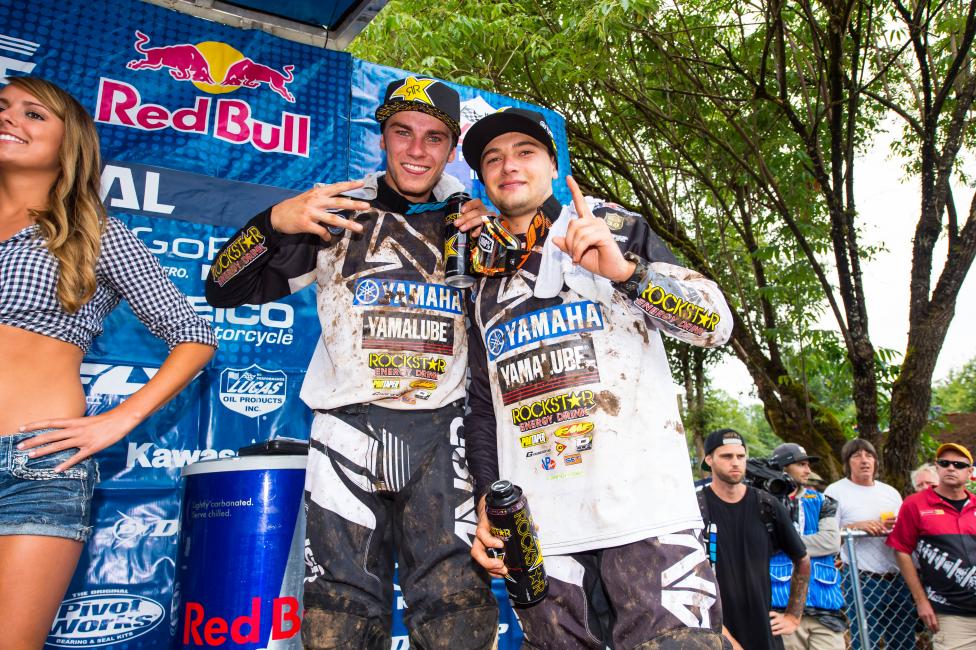 Who's Hot
Justin Barcia was a few laps away from a 1-1 finish at Washougal, and has simply been a different rider since Budds Creek. Unadilla is his home race, so I expect nothing less than fireworks from the #51.
Ryan Dungey won the overall at the last round and has an ever-growing points lead, so I would be an idiot to not list him here. He hasn't been as dominant lately as I expected, but he's still running away with this championship.
Marvin Musquin had a heck of a weekend in Washington. He made up 15 crucial points on Jeremy Martin and put himself squarely back in this championship battle. Unadilla is a strong track for both Marvin and Jeremy, so look for a showdown upstate.
Cooper Webb is back and ready to win races. His speed is as good as anyone in the class, and with another weekend off to prepare, he should be in contention every time the gate drops.
Aaron Plessinger rode his butt off all weekend at Washougal. The conditions seemed to favor the taller Plessinger, but in any case, he was a man on a mission. Third overall is nothing to sneeze at from the rookie.
Who's Not
Justin Brayton has been struggling the past few weekends with crashes and unfortunate incidents. He has the speed to be well inside the top ten on a consistent basis, but needs to nail his signature good starts to help stay out of trouble.
Broc Tickle had a weekend he would probably like to forget at Washougal. Usually good in the tricky conditions, he suffered from bad starts and a couple of issues during the motos. Look for a bounce back from Tickle at Unadilla.
Bold Predictions
Jeremy Martin and Marvin Musquin split wins, but Cooper Webb is right in the mix as well.
Dean Wilson makes his return to racing whilst wearing a kilt. He also paints his face a la William Wallace and keeps jabbering about racing for his freedom on the starting line.
Ryan Dungey wins the overall, but splits moto wins with the surging Justin Barcia.
Christophe Pourcel leads the first moto for a few laps before settling into a podium position.
Weston Peick takes offense to the obstacle known as "Screw U." Even after team members insist the hillside isn't intentionally insulting Weston, he declares war on the course. As the sun goes down on Saturday evening, the last sounds heard are Weston's 450 Yamaha still doing what could only be described as violent burnouts up and down the obstacle to show Unadilla who's in charge.
Trey Canard finishes third overall.
My Picks
450
Ryan Dungey
Justin Barcia
Trey Canard
250
Jeremy Martin
Marvin Musquin
Cooper Webb