Washougal MX Park
Washougal

,

WA
Washougal
Lucas Oil AMA Pro Motocross Championship
The Lucas Oil Pro Motocross Championship officially entered the homestretch today when the action got under way at the Cat Peterson Washougal National. And thanks partly to the rain that fell during the morning and first motos, the hordes of fans were treated to some of the most exciting racing of the season.
Arnaud Tonus picked a good track to make his Lucas Oil Pro Motocross debut at. With its slick dirt and the rain, it had a bit of a European flavor today—one that also worked well for Frenchmen Christophe Pourcel and Marvin Musquin—and he was excellent in the first moto, finishing third. Unfortunately things went sour in the second moto when Hill got wild and cleaned Tonus out while running seventh. When Tonus went to remount, his hand went into his spokes and he was experiencing pain after the moto. No word yet on his condition.
Cooper Webb is nothing if not a fierce competitor, and he doesn't put his hand over his mouth either. After finishing second behind Marvin Musquin in the first moto he had some choice words for the Red Bull KTM rider. "I don't know exactly what he said, but I heard the "F" word when he walked by me on his way back to the pits," Musquin said. "I know Coop, not really well, but enough to know that he can be crazy sometimes. That's racing, and then you realize maybe it's stupid to say things like that. And he apologized to me after winning the second moto."
Of course, there are two sides to every story and after admitting he should not have been so outspoken, Webb told his. "I love racing and I love battling, but when it's over a jump that's a little bit different. I was ticked off. I guess I just get fired up like [Damon] Bradshaw. I was definitely being young and dumb and running my mouth, but I apologized and we talked about it."
Getting back to Musquin, he's been running a wrist brace and after the race he admitted that while practicing he re-injured the wrist he hurt at Thunder Valley. Even so, he managed to cut his 19-point deficit to just four points today. With the series taking a week off and heading to Unadilla, one of the most European tracks on the circuit, things aren't looking bad for Musquin right now.
Fantastic stuff from Aaron Plessinger today. The Yamalube Star Racing Yamaha rookie went 5-4 four for third overall today to score his first career National podium. With results like that, would a Star Racing podium sweep really be that surprising in Unadilla, Utah, or Indiana?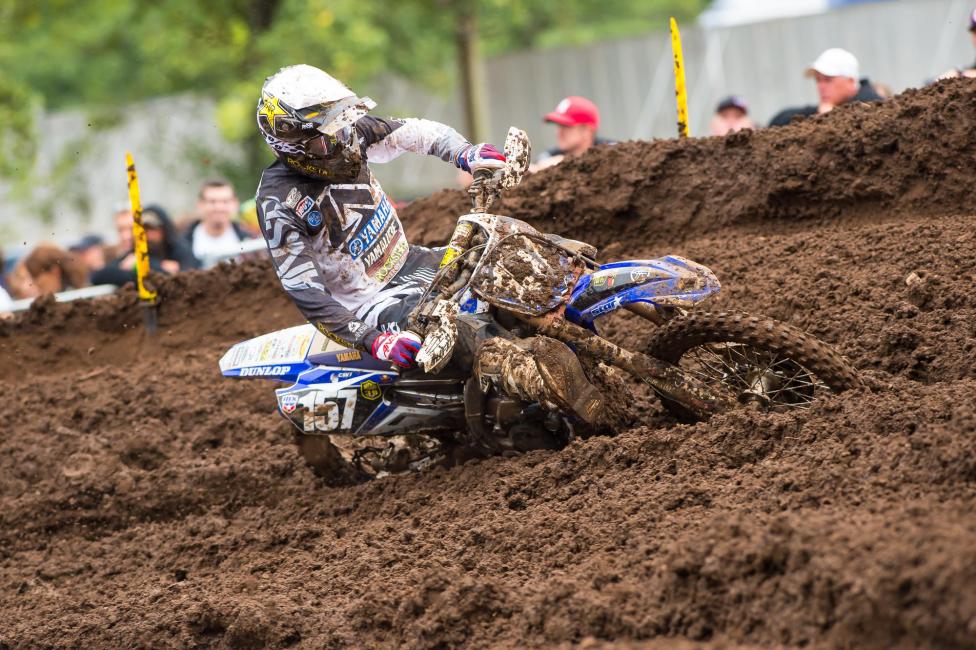 Bummer of a day for Christian Craig, kind of. The GEICO Honda rider was gapping the field big time when he had a little tip-over and threw away the win. He had another little tip-over later in the moto but still managed to go 4-5 four fourth overall. He later Tweeted, "Ended up 4th OA on the day. Happy but should have been on the podium for sure. We have 3 more rounds to do that."
It's official ladies and gentlemen, Ryan Dungey owns Washougal. By winning today he notched more wins at this track than anyone in history. "It's definitely amazing to be on the list, and to be the winningest rider here. I got my first motocross win here in 2008 and it's amazing that eight years have gone by. And seven of those eight we've won. It's amazing how fast the years fly by. I work hard and try to be in a position to win every weekend, and it's good to see all that hard work, effort, and dedication—not just me but the crew too—pay off."
If not for a mistake by Justin Barcia, Dungey probably wouldn't have become the winningest rider in Washougal history today. Barcia had the second moto in the bag before a small tip-over ruined his day. He used more race craft than you might expect, too, by listening to Dungey behind him for several laps to learn his lines then shut them down. "The second moto was a barn burner. Ryan was on my tail the whole moto, and it was fun. I could hear him, and I figured out where he was faster by the sound, and I stole some of his lines," Barcia explained. "Then we got into some lappers and I broke away there. Our times were super close though. Then I made a big mistake at the bottom of the hill and pushed my front end. I was disappointed in myself for making that mistake, and I got up and I was juiced up. I rode a little crazy for a lap and almost went through a fence and he got away."
Christophe Pourcel must have finally found a team he gels with. He's had a pretty good year, and he had another podium today. And in the press conference afterward he said he'd signed with Husky through the end of 2017. Looks like we'll finally see what Pourcel can do indoors on a 450!
The MotoConcepts team made their return to Lucas Oil Pro Motocross at Washougal, and things went pretty well for Vince Friese. He started well and ran as high as fourth in the second moto and finished out the day with a 10-10 for eleventh overall. Things weren't quite so good for Mike Alessi, who went 29-19 or twenty-second overall.
The results won't show you how Jason Anderson rode, which wasn't just good, but great. The Rockstar Husqvarna Factory Racing rider had a goggle problem on the first lap of the first 450 moto and had to pull into the pits on lap one. Several other riders did the same and Anderson exited the Fram Mechanic's Area in thirtieth place. He then proceeded to rage through the field all the way to sixth. The charge included an amazing last lap which was by far the fastest anyone logged the whole moto, and Anderson passed Ken Roczen for that sixth spot. In the second moto he started third but crashed on the first lap, then quickly made his way back to fourth. Then he ran into bike problems and failed to finish the race. Results say 6-DNF but Anderson's riding says more. After the race, he told us that, as a 450 rookie, he just has some days where he's feeling it and some days where he's not, and is still working on putting all the pieces together to ride like that every weekend.
Ken Roczen logged a lot of testing this week out in California, working with folks from Suzuki. We heard the Soaring Eagle/Jimmy John's Suzuki rider had a different setup for the weekend, and it worked well in the first practice when he logged the fastest time and captured the Bud Light Fastest Qualifier Award. He got a bad start in the muddy first moto though, and like Jeremy Martin in the 250s, wasn't able to come through and settled into sixth before Anderson zapped him on the last lap. He was much better in the second moto, quickly getting to third and making a run at Barcia and Dungey up front. In the latter stages of the race, though, they got away from him. Roczen told NBCSN reporter Georgia Lindsay on the podium that they've made progress with the bike but are also working on more. We also heard Ken twisted his bad ankle during the week, but he's not using it as an excuse and didn't mention it post-race. "I struggled in Moto One. Got off to a bad start and just got blasted," Roczen said afterward. "My helmet ended up being so heavy I could barely see. I had to throw my goggles, it's tough in those conditions to make something happen. I got a better start in the second moto and was with Barica and Dungey for quite a while, but ended up in third place. Not where we want to be, but it is what it is. Something hit me, I don't know if it was a rock or a dirt clod, but it hit me pretty good and my nose started bleeding. Nothing serious, it wasn't too bad."
Trey Canard made his return to action for the first time since breaking his arm at the Detroit supercross. He told us Washougal is one of the better tracks to come back for since it's usually not as hot or rough as some others. Trey's speed looked competitive but he told us he didn't feel like he rode that well, and he also had three small crashes washing out in the mud. With a week off before Unadilla—where he won a hard-fought second moto last year—expect better things than his Washougal 8-9 for ninth.