Spring Creek MX Park
Millville

,

MN
Spring Creek (Millville)
Lucas Oil AMA Pro Motocross Championship
You might not remember that Shane McElrath rallied to second in final Monster Energy 250SX West Region rankings, as the sophomore pro with the Lucas Oil/Troy Lee Designs KTM team logged a quiet but effective season. He highlighted it with second-place finishes at San Diego and Houston, and looked poised for more big steps in Lucas Oil Pro Motocross. When he scored third in the second moto at Glen Helen, all seemed to be coming together. But this class is tricky and momentum is precarious. Since then McElrath has struggled, doing no better than ninth in the next ten motos, bottoming out with a disappointing 19-13 for sixteenth overall at RedBud.
"For me, it's just, after that [Glen Helen moto podium], I kind of started trying too hard," he told us in the pits at Millville. "For me, it helps if I settle down and be smooth. That's what I tried to do this weekend, and it was a step in the right direction because I've just kind of been trying too hard, and it's been making me go slower. I was beating myself up rather than going where I need to go. So it took a little cleaning up and smoothening myself up."
McElrath made some steps at Millville, going 11-6 for eighth overall.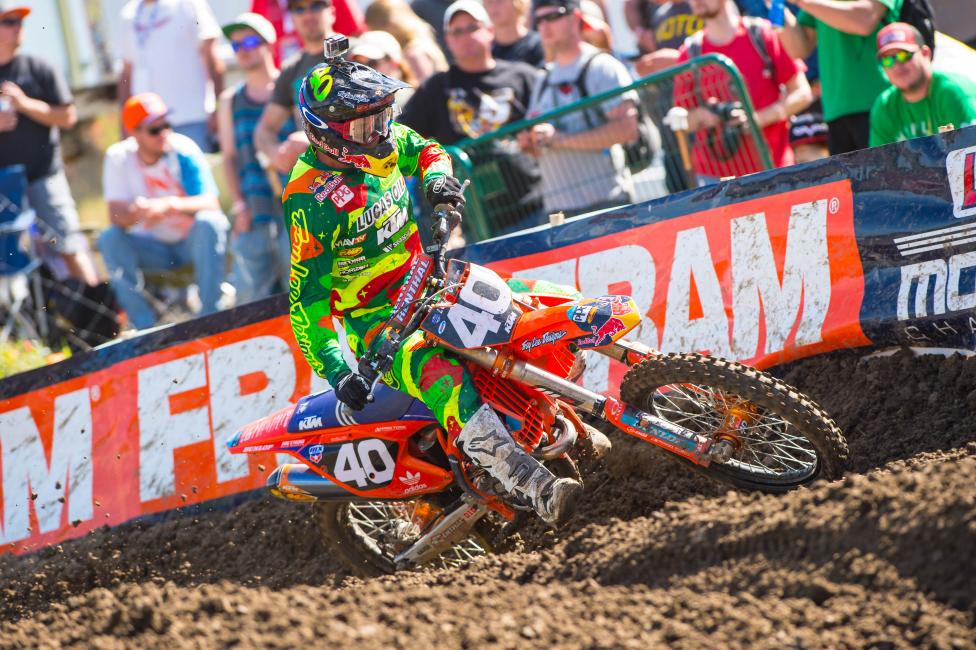 "Yeah, we've had a good off-weekend and a solid two weeks down at Club MX," he explained. "Just kind of taking everything we can from each race. RedBud was probably my worst race so far, but my starts were good. So I took that, worked on those some more, and just got back to a normal routine and being me. That's kind of what it took. So this weekend, just looking for redemption and felt good to do two pretty solid motos. Had a little mistake on the start in the first one that pushed me back, but I came back to like eleventh. And then I fell almost passing for tenth. So not bad for inside the top ten overall. Just looking to build off that."
Club MX in South Carolina represents a return to basics for McElrath, who rose from obscurity to a front-line ride while training there as an amateur. McElrath hasn't been back since the end of 2013, when he moved to California.
"It's been awhile," he told us. "It's just good to be in the heat. The track's good and I'm getting to ride with the JGR guys [Justin Barcia, Phil Nicoletti, and Weston Peick] and [Justin] Brayton and a couple of the fast amateurs down there. It's good."
For the young guns of the 250 Class, experience is needed, but McElrath missed valuable time with a back injury last year. While much has changed for McElrath since the end of 2013 when he headed west to turn pro, he's actually still pretty new to the process of racing professionally.
"Actually, this is the first year I've actually done all the outdoor races, so half of the tracks were still new to me," he says. "And that comes back to overanalyzing stuff and trying too hard. That's what's really cost me, thinking too much instead of just being me. So Glen Helen, that was me, and then this weekend it just felt good to be smooth and do two solid motos. That's where I need to be. Now it's just some mistakes that held me back. Not lacking any speed, it's just first couple laps and my starts—just got to clean that stuff up."
There are a dozen 250 riders that have the speed to podium motos, and it's just mistakes, starts, and small details that make the difference. That's a tantalizing scenario, knowing the hard part—speed, fitness, and equipment—is handled and just one small change can make a huge difference in results. McElrath tried too hard finding that extra step, and it cost him. Don't be surprised if he puts on another late run now, just like he did in supercross.