Spring Creek MX Park
Millville

,

MN
Spring Creek (Millville)
Lucas Oil AMA Pro Motocross Championship
On Sunday morning after winning his home race at Spring Creek MX Park, on a hot, rough day in Minnesota, Ryan Dungey went running. The Red Bull KTM rider and reigning Monster Energy AMA Supercross Champion was the host of the annual St. Jude's MN Major River-to-River ride/run. While he may have been exhausted from the previous day's long battles with revitalized AutoTrader.com/Toyota/JGR Yamaha rider Justin Barcia, Dungey laced up his running shoes and led the way on a 5K run through some rolling apple orchards to raise money for the renowned hospital.
And while the short run wasn't likely much stress to a world-class athlete like Dungey, it spoke volumes of the way he has approached his entire racing program. He's a big-picture guy, with a long game of sorts. He's consistent, versatile, driven, and smart about how and when he goes all-in.
Here's another measure: It wasn't until Saturday afternoon that Dungey, well ahead in the Lucas Oil Pro Motocross Championship standings, eight rounds into the twelve-race series, passed Eli Tomac for the most laps led in this 450 motocross tour. The GEICO Honda rider Tomac, who dominated the first five and a half motos, was leading his seventy-seventh lap when he crashed violently on a downhill sweeper at Thunder Valley and injured both shoulders. Tomac was so fully in charge at that point that some were talking of a possible 24-0 moto score.
No one is ever going to talk about a 24-0 series for Dungey. He's not wired that way, nor was he built that way. Ten years into his professional career, he races with purpose every time out, but not with the win-'em-all way that we've seen before from Ricky Carmichael, James Stewart, Ryan Villopoto, and earlier this year, Tomac.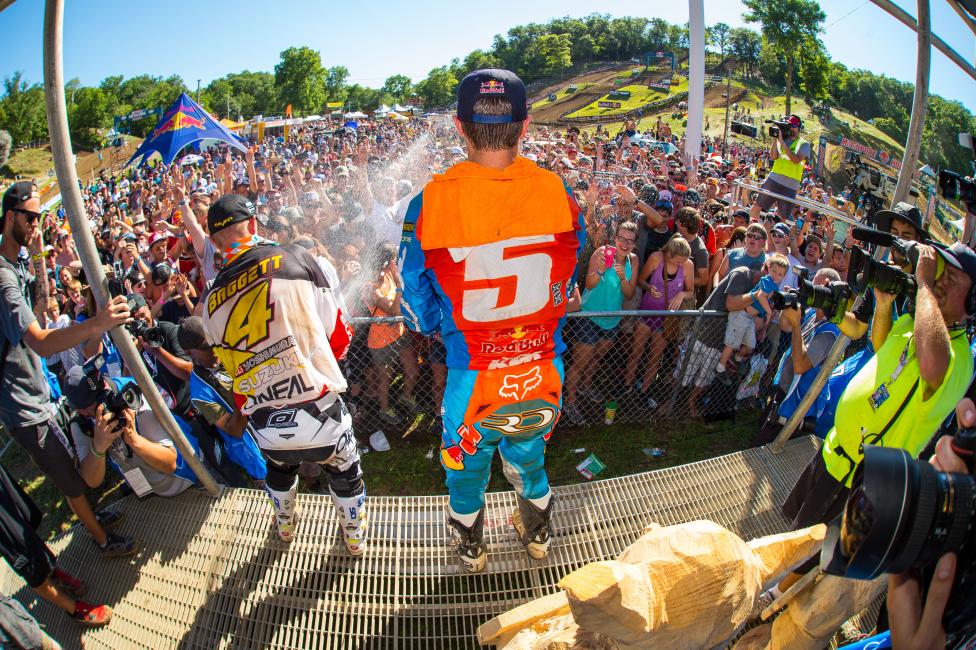 Here's another thing: Dungey was something of a late-bloomer, overshadowed by youth and amateur competition by many others. Even though Roger DeCoster famously signed him up right out of the B class, he wasn't in that amateur fishbowl, which, in my personal opinion, can take years off the end of a rider's professional career. We knew about kids like the aforementioned RC and Stewart and Alessi for ten years before they turned pro—a lot of time to spend under spotlights. He also bides his time on the bike, rarely taking international paydays to do off-season races, playing that long game instead. But a foot race for charity? Count him in.
While Dungey's pragmatic race craft doesn't give us the highlight reels that others have, it does deliver him what he wants most, and that's championships. In that regard, he's a lot like Jeff Stanton, only Jeff was from Michigan, not Minnesota. But just like Stanton, he's working on his sixth major title.
Lessons to be learned, kids. Lessons to be learned.