Mechanicsville, MD
Budds Creek
Lucas Oil AMA Pro Motocross Championship
Justin Barcia and Ken Roczen were the highest-profile free-agent signings from the last off-season, but while Roczen paid immediate dividends with an Anaheim 1 win for RCH/Soaring Eagle/Jimmy John's Suzuki, Barcia's transition for Autotrader.com/Toyota/Joe Gibbs Racing Yamaha hasn't been as quick. He finally scored a win for his new team, going 3-1 at a muddy GEICO Motorcycle Budds Creek National to get his first-ever 450 national win.
Barcia was a solid third in moto one, and the second moto was held about an hour due to tornado threats, lightning, and heavy rain. When the race finally started, the track was muddy, and Barcia put his New York mud prowess to the test. He won the moto, and with that, the overall. He talked about it in the post-race press conference.
Racer X: We know what happened in moto number one—of course we want to hear a little bit about that—but really I think the story is just the absolute delight to watch you race moto number two. It looked like you were a kid having fun. It looked like business was out the window and it was just all about fun. Give us the overall of the day, especially moto two.
Justin Barcia: Well, I can't say the day was bad. Overall, it was awesome. First moto, decent start. Just kind of was stuck in third. I really wanted to get Christophe [Pourcel] for second but just couldn't make it happen. He rode really well and I made a few mistakes. But went back to the truck, was warming up, headed down to the line and they postponed the race for a while. So I was like, well, is this even going to happen? The weather was bad, but I was like, I want to race. I'm pretty good in the mud. I'm from New York, so it's a good time usually. But second moto was unreal. I just was having so much fun. I wasn't really thinking about anything, just riding. Doing little turn-down whips off the jumps and stuff on the last lap and just fist-pumping for the fans. My mechanic Ben [Schiermeyer] was putting on the pit board every lap I was a few seconds ahead. At one point I was close to a thirty-second lead, so I was just on cruise control having fun. It was awesome. It's been an awesome day.
Can you tell us what the mindset is like when you don't do a sighting lap and you just go drop gate and go from there?
That's so much my style. Just hammer down right away. Lay it sideways full power. When you get a holeshot, too, it's just unbelievable. Everyone has to ride the same thing, but usually when it's muddy like this the track's pretty deep on top, so you can just lean back and get on the fender and pin it. It was a good first lap for me. I got a really good lead and just rode a good race.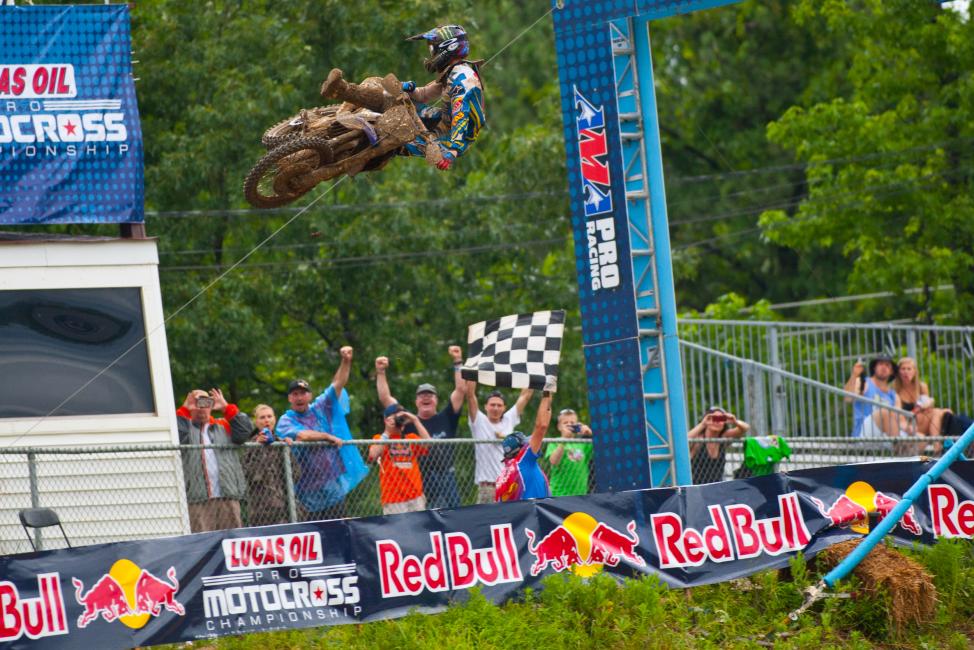 Have you done any dirt tracking at all in your life? It looked like you had a little technique, especially through the lefts.
Yeah, I was just having so much fun. When I grew up in New York I did a little flat tracking, a little ice racing. Today sort of reminded me of being back home in New York, just having fun as a little kid and remembering all those little things. It was pretty emotional for sure.
They say in a mud race the key is being positive. Do you think that made a huge difference?
Yeah. I was here on Thursday at press day, and I said, let it be dry or let it dump, and I wasn't sure what was going to happen, but finally it dumped. So I was like, all right. And then I was thinking maybe they'll cancel the race. This kind of sucks a little bit. But it was awesome. I was super positive the whole day. I had a lot of good interviews. I was stoked. The fans were awesome. We had some fans actually come in the tent. We let them in because it was raining. Just hanging out. It was fun. I actually got to hang out for once at the race because usually I do press day and I shoot out of here quick, but I hung out and got to see some old friends in the privateer pits. Just an awesome weekend.
Do you take anything out of this? Obviously it was muddy. But I know you were trying to get anything to get the season on track. Can you take something out of this for a dry race?
The momentum is huge coming out of this for sure. I don't care if it's muddy or not. I still rode probably the best I've ridden on my Yamaha ever. The best I've ridden ever, in a long, long time. It was just great. The whole team did great today. We swapped three engines, so it was pretty impressive the work that went into it today. It was definitely good.
Just talk about some of the ups and downs. I know supercross didn't start great and then you got hurt, and going all the way down and building yourself back up.
For sure, for the team to stick behind me and not get super down is great. I don't know what Coy [Gibbs, team owner] and Jeremy [Albrecht, team manager] and everyone thinks, but they're always very positive. They hired me to win, and that's what I plan on doing, but it definitely has taken a lot of time from the pelvis to my ankle, just the little things over and over and this and that. But we've been putting in the work a lot. Everyone's super happy and motivated. We're just going to keep on pushing. Not sure, but I think I made some pretty good points today. I don't know what happened, but definitely inching up and see what happens when the tracks get drier and maybe we can run with those guys.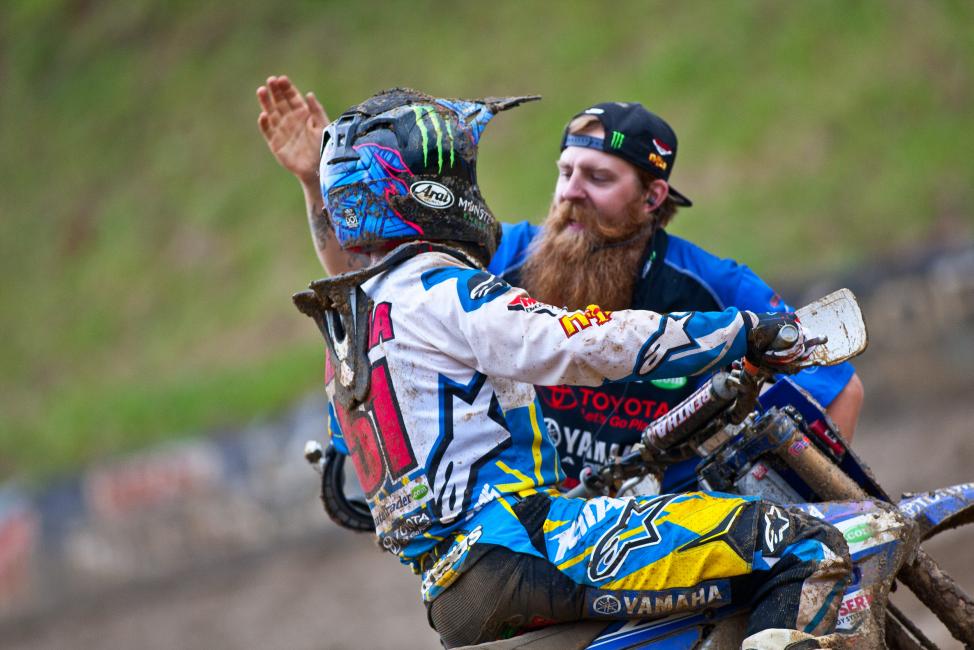 I saw the Bud Man even wearing a JGR team shirt today. Just talk about Buddy Antunez and what you're working on and stuff like that.
For sure. I've been through quite a few trainers, and I'm just trying to learn and do what I can do. For me, I train myself off the track with my mechanic Ben and then Buddy has come on for technique and little things that I haven't had and haven't worked on since me and my dad rode together back in the day. He's thrown a lot of great things into my program. We were talking when I got off the track after the second moto. I'm like, "I did everything you told me to do and it was awesome. Everything, all the things we've been working on during the week just came to me when I was racing. It felt really good." Buddy's awesome. I told him today I give him a lot of credit for that win because he really got me able to do pretty good things.
What do you do during the delay? Did you hang out?
Yeah, that's kind of what I was saying. The fans were drinking beers and going crazy outside of the tent. We kind of brought a few of them in. They loved it. I gave away some muddy gear from practice and just hung out. Had a sandwich, drank a few Monsters…
What was in the sandwich?
Just a roast beef sandwich—half a sandwich, one piece of bread. I might have to eat that more often.
Did it affect you at all?
No, it wasn't a big deal. I like the mud. I don't really ride in it. When it rains anymore I don't really like to ruin my bike at home, so I don't really ride in the mud that much. You don't lose it from a kid. I used to just go out and hammer through the puddles. Even if there's puddles on the track now I always aim for them. My mechanic Ben usually doesn't like that. But I always hammer through them, just have fun like a little kid.
So you did some donuts in the mud after it.
Well, it is a NASCAR team, so if I didn't do any donuts it wouldn't be very fun. I don't know. I was trying to do some donuts. It was a little tougher than I thought. And I tried to do a burnout on the podium, but there was way too much traction up there… that Pirelli tire hooked up on the podium.
On press day you said you guys came with a different engine. You said three different engines today.
I've been on the same setup for quite a while now, since probably Glen Helen, but my teammates have switched moto setups, and they're riding on it. I did change my suspension last week. We've just been kind of getting more comfortable finding stuff. It's going great so far. Today really showed me how much better we're getting. Everyone's kind of saying it was muddy, he's a good rider in the mud, but I think we're getting better for sure and we'll keep chipping away.
You were on Hondas for a long time. Are you finally finding that comfort level?
For sure. I was definitely on the other manufacturer for a long time, and on the Yamaha now I had those injuries at the beginning of supercross, so I didn't get to ride too much. I'm finally now able to ride consistently during the week. It's a bond between rider and motorcycle, just learning how the bike reacts in certain situations. It's really coming around good.