Mt. Morris, PA
High Point
Lucas Oil AMA Pro Motocross Championship
Australian Hayden Mellross is fresh off of a career-high finish at Muddy Creek. In just the fourth round of his U.S. pro career he logged consistent 15-15 moto scores for thirteenth overall. It's been a tough year for the 19-year-old rookie who was supposed to contend the Monster Energy Supercross Series, an FIM World Championship, but while practicing in November, Mellross broke his leg and then re-broke the same leg right before the East Region was set to kick off.
Mellross is living at The Nest in Florida and training with the Red Dog, Timmy Ferry. We caught up with him to get his story and his take on the season thus far.
Racer X: The first East Coast race of the season, and you get your best finish here in the States with a thirteenth overall. It doesn't get much better than that.
Hayden Mellross: Yeah, definitely. Being a foreigner over here is definitely a lot harder. You don't know your way around, and not racing in front of family and friends makes it a lot tougher as well. You feel out of your comfort zone. It's good though.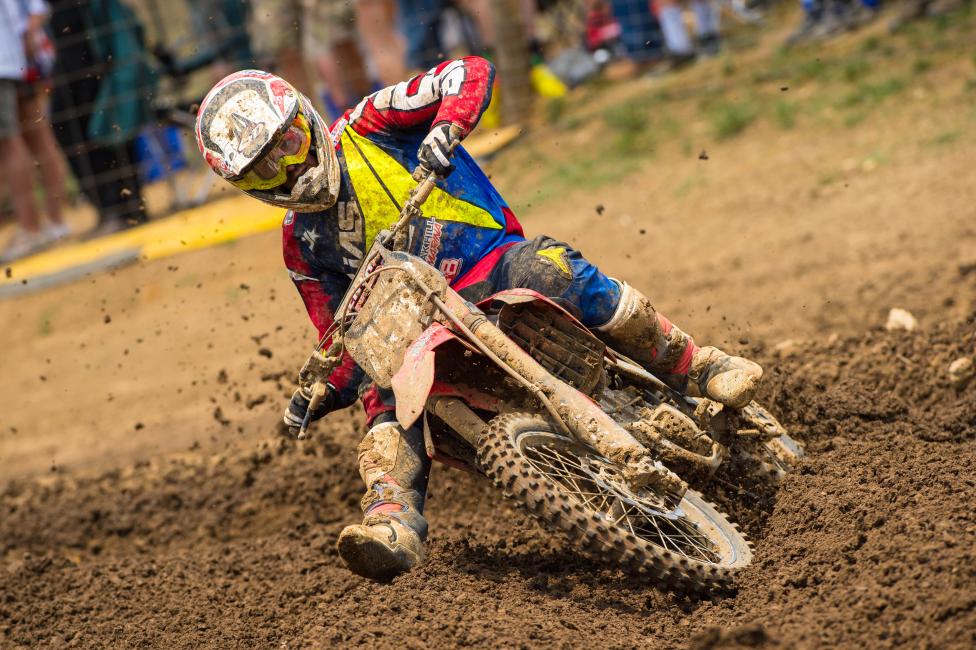 You do have some experience here, and you've done the amateur stuff here; however, racing professional is a different animal.
For sure. Everybody always said that racing the outdoors in America is one of the hardest series. At home our outdoor championship is through the winter. You don't get the entire aspect of the great outdoors so to speak. Coming into it and racing it now in the summer, it's thirty-plus-two. I think the motos have been about thirty-seven minutes. It's definitely a whole different ballgame. I've never done a moto that long in my whole life. I've had to learn everything else, plus the intensity of racing here. I've had to train my body to race that long, and it's been such a learning curve.
You have experience racing at home in the MX1 class as well as MX2. What is the biggest difference racing here versus at home as far as intensity is concerned?
The intensity is definitely lifted in America. It's a high-pace speed, and it's consistent every lap of the thirty-seven minutes. Racing back home, don't get me wrong, it's good, but you might have one or two guys running that pace. Everybody else is a couple of seconds off. This past weekend I was ninth for twenty-one minutes, and in two minutes I found myself in fourteenth. No matter what position you're in when you race in America, you'll always have an intense battle going on. It's definitely really tough.
How did Hayden Mellross end up racing the Lucas Oil Pro Motocross Championship this summer?
Around August of last year I decided that America is where I had planned to race in 2015. We started to get my visa sorted, and to get an American visa is very complicated. It took me honestly around three months to get that sorted. I ended up coming over here in early November. I'd known Buddy Brooks, who is the team manager for Storm Lake Honda, for a while. I came over here and started talking to him, and I had some stuff lined up. We purchased a practice bike off of Eric Grondahl and started practicing supercross. The third week in I was going up the face of a triple and my bike shut off. I jumped off of the bike and broke my leg.
I didn't get back on the bike until January, and I had about eight weeks off. I had about three weeks until the first round of East Coast supercross. I was feeling great on the bike and better than I had been. The Tuesday before Arlington I hit a triple out of a tight left-hander. I cased it, and it re-broke my leg. I had two broken legs in a short period of time. I started riding about three weeks before the start of outdoors. I'm pretty lucky to have an amazing trainer, Tim Ferry, behind me. The entire time we had a game plan and that's worked in my favor.
Since you've had those setbacks, what do you think of your season thus far?
I came in a little under-prepared for round one. Obviously my fitness was not where it needed to be and my speed was also not where it needed to be. It's just been a long year trying to get healthy. Round one was an interesting weekend. It was one of the roughest and gnarliest tracks I've ever ridden in my life. It sorted a lot of people out, and I finished twenty-seventh that weekend. It was my first-ever outdoor national, and I made sure not to set any expectations for myself. I knew what I'd done and I know where I could improve. The last few nationals I've just tried to move forward. At Glen Helen I finished eighteenth overall, and that was a huge step in one week. It was hard at Colorado given the altitude and being on a privateer bike. We're already disadvantaged with the horsepower. It was really tough to race there, and I struggled with 20-22 scores. I crashed six times during the weekend. This weekend I felt more at home. It was on the East Coast where I'm based, so I didn't have as far to travel. I'm used to the humidity. I felt more relaxed that weekend, and I found myself in the top ten for twenty-one minutes in moto one.
You've gotten more comfortable at each race, at least that's the trend in your results.
I look forward to each weekend, and that's the main thing. I'm having fun on my bike. I did set goals after the first round. The first goal was to be in the top twenty, then it was top fifteen, and now the next mark is the top ten. If I can get my speed up, with a little luck, I don't see why I can't achieve that goal. If it doesn't happen, I can't overthink it. I've got to make sure I'm still in my happy place. If I have fun with it and put in the hard work, I know I can reach my goals very soon.
You mentioned your coach/trainer Tim Ferry. He's been there and done that, so to have him in your corner has to be an awesome feeling.
I'm lucky enough to have him as my trainer. He always gives me a lot of positive feedback, and I think that's awesome for where I'm at. It's not just Tim; it's his entire family and group that we have to train with. It's just like a happy place. Have you ever seen that movie Happy Gilmore? His coach is always talking about a happy place, and when I'm training all week I'm happy. When I'm happy I can focus on the job that needs to be done. I'm very privileged to have him; his wife helps us out with nutrition, and TJ. They want the best for me and I appreciate everything they do for me.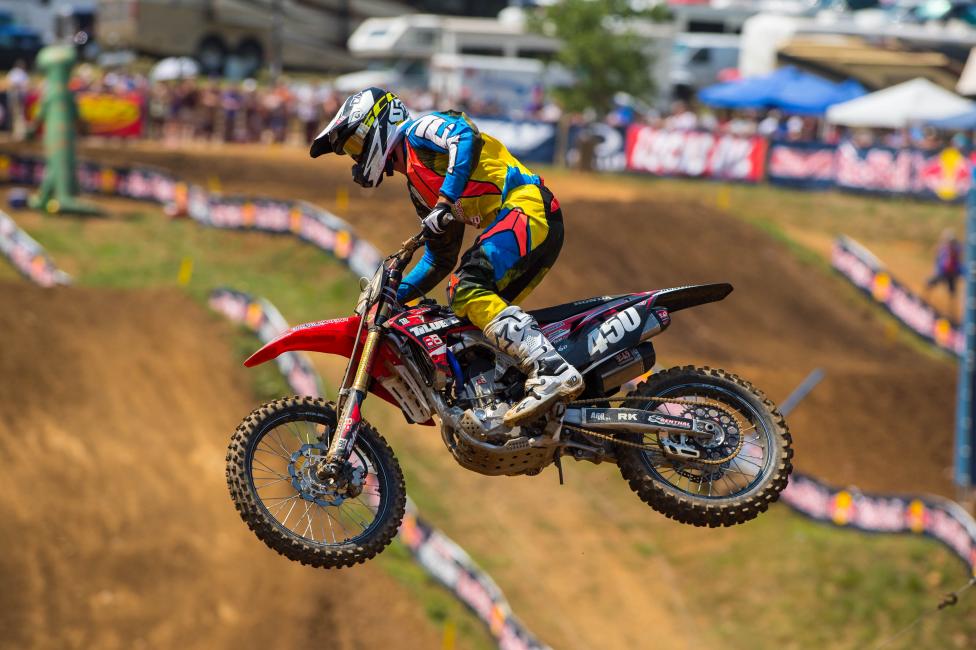 How hard is it being a privateer here as well as a rookie?
I think the biggest thing about being a privateer is just accepting the fact that you know your bike is slow and not set up right. If you go into a race weekend thinking that you are on a slow bike, you're not going to do well. I think that the biggest thing for me is realize that I'm not the fastest bike in the pits, but I know if I get a decent start, then I know I can race well. If I do the best that I can, I know I'll be somewhere close to where I expect myself to be. You can't get too down on yourself. I always tell myself that every rider on that track was a privateer at some point in their life. For them to get on a factory team they have had to do the hard riding on a privateer bike. If they've done it, then there's no reason why I can't do it. I can't dwell on the situation too much. I just have to go ride my dirt bike and do what I train to do.
Another thing that's really hard is that my brother had a baby girl at the start of the year. I was fortunate to see her for about two weeks, but other than that I haven't seen her at all. Yesterday my cousin had a little girl. It's really hard to be away from family and missing out on that aspect of life. I'm a very family-oriented person. I know what I want to do and the sacrifices I have to make.
Who do you want to thank for helping you out this summer?
Storm Lake Honda, Ti Lube, Buddy Brooks Racing, Dedicated Ride Co., Skullcandy, Alias, and Scott.