Lakewood, CO
Thunder Valley
Lucas Oil AMA Pro Motocross Championship
Jeremy Martin was taking it in and watching it slip away. The first 250 moto at Glen Helen was about to begin, but Martin's bike wasn't even running. An army of Yamalube/Star Racing Yamaha technicians scrambled around the bike, which held the #1 plate and red number backgrounds. The defending champ and current points leader was about to miss the race.
And yet he wasn't worried one bit.
"It's funny," Jeremy told me after the race. "Honestly, in a situation like that I was probably the most calm I ever would be. I felt good. The guys were trying as hard as they could. It's racing. Sometimes things happen. The only thing that did make me a little nervous was I was like, I don't care if they're [the pack] gone as long as I can just get on the bike by the time they cross the finish line for the first lap, so I could get out there."
Anyone watching the drama unfold marveled at J-Mart's calm in the situation. He was chatting with people, talking as if nothing major was happening, all while 25 points began to slip away.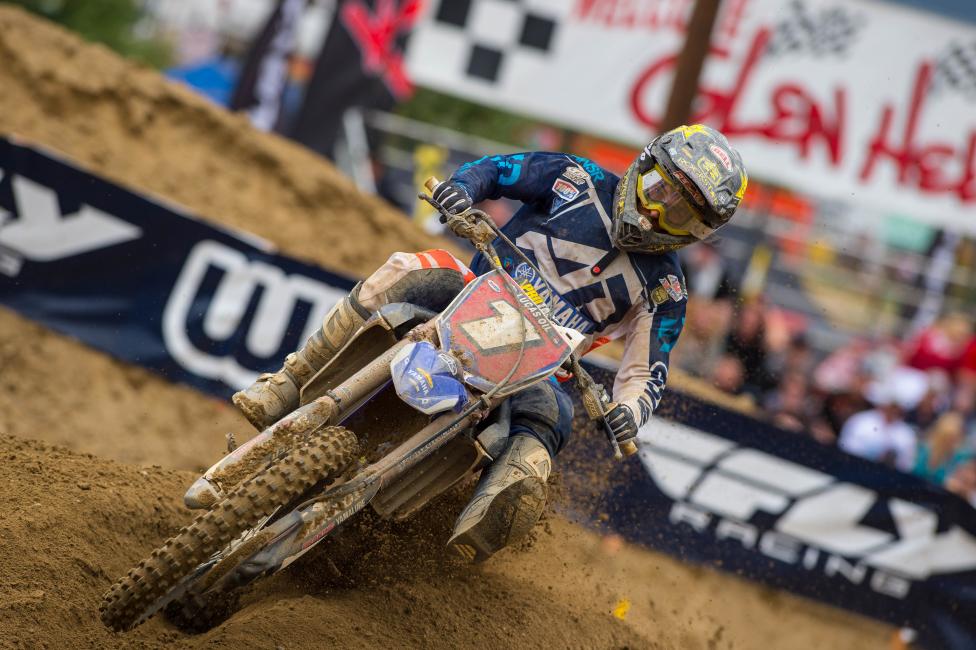 Now, you can praise Jeremy's calm under fire, but you must know there's more to it than that. Nothing impacts a rider's mood like riding well—not even a bike problem can overcome those good feelings. Jeremy wasn't worried because he's fast and fit, and he believes this is his title. Nothing can get him down, not even starting after the entire pack has left the gate. In fact, I honestly believe Jeremy is so confident that he doesn't even think spotting 25 points is a disaster with twenty motos to go.
"They got it to start before I hopped on it and then we couldn't get it to start again," he said. "So we were trying to…the final hope was to bump it. Then thank God, the first time I put it into first gear to bump it, it didn't go. So I held the clutch in again and then bumped it again and it started up. I just roosted the crap out everyone behind the gate and put in a charge."
Once on the track Martin kept his cool. He never panicked, never worried, never lost control. He started up front in moto two and got bumped by Jessy Nelson, sending him to last again. He kept his cool and launched another charge from the back. Just a few months ago, Jeremy blew it in a supercross LCQ by panicking and going for a wing-and-a-prayer blitz through the whoops that ended badly. This time, he was the coolest guy under the toughest circumstances.
That was supercross. Outdoors, Jeremy has supreme confidence in himself right now, and he believes he can overcome any hole and any handicap and still win this title. When you feel that good—when you feel like you have everyone covered—it's hard to worry about anything. Martin's heroic charges from the back merely netted him seventh overall, and he hands the points lead to Marvin Musquin. He is not bothered by any of this. Marvin Musquin will certainly be a tough competitor, and there's no disrespect from Jeremy toward him—in supercross Jeremy just saw first hand that Marvin is an amazing rider. But when a rider has that super strong feeling, that feeling of invincibility, he fears nothing and no one.
"I had nothing to really be bummed about," he said. "I did a lot of damage control today. Unfortunately in the second moto I had a good start. Then Nelson, I think, he hit a kicker or something, and then he took my front wheel out. It was an accident. He didn't try to do that on purpose or anything. I was like, here we go again. But when the going gets tough the tough get going, and I'm tough."
It's easy to be tough, patient, cool and mature when you know you're holding the ultimate ace in your pocket: speed. If you feel you can win every time you roll to the gate, nothing slows your roll.
That's what makes this Eli Tomac situation that much scarier for everyone not named Eli Tomac. Everyone knows Eli is fast and strong, but he's had some problems harnessing that at times, with bad starts sometimes leading to impatience and crashes. But his riding is at an even higher level now, so it's less likely that such things will happen. Tomac's starts have been good so far, but even if he muffs one, he can calmly go to work the same way J-Mart did. In the first half of the 2013 250 Nationals, Eli didn't get good starts and didn't get the finishes he wanted. En route to the title during the second half of the season, he never actually fixed the starts. Instead, he just started riding so darned fast that it didn't matter. He'd plow forward from tenth each weekend, and no one could stop him. He also never crashed big despite the inherent risks of going that much faster than everyone else.
Now Eli's riding will start to have an impact on everyone else—it may have already. In reality, the beautiful story of Ryan Dungey and KTM from supercross is just weeks old, but it's already a distant memory in the racing sense. The riders know where they stand, and this is the downside of this same equation. While Eli and Jeremy feel like nothing bad can happen, Dungey and company are scratching their heads despite having been on top of the world just a few weeks ago. That feeling of invincibility is fleeting in a sport where only one man wins. And here's the strangest part of it all: Dungey has basically been the number-two guy behind Eli, but he's beating everyone else! He's doing fine! What's the biggest change for the Dungey program between now and supercross? It's not Dungey getting any worse; it's Tomac getting much better. Even that's not enough to find solace though. When you know you have it, everything in life is good. When you're chasing it, nothing ever seems quite right.
Oh, but when things feel right, even the bad stuff seems good.
"I'm fine," said Martin. "I feel good about today."