San Bernardino, CA
Glen Helen
Lucas Oil AMA Pro Motocross Championship
By Jason Weigandt and Aaron Hansel
The Glen Helen track was a lot different than usual for the National. Slight rain on Friday and Saturday added up to a softer surface that formed bigger rolling bumps instead of the usual square-edged holes. "It was rough, but a good rough," said 250 race winner Marvin Musquin. "This track, when it's too dry, it gets edges and it's not fun to ride. It was overcast today and it made some big bumps and big ruts, I really enjoyed riding today." Don't fool yourself, though. The bumps might have been different, but they were still huge, the jumps were still massive, and the hills legendary.
If GEICO Honda's Eli Tomac hadn't dominated Hangtown to historic levels, we'd be talking about how amazing his leads were at Glen Helen. They were big, as he pulled out nearly 30 seconds on Ryan Dungey each time. But last week he won by a minute and a half! Tomac was fun to watch again as he hopped bumps, floated over rough stuff and leaped to the top of the hills. He's totally on point right now and has won all four 450 motos. He's also got a nice 19-point lead over Dungey in second.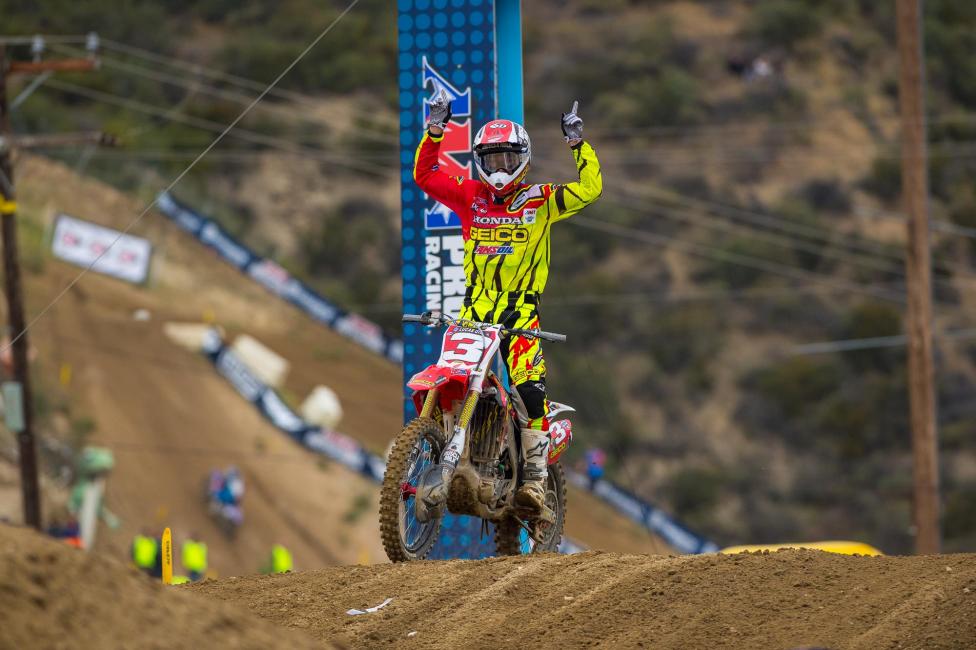 Red Bull KTM's Dungey gave a better run of it this week than last, getting out front early in the first moto. Tomac caught him but couldn't find a place to pass, and then Dungey's bike cut out and stalled. Tomac sailed past, while Dungey continued to struggle with the bike. On the last lap, while running second, Dungey's bike died again, and it took a while for it to refire. He dropped to sixth, costing him valuable points. In the second moto Tomac grabbed the Motosport.com holehot and Dungey was soon in second, but Eli steadily pulled away. "Improvement," said Dungey. "Last weekend we were further back and this week we were closer. We'll get to work. Not to take anything from Eli, he's riding great."
Dungey's bike problems helped Autotrader.com/Toyota JGR Yamaha's Justin Barcia, who inherited second in moto one and was fourth in moto two for second overall. Big breakthrough for Barcia, who has had a tough season. He admits he still has a long way to go since Tomac, Dungey and Ken Roczen (in the second moto) pulled big leads on him, but he was happy to podium. Barcia says he's trying to work on his riding technique and has been working with Buddy Antunez the last two weeks, and he thinks it's helping. "I try to go as hard as I can all the time, you can get away with that on a 250 but on a 450 you really have to have your technique down," says Barcia. "Just trying to make myself the best dirt bike rider I can be.
Fantastic first moto for Phil Nicoletti, who ran fourth for most of the moto before inheriting third when Ryan Dungey had bike problems on the last lap. Nicoletti went over the bars in the second moto to take twenty-first (ninth overall), but was still pretty happy about how the day went, albeit a little upset about moto two. Still, it wasn't enough to make him happy to be in California. "I hate the California tracks, especially this place. I think it's a crap hole, so to get my first podium here puts things at ease," Nicoletti says. "But I still don't like California. It was an awesome day, but I'm still bummed how the second moto turned out."
Ken Roczen had a much-needed rebound after a terrible Hangtown. The defending 450MX Champion is no longer dealing with back pain, as the pain-relieving shot he received right before Hangtown has finally kicked in. He claimed the Bud Light fastest qualifier award but collided with Jason Anderson on the first lap of the first moto, setting him way back. He clawed to eighth. In the second moto he started with Tomac and Dungey but couldn't quite match them. Still, his third was a big improvement for the Soaring Eagle Jimmy John's RCH Suzuki rider.
Marvin Musquin's day was great. Jeremy Martin's day was not. Musquin went 1-1 on his Red Bull KTM, leading a sweep by the orange men with his teammate Justin Hill (2-5) and Lucas Oil Troy Lee Designs KTM's Jessy Nelson (4-4) third. Musquin started well in both races, took the measure of Nelson for the moto one lead and checked out. In moto two he had to deal with Nelson again and also Alex Martin, but he eventually got them and pulled away. Musquin has won three of the four motos this year, but we're still waiting for a true showdown between him and Jeremy Martin
As for Martin, last week's overall winner and the defending 250 National Champion claimed the Bud Light fastest qualifier award. Then his bike died right before the sight lap in moto one, and the Yamalube Star Racing Yamaha team went into fire drill mode trying to fix it. The gate dropped and then the bike fired, courtesy of a push start, and Martin came rumbling across the starting gate behind everyone else. Incredibly, he charged all the way back to fifth. In moto two he got a good start but Nelson hit a kicker and bumped Martin to the ground. From about last again, he came back to sixth. Don't worry about J-Mart, the speed is definitely there. He told us he wasn't even mad about how the day went because he rode so well. "That was probably, aside from Millville, the most the crowd has ever been into cheering me on. It was nuts!" Martin says. "I loved it, and it was definitely motivating to keep pushing through even when I was suffering. It was a good day and those fans are cool. When they get behind you like that you can do anything."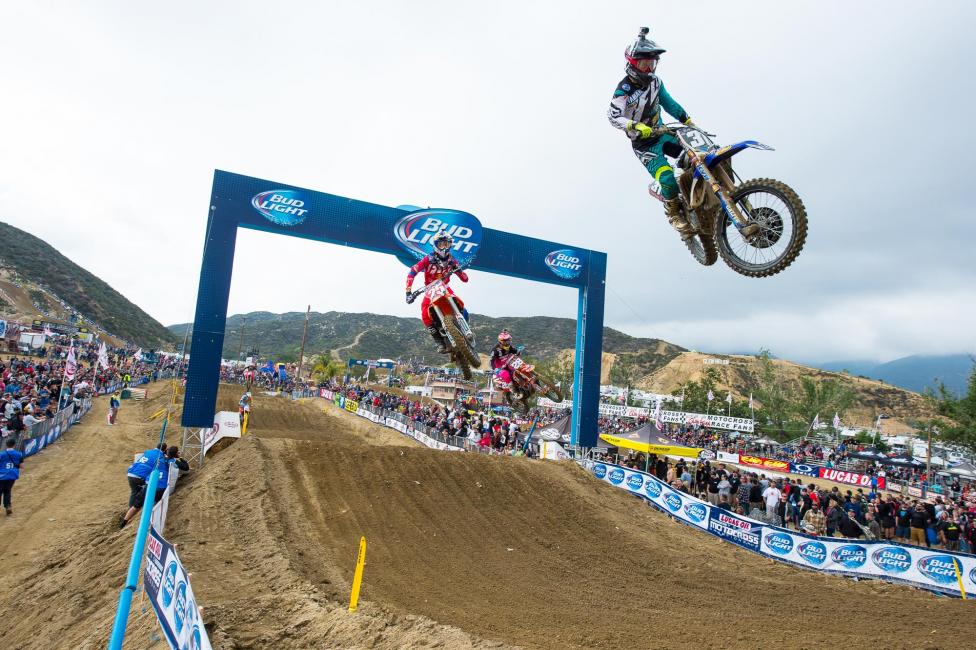 A-Mart's ripping, too. He stalled early in the first moto and finished 11th, but came back for a career-best second in moto two, even passing Musquin for the lead momentarily. The Cycle Trader/Rock River Yamaha rider gets the "Weston Peick most improved award" so far this year. He's literally reinvented himself at a totally different level than before. Had he not stalled in the first moto, there's a good chance he would have ended up on the overall podium, a fact that is not lost on Martin. "After the first moto I was bad because I knew I blew the overall for the day. I took that anger into the second moto."
Glen Helen was Cole Seely's first ever 450 National. He never filled moonlighted on a 450 outdoors, and if you count last week's two seconds in moto one before he crashed out, you're crazy. Seely didn't light the world on fire with his tenth, via 14-9 scores, but his result was hampered by a pair of crashes in the first moto. Seely says he now has some insight into what it's like on a 450 outdoors, which he'll use to try to build on for Colorado. "Obviously I'm a good supercross rider, but I really want to be a good outdoor rider as well. It's what I try for every year, to get faster outdoors. It's only a matter of time before we get the kind of results we want to," Seely says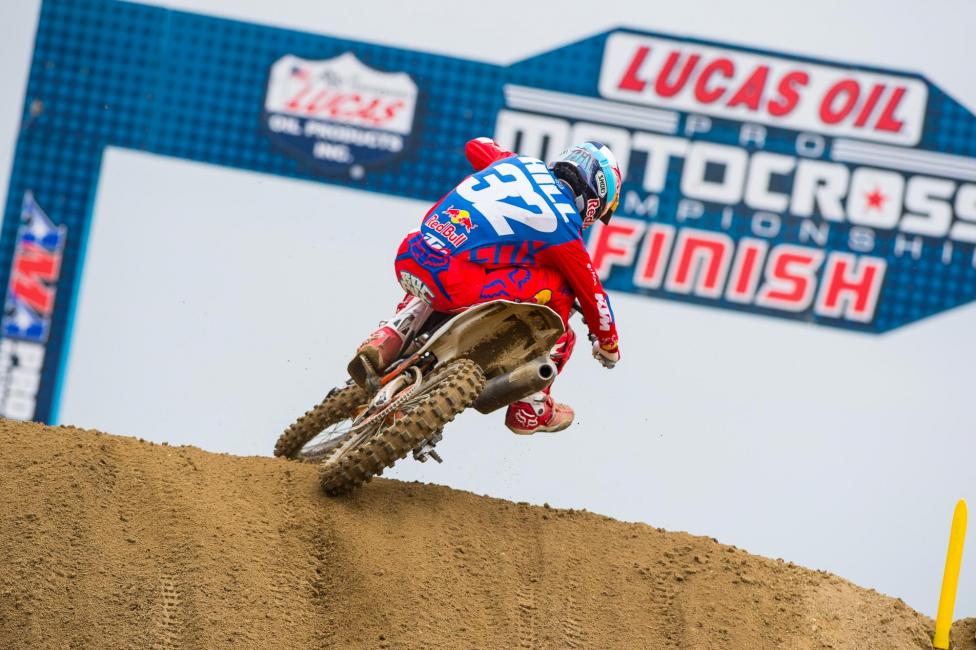 Justin Hill's season has not been good so far this year. He was hurt through much of supercross then had a crash and bike problems last week at Hangtown. Suddenly he found himself here, logging fast qualifying laps, then starting strong in moto one and taking a solid second behind his teammate Musquin. Second moto start wasn't as good but he came through. "Obviously this was better than the last race, big leap for me," he said. "Now I'm looking forward to Colorado, I finally did something good for myself."
Nelson missed six weeks of riding with a head injury, and says he's still working his way back up in the fitness department. He got arm pump and even spun the grips on the bars he was holding on so tight. He was just edged for third in moto one by Monster Energy Pro Circuit Kawasaki's Joey Savatgy, and then passed on the last lap by his teammate Shane McElrath in moto two. The 4-4 still gave him an overall podium. "I'm not really totally concerned with my result, just how long I can keep it going," he said. "Those six weeks took a lot out of me."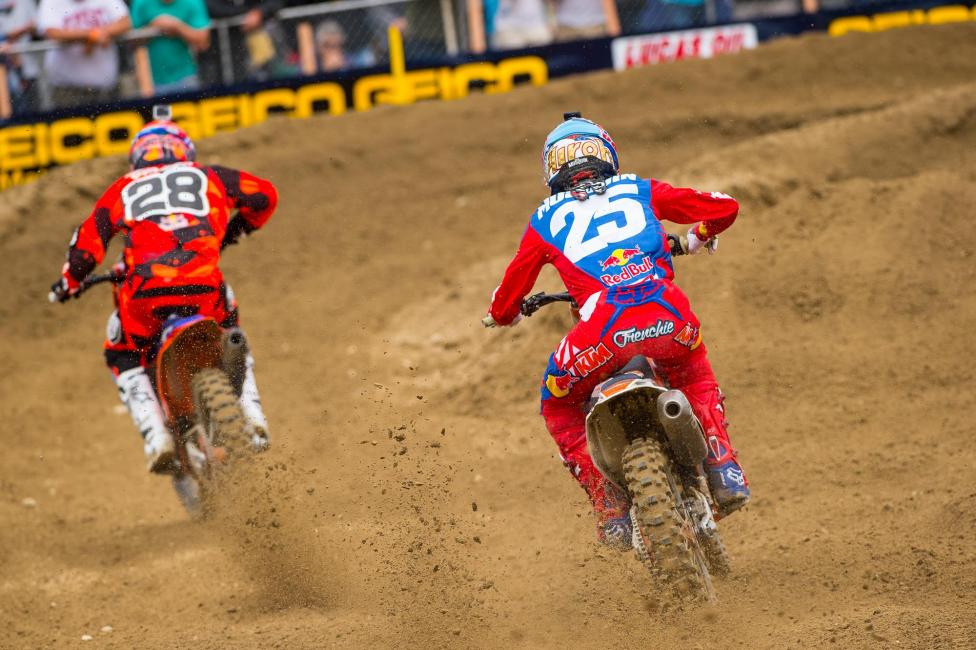 If you're Troy Lee Designs Lucas Oil Red Bull KTM team manager Tyler Keefe, McElrath passing Nelson at the end of the second moto puts you in a weird position. Of course Keefe is pumped on McElrath getting his best career moto finish, but it also knocked Jessy Nelson back to third overall from second. When asked about it, his main response was, "As long as they didn't knock each other over!"