Hangtown Motocross Classic
Rancho Cordova

,

CA
Hangtown
Lucas Oil AMA Pro Motocross Championship
Despite a plethora of worthy contenders—numerous previous outdoor champions, no less—poised to begin battle anew when the 2015 Lucas Oil Pro Motocross Championship opens Saturday at Hangtown, just two riders start the weekend set on a collision course for the 450MX crown.
Defending champion Ken Roczen and 2010 champion Ryan Dungey went almost to the wire—to Indiana, anyway—in dueling for last year's championship. It's not farfetched to anticipate more of the same. Last year Roczen and Dungey were teammates wrestling over the same prize. This year they will fight it out as outright adversaries, albeit friendly enemies.
Roczen, having skipped the end of supercross with a sore ankle, has been able to concentrate on outdoor testing— and maybe a little surfing—for over a month straight. Dungey meanwhile is riding waves of success and confidence from having clinched the supercross title by a wide margin without Kenny in his wake.
The two each managed to win a 450 outdoor title in their first year in the class. Dungey wasn't able to repeat in 2011. Can Roczen in 2015?
There are other horses in the race, to be sure, some of them dark horses and some much more probable frontrunners. With Roczen and Dungey paired up as primary title favorites, let's do some somewhat artificial and entirely arbitrary pairings of other racers who are more likely to vie for podiums and the occasional win than they are for the championship. And, just for fun, let's assign some of the riders a '90s era analog.
The second pair of most probable challengers is, perhaps, Eli Tomac and Blake Baggett, both one-time 250 outdoor title winners with little else in common. (Trey Canard would also fit right here in this discussion, but he's the odd man out, literally. Canard won't be on the gate at Hangtown, with no timetable for his return.)
Most would put Tomac's speed (and determination, and talent) on a par with Roczen and Dungey. What's lacking, so far, is starts and consistency, and that's been the difference between both Dungey and Roczen already having 450 titles to their name, and Tomac, while still relatively new to the cause, yet to get one. What's still ominously present is the lingering suspicion that Tomac could get a little wild and throw it away—at any given point, or at any track. Tomac is a latter-day Rick Johnson. Superlatively athletic on and off a motorcycle, a bit of a training nut, and given to occasional bursts of anger and more frequent bursts of outright domination over his competition. When Tomac gets fired up—and he is definitely the competitive sort—he's hard to stop. Fast, but streaky.
Then there's Baggett, hampered for too long by a serious wrist injury. But what if that weakness turns out to be a strength? There's not the need to hammer the right grip like in the 250 Class; 450 racing rewards a smoother approach—and that's just what he showed in his first season attempt in the 450SX Class, albeit against a depleted field. Baggett stayed within himself, showed speed, but moreover a studied and steady approach to racing the 450. His analog also would be more '80s than '90s. Not Rick Johnson, his current riding coach, but rather Johnson's long time primary nemesis. Baggett's not "built like a piano," but he is about the same height as Jeff Ward, and just might prove yet again that a small man can be a large force on a big bike. Like Wardy, he's not flashy and would rather do work than draw attention.
Tomac and Baggett haven't begun to equal the results of Johnson and Ward, but both have shown similar potential at similar points in their respective careers. Behind the first pair, Roczen and Dungey, the most likely championship contenders, and the second pair of probable race winners, Tomac and Baggett prognostications get a little cloudier, with less forecast of summertime success.
The two riders that made the biggest advances in results as supercross waned were Cole Seely and Weston Peick. That's kind of an unlikely pairing, but follow along and you'll see where this is going.
A couple of weeks back, before the 250 East-West Shootout that lost most of its luster when Cooper Webb pulled out after a practice crash, there were analogies of Damon Bradshaw and Jean-Michel Bayle, with West Region champ Webb cast as the former and East Region winner Marvin Musquin as the latter. Let's beat that drum again. No, Seely isn't French, and aligning Peick with Bradshaw is kind of a stretch. Still, Peick's aggression on the motorcycle contrasted with the Seely's smoothness provides a similar dichotomy in styles, and it'll be interesting to see which of those approaches—and which of these two entirely dissimilar racers—has the best results outdoors. About the only thing they have in common is that they're both real-deal Southern Californians, something that seemed so common back then, and is oddly rare now.
Seely's '90s analog could be Bayle, but there was that other supernaturally smooth rider on a Honda that wore the 14. That number kept looking better and better on Seely's bike as supercross unfolded, and in a class where being smooth is being fast... well, Seeley is less a threat than Kevin Windham at his finest outdoors, but he is nonetheless a common threat to seeing that number somewhere towards the front, bolted to a red bike. Seely will be a bigger factor outdoors on a 450 than he was on the 250.
As for Peick, Bradshaw isn't quite right either. A better analog (and role model, maybe) for Weston would be Jeff Stanton. Consider the possibilities if Peick could just channel some of the energy he uses overriding his bike into an approximation of the steadier but also overtly muscular methods Stanton once used—as he bulldogged his way to three outdoor championships in four seasons, ceding only one to Bayle and shutting out Bradshaw altogether.
Like Stanton, Peick was somewhere between unheralded and unknown as an amateur, but clawed his way from full privateer status into a factory ride alongside a more celebrated superstar of the sport. And Peick's year thus far has been at least a little like Stanton's 1989 season. Stanton was supposed to be second chair that year, but instead clinched both supercross and outdoor titles over the injured Johnson. No, Peick was nowhere near the championship. But, like Stanton, he has also surprised onlookers by overshadowing his new, flashier, and presumably much-higher paid teammate thus far.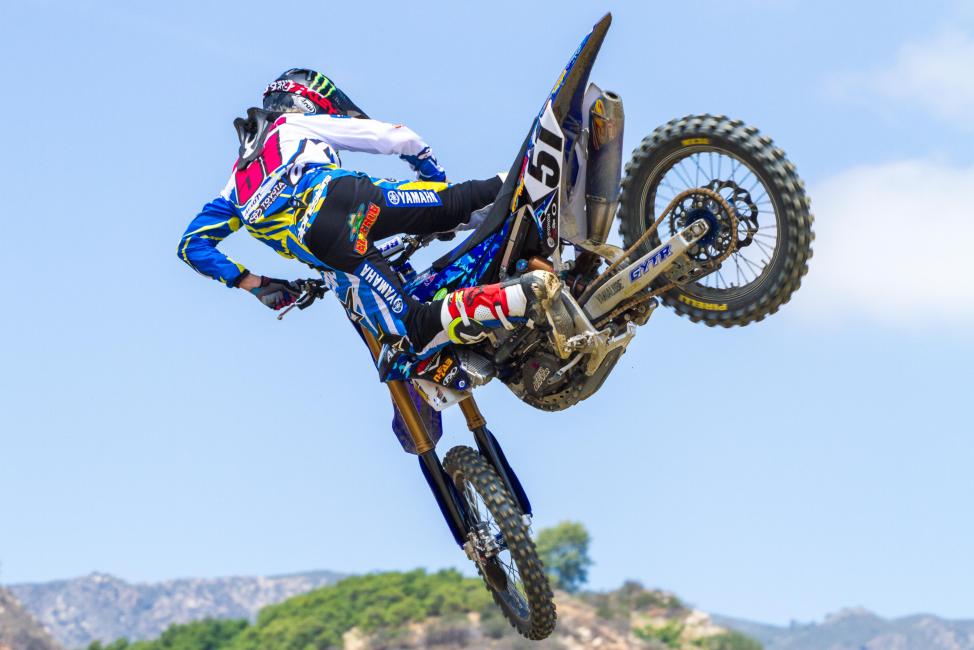 Which brings us to the pairing of Peick and Justin Barcia. Peick's a little bit Bradshaw, but if he's more like Stanton, and he is, the latter day Beast from the East is a wild child from New York, or New Jersey, or Florida—wherever he's claiming right now. Barcia is today's Bradshaw in a lot of ways. Visually, the list might start with long hair flowing out the back of his helmet, no fear of contact on the track, and a certain degree of cockiness, but more substantially would then have to include prodigious, obviously abundant talent that has yet to translate into real big bike success.
How will it end? Like Bradshaw, Barcia was a factory mini racer, hyped since childhood as the next big thing. Like Bradshaw, Barcia burst onto the pro scene with wins and a support class championship. Like Bradshaw, Barcia both electrifies and polarizes fans. Unlike Bradshaw, he has not been a consistent threat in the premier class—but even Bradshaw, more often a threat for race wins, never did win that big bike championship.
Bradshaw was unquestionably the fastest rider of North Carolina in his day. As to who will be the fastest rider on today's team from North Carolina... well, we'll have to wait and see.
The final teaming of two possible race winners is the very team of Discount Tire/TwoTwo Motorsports. Like Dungey and Roczen, Chad Reed is a former 450 champion, but the last few years have not been kind to him outdoors so he's not on the pre-season title hype list like they are. It's not unlikely that Reed could put some of these past rough seasons behind him and make a return to the podium. A spot on the top step wouldn't be a complete shock. Likewise for the first-ever TwoTwo wingman Josh Grant, who of course won the first moto of the season just a year ago, and could thus well do it again.
Reed is McGrath, who is the all-time King of Supercross and was also not a slouch outdoors, but never sustained that motocross title attack as long as he did in the stadiums.
The enigma wrapped in a riddle of possible race winners is Cristophe Pourcel—not so much a dark horse as some kind of a trick pony with blinding flashes of brilliance. It's easy to dismiss Pourcel's time as gone—resulting in 250SX regional titles and a pair of near-misses outdoors five-plus years ago—but it's not so easy to discount his finishes in 450 MXGP during his hiatus from AMA racing. Especially in light of the illumination provided by former AMA champion Ryan Villopoto's foray into FIM outdoor racing. And you'd have to have already forgotten all those fastest qualifier Oakley "Bomb" trophies from just last year to dismiss his speed. (If you want a '90's reference, that old Great Western Bank team would have fought over this year's Bud Light beer sponsored qualifier awards like crooks splitting up the loot from a heist, but we digress.)
As to a '90s counterpart, the Bayle comparison is obvious by nationality and in riding style, but Pourcel really can't be compared to anybody. More so than any other rider that will be on the gate, Pourcel is determinably his own man, and a unique one at that.
And what of analogs for the title favorites? Did we forget?
Peick could do well to aspire, but Dungey already is the current day Jeff Stanton. Not flashy, but as steadfast as he is fast—and even if it doesn't always look like it, Dungey is undeniably fast. If you can't see it on the track, you can already see it in the record books.
And Roczen? He's maybe not comparable to anyone. Like Bayle, he won world championships and then kept right on winning immediately upon arriving on this side of the pond. But he's much flashier on the bike, not to mention more personable with his helmet off.
Roczen just may, if anything, eventually achieve all that Bayle might have stateside—if only JMB had kept his heart in the game and his address in Redondo Beach. Perhaps that, then, becomes the biggest challenge. Kenny has already made the move, done the work, and won the title. Bayle was unable to keep his heart in it once he had done so. Kenny has proven an entirely different type of athlete than JMB, and he needs to be—this title defense could prove even tougher than the triumph of a year ago.