Houston, TX
Houston
Monster Energy AMA Supercross Championship
Over the last decade, KTM has basically won it all. The brand's storied off-road dominance continues at an even higher level, and they rule the championship roost in the FIM World Motocross Grand Prix circuit in Europe. As Ryan Dungey, Roger DeCoster, and Ian Harrison took their talents from Suzuki to KTM in the US, they quickly ushered in a new era for the European brand here, and have already collected three AMA National 450 MX Championships (with help from Kenny Roczen last year).
But one giant jewel remained elusive, until now. Ryan Dungey is the new Monster Energy AMA Supercross Champion, delivering perhaps the most significant championship in the history of the brand. KTM has proven they can build great off-road and motocross bikes, but supercross had always been a stretch. Now, they've reached the top.
Racer X: How was that?
Ryan Dungey: This weekend was awesome. Coming into Houston, the last two weeks were kind of tough, I must admit. Obviously Houston couldn't come quick enough. I was excited. There was obviously an opportunity, but I also couldn't get ahead of myself as well. We had to really race to win and if it [the championship] happened, then great. Today was great—qualifying went really well. We got a heat race win, and in the main event got off to a good start right away, and then I got edged out from somebody on the inside and got shuffled around a little bit. Between a few guys and getting pushed around and then Barcia was kind of shoving around and trying to do crazy things…there were a lot of other things happening on the track that were just nuts as well. Obviously, with the race, we had to work for that one. The race isn't easy whether you get a holeshot or we're coming through the pack; they're both tough. But that one, being pushed around…obviously there's some close calls; it's racing. But we put it all out and gave it our best and we were able to come away with a second-place, which was good enough to wrap up the championship.
Does this one feel different than the first one?
Yes, because two things: obviously the first one was my rookie year. The first one's sweet—it's special—but this one I felt better throughout the season. I felt stronger, fitter, and I owe that to obviously the people like Team Red Bull KTM and that new bike they built this year, and all the people on the team as well as my mechanic Carlos, my trainer Aldon Baker, and my wife Lindsay, and my family. I felt like with the tools I was given, KTM supplied me everything I needed to win, and on my part I did the best I could. With the two I think it's a good team effort.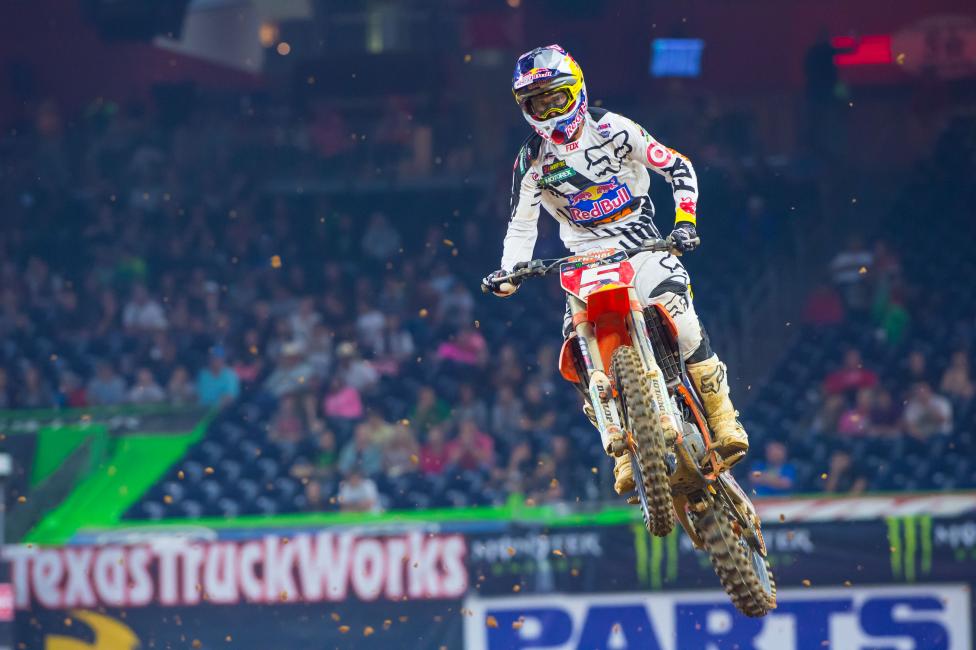 That's a sweet deal, where they put together the bike for you, basically build the team.
Absolutely. Obviously it would have been nice to accomplish this quicker, but at the same time we did [together] as far as with KTM. We got that outdoor championship but that supercross championship was our next set. It's a big night, not just for me. My whole team, my family, KTM, everybody in Austria, all my sponsors. This is a big night for all of us.
This is KTM's first premier-class title. You'll forever be in the record books. That may not have hit you yet, but how's that feel?
I don't think things are setting in too quick, but at the same time to take a brand and I think it was five years—I wasn't there the first year because Roger and Ian started developing the team into what it is now—but five years ago they said, "Hey, we're going to commit; we're going to do everything we can in this sport and we want to be a top competing brand." I really give it to them because they did everything in their will to make this happen. And on my part I wanted to be able to come through for them, as well as a goal of mine to accomplish. It's the first 450 supercross championship for KTM and it feels great to be the first to accomplish that, but at the same time it's not really about me; it's also about all the people back in Austria. You don't know how many people worked on this bike and put this together. And not just this bike, but the last five years building this team. It's not just one or two people. There's key components, key people, but there's thousands of people that made this possible.
How big was that progression over five years?
I think pretty quick. As far as the turnaround and the way they get things done, it's quicker than any manufacturer. Their focus is more towards the sport and towards two wheels and off-road. Where things take a year [normally], they cut that in half and were able to come through and pull through on all fronts, whether it's getting new material, new equipment, new bikes. In three years we had one bike, and then since I started, less than three years, they had already another bike.
How big of a difference in feel was that in the equipment?
I will say hands-down the new bike is much better. I don't feel guilty saying that. The last bike was good, but when a company goes to build another bike that's the goal is for it to be better, and it was. We had a lot of good success on the other bike but this one took things to the next level.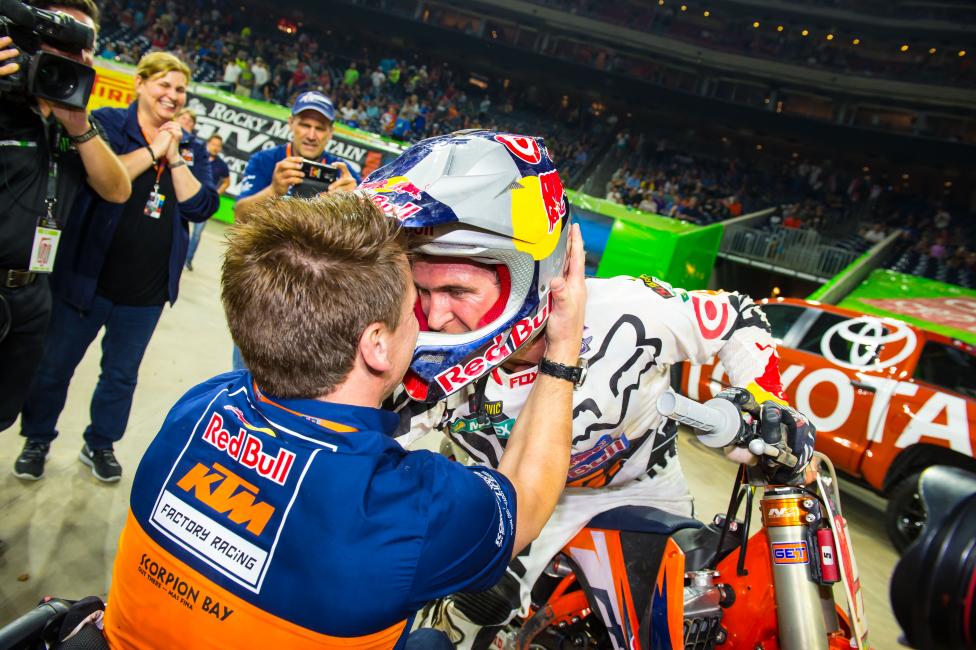 How do you celebrate this?
I don't know. I'm trying to figure that out myself. It's an awesome moment. I'm very thankful and blessed. You've got to understand, there's a lot of tough times that grow your character and there's a lot of times that I got seconds and thirds and it was awesome—it's great—but it's hard to accept when all you want to do is win. I'm really thankful it all came together.
The seconds and thirds aren't as sweet.
They're respectable finishes, but a win is a win. It feels good.
A little weight off the shoulders?
Definitely there's pressure to do good, especially when you see everybody showing up and they're not here just to come see this race; they're here to see you wrap it up. It took a lot of mental strength this weekend, especially to focus on myself and the track, and not think about the championship and focus on the task at hand.