Kevin Windham needs no introduction. He retired from racing in 2013 but has a timeless grace, style, and love of the sport, and that keeps him involved and respected in the industry. He came to St. Louis to take in some racing and also help with a fundraiser for his good friend Chris Blankenship, a popular track builder in the industry who lost his life in a crash last year. Although no one knows the answers as to what needs to be, or could be, done to reduce the severity of racing injuries, K-Dub has a strong desire to try to learn more about the topic. We talked to him after the St. Louis main event about it all.
Racer X: What do you think of the racing this year? We haven't seen you around that much. What did you see tonight? What have you seen so far this year?
Kevin Windham: I've seen it all and I'll tell you, I really feel like it was kind of my time to be a dad and do those kinds of things. My kids, I feel like I blinked my eye and my oldest daughter's 12. They're all doing their own stick and ball and track and field and all these other things. So I'm really thankful that we have such great coverage at Fox Sports 1 and 2, with Amsoil Arenacross and Monster Energy Supercross. As far as the racing, I can't believe in supercross the amount of shared podiums within the teams. We saw it in the GEICO Honda rig in Detroit, but really with the Red Bull KTM it's amazing their ability to just dominate a night. The racing's been fantastic. Eli [Tomac] unfortunately got off to a bad start tonight so he found himself battling through. And actually [Justin] Bogle as well, same with him because they weren't up there and it was strictly KTM domination tonight. Just struggling from bad starts, which is kind of odd for Bogle because he's had some good ones. They held onto what they could and are letting that championship fight go on another day. I know Bogle's got the cards stacked against him and Marvin [Musquin], well, man, Marvin just is on fire, on rails. Posting times to quite frankly run with [Ryan] Dungey who dominated the 450 class. The battle tonight was not for the lead but those guys behind were jockeying the position, just doing everything they could to keep the fight alive as they take it hopefully down to Vegas.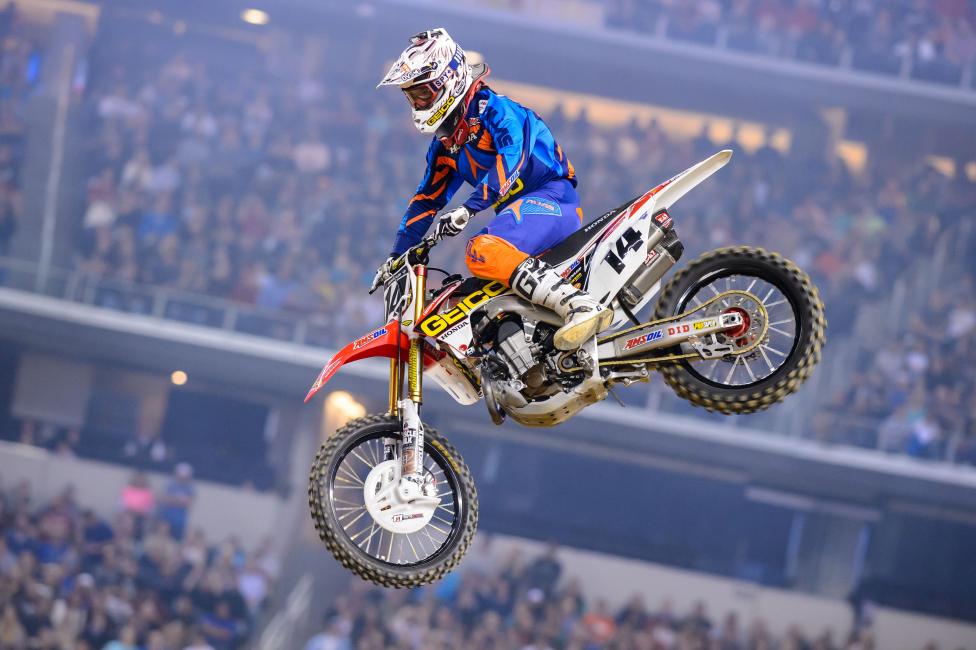 You've raced Dungey a lot. Do you feel he's stepped it up this year? Do you feel like he's better than you've ever seen him? Can you tell by watching or is it the same old Dunge?
I think with Dunge it's kind of the same old thing. He's the diesel, and I think that there are some times where he's going to get beat by Eli and if there were other folks that are making a run. Unfortunately we got [Trey] Canard out and several people out, and I think when it's not there he doesn't lose any sleep and when it is there he takes it. Right now he's just putting himself in a great position. I think he's riding with a touch more confidence than he ever did, but just such an amazing guy to carry that level or intensity for so long and be methodical and be the diesel. He's come to earn that nickname.
You've been pretty outspoken lately on safety for the sport. You've put it out there on social media, on Matthes' PulpMX Show. I know that there's been some rough moments for the sport in general and some that hit pretty close to home to you. I think a lot of people are starting to think, "Okay, we need to do something here. This is not just coincidence; this is not just a thing. It's a trend. Something's up."
It certainly feels that way to me and I'm smart enough to know that I can't prove it or defend it or talk to it. Right now I feel like I'm drawn to at least research it. I can tell you for the first time in my life this year I'm sincere in saying the fact that I do not make any money from the sport. I'm involved because I love the sport; I love the riders in it. I feel like I'm bonded through a brotherhood by simply people who throw a leg over a motorcycle. That's kind of where I feel like I am with that. I don't think our sport is…the sport is advancing in life, just like everything advances. There's other sports that seem to limit where the riders go, or where drivers go, or dragsters and all these other things, where they go and what they do. Maybe it's time that we do that, but I don't know. I'm not saying I have the answers. I just can tell you that I'm passionate about it and I feel like if nothing more than just to research it is something I want to do. I'll see how far it takes me. There's a lot of moving parts. There's a lot of questions, some that have answers and we may be able to find out where to go on certain things. There's some things that just do not have answers and we have to accept that with our sport. Trying to be realistic about it, safety and our sport, but at the same time if there's something that can be done I think that we should, for the protection of the sport and the growth of the sport. There's a fine line between having the best talent in a supercross—by that I mean not having any injured riders all the way down to Vegas so these fans that come to watch the race can enjoy, knowing that they're watching the best in the world—and the other side of the coin is yet still having it be entertaining and that these guys can jump high and go fast. It's a very thin line to walk.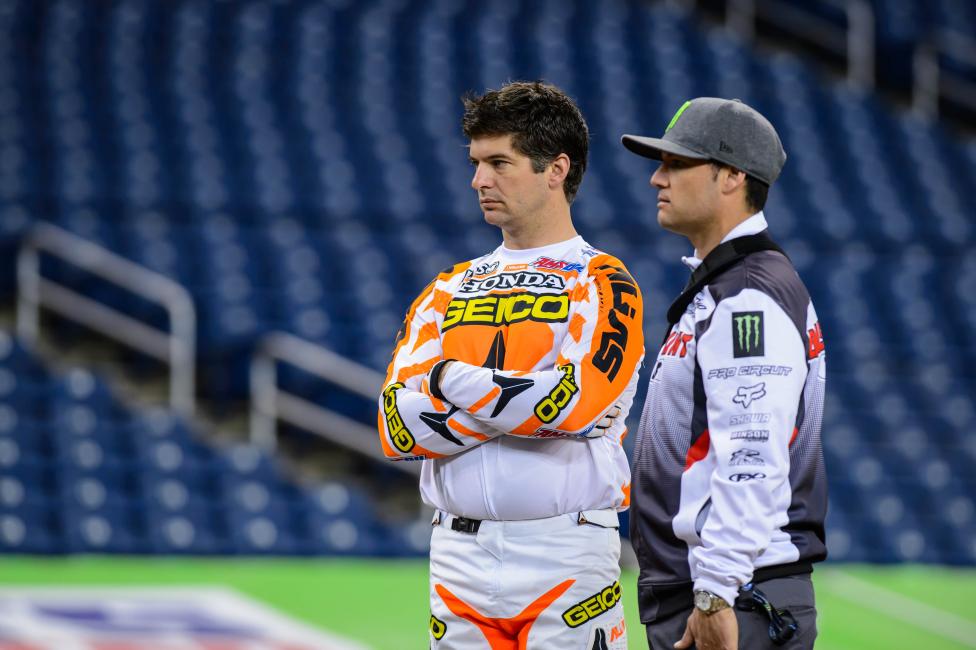 Here's something that I've noticed. Injuries have always been a part of this—there's no doubt. But one thing I feel has changed is that injuries used to be you broke your ankle or you broke your arm. Now we're seeing bigger lists in each crash—now they broke both arms and their leg and they collapsed a lung all in one crash. It seems like they're much more catastrophic than a broken ankle, six-to-eight-weeks-you're-back. We're getting bigger injuries, maybe the same frequency, but when they happen they happen big.
I agree with you. I really went into some in-depth analysis of my career and how things went. I agree with you. I think in the eighties it was collarbones and smaller bones. Then we went into a new era and unfortunately around the Ernesto [Fonseca] time and Jimmy Button and some others we went into a paralysis phase and unfortunately now I feel like we're having kind of the ultimate loss. It seems that way to me, but again most of my plan and where I want to go right now is just to try to get something that we know. We don't know that or anything for sure. It's just a theory and that kind of puts us in a dangerous spot. I can tell you without any hesitation that I truly love the sport so much that I don't want to say something that could potentially be detrimental to something, and do something like that just off of a theory. I think we really need to look into it and start analyzing stuff. So that's where I'm at. It's been an interesting journey so far. It's only about a week old. I can tell you that the thoughts that were going through my head when I retired, the thoughts that were going through my head when I lost a good, dear, close personal friend, Chris Blankenship, and the thoughts that go through my head when the sport has a catastrophic injury or loses someone that I don't even know, those feelings mirror each other pretty damn close just from the passion and the love that I have for the sport.
So your point right now is you just want to try to figure something out? You're not saying you have any answers. Nobody has any answers.
Exactly. I think that's really the only place we can be right now. At least try to find some patterns if there are any. If there are patterns then maybe there's something we can do, and if we can do something and we help one kid somewhere, it feels like it'd be worth it.