In the pits at the Arlington Supercross, our Racer X subscription booth happened to be set up across from a young racer in an FMF box van. He introduced himself as Josh Cartwright. That night's race would be his first-ever supercross, and he also mentioned being a full-time biology student at Florida State University. Pursuing a degree while pursuing a professional career? That's an idea we can get behind.
Cartwright missed the 250SX East main at Arlington and Atlanta 1, but he made the main in Atlanta 2, and then he was offered a ride with the ThermoTec Yamaha team in AMSOIL Arenacross. We called him this week to learn more about this sport's best student athlete.
Racer X: So where is the Florida State University campus compared to the Georgia Practice Facility, where you ride?
Josh Cartwright: Campus is about 30–40 miles away from that, but my house is in-between GPF and FSU. FSU is like fifteen miles from my house and then GPF's like thirty miles from there.
That is awesome how that works out.
Yeah, it's pretty sick. It's pretty good. When we first moved there to GPF we were like, hey, FSU's right there—it's perfect.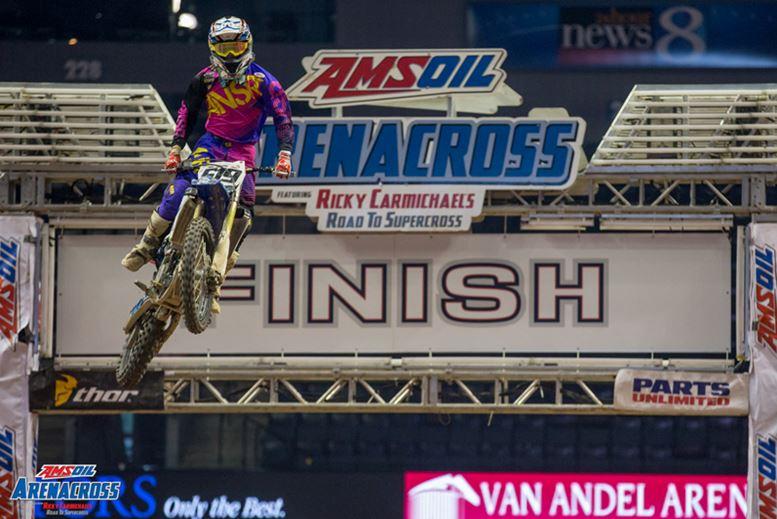 Explain your background. Did you move to Cairo for racing purposes? Where are you from originally?
I'm originally from Memphis, Tennessee, actually.
So you're going back home for arenacross this weekend.
Yeah, pretty much. In 2012 we decided to go to GPF just for the summer camp and try it out. I was a junior in high school and I decided to do that. When we got there we saw that FSU was right over the border of Florida, so my senior year they moved me to Florida to Tallahassee, and my parents stayed in Memphis, so I could train and go to school at the same time.
So how did you do your senior year of high school? How did you pull that off and get good enough grades to get into college?
I was an A/B student. I had a pretty good grade point average. The first semester I didn't get out of school until like 2:00 so I didn't get to the track until 3:00. It kind of sucked. The second semester I did two online classes to where I could leave my high school at 11:15 and get to the track at 11:45 and I would be able to ride the track when it's going to be moist and in better shape.
To this day I still want to be in school just in case motocross doesn't work out, I have a backup plan with a job and an education.
Obviously making the decision to go to GPF shows that you knew you had some potential and were willing to take a big move like that. Take me through your amateur career here a bit.
I was always a top-ten finisher. I was never one of those riders where I was a big name and everyone knew who I was; I was kind of just under the radar. I would probably get in the top five randomly. Once I started getting onto big bikes I started showing some potential. In 2013 I got second in 250 B Stock at the Freestone National. That's when I started getting better and I started getting a little faster, stronger. That's when we decided to go to GPF. That year I won Loretta's in College Boy.
That would make you the only rider probably that's ever won a College Boy class who actually went to college.
Yes! That was right before—it was actually right before my senior year of high school. I moved to Georgia right after my win. I did the summer camp again in 2013, and when I won Loretta's in August of 2013, that's when I moved to Florida and did my last year of high school and senior year.
I'm assuming there's some sort of family thing here with the focus on education. Where does that come from?
It's from both me and my parents. At a young age when I was on super minis and everyone was getting home schooled, of course I was asking my parents, "When am I going to get home schooled?" They're like, "You're not going to be." Once I got older I started to understand why and I started agreeing with them. I want to stay in school; I want to have a backup plan. To this day I still want to be in school just in case motocross doesn't work out, I have a backup plan with a job and an education.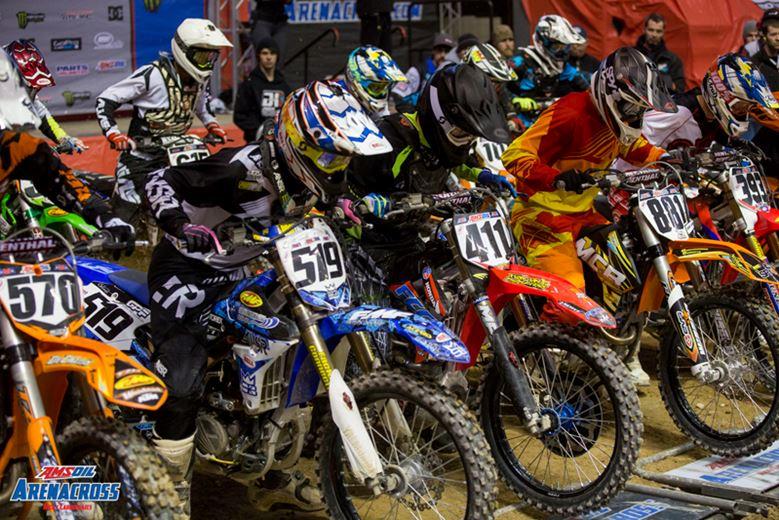 But you're not even picking an easy major here. You're doing biology.
Right now I'm in biology. It's pretty tough right now, but I like to challenge myself. It keeps me on my toes.
Obviously being a student athlete is common in college but certainly not like this. Do people realize what you're doing on weekends? This is big time.
I told my professors at the beginning of the year. I told them what I did and I might have to miss a couple days of school. They were all okay with it. They know what I'm doing. Just some of my friends that I've met there know what I'm doing, but other than that I'm kind of just another face in the crowd. I do go out and hang out with some friends from FSU sometimes, but most of the time I don't have time at all. Most of the time it's school, ride, school, sleep, every single day. I don't have time to hang out with friends usually at all.
And there's no training on campus? Do you do everything at GPF or do you train some on campus?
No, I do it all at GPF. I have all my riding there and my gym there. I do it all there.
So you're not in there pumping iron with the football players or something.
No, that'd make me feel small!
Talk about the season here a little bit. I know that you had earned your supercross eligibility at arenacross, which is good. You raced some supercross; now you're back in arenacross, right?
Yeah. I did the first three rounds of the Amsoil Arenacross, the Road to Supercross to get the supercross license. The plan was to do the whole East Coast series or as many as we could with my schedule with school. Once I got to Atlanta 2 and finally made my first main, Junior Jackson called me and asked me to do the rest of the arenacross series. It was too great of an offer to pass up! I'm glad to be on the ThermoTech FMC Racing Yamaha team. It's going great for me. I got second last weekend in Council Bluffs in the Lites. I'm still learning the bike. It was my first time to ever even start the bike in practice. I had never even cranked it. I'm going to do a couple more rounds in the Lites, and then after that I'm going to start focusing on the premier and try to get a podium in the premier.
How different is it actually being on the gate in the two different classes?
The Lites class and the Premier class, the Premier has way harder competition. In the Lites there's a couple of the riders that do both but not many. There's Steven Mages, Daniel Blair is a heavy hitter in the Lites class, and [Dave] Ginolfi are three of the main heavy hitters in the Lites class. In the Premier class you have all the factory guys. I like the Premier class. That's my plan to do and hopefully try to beat most of those guy—that's my goal. Mainly Gavin Faith, sitting next to me, we're driving to the race together. That's the goal. It's so much harder because they're way more intense in those kind of races in the Premier class.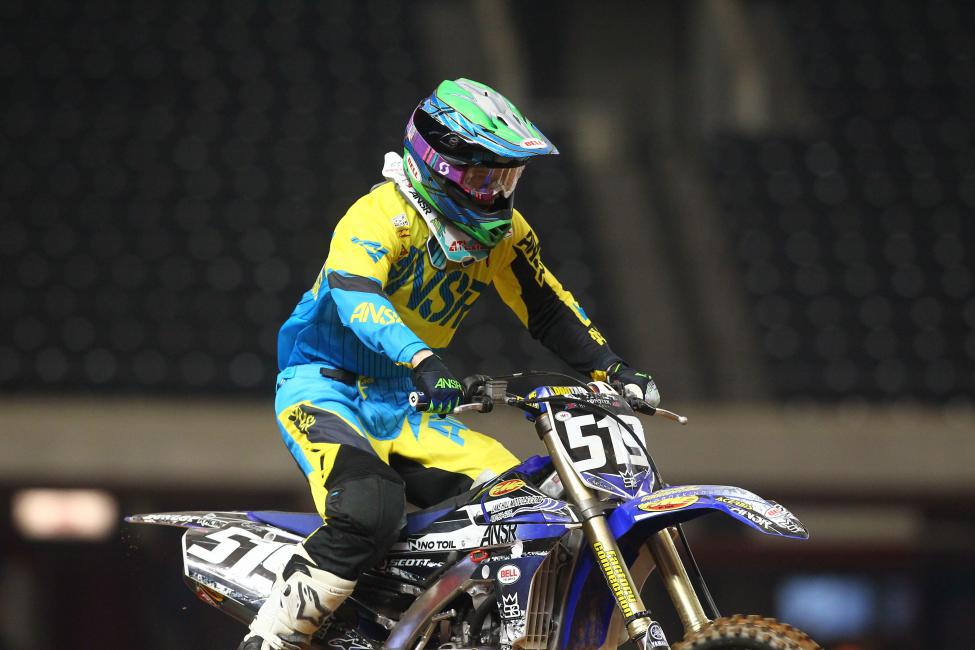 You're kind of getting to a fork in the road here. So what's your road map? Is it to make a name in yourself in arenacross and maybe go back to supercross? Would you like to go back to supercross immediately? Do you know what you want to do?
Right now I'll finish up the arenacross series this year, and then actually my plan is maybe to come back next year for the arenacross with the ThermoTech team again, maybe if they offer me to ride again. That's kind of in the works. We might do that. You just need more experience and I think arenacross is helping me. I've grown up on arenacross throughout my amateur career and I like it. I can maybe do a couple years kind of like [Tyler] Bowers did. Hopefully win a couple championships and then go to supercross.
What everyone always wants to know now about this Road to Supercross deal, do you feel like the ones you did before Arlington Supercross, did that apply? Did that help?
It did with the intensity. The pros, they ride so much different than the amateurs. In the amateur world you show a rider a wheel, they'll move out of your way. In the professional world, they will push you off the track to get in front of you because it's their job and that's what they need to do to get money. It's much different. The intensity in arenacross will help a lot, and that's what it helps do, the Road to Supercross.
You said you had an arenacross background in a way?
When I was on 50s and 65s I did a lot of the amateur arenacross, just with the series and then went to Vegas for the amateur finals. There's a separate arenacross series called the AX Tour. It's a little local arenacross series in the Southeast. I do those every single year just to prepare myself. This year I really did it to prepare myself for the real arenacross, and I think it helped just to get into the mode and everything. A couple of the amateurs came with me. Mitchell Harrison came and did a couple and he thought it also helped him.
At some point you're going to collide here. You'll be juggling a racing career and actual career when you graduate from school. What happens?
Right now it's kind of undecided. I actually might be switching to computer science. I kind of have a job lined up after college right now to be in computer programming. So my major might change. That's the plan after college. If the motocross and supercross goes well and I'm making a living, I might hold off the job for a little bit and then I'll always have it to fall back on.
Do you think you might have a little less pressure on you because of that? It's a pretty rough existence what you would have right now as a racer. You're right on that bubble.
Yeah, it does a little bit. It takes pressure off and it also kind of puts pressure on at the same time. It takes pressure off just in case racing does not work out I have a backup plan; I will have a job and an education to fall back on. And it also puts pressure on because in the present I'm having to do my training, keep my speed up, and also keep my grades up at the same time. It's difficult!
How much do you think you lose or gain in that direction? You can't train for fourteen hours a day, but is it a huge drawback doing both?
It's not a huge, huge drawback. It's a little difficult. You have to make time for your studies. Like you said, you can't train fourteen hours a day; there's a certain time of the day to train. But it is nice to ride and train without thinking that you'll have a test in three hours. If you don't go to school you can just work out, work on your bikes, and just calm down and not think of anything else. With school I'm constantly thinking of different things. I'm working and then riding, and then while I'm riding I'm thinking of school, then when I'm in school I'm thinking of riding. It's just constant struggle. But it is possible. I think more motocrossers should try to do it so they will have a backup plan.
Good luck this weekend. You going to run into some family there?
Yeah, actually tonight, we're on our way now because I've got press day tomorrow. I will be staying at my parents' house because my parents still live there. We'll probably just go see all my family. I'll probably go see my old high school, St. Benedict, and go see all my teachers there.
I wish more people would take your advice and do what you're doing. It's pretty cool to spread the word on this.
Thank you. A lot of people have reached out to me; a lot of kids have Facebooked me and said, "We looked up to you and we want to do the exact same thing you're doing."
Just tell FSU to give you some credit for motocross!
We've been sending them some things saying, come watch supercross and TV; we're getting you a lot of press!
Who do you want to thank?
The team's sponsors are ThermoTec, FMC Racing, Yamaha, MotoOption, Bill's Pipes, MXCulture, KSR wheels, Wiseco, Dunlop, Guts racing, Mika Metals, DT1 Filters, Bel-ray, Motion Pro, MXstuff4U, Works Connection, Black Diamond Graphics, Renegade Fuels, Cycle North, OTSFF, Bristol Core, Rtech, and my personal sponsors are Ansr, Bell, Alpinestars, Scott, Dunlop, EVS, Atlas and Georgia Practice Facility, GPF.