Daytona, FL
Daytona
Monster Energy AMA Supercross Championship
By Jason Weigandt and Chase Stallo
Ryan Dungey, Red Bull KTM, First in 450SX
Ryan Dungey: I had the advantage coming into the turn. We were both going to run into Shorty, so I took the line away from him and he went up over the thing. We went into the next one and I thought he was going to chill out a little bit and he didn't. He just tried to really force it in and surprised me. Unbuckled my boots and everything. He ended up going down and thankfully I didn't. From there, Shorty did something. He didn't really make that much ground in that little deal. I was like, man, this is enough, and I was able to get through the whoops really nice and clean and faster. I scrubbed more speed off the triple than Shorty did, and when we landed I had the wheel so I took the inside.
Did you say your boots got unbuckled?
The way he hit up the side of me it unbuckled my top two buckles. I felt some release and some air flowing through there. Not really a comfortable feeling.
When Mike Alessi went down, and there were yellow flags all over, what did that do to the complexion of the race? It seemed like you guys bunched up right there.
We were both pinned and I kind of stayed on the gas. I let up, but I just kind of stopped racing through the incident. Obviously I could have just went and made the pass, but you don't do that on a cross flag. I just kind of held up. All three of us just kind of slowed down until we regrouped and then Shorty took back the lead. Just took our time through there.
In the last five years before tonight, you were second twice, third twice. Was there a growing frustration about you and Daytona?
There was points I fought more so then… Villopoto, he was pretty strong. He's a tough rider and still is. With that, there's a lot of new changes coming into this year with the new bike. I definitely fought it last year. I definitely struggled more so in the past years just bike setup-wise. Today I felt like I was able to, this week especially, find a good bike setup. We fought it a little bit in practice. Able to kind of find a good spot there. I felt comfortable racing. That was probably the most comfortable I felt on this rough of a track in all the years I've been here, so that's nice. We got a good start. We had put ourselves in a good position and was able to put down good laps and open up a little bit of a lead.
Talk about how the complexion of the championship has changed over the last few weeks? The lead now has just grown huge over the last few weeks.
Definitely. That is good, being able to build on the championship. My main focus has been more just race by race. Long term that is the goal, championship. But I think the only thing I can do is come into each race weekend, race the track, do what I know how to do, and let the rest play out. If it's a win, great. If it's not, then try to be consistent and no major mistakes. I definitely want to leave each and every round with my best effort and leave everything on the track. Definitely these wins are important, especially at this stage of the game, but also being able to win back to back, I felt like that was a good goal tonight. That was one of my goals tonight. I won and then didn't win, won and didn't win. I really wanted to win back to back. We set little goals but just keep the focus, at this point. – Jason Weigandt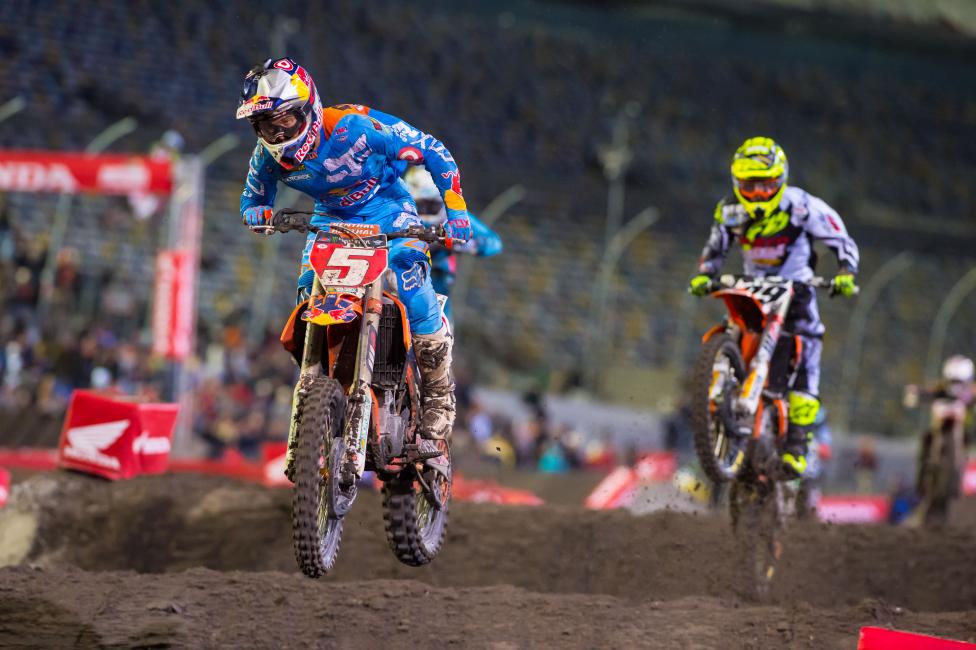 Eli Tomac, GEICO Honda, Second in 450SX
Racer X: Talk about working up into 2nd place, some of the passes or some of the battles.
Eli Tomac: The way my start was I honestly thought I should have been dead last, but came out, I don't know what it was, inside the top ten. At that point I was at the back of that big pack of guys there. A couple guys went down, and then when those cross flags were out it kind of bunched everyone up because everyone is obviously taking it easy through there, but usually the guy behind you can kind of sneak up on you. That did cause a big bunch-up there. I wasn't really doing anything special I just didn't make any big mistakes and I was able to sneak around a few guys. – Weigandt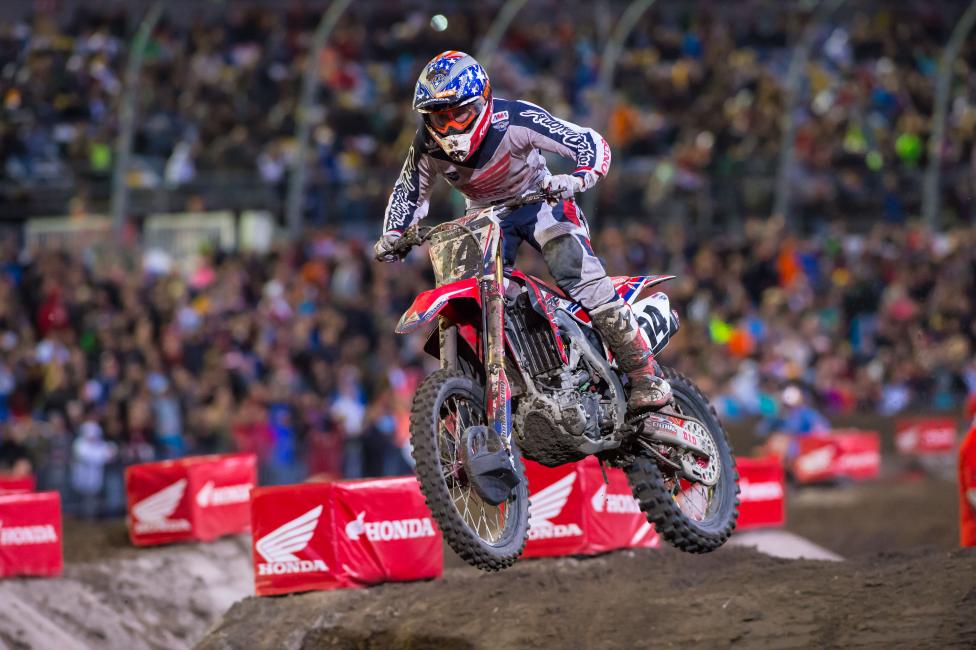 Cole Seely, Team Honda HRC, Fourth in 450SX
Racer X: Dude, it was awesome. You were going for it.
Yeah, I was going for the win! Once I got into third I could see spots where I was faster than Ryan [Dungey]. I knew if I could get him I could get [Andrew] Short. I just put on a charge and basically just going for the W. Unfortunately, I could have been a little bit more patient….actually, probably could have either been a little more patient or a little more aggressive and would have came out a little better in that situation. But unfortunately hit the ground. It's tough at any race to pick your bike up and keep going, but at Daytona it's really tough. Happy to pick up and get back into fourth and ride the rest of the race out pretty solid. Happy with the night for sure.
You were not taking no for an answer. When you were side by side with Dungey there I thought he had cut off two or three times but you just kept coming after him.
I had a lot of aggression. I think it was a mixture of having a really good week and being kind of frustrated with my heat race. That just kind of piled up and my frustration kind of grew. Just felt pretty fiery out there and put in some good laps even after I hit the ground. The track was so tough. Typical Daytona, but I've never really ridden it when it's this gnarly. It made for some good racing, though. Be really smart with my line choice, actually, which is good for me because I can be kind of creative. That's kind of my riding style. Just a little different race track.
People would think the gnarliest outdoor guy would do well here, but I'm starting to hear more about riding smart and picking good lines like you do is actually better.
Yeah, it's kind of like European style I think. Maybe that's why Musquin does so good here. Every year I've ridden here you have to change your lines every three or four laps and you have to kind of think outside the box, square up, come inside/outside or outside/inside. It's just a totally different riding style and different corner technique and everything. I enjoy that kind of stuff where you have to think outside the box and really be creative. It works in my favor, but I would have liked to get up there in the lead and see what I could have done, but oh well. Still learning.
How excited do you get though for the next race? Just to even have that little hint has to make you even that much hungrier?
For sure. Always after a good weekend I want to get home and do my work and get to the next race. Last weekend was tough for me. I had a bad start and all that. Just able to bounce back from that is what makes me happy. Once you have a bad weekend you kind of start doubting yourself, like "How am I ever going to have a good weekend again?" kind of thing. The class is stacked. Stoked to get out there and have a good weekend again. – Weigandt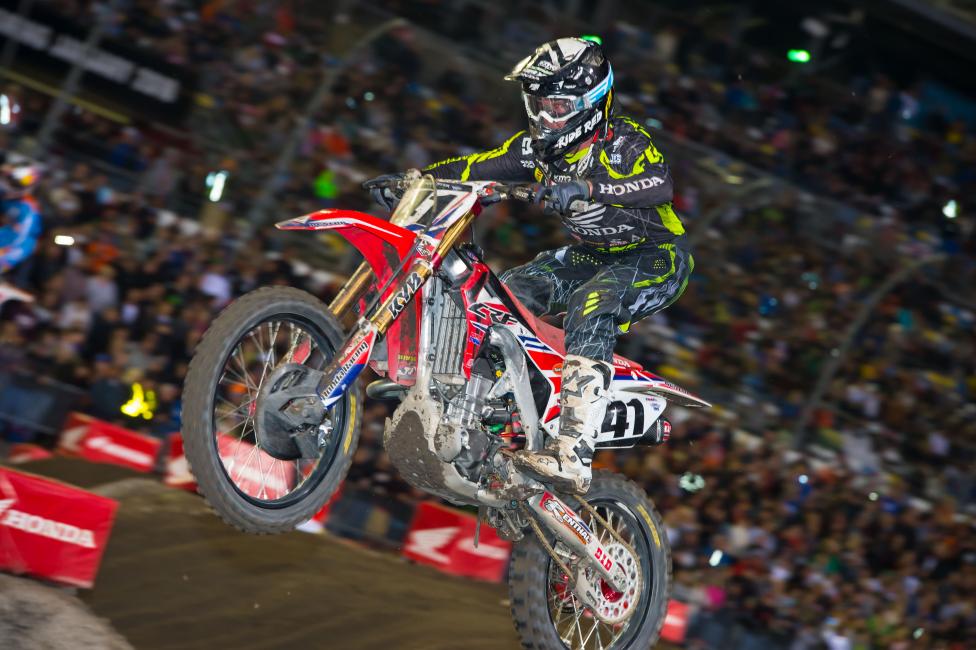 Trey Canard, Team Honda HRC, Sixth in 450SX
Racer X: What happened on the start?
Trey Canard: Actually had a really good start, not great, but a lot better. I felt like I was putting myself in a good position. I don't know if someone hit [Broc] Tickle or what but he stood up and his foot peg jumped into my front wheel. It just yanked me down. I couldn't get it undone and by the time I was up I was way behind. I tried to do work but it was really hard to pass.
You did a lot of work, though. You could have almost got fifth. It was within your sights of seventeen guys.
I'd gotten together with Peick and that held me up a little. I could have maybe gotten fifth, but I'm just bummed because I felt like I had a lot more than that.
You have to feel like you rode well.
Yeah, it's disappointing. All in all I can't be too bummed. Everything's going really well. The team just did an awesome job. Everything's good—we just got to keep plugging away and do some damage. – Weigandt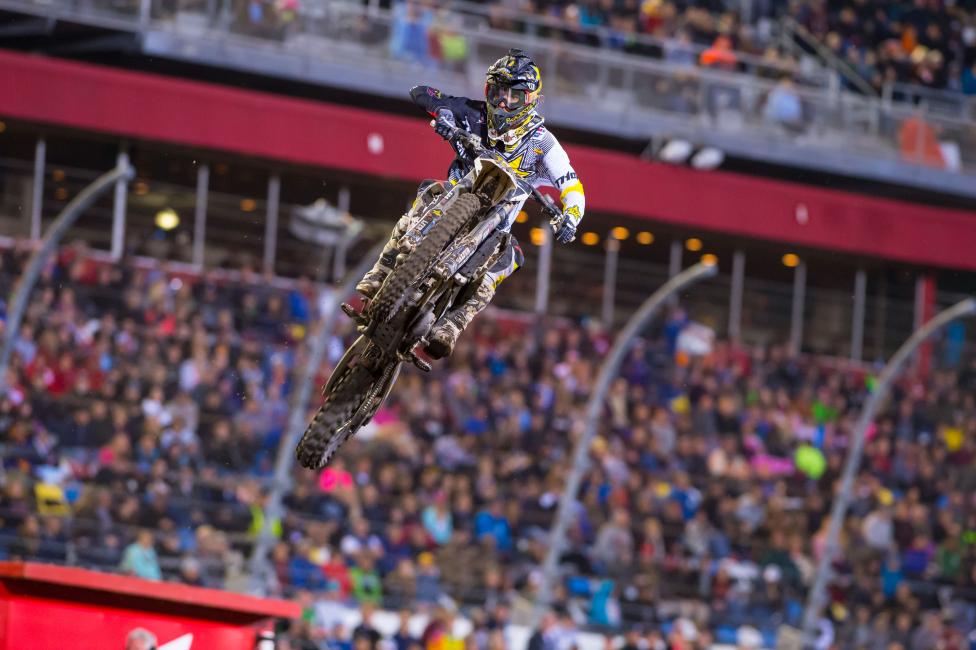 Jason Anderson, Rockstar Energy Racing Husqvarna, Seventh in 450SX
Racer X: How'd it go? It was a gnarly battle every position.
Jason Anderson: For sure. I got into a little first-turn deal and got hung up with Canard and then just worked my way up. I think I started around fifteenth or something and then ended up seventh, so same area I keep getting! But I felt pretty good all day. My practices went good. I qualified like fourth and then in the heat race I got third. Came up through the pack and then just that main event, man. I just needed to get a start and wasn't able to pull through.
You haven't gotten a good start in a long time now. What's the deal?
I don't know! It's not like I'm not trying to work on starts or anything. Last year I was getting good starts and it's not like I was doing anything different. It's just figuring it out. Maybe it's a mental/confidence deal or whatever. But I'm trying my butt off and I'll keep doing it until I get back up on the box.
How gnarly was the track?
It deteriorated and [got] way gnarlier than I expected. It was really my first Daytona in a while, and on a 450, too. It was gnarly. I think the rain last night made it a little bit softer throughout the day, but it rutted up and it was pretty crazy. – Weigandt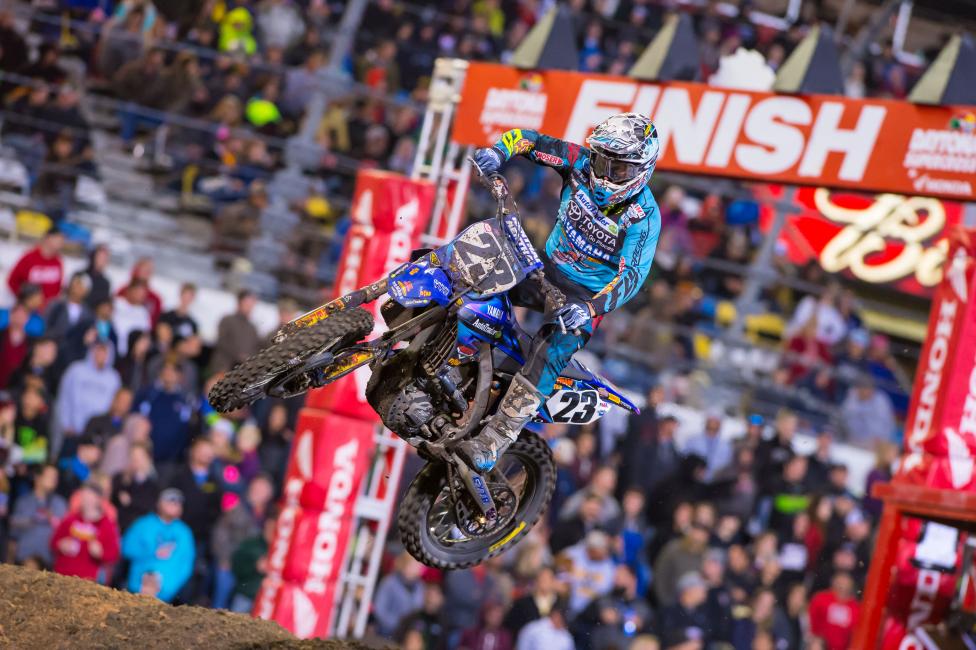 Weston Peick, Autotrader.com/Toyota/JGR Yamaha, Eighth in 450SX
Racer X: It was another good start. You're getting up there, battling with those guys. Looked like you may have had second there for a while and then obviously a little stamina problem maybe at the end?
Weston Peick: The night was awesome. Got off to a decent start. I think I was about eighth place then worked my way into second. I was feeling really good on the bike. I think I ran about second place for thirteen or fourteen laps and just started riding a little bit tight, making a few mistakes. Then just started dropping back a few spots. For the most part I'm just building. I had a lot of time off the bike and I feel like we're slowly getting back up to the top. I feel like within the next two weeks… The next two weeks I'm on the bike back at home and at the race days I think I should be able to stay up there and finish on the podium. Considering how rough Daytona was, I think if we were on a regular supercross track I would have had a podium no problem. Other than that I'm super stoked for the team and everything. Everything's been going awesome and just looking forward to being able to be on top of my game.
What have you been able to learn? You're still getting up there and getting that time in towards the front, which is ultimately your goal.
Yeah, exactly. It's been a long road and like I said we're definitely building and we're getting close every single weekend. We're getting faster and better. We're getting close and I'm super stoked. The next few rounds should be awesome.
Is it just a stamina thing as far as you haven't been able to ride?
It just wasn't being able to ride for four or five weeks and then not being able to do much stuff in the gym, just because when you have a bad foot you really can't do much. It's tough to do a workout that you normally would. It's just pretty much the five weeks of just not being able to ride or train off the bike which is kind of killing me. But we're just slowly building back into it. I think shortly we should be up there again. – Chase Stallo