Daytona International Speedway
Daytona

,

FL
Daytona
Monster Energy AMA Supercross Championship
Hello, everyone, and welcome to the Rev Up. In the multitude of headlines the 2015 Monster Energy AMA Supercross, an FIM World Championship, has produced, there are a few that get lost behind big names. Over in the 250SX West Region Tommy Hahn's return to racing has netted him some top-tens and a quiet success story. In the 250 East, Matt Lemoine is making noise for the second consecutive season on a privateer Kawasaki. In the big boy class, riders like BTOsports.com KTM's Andrew Short and even Team Tedder's Jake Weimer have thrown in some rides that didn't perhaps generate publicity for the effort. Hey, there's a lot of news at the very front of the pack.
However, the comeback story of RCH/Soaring Eagle/Jimmy John's Broc Tickle is one that deserves some ink,. There's a magic number associated with Broc that some folks may overlook, although sponsors and team owners keep a very trained eye on it. That's #10 or, more to the effect, "Top Ten." In my opinion there are only two ways to earn a factory ride: display heat race and main event winning speed, or the ability to finish a series in the top ten. In both instances you're fulfilling the requirements of outside sponsors by keeping your bike and its likeness in the press. More to that, not every racer can win main events, but there is something to be said for a guy who races hard every lap, produces top-tens by the dozen and bangs out top-fives fairly often.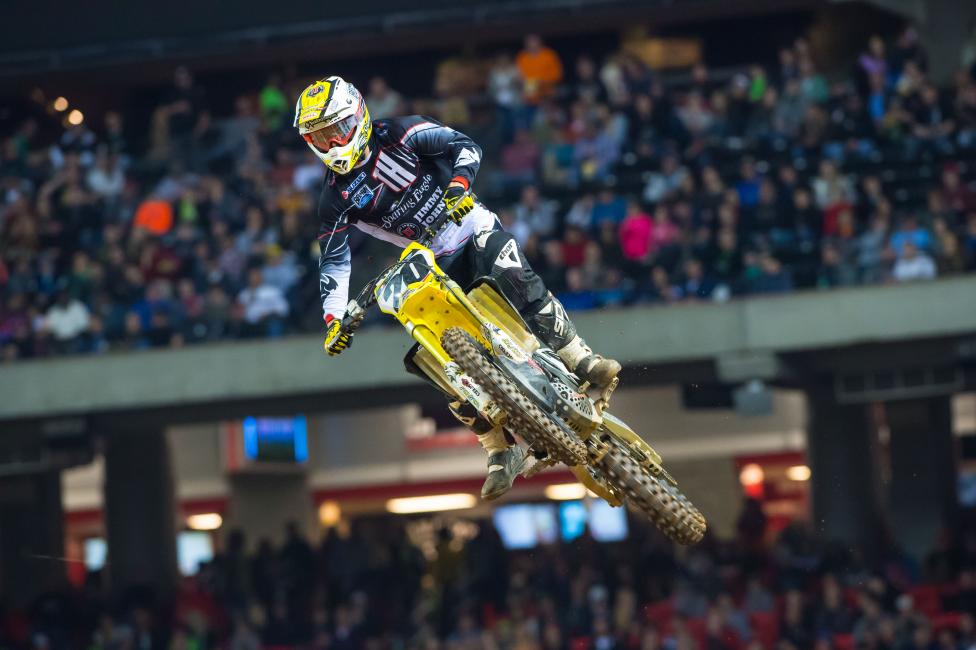 Dating back to 2007, North Carolina's Tickle has placed in the top ten of his particular championship series eleven out of fifteen attempts. In addition to the 2011 250SX West championship, Tickle also claimed a fourth in the 250SX West points in 2010 and a fifth overall in 450 MX in 2012. I would think when a team owner or a member of their marketing staff goes on a sponsorship hunting mission these numbers would put a serious pep in his step. Obviously it's been effective because when Tickle suffered a possible career-ending back injury late in the 2014 SX season, one of the only things he had in his corner were these stats.
A couple months before the gate dropped in Anaheim on January 3, Tickle was healed up but was devoid of a ride. After acquiring Ken Roczen, I'm sure the folks at RCH Suzuki found their salary cap near peak. That said, the late decision to bring Broc back has already paid big dividends in their favor. Tickle wasted little time and proved his worth by riding his heart out to a fifth-place at round three. Then a near disaster struck at round four in Oakland when he jammed his recently healed back and was forced to sit out the next two rounds.
For someone who had just come back from such a crushing motocross injury, this may have deterred someone with less grit. Instead, Tickle rested for a couple weeks then returned in San Diego to do what he does and promptly bang out a ninth-place. In fact, Tickle has placed in the top ten every race since then, including a sixth and a very solid fourth in the Atlanta rounds. This landed Broc in his familiar ground: tenth in series points even after missing two rounds in this stacked field.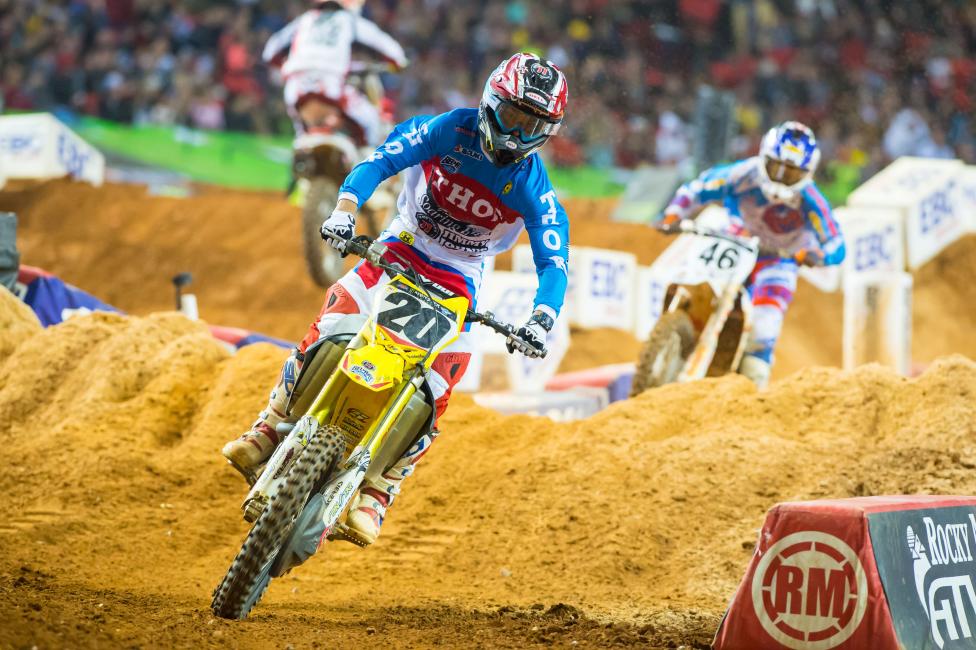 As the championship moves to Daytona, things are looking to improve even more. Tickle finished fourth at Daytona last year, and before that he had two other top-tens. The soft, rutted, and famously rough Daytona course lends itself well to the East Coast-born and bred speedster and he is a member of the dark horse podium group as we approach the big race at the World Center of Racing.
This is a rider that does his talking on the track, but when he has a microphone in his face he delivers good interviews. Also, in his entire career I've never personally heard him complain about anything. He even took being t-boned by Mike Alessi with a fairly graceful grain of salt. Again, as I mentioned at the top, there are several big stories floating around this year's supercross season, but the #20 is one you may want to train your attention to as the tour enters the second half. I like Tickle's "speak softly but carry a large club" philosophy. Keep an eye on him for podiums as he climbs his way up the point chart by season's end.
Thanks for reading, see you at the races.