Hailing from the rolling hills of western Pennsylvania, Davey Yezek grew up racing District 5 back in the late 1980s and early nineties. Yezek was a highly regarded amateur prospect and was a regular visitor to the Loretta Lynn Amateur National Championship throughout his career. He was also one of the first members of the Honda of Troy team, and enjoyed success chasing contingency and his dream as a professional racer for nearly ten seasons.
Racer X last spoke with Davey back in 2006 and decided to look him again and find out what is new in his post racing life.
Racer X: Davey, hey, what's going on, man? Thanks for chatting with us and for working with me on this interview series.
Davey Yezek: Oh yeah, no worries man. I like reading these. I read that one with Greg Rand, and man, I appreciated him opening up. I remember seeing him back at arenacross a few years back, and man, he was in bad shape. He did some crazy stuff and was clearly in a rough place. But it sounds like he got straight and is back at it. I have had my own issues over the years with some drinking, so I can appreciate what he struggled with.
Thanks for the compliment and thanks for reading. Everyone has a story, and life goes on after their career is over. Let's talk about your time as an amateur rider. You were a regular at Loretta's, right?
Oh yeah, for sure. It was the biggest race of the year for me and my family. I actually raced the first one back in 1982; that was the first time they held it. I went and rode the Pee Wee class and pretty much hit as many as I could—when I wasn't hurt—over the years before I turned pro.
I remember watching you in Madison Square Garden in 1989 or 1990. They had that arenacross set up around a mud bog and everyone was hyping that you were only 14 years old.
[Laughs] Yeah, I was pretty young there for sure. Fourteen or something at that event. It was cool. I think Stevie Crow was there, as well as Mike Jones and a few others. After that race, one of the magazines—I think it was Dirt Rider—compared me to Ron Lechien after I won. So that created a lot of hype for sure.
How was it growing up in your family with the racing? Was your dad involved?
Yeah, everyone was. But my dad was a big supporter, but he put no pressure on me. I was just doing my own thing and he was there to support, but he wasn't pushing me or anything. It really wasn't until high school when I learned about training and practicing. Before that, I just rode laps when I felt like it.
But as an amateur you always had really good results, so you have some serious natural talent.
I was never really pushed; I was just a chubby little kid who liked to ride his dirt bike. My family never had a lot of money, so I was just left to my own. As I got faster, I got some bikes from Team Green, so that made it much easier. I always won locally, but really not at the top level. But then in 1992, I turned pro, and I learned about training myself and lifting.
When was your transition to pro, and how did the Honda of Troy thing come about?
Well, my dad and I went down to the Orlando Supercross, and I scored a fifth-place in the 125 class in my first supercross. I was all of a sudden like, wow, this could work out. But my training was just running and basic stuff. Back then a lot of guys didn't even ride during the week. I was surprised to learn that as I was always told differently. Then in late 1993, I went to Jim Hale's office—he was the head of AXO at the time—and when Honda of Troy came around, I got the ride with them for 1994. I really had almost no time on a real supercross track, and I was supposed to go out and test with the entire factory Honda team. But then I got hurt during the off-season right at last moment. Then I came back and got hurt again. So I never really got time to test and learn with them. I also started to get a little scared of supercross. And that was it. If I had a better opportunity to go to California and test it would have changed things, as riding with McGrath and Stanton, that would have been a life-changing career thing for me. Instead I was cutting my casts and trying to race again, coming in cold.
So Honda of Troy was only one year?
Yeah. Towards the middle of the year [1994], I was really not used to the team thing, as I had always been on my own. Then I missed the early season with injuries, so I came in and was just kind of out of it. That year actually kind of sucked for me. It was perhaps my best ride, but it just didn't go well. Honda did the whole program, and I shared a box truck with Todd DeHoop. Even that was tough—there was no room. So I kind of got pushed out, but you know, I was just already hurt and kind of over it. It was a weird time for me.
But then I met Jeff Staltzenberg—he owned F&S Suzuki—and I went onto ride for him for a long time. He was a big supporter for me, and always took care of whatever I needed, bikes and parts wise.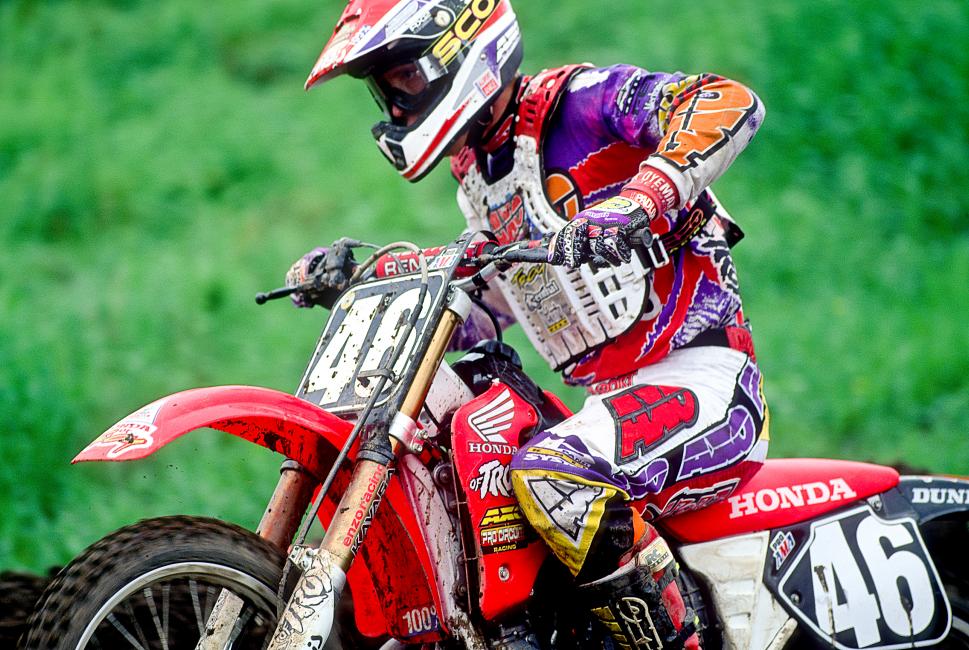 You had four career podiums in 125 supercross. That is pretty impressive for a career privateer.
Yeah, as a privateer. The main thing was just confidence—when three-lap board came around, I just choked. Like at Indy one year, I was leading the whole race. And then I fell back. I think I was telling myself that I shouldn't still be leading the thing, and that voice tells you where you go. But hindsight is always tough—I am happy with what I accomplished.
The last guy I spoke with, Ron Tichenor, was saying the exact same thing.
Yeah, I was on the bubble for a factory ride. Me and [Nathan] Ramsey, we were going for that Suzuki ride in 1996. He got that deal, which was tough on me. Then in 1997 I moved in with Mike Metzger out in California so I could practice supercross. Back then there was no supercross tracks on the East Coast. That was going well, up until I crashed and broke my back. I had been out in California for two or three months and right before I was coming back, I crashed. I actually stayed around longer than I wanted to and raced that old Perris warm-up deal. The bike hit neutral on a jump and I crashed, broke my back. I was paralyzed for six or seven hours, and that really took a lot out me. It was a compression fracture and I thought I was done for. But feeling came back slowly. I had to stay in hospital for a week. My mechanic left and came back east, and I was there alone. That was before cell phones, and it was pretty gnarly. The worst part was that hospital thought I did not have health insurance, but I did. So that meant I didn't get very good care until a week later. I was actually in the hospital ward with all the prisoners. My roommate had shackles on and I just thought it was a ghetto hospital. After I got out, Scotty Sheak was living out there and he helped me out. He helped me get home and get back on my feet, but that was pretty much end of my professional career.
You raced for a while though, and did some outdoors up until 2001 or so. That was a pretty good run!
Yeah, but I was out for that entire year. I had just enough money to go out and party, and basically I just started drinking a lot. I did that for nearly a year, and then when the back was better, I tried to cut back in and race again. Prior to that I was not a big party guy—maybe just after the races or whatever, but that wasn't a big deal.
But then in 1997, I just pretty much had nothing to do but sit on a barstool.
How was the money for you? I know back then it was different.
It was so-so. I made enough to get by. But Honda of Troy was probably the worst year for me. Because it was a Honda effort, we had no contingency. They paid our expenses, but that was it. That was actually probably my worst year. As a privateer, I made good money in arenacrosses. I could probably make $70,000 per year, which wasn't bad for being 20 years old, and all my bikes and parts were free. But you know, after all the injuries and everything, I will be 40 next month, and I can still get around no problems, so it was well worth it.
When did you finally realize it was time to hang it up?
Well, towards the end there, my friend Shane Slother had a Yamaha shop. I got in an argument over something stupid with the F&S guys, and that was over with them. I was still winning some local stuff, so Shane gave me some Yamahas. He was super-supportive, but at that point, I was tired of wasting other people's money and I just wasn't into it. So that was it—2001. Done.
What are you up to now?
Well, at first I got into doing pipeline work. Now I drive a tri-axle dump truck. Here in Pennsylvania, with all the new gas and oil wells, if you get into the union, it's a good job. I make good money and have good benefits. I got married and bought a good house here in Norvelt [PA], with my wife and I have a son. My wife's name is Abby, and actually my brother-in-law is Chad Sanner. My son is now 4 years old and his name is Ryder. He likes to ride, but I think he's scared to get hurt!
Chad Sanner—he owns that Eleven 10 Mods, right?
Yeah. He made a good name himself as an engine builder. He does good work, but I know he has had some struggles as well. I guess sometimes the business side of things can be tough.
You came back to Loretta's ranch in 2008, right?
I came back to racing in 2008 at Loretta's. My dad got sick with cancer, and I wanted to take him back to Loretta's, as we had so much fun there as a family when I was growing up. So it was just for fun and to spend some time with my dad and wife. I then kept racing and in 2009 and got hurt. We went back to the ranch in 2010, but I didn't really do very well. Then the contingency at the local stuff went away and so did I.
So no riding today?
Not right now. I want to stay healthy. I am doing the family thing. But if Ryder wants to ride, I'll do it. But as far as the budget for a new 450, well that's not in the cards today!