Jake Weimer didn't forget how to ride supercross. It's easy to discount a 27-year-old rider in this supposed out-with-the-old, in-with-the-new 2015 season, but the fact of the matter is that Weimer was besieged by injuries last year, and all that, coupled with him losing his steady gig with the Monster Energy Kawasaki team during the off-season, created something of a bleak future for the veteran racer.
Sometimes, however, things have a way of working themselves out in this sport, and on the eve of the 2015 Monster Energy AMA Supercross, and FIM World Championship, Jake Weimer was hired on by the Team Tedder/Monster Energy Kawasaki organization. As a team well-funded through a roster of steady sponsors as well as generously supported by Kawasaki Motor Corp. USA, it all added up to a pretty good, stable deal for Weimer. And the Idaho native now has himself and the team slotted into the top ten in points.
Just a few days out from the third round in Angel Stadium, Racer X caught up to Weimer, a racer who has been on the supercross starting gates for a decade now. Despite feeling the effects of a lingering cold, Weimer was both upbeat and confident about his recent showing of great form.
Racer X: Jake, we're two rounds into the new year. All things considered, how do you feel about everything thus far?
Jake Weimer: I'm all right. I'm just fighting a cold.
I can tell. When did you get sick?
Before Anaheim 1. I thought I was going to be good and then it just got bad again. It's been a couple weeks now.
Well, on a brighter note, the cold doesn't appear to be hurting your racing and your results.
I actually felt okay at Anaheim, but this weekend at Phoenix was pretty tough for me. I think I'm probably going to lay low this week. I'll see how I feel, but I might ride on Thursday or something. I got on some medicine so hopefully I'll just lay low and hopefully be better for this weekend. As far as the racing, Phoenix, yeah, it wasn't too bad. I'm riding pretty well. Obviously there is always stuff to work on, and I'm not doing myself any favors at the beginning of the race. But, yeah, it's going good. Hopefully I'll keep improving, but it's going pretty good.
Speaking of the beginning of the races. You started the Phoenix main event thirteenth before working into ninth place.
Yeah, it's going good. Like I said, I think I'm riding pretty well. Hopefully these next few weeks are just kind of a building stage for me, really. I've kind of had a couple pretty rough years with just injuries and struggling. My confidence took a pretty big beating. The first two rounds, even with the problems or mistakes that I've had, have been good for me and good for the confidence. It was good to get back out there and have a couple of solid nights. At this point I want to work on the weak areas and to try and get some better starts and give myself a better chance at some better results. At Phoenix at the start I ended up being pushed up into the bales, so a bunch of people got underneath me. When you're back there, especially on the first lap, it's kind of scary, to be honest, because everybody is shuffling for spots and you're trying to pass people and they're trying to pass you. The first lap is always tough and you're just trying to get through it and not crash and stay up. It's so much better to start the race up front.
You've certainly raced with, and beaten, champions and main event winners thus far in 2015.
Yes, it's crazy. You look at the guys that have finished in tenth or fifteenth and they are people that have won races or championships, or both. There's a lot of talent right now and it's tough! You're going to work hard for a ninth place finish. I definitely think there are a lot of winners in the field right now, so even when you're in tenth or fourteenth or whatever, you're still racing with dudes that are good. There are a lot of guys who are pretty close right now. As always, starts are so important to try and give yourself some good opportunities to get some good results.
So if you get the requisite good starts and you shake this cold off, where do you see yourself running in all this?
I think right now the goal for me would be to get in the top five. If I can work on fixing a few mistakes and get the day started off a little bit better and quicker and get some better starts by the time of the main event, yeah, I don't see why I can't be in the top five. From there I can keep building and maybe get on some podiums this year. That would be cool. For now, just one step at a time.
So your physical health, your cold notwithstanding, is pretty good now? Last year and all the injuries you suffered led to a total washout for you, wasn't it?
Yeah, aside from being sick, I'm good. I'm healthy and nothing is bothering me. The shoulders, knees, back, whatever—I'm solid on that end. Overall, I'm good and it's nice to be racing and feel good on the bike and not be in any pain or hurting or anything like that. Shoot, I'm having fun and trying to get back into this. I'm just riding and racing and just having some fun.
Downshifting a bit here: Just how did you wind up on the Tedder team?
After the Monster Cup I didn't know what I was going to do. I wanted to race. I didn't have anything going on so I went to that supercross in South Africa, and when I came back I had a bike to ride so I continued to ride and tried to figure something out because I had no idea. I was on the phone just trying to figure out if someone could get me to the races or if I could get on a team. I was working all the angles and nothing was moving too quickly—that's for sure. Then the Tedder thing got brought up in early December and there was some interest on their end, and I went and met with them and pretty much from there we decided it was something that we both felt would work and it took off from there. It came together late. Luckily, I kind of had an idea of the bike I wanted to have with parts and pieces. That all came together pretty quickly. That was the easy part. It's a lot different this year when compared to years past, but shoot, I'm not complaining. I'm having a good time riding and racing, and I like all of my sponsors and I'm happy.
Does the team provide you with strong, competitive equipment, and do you like the overall vibe and atmosphere of the team?
I'm loving it. I love my bike. My bike is sick. Kawasaki helps us with actual bikes and we have a parts allotment. They help us with that. Damon at Team Tedder is really good, and between him and Mitch and Pro Circuit helping with some motor stuff and all that, it's great. Showa helps us with suspension and Bones helps with some settings. It's all sort of a combination between all kinds of people. I also have factory wheels on my bike. That's the only factory thing I have on the bike. I love my bike and I'm comfortable. I'm not complaining at all. The bike is competitive, so for now it's up to me. And as far as the team, there's a lot of different ways to look at it. I'd say yes, it's different. It's a small team with a smaller crew of people and they're doing it because they want to race. It's such a smaller deal and it's different, but I'm happy with where I'm at. Another thing I like—and it's something that people might not understand—but I like that I have a little more pull with how the bike is set up and what goes on and what doesn't. That is a pretty big deal and that's pretty tough to beat and that side of it is really cool. And I've known the Tedder family for a long time so it's fun. I know them and they've been nothing but awesome to me. My bike is good. I'm happy and I'm healthy and I'm at the races and I'm involved with a great family and great people. It's good.
Wil Hahn's factory Kawasaki KX450 is without a rider right now. What's your take on that?
[Long pause] I don't know. That's a tough question to answer. I don't know. I haven't gotten a phone call from anyone and I'm pretty happy at the moment. I like where I am at the moment.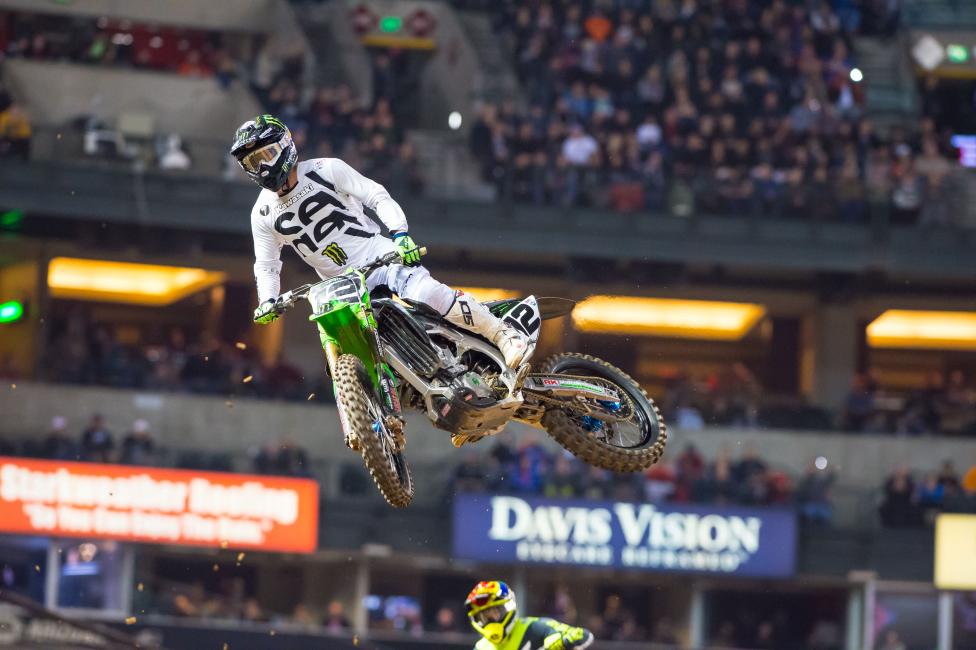 You've been an elite rider who has raced for many of the elite teams in the sport. Was it hard for you when the phone stopped ringing and nobody was really breaking your door down in trying to seek you out for 2015?
Oh yeah, for sure. Those thoughts crossed my mind daily. This is my tenth year riding supercross. It was never that difficult for me to get to the races. It was different to not have anything. It was my fault, basically. I had a couple of rough years and was not getting results, but it wasn't like I was sitting at home bent that nobody was blowing my phone up—I wasn't like that. But it was crappy because it was pretty nerve wracking and. I wanted to race. The biggest thing was I was like, "There is no way I can retire or quit racing on this note." That was the scariest thing because I didn't want to end on that note. I wanted to race, but I didn't want to do it in a way where I didn't feel competitive and downfall from there. Honestly, I just kept training and riding and just hoped that worked out and it did.