Angel Stadium
Anaheim

,

CA
Anaheim 1 (A1)
Monster Energy AMA Supercross Championship
Trey Canard | American Honda | Third in 450SX
Good ride. You'll take this for the first race. Rode well, came through the pack a little bit.
I was happy. Bummed on the start. I felt like I had a little bit more I could have given if I had started with Kenny, but I think overall a good night. I can't be too bummed. I'm really excited about leaving with a third and healthy after the first round.
The start kind of cost you any chance to go for the win a little bit, but all things considered, you passed some pretty big names to get up there. You were catching Anderson a little bit. Did you try to push harder, or how'd that go?
He rode really good. I was inching and inching, and then it kind of stayed the same. The last two laps I inched a little more, but it just wasn't enough. We're all going really fast, so it's hard to make up a lot of time.
I'm not a pro supercross rider, but I thought this track was kind of basic. I guess that's what the goal is. Do you agree?
It was pretty basic. I think it had some really tough whoops on it. It might not look like it.
I thought in track walk they looked tough, but then nobody really had any problems with them. They were tough; especially the last three or four laps they were really tough. The track was slick. It's going to get more difficult I think, but I think it was a good track. I'm not a guy to really just say that the track was crap. It is what it is; you got to ride it.
One thing I noticed today in the qualifying sessions, you, Tomac, Roczen, and a few other guys, it's intense. You're all looking at the dragon and seeing where you're at. I noticed that it was a real game of balls-out I'm going to try to beat you. Did you notice that?
Starting position is so important right off from the bat. You want to get good qualifying times to have a good track position, so that's good. And it's also like a big old fight. I wish they didn't have it because then you would probably actually ride hard.
It seems intense. One guy looks over and starts clicking laps.
It's gnarly. I wish they didn't have it. It could be your best friend and make you feel better than you should, and it can be your worst enemy if you're sixth.
How are things going with Tim Ferry?
Awesome. We were down at his house for a little bit.
How'd you like that? You switched things up a little bit and went out to Florida.
It was good. It was good to be out of Southern California. I'm not a huge fan of it out here. It's a little more like Oklahoma down in Florida. It was good. I really enjoyed it. – Steve Matthes
Andrew Short | BTOSports.com KTM | Fifth in 450SX
Watson gets mad because says I talk to you all the time, but you deserve it here. Heat race win and a good main event. You've got to be stoked on that. Good night.
I am stoked. It's been a while since I've been up there in the mix.
Dungey got you.
It's kind of weird. I don't want to ruffle any feathers. I knew he was there. I saw the orange fender. I had a great night. I really like the new bike, the new tires at Pirelli. They keep pushing, everybody. And the air forks and air shock. The Euros got to be happy.
You're the test mule for these orange guys.
In some aspects. I enjoy it now that I'm older. It's good for me because I wouldn't necessarily get to test that much, and with those guys it's like I have unlimited testing and I get it exactly how I want it. I'm pretty fortunate that they've invested in me and kind of get to push the boundaries and technology. That stuff's expensive. There's not much of it, and KTM gave us a green light from Europe to do it. It's really cool to do it and be involved in it. – Steve Matthes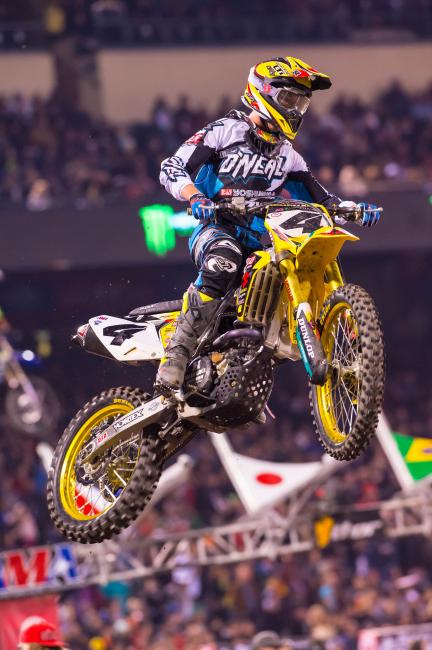 Blake Baggett | Yoshimura Suzuki | Twelfth in 450SX
The first night on the 450 was definitely a learning experience. I learned a lot and I'm going to build on it. I didn't get a good start and got tight when I got bunched up in traffic. After a few laps went by, I loosened up a little and started working my way forward. I think we ended up thirteenth, so we'll build on that and plug away. It's the first round and this whole year is to learn and build, and by the end be up there battling with those guys. That way I'll be able to come out next year and be one of those guys. This year is to basically get it figured out, but I want to get it figured out quick. I want to be a known threat, someone who is up there all the time, so it'd be nice to get a few top fives here pretty soon.
What were your expectations?
Just to get in and out in one piece. Anaheim has bitten me pretty badly before and ended my supercross season. I didn't know where I was going to end up, but I'm getting out healthy. We'll take it and build every weekend.
Is James Stewart being gone a factor for you at all?
Not even. He's going to come ride with me next week I think, and I'll be able to use him as a learning tool. It would have been awesome to have him as my teammate, because I could have learned a lot from him if he was racing. It's a bummer deal, but it's not different for me. I'm just plugging along and working toward becoming a top guy. – Aaron Hansel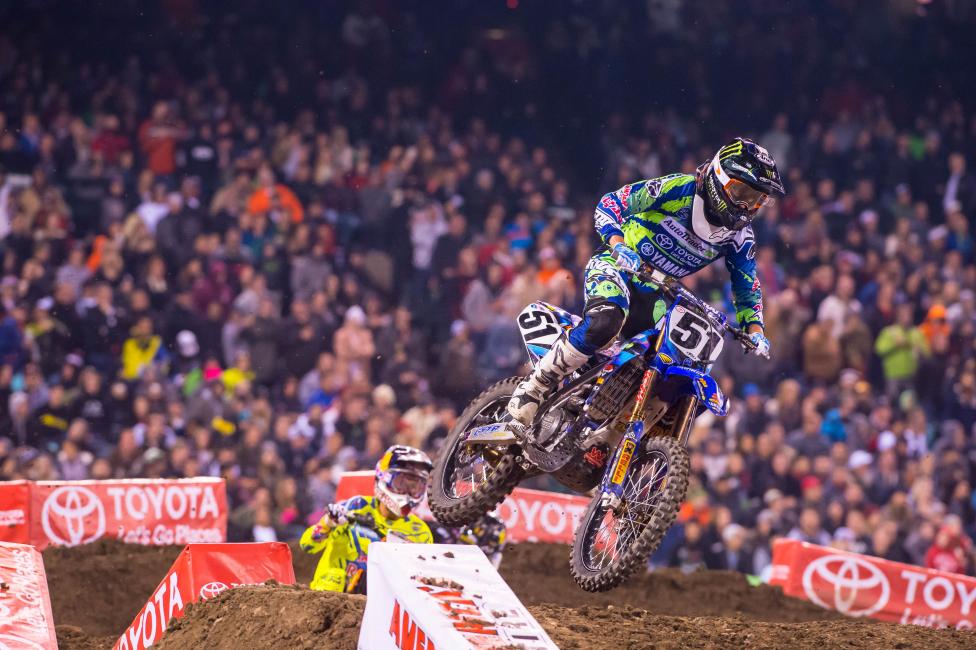 Justin Barcia | Toyota/JGR Yamaha | Sixth in 450SX
It was an okay day. I didn't finish where I wanted to obviously, but it was good. Good as in learning new things with the team and the bike. What held me back in the main event was the start. I had to fight through the pack, but at least I showed that I'm comfortable on the bike and can put it where I want and be aggressive. I definitely want to be on the podium, but when I got back Coy [Gibbs] wasn't bummed at all. He was like, "Dude, you're there, you've got the speed." On like the second to last lap I set I think the second-fastest lap of the night. The speed and the fitness are there; I just have to put all the little things together. It's going to happen, for sure. I'm comfortable and I'm happy with the team and the program.
Tough track to make passes on?
Super tough track to make passes on. It was challenging! There was more traction than usual, but it was still really slick and you had to rail the outsides. It was a tough track—you had to leave the door open where people could put it in there on you.
Colder than normal, too. Does that make a difference at all?
When you're on the track it doesn't, but it does with preparation. I was on my spin-bike before the main event trying to get warm and get a sweat going and keep that warmness going all the way down to the gate. Hopefully it gets a little warmer soon.
You had a little battle with Weston Peick at the end there. Take us through that.
I don't know why the last person I had to catch on the last lap had to be my teammate; it seems like that's how it always is! But we're cool. We're both going to ride aggressively with each other, but we don't want to take it over the top. We want to keep the tensions low in the truck. We're teammates, but Weston is an aggressive rider and I'm an aggressive rider. He was cool with it tonight and afterward I told him great race. – Aaron Hansel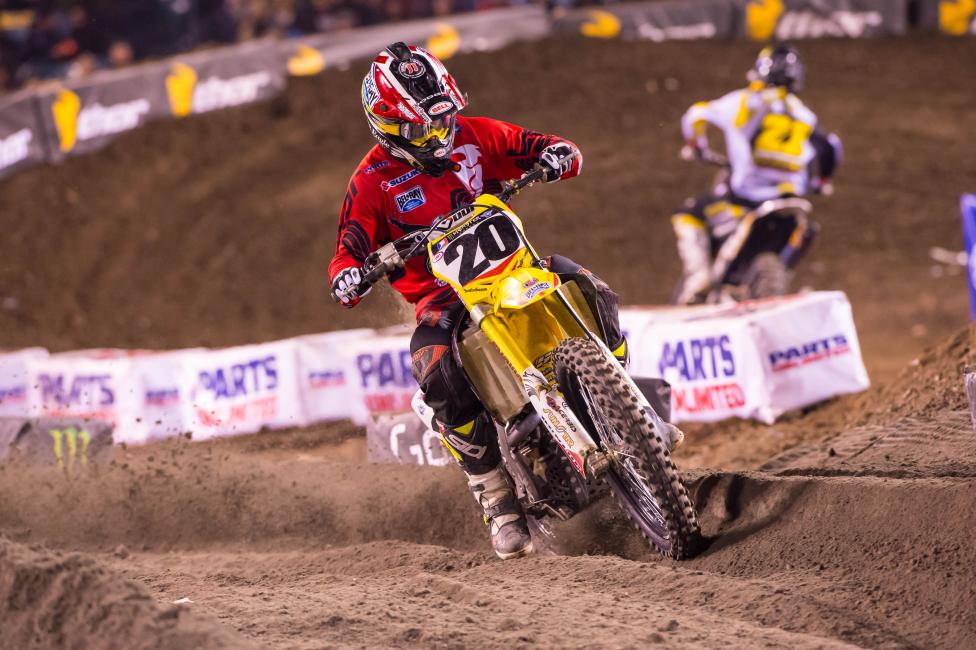 Broc Tickle | RCH/Soaring Eagle/Jimmy John's Suzuki | Eighth in 450SX
I thought this was a great ride for you. You haven't raced for a long time. Good fitness, good lap times. Solid ride.
At first I was a little frustrated, but in the grand scheme of things, if you think about it… I felt like I should have been sixth. That's my gut. Obviously, in the grand scheme of things, if you think about it I've been out for eight months. I didn't start riding supercross until November 17 or 18. Then we had rain the last couple weeks and I only got 1-2 days a week of supercross in. I feel like my fitness is better than last year, but on-the-bike time hasn't been enough.
Forty-five days ago you didn't even know for sure if you were riding for these guys.
I'm really stoked everything worked out with the whole RCH team. It's been fun coming back because it's kind of like rebuilding the man I am. I feel like there's some things that I've picked up on while I was hurt that I think has helped me a little bit. Obviously I still need to work on my starts because tonight was pitiful. But we're going to do that next week and just keep building. My goal is to finish every weekend and that result, the last five or six laps I was tight and I was struggling. The track was slippery, and if I can hold on and not get arm pump and be solid, I can be in the top five. – Steve Matthes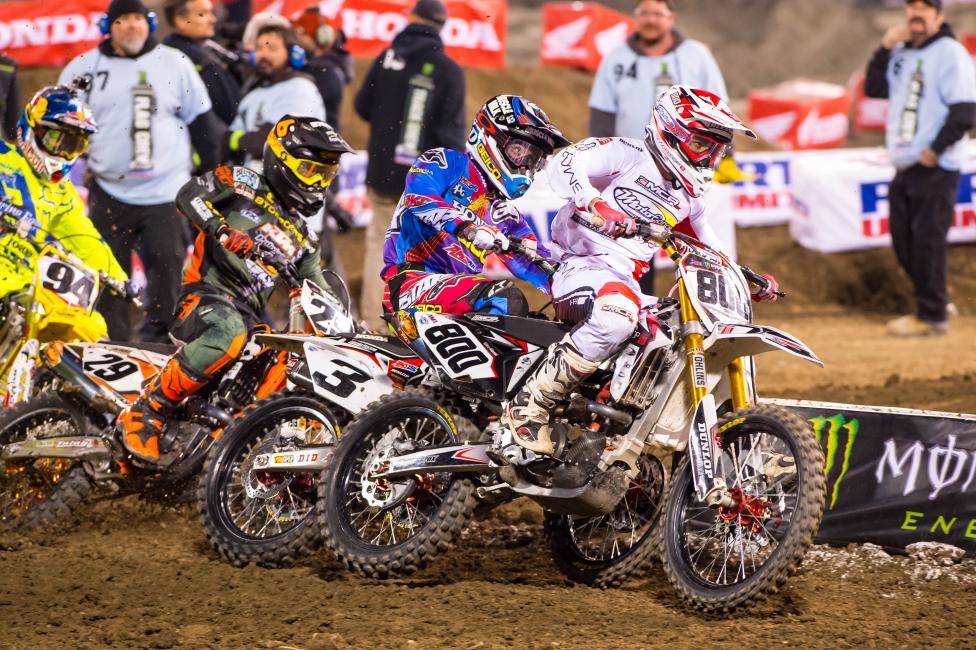 Mike Alessi | SmarTop/MotoConcepts | Ninth in 450SX
You really rode well tonight. I don't know if you think so. I don't know if that's even an insult to say you're top-ten and that's really good. Do you think that's really good? I was impressed.
It really depends. I guess I could start out by saying yes, thank you. I feel like it was a great ride. My team was supportive behind me, even when we were at a little bit of adversity in the heat race. I was running second or third, in a qualifying position, and we had a brake problem where the whole bracket broke. The whole brake line came off. Unfortunately had to get off the track and get back to the semi to get it fixed before the semi. I only had about thirty-five minutes to get it all fixed. Didn't get a great start in the semi, but I charged up to third and qualified in the main. In the main event I got a great start, nice holeshot, me and my buddy Andrew Short. It was probably knobbies that I got it by, but it was really close. He was able to take the inside in the second turn. I kind of left the door a little too far open so he got by. I started making a few mistakes around lap six or seven, then I kind of regrouped and I put a good charge on all the way to the finish. I never got tired and I felt great on the bike. Ended up ninth. I got a holeshot, the first one I've gotten in Anaheim 1 for the main event in my whole career, so that's pretty cool. It's cool because I have all the checks in my garage all around it.
You have to take a picture of this. How many do you have?
I have a bunch. Believe it or not, the year that I got a bunch of them, which was 2009, they weren't doing the $1,500 holeshot checks. If they had done it that year I would have gotten more than half of them, but that year they weren't giving those checks out. This is cool because I finally got the elusive A1 that I've never gotten at the main event. I put a good ride in, strong, finished right behind Tickle, just ahead of Chad Reed, who was tenth. Looking forward to Phoenix next week, have a good race. Going to get some good testing in this week. Try to ride some dry dirt. Obviously Phoenix is going to be extremely dry, no ruts. We'll see what the next six days have in store for us, and we'll come in fighting and doing the best that we can. I just want to thank my mechanic Aaron for doing a great job, working real hard in the adversity that we faced today with the heat race, but we pulled through, my team, team owner, Mike Genova, team manager, Tony Alessi, and the whole SmarTop/MotoConcepts team, doing a great job. My team is behind me 110 percent and we're ready to go for Phoenix. – Jason Weigandt
Cole Seely | American Honda | Fourteenth in 450SX
It was one of the longest, most grueling nights of supercross I've ever had. I felt like I had a black cloud hanging over me all day. I qualified pretty good during practice though, seventh, which I think was pretty good. Got a bad start in the heat race and there were three left turns right away, so if you were on the outside in any of those you were screwed. I caught up to sixth and that wasn't enough. Then in the semi [Weston] Peick shoulder checked me and I went down. Couldn't get up there quick enough and went to the LCQ. I hate going to the LCQ. If you don't qualify, that's never good.
You and Wilson both. Nobody expected you guys to be in the LCQ.
Yeah, it was a tough night for both of us. I got a great start in the main from way outside, and was third to the turn, but I couldn't get inside of everyone. Those three left-hand turns right away were tough if you were on the outside. So I got shuffled back to twelfth or something like that and then went down with [Davi] Millsaps. Pretty much everything that could have gone wrong tonight did! But I learned some stuff though and we'll take that into Phoenix.
What happened with you and Millsaps?
It wasn't anyone's fault. The line just washed out. I started washing out and actually got my foot down in time, but I looked up and he was already hitting the ground and I had nowhere to go. I plowed into the side of him. I felt bad for running into the side of him, but I really had nowhere to go. – Aaron Hansel