Who is your privateer sleeper in the 450SX Class for 2015?
Chase Stallo: So much talent, so little room for error. By my count, the starting line for Anaheim 1 has at least twenty-one riders that many consider "locks" to make the main. Let's roll through the list: Tomac, Canard, Seely, Baggett, Roczen, Tickle, Dungey, Wilson, Short, Brayton, Anderson, Barcia, Peick, Millsaps, Hahn, Reed, Grant, Alessi, Weimer, Metcalfe, Hill…
This doesn't leave much room for the LaMays, Norens, Schmidts, and Partridges of the world. Hell, we haven't even talked about Kyle Chisholm, Jimmy Albertson, and Nick Wey, among others. From top to bottom, this is arguably the deepest field ever in Monster Energy AMA Supercross. (Yes, we're aware we say that every year.)
As the battle of attrition begins, and the field starts to thin out, I think we begin to see the likes of Nick Schmidt, Ben LaMay, Fredrik Noren, Kyle Partridge, and Ronnie Stewart become main event regulars. Of that group, I really like Nick Schmidt to have the most success. A relative unknown just a year ago, Schmidt made twelve of seventeen mains (including three of the first four) and finished the season making nine of the final ten main events. Fitting the mold of Weston Peick—slow start to their careers; bigger build; not much of an amateur pedigree—Schmidt may surprise a few factory boys and steal a spot at the opener.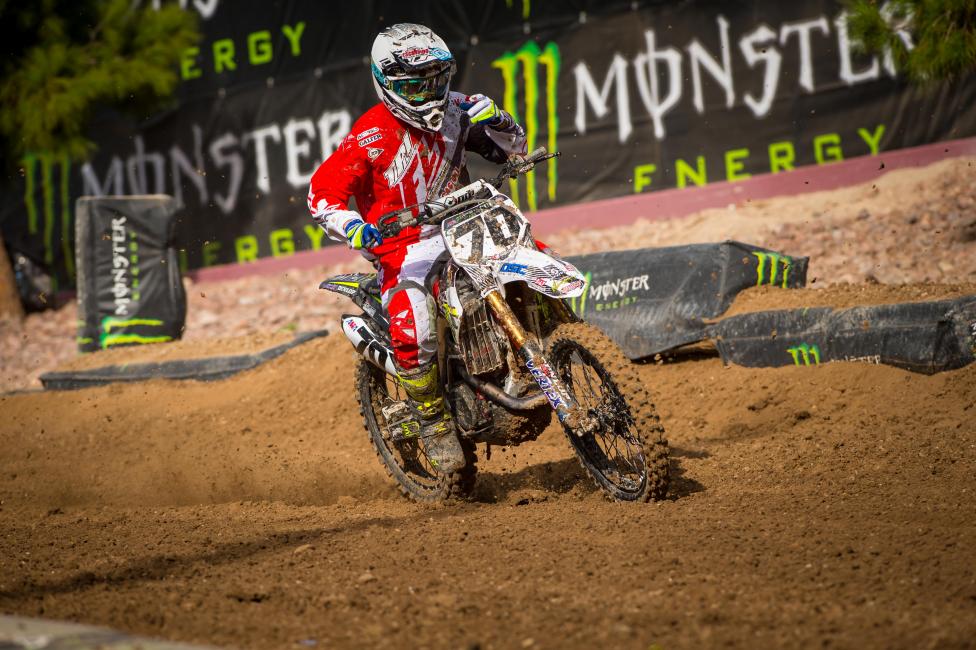 Aaron Hansel: As Chase mentioned above, there's a bunch of guys you can pretty much count on being locks for the mains, and a substantial number of racers who will be on the cusp of making it in every Saturday night. Cody Gilmore (#374) is in the second group, and is my sleeper pick for 2015.
The Kawasaki-mounted Gilmore made his first main of 2014 at Round 9 in Indianapolis, but after that, things started clicking and he finished out the season by making the final seven mains in a row. That's the best he's ever done, and if he picks up where he left off last year, I think we'll see his name a little earlier and more often. And when the inevitable injuries start thinning the herd he should be able to put a string together, just like he did in 2014.
Steve Matthes: I can remember it like it was yesterday…a Honda rider running #415 out there at Anaheim 1 in the unseeded 450 practices setting very fast times. And he had this terrific hair flying out of the back of his helmet like some sort of early-nineties moto hero. It was quite a sight and I kept my eye on him. Turns out that Nick Schmidt was for real; he had a great season as a total privateer under the Teddy Parks Privateer Experience. Nick was the "Who the eff is that?" guy of 2014, so he's out of this list for me.
The new Nick Schmidt will be—wait for it—the #722 Adam Enticknap! Yeah, that's right. The Honda privateer that was so close to making so many mains last year will be the one to step up in 2015. Admittedly he may not be a total unknown, because many people know him for his rapping and outgoing personality. Also, admittedly I may or may not be a bit biased because Adam's a friend of mine and sometime he helps co-host on the Pulpmx Show. It's just that I know a bit about his program for next year, his effort, and determination to work at getting better. I think Gilmore's a good pick as well as the 7-Deuce-Deuce. He's ready to take it to the next level folks. You watch.