Two weeks ago, Kailub Russell wrapped the AMSOIL Grand National Cross Country season and looked forward to Team USA contending for its first-ever World Trophy at the International Six-Days Enduro (ISDE). The team rode well but ended up second for the second year in a row. KR, who was the top American on the team with third overall, got back from Argentina Monday afternoon, so we gave him a call to see how it went.
Racer X: How did it go? Disappointed or happy?
Kailub Russell: It was good but also disappointing. We definitely had a winning team. The first day, we rode really good, but there was one test where every one of us had a fall or didn't ride good, all in one test. We were basically tied for the lead at that point. Then the French team put a minute-and-a-half on us. They crushed us in that test. But we had some confidence going. The next day, that same test rolls around again, but we were thirty seconds into the lead. Charlie [Mullins] had a big crash, and that really set us back. We went from thirty seconds up to ten minutes down. It still wasn't over. The next day, Day 3, we made up a ton of time, but then Taylor [Robert] had a bike problem. We had been making up time once Charlie got back together. We were the fastest team out there, so it's disappointing we had as much bad luck as we did. We had some good test times, though, and Taylor ended up winning a day overall. It took me a few days to get going, but I actually started to get better as we relaxed, and I started to enjoy it more.
You had terrible luck right off the back with Zach Osborne's bike breaking. But you were still in contention.
Yeah, in fact, that happened so early that I actually totally forgot he was still on the team. It was just the five of us most of the time. One of the first tests, boom, Osborne's bike breaks down. We had bad luck. To come back and get second with everything that happened—three major catastrophes—that's a pretty good Six-Days.
When Osborne goes out, you're okay, but you have no room for error—that's why Charlie and Taylor's problems were so big?
Yeah, basically you have six guys, and you count five scores for the day. So you throw away the worst score. If you only have five guys, you have to count everything. So every crash and problem had to count, and that's tough.
Before you went you told us the conditions were expected to be very dry and rocky and dusty. For the GNCC guys on the team, I wouldn't think that's good. How did it work out?
It was definitely West-Coast style racing, and Taylor killed it. He was riding good all week. It sucks for him to have the bike issue that he did, because I think we only lost by like ten minutes or so, and he had a nine-minute penalty right there. He had a bike malfunction and he couldn't get going—not really his fault. But he was riding really good, and he was definitely the top American, for sure.
So even though you beat him overall on scores, you'll give the unofficial top American crown to him.
For sure. I was riding good, but I was a little bit off the first few days. I got it together the last three days, and I was able to compete for the day win. Day 3 and Day 4 were tough on me on the 350. They were sand tests, really just sand dune tests. You could tell the guys on the 450s and the 500s had an advantage there compared to the 350s and 250s.
How much experience do you have riding on sand dunes?
Well, I've actually only ridden on them once. It's a lot of fun. I spent a lot of time this winter riding at Taylor's house to get used to these conditions. I worked really hard on being smooth. It seemed like the less I tried, the faster I went and the better my times were. The harder I'd push, the worse my times would be, which is crazy.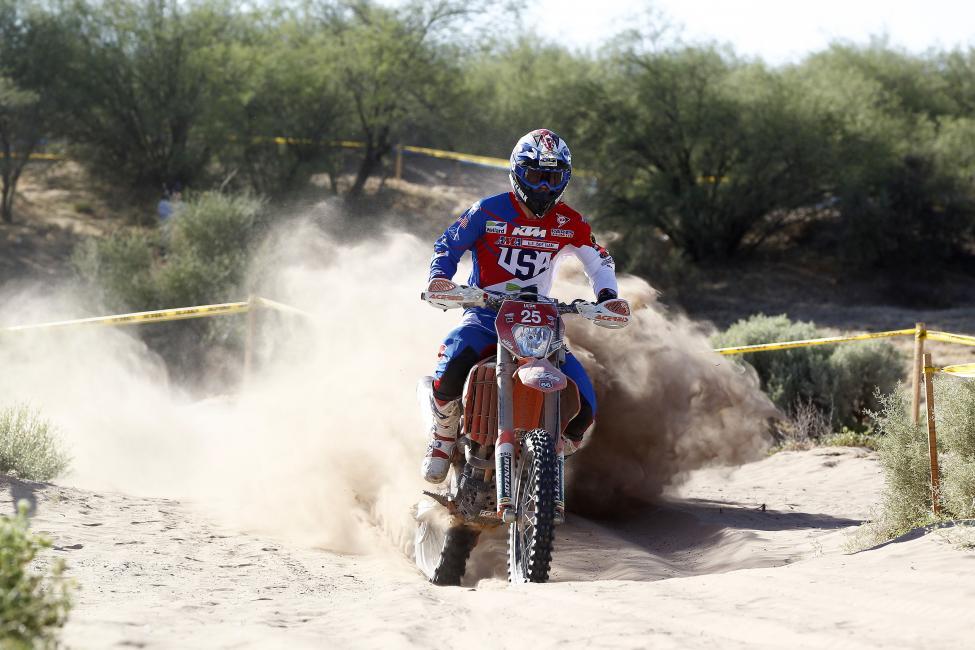 The team gets second. Second last year was a big boost. So do you feel you're getting closer, or just the same?
We're for sure getting closer. We had four guys in the top ten on the first day, so as a team we're definitely getting close. It's not a matter of if; it's when.
Six days on the bike. I know you ride and train, but are you tired when it's over? Are you sore?
Last year was a lot different. This year was a lot more fatiguing because the transfer sections were just all silt, like Baja-style silt. There were 111 DNFs on Day 3 alone from all that silt. It was the biggest one-day of DNFs in ISDE history, I think. Day 4 was like that, too. It was very exhausting, and you couldn't see anything. You couldn't see the bumps, and going fast over them was very tiring. So it was harder than last year, but overall, you don't get as tired as you think. You really only ride forty-five minutes hard each day; you can rest during the transfer sections between tests. Lot of roads and stuff to transfer, so if you're a pro and riding is all you do, it's not that bad. If you're an average guy on a club team, though, I'm sure they struggle getting up everyday!
To be top American, does that feel good?
Yeah, it's good. Going into the last day, I was 1.1 seconds ahead of Matt Phillips for third overall. And in our last moto, we were in the same class, too. Then I pulled the holeshot and I looked over and he was right there. I was like, "Man, this guy is everywhere I go!" So to hang on and win that moto and get third overall, I was pretty pumped. I'm looking forward to next year. It should be more East-Coast style racing. Hopefully we have some better luck and we win this thing.