Cooper Webb isn't afraid to tell you what's on his mind. He's a straight shooter. Although he's just 18 years old, Webb has the podium presence of a ten-year veteran—confident, but not cocky. It's what has gained him respect and admiration amongst fans. It has also brought detractors. But Webb says he's not trying to be disrespectful, he just "like[s] to say what's on my mind and what I really feel."
In just his second season in Lucas Oil Pro Motocross, Webb had a breakout year, winning three motos and finishing third in points. Along with teammate Jeremy Martin (the 2014 250MX Champion), the North Carolina native propelled Yamalube/Star Racing Yamaha to the upper echelon of teams. Entering his second year in Monster Energy Supercross, Webb hopes he can carry the same momentum indoors. We recently caught up with Webb to talk about his 2014 season, his future, and a race he just completed in Japan.
Racer X: Recently you had the opportunity to race in Japan. What was the experience like for you?
Cooper Webb: Japan was awesome. It all kind of came about…Yamaha contacted me and said that I was invited to go over there and race their last Japanese National. I was really pumped when I heard that. I guess not a lot of Americans really get to go over there, so I was really pumped. So we went over and raced the Sugo track and raced a 450 over there. It was awesome. I went 1-1 and everything was all good. It was a super fun race.
Talk about the tracks and the competition. Probably a little different?
Yeah, it's for sure a lot different. The track was actually unreal. I was a little skeptical at first. I didn't even look at videos or anything, but I was expecting not a bad track, but this track was actually some of the best dirt I've ever ridden on. It was an awesome track. It had a bunch of elevation. The dirt was unreal. It was fun. Obviously I'd never raced any of the Japanese riders, so I didn't really know what to expect. On their home turf they definitely go for it. They were actually faster than I kind of anticipated them being. Once I kind of figured the track out…I guess they were saying that track's like Glen Helen for Americans, so they get to ride it all the time. It was all good and it was fun, good racing.
I heard you guys had about 200 fans sitting at the Yamaha shop waiting for you guys.
Yeah, the fans were unreal. They were just so nice and considerate. You could tell they were just genuinely pumped that an American was over there. It was kind of cool; they would come over and want autographs and they would come with some gifts. Nothing big but just a little something like some candy or food, or something from their culture. I thought that was really cool. We actually went on tour to the Yamaha manufacturer, the big factory over there. There were about 100 of the employees there who welcomed us off the bus with a big congratulations sign and all that. It was really cool. They definitely treated us like royalty almost. It was awesome.
Were you aware that a big thing in the Japanese culture is giving gifts, or were you kind of caught off guard by it?
Yeah, I was a little caught off guard because, like I said, I didn't do much research at all. My mechanic, he's been over there before, and then one of the employees from Yamaha that was kind of our man behind it all, he spoke English and Japanese. So he kind of taught us some stuff. That's what they were saying; that's in their culture and that's just how it is. I was a little nervous because obviously when you go to another country and race against other riders that have been there and you're in their home territory, obviously Japanese riders didn't want me to beat them, but they were still cool. They weren't all going after me or anything like that. But the fans were absolutely ecstatic with me over there. At the end I gave a bunch of my gear away and they were all so amped about that. It was really cool.
You mentioned you went to Yamaha. What was that experience like?
It was great. Obviously I've never seen anything like that. I've been to the Yamaha factory here in California and the one in Atlanta, but I've never been to where they actually not only manufacture the motorcycles but anything Yamaha, whether it's musical, off-road, watercraft, whatever. They make it all there. It was really cool to see all that, how they basically start from a pile of metal and bolts and build a bike or a scooter, whatever it might be. So it was definitely mind-blowing; all the technology and science behind it all was crazy. Just how fast everything they did, it was cool. I got to meet a bunch of the higher-up Japanese Yamaha employees and stuff like that. I was pumped on that.
Any good travel stories?
After the manufacturer tour we actually stayed about a day and a half in Tokyo and just kind of were tourists. We didn't really do anything too much, just kind of checked out the city and the culture. The food was different, that's for sure. Some of it was really good and some of it was a little iffy. But the funniest thing was over there…I love sushi, so that was the first place we went over there. The way their culture and stuff works is the chef picks what you eat, so you don't get to go order what you want. So they come out with a tray of eight or ten rolls and you have to eat all ten to get you want to order. Some of it was really good and some of it was really bad. That was kind of a weird little deal. I think the worst was the sea urchin. Just weird stuff. But it was cool. Other than that, all the food was actually really good.
You were kind of like the late replacement, right? It was supposed to be Jeremy [Martin] and then he got hurt?
No, I was actually originally the one going. They normally don't invite any 250 riders over. It's usually just 450 riders. So I was going to ride for 450, and then they contacted Jeremy during the outdoor season, but he was going to ride the 250. But once he got hurt he wasn't able to go over there. But I was originally going to ride the 450 Class whenever it came up around supercross.
During the off-season, this is something you've done recently, is ride the 450 a lot. Is there something behind that? Is there a strategy, or is it just to get used to it and even better that it's a race situation?
It's pretty much racing. I actually had an off-season this year, which I've kind of never done, I actually went on vacation and stuff like that. It was nice to kind of do that and recharge the batteries. I knew I was going to race in Japan on the 450, so I kind of just decided to do Monster Cup as well. I did a good probably two, two and a half weeks on a 450 outdoors and actually really got the outdoor bike dialed in, then really about a week and a half on supercross. So we didn't have all that much time on the 450, probably three or four weeks or so. It was just kind of, obviously, one day I'll be racing them, so if I can kind of get comfortable on them and have some prior knowledge so when it is time to get on them, I think it's good. Even for training and stuff, I think once you ride a 450 and once you get back on a 250, it's almost like a toy. That's kind of what I've noticed. Obviously the 450 takes a lot more testing and stuff like that. It's a totally different animal, but I enjoy riding it.
You're going into your second year in supercross this year. Probably a little different expectations than last year. How do you keep everything grounded? Obviously you're going in this year to win, but are you able to deal with not winning as well?
Yeah, obviously that's the goal to win. That's what we work for. Especially having a very solid outdoor year, that's kind of our goal. But obviously I have a good program and a great group behind me. I feel like I should definitely be a top guy, but at the end of the day I think as long as we're in it all year, that's the main thing. Obviously my goal is to go and try to win Anaheim 1, but if that doesn't happen it's not a real big deal. It's still early now, but we'll see how testing and riding and stuff like that is. But I'm feeling good.
One thing Trey Canard kind of alluded to at the Monster Cup was, it was great to get some wins under his belt outdoors, but supercross is a different beast. Are you able to take anything from outdoors and apply it, maybe even just mentally? What are you able to take over to supercross?
I think just mentally knowing, like I told those guys, until you actually win a race you can sit there and believe and tell yourself that you're capable of winning, but until you actually do it and lead laps, then you don't really know. I think that's kind of what it is. Outdoors is a lot tougher, it's a lot longer season, and you have all the 250 riders and there's not many breaks at all. If you can learn how to get through a full outdoor season and especially be a top runner all year, I think it just kind of carries over into supercross. I like both equally as much, so I wouldn't consider myself more of an outdoor guy or an indoor guy. It just brings you that confidence and knowing that you can get the job done.
In outdoors this year, a lot was made of some things you said on the podium, whether people agreed with it or disagreed with it. Has that changed you at all? Or do you feel like you need to say what's on your mind sometimes?
That's just kind of how I've always been brought up. I don't by any means mean to be disrespectful or anything like that; I just like to say what's on my mind and what I really feel. I feel like that's kind of something that the sport misses out on. It's obviously a fine line, don't get me wrong. I feel like having a personality and kind of showing your true colors, people like that a lot more than just getting on the podium to thank your sponsors. Obviously I do that too, but the fans really want to know what's going on. They don't want to hear the boring stuff. I've had some love and some hate from it, but I guess it keeps everybody guessing and interested.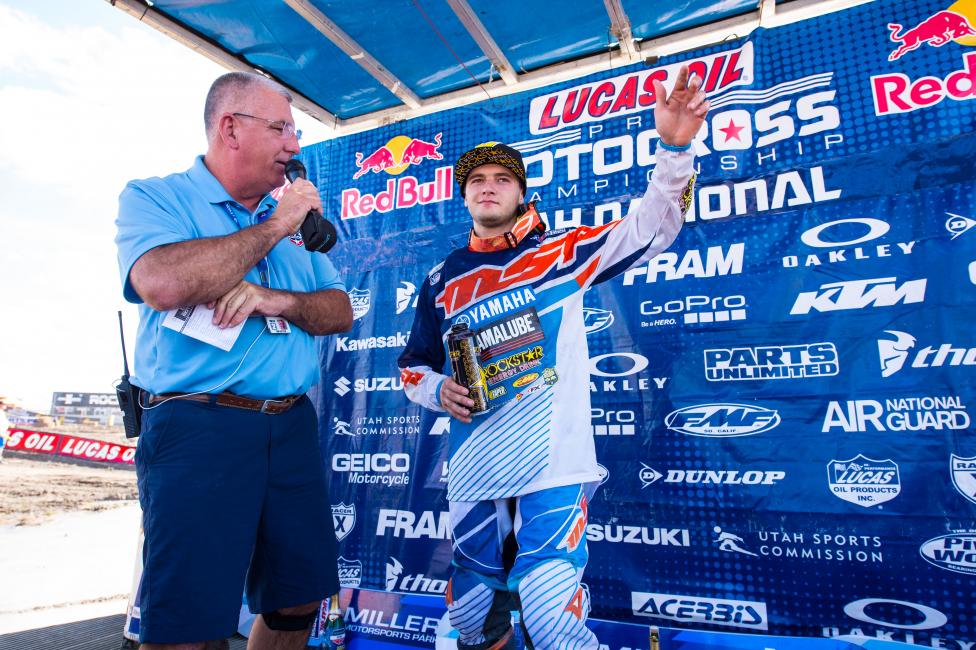 You mentioned you get hate too. A lot of riders, if they go on message boards or social media or anything, will see it. That's part of being a professional. Are you aware of it? Is it something you try to avoid? How do you approach it? You're only 18. It's got to be pretty tough.
It is. I don't let it bother me. I think it's kind of like anything. For me, I grew up going to regular school all my life, and I've kind of dealt with all the trash talk and stuff like that. It doesn't bother me. You can do everything perfect, and you're still going to have somebody that disagrees with what you do. As long as it's not every single person who's bashing you, then it doesn't seem to bother me. People do it and I see it, but you've just kind of got to laugh it off.
I think you had to deal with something like that this outdoor season with rumors regarding drug testing. I think you made the right choice and chose to just kind of air it yourself. Was there something behind that? Was it just you wanted to get it out in your own words?
Yeah, obviously rumors are rumors, and stuff like that starts. I thought it was funny when people really thought it was happening. I was going from, I was in really good shape. It's hard when you're getting beat by a young kid that's in shape, it's hard for those teams that have been winning all these years to get beat. Obviously that's the easiest thing to speculate to, I feel anyway. I didn't actually even know about it until…I can't remember. I think a couple media guys actually asked me about it, and I just thought it was kind of funny. So we went on and let people know obviously that it wasn't me. I wasn't scared. I knew it wasn't me, so I wasn't even worried. We had the official document and just let everybody know.
Your team this year had a real breakout year. Got their first championship. You and Jeremy were pretty much one and two the whole year, battling it out. When you signed with this team, I would say that wasn't that situation. How does it feel now with you and Jeremy bringing the team up to this level?
It's awesome. I love it, personally. I think it's a great feeling as not only a rider but as a whole team and the group of people I'm around. I know the other teams probably don't like it, but I love it. It's cool. Jeremy gave the team its first outdoor win and obviously first championship. It was a first for Jeremy and myself also. Our first podiums in supercross, our first wins, and stuff like that. Not only for us, but it was cool to kind of do it together. Obviously we were fighting the whole year on the track and just going at it. It kind of made it interesting at the time, but I think it's cool. Especially like you said, when we signed with this team, they were serious about it all, but they just couldn't get it done or would have issues or whatever the problem was. But now it's kind of cool to really see it progress, and really it's only going get better from here. Obviously me and Jeremy are still on the team for next year, so I think it's only going to get better and only going to build.
You and Jeremy battled it out all year going for the championship. What is it like battling it out with your teammate on the track? If you lose or win, you guys are still in the same truck, and you're going to be in the same truck the next weekend and even next year. How do you guys handle that? I know it's not always been the best relationship.
Honestly I'm a gracious winner and a gracious loser, I feel. Obviously, when he won I was bummed, but I wasn't making a scene or doing anything like that. I would congratulate him every time and vice versa. Every time I beat him, same deal, he was pissed, but at the end of the day we respected each other. It's hard to be best friends or really good friends with a championship competitor and obviously on the same team, and we'd see each other and we'd know we're going to be on the same team. It's definitely tough, but it was different. I honestly don't even know what to say. It's not like I've ever been in contention with anybody else, so I don't really know how much different it would be against another manufacturer or another team or anything like that. It's definitely interesting at times.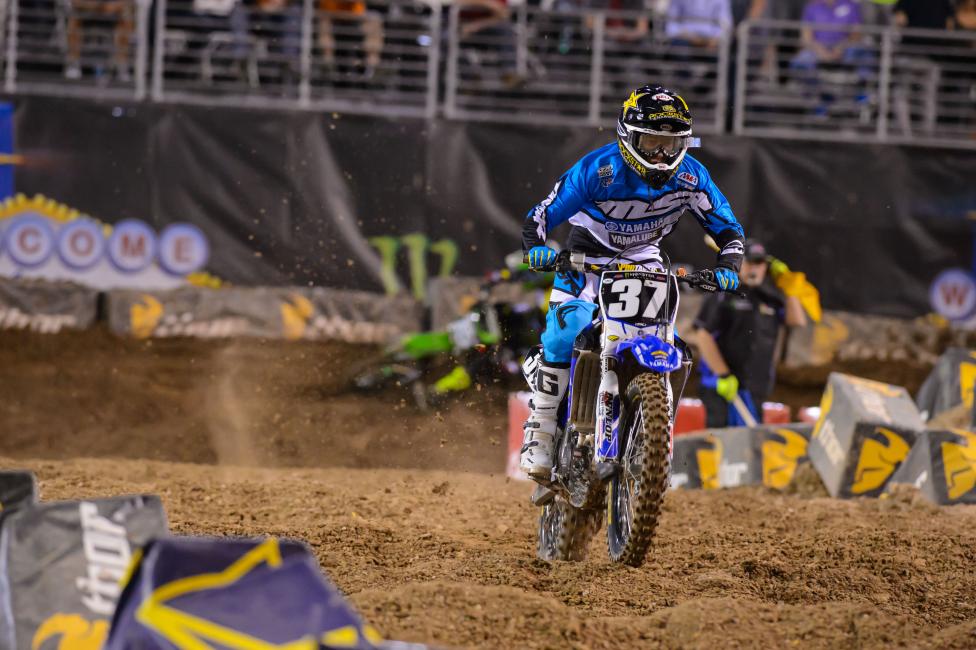 It's an individual sport but there is a team aspect, which is kind of weird, compared to something like baseball or football. And, like you said, this was your first championship battle, and it was against a teammate. Was it at times like, man, I wish he was in another truck?
The thing was at least you know our equipment is equally as good. I guess you can always wonder that if you're getting beat by a different team or somebody like that. You can kind of speculate, well maybe their bike was better or whatever the situation might be. That was just the main thing. Obviously we have the same manager telling us pretty much the same thing. It was definitely a little hard to get edges on him, or him to get an edge on me. We used the same suspension and motor guy, so anything we gained we kind of did as a team deal. That was one hard thing. I know it was any little secret I could get. He lives in Florida so he might have been learning stuff on the bike, and I live in California and we were learning stuff, but I think overall nobody put any less or more effort into me or him or whatever. I think at the end of the day their goal was whichever rider wins, wins. I think they just wanted to get the championship and that was obviously their main goal.
Are you still training with Gareth Swanepoel and Gary Bailey?
Yeah, same people, same team, everything like that. Like I said, I've actually taken pretty much September off, so we're really just kind of getting back into the swing of things and getting prepared. Last year was tough because we didn't even start riding the 250 until midway through November. I pretty much did all the testing and development on the 250 side out here in California. Obviously this year we have a lot bigger base and know a lot more with the bike and stuff like that. We're going to have a lot testing, but I'm not starting from scratch. It should be good. I'll be out here in California. I don't know what coast yet, but whatever it is, we'll definitely be ready.
What are you able to take away from it a year later?
Mainly, the thing is I'd never ridden supercross. I feel like I'm a decent tester, so I had my bike what I felt was good, but without ever doing something you don't really know. Then obviously I had a whole new trainer, so I would say I trust him, but once again if things don't kind of go your way and you've got an all-new bike, all-new trainer, and you're all-new at something, you don't really know. You're like, oh man, am I doing it right? What am I doing wrong? Stuff like that. It's obviously all learning. I had a year under my belt and know what to expect, kind of know how to race it, how the tracks get, how to do supercross. It should be obviously a lot better.