Ironman Raceway
Crawfordsville

,

IN
Indiana
Lucas Oil AMA Pro Motocross Championship
Racerhead is coming to you from Crawfordsville, Indiana, and the brand new Indiana MX National, the penultimate round of the 2014 Lucas Oil Pro Motocross Championship. Lots to talk about this week—the points battle in the 450 Class, the looming first championship for Jeremy Martin and his Yamalube/Star Racing Yamaha team, Team USA, Team USA Jr., Christophe Pourcel, James Stewart, and more…
But we must start with the bad news—terrible news. The sport lost a good man and a great person when Chris Blankenship, a member of the Dirt Wurx USA track crew that builds the tracks of Monster Energy AMA Supercross, passed away after crashing in a motocross race. Blankenship was participating in the Washington County Fair race near his home in Missouri on Sunday evening. He was immediately taken to a nearby hospital, but despite the best efforts of the doctors, he passed away on Tuesday morning. He was 38 years old.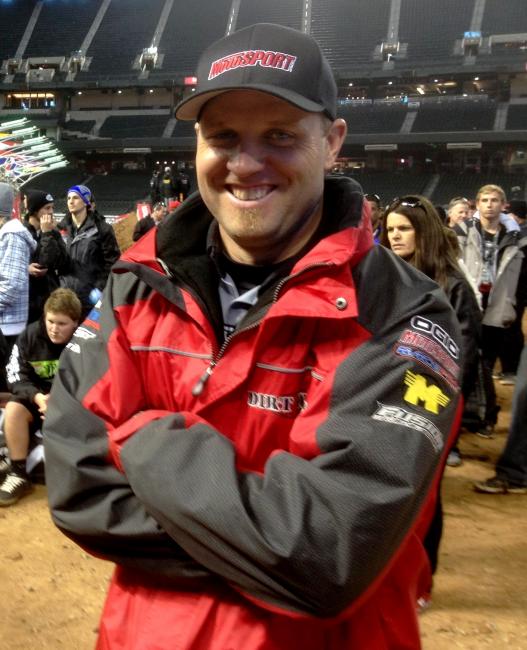 There are a lot of folks here in Indiana who knew Chris well and respected his work and his friendship, and a moment of silence will be held for him tomorrow during the riders' meeting. His longtime associate Rich Winker, founder of Dirt Wurx, said of Blankenship, "Chris was a husband, a father, a racer, a worker, a leader, a dreamer, and a doer. He loved his life, lived by a code, never shirked a task, and met every situation with a smile. I've spent countless hours with this man over the past years, working hard, imagining, and creating, running our business, along with baring our souls to one another on long hauls over the road to the next event. We probably know one another as well as we know anyone alive, and yet today I find I am at a loss as to what to say. Chris was a man in full. He was my friend. I will miss him every day."
Chris Blankenship is survived by his wife Crystal, his son Macen, and daughter Kate. Visitation will be tomorrow (Saturday) from 1 to 8 p.m., followed by the funeral on Sunday afternoon at 1 p.m. Both the funeral and visitation will be held at Owensville High School in Missouri.
THE NUMBER: 4 (Andras Hegyi)
Valli Motorsports Yamaha's Christophe Pourcel finally returned to the AMA Motocross winner's circle after a four-year hiatus, putting on a superb display of riding on the very rough and technical Unadilla track. The Frenchman is now in some very unique company, as only Mike Brown,
Ryan Hughes, Grant Langston, and Larry Ward won another race with at least four years in between them. Grant Langston won five 125 Nationals in 2001, then won the title without winning a race in 2003. He returned to the class in 2005 and won again. For Mike Brown, it was a six-year stretch between his first 125 national win in 1995 and his next in 2001 (though he did wins some 125 Grand Prix races in Europe). Ryan Hughes won in the 125 Class in 1994 and '95, then moved up to 250s, and even over to Europe, then return to the 125 Class in 2003 and won again, giving him an eight-year gap.
But the biggest gap of all belongs to Larry Ward, who won three 125 nationals between 1989 and '92, then moved up to the premier class for almost a decade. Then in 2001, he rode a Moto-XXX-backed YZ250F to the RedBud National win, giving Big Bird wins that were nine years apart in the class!
BABY BIG BIRD (DC)
And speaking of Larry Ward, he and his wife Jennifer welcomed Lakelyn Grey Ward into the world this week. It's their first child, and she tipped the scales at eight pounds, one ounce. Larry told me that both mother and daughter are doing well and resting, though for him, "It feels like I just won another supercross!" Right on, Big Bird, congratulations to your whole family, and welcome to the world, Lakelyn.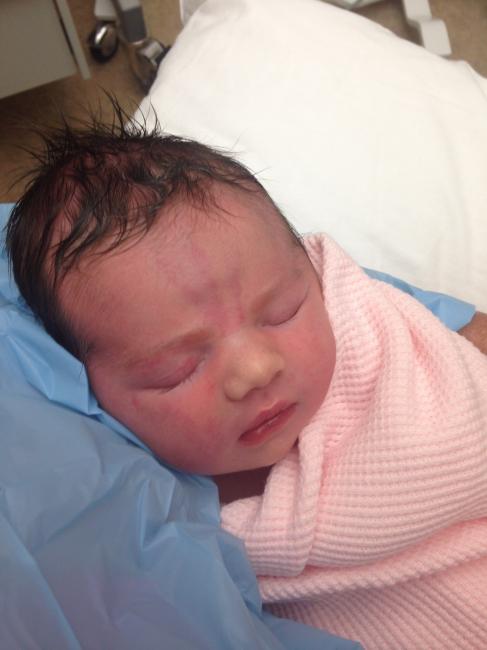 NEW TRACK SMELL (STEVE MATTHES)
A new track on the Lucas Oil Pro Motocross Championship calendar is always exciting to check out, and this week is no different. The videos and photos of Crawfordsville look pretty good—especially those Instagram videos DC shot for @racerxonline of Yamalube/Star Racing Yamaha's Cooper Webb trying to huck that big triple on his 250—and they're expecting a nice track with a good crowd. And, oh yeah, if any riders are reading this and want some tips for the track, I raced the GNCC in 2000 (fifth-place in the Industry Class!), so I DO have experience with the terrain!
Marc Peters, who just pretty much headed there after Loretta Lynn's, built and has maintained the track for the past few years. After the first race here (the Loretta Lynn's Regional in early June), they started adding sawdust and sand, and they also added the pro section, which has some incredibly steep hills that should be fun to watch.
The first motos will air live on MAVTV and www.promotocross.com at 1 p.m., and the second 450 moto will air at 5 p.m. on NBC. The second 250 moto unfortunately won't air until later that night due to a scheduling conflict on NBC Sports Network, but some of you can watch on the NBC Sports Extra app or with an authenticated NBC online network.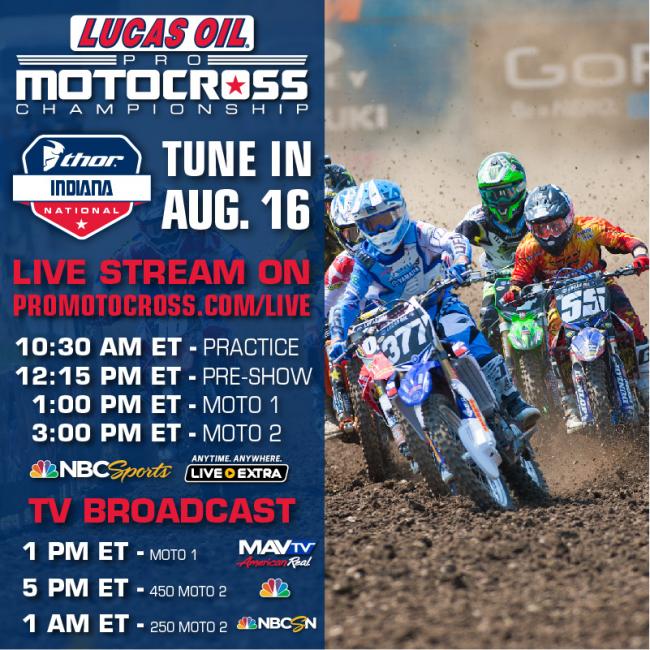 And with just 7 points separating Roczen from Dungey at the top of the 450 Class, these last four motos should be epic—and don't count out the Hondas of Trey Canard and Eli Tomac, nor the Yamaha of Josh Grant, who looked like he was having a blast at press day here in Indiana. Tomorrow's going to be good, and so is Utah!
NEW DIGS (Jordan Roberts)
We made it! After leaving West Virginia around 6 p.m. yesterday, the Morgantown-based Racer X crew of Andrew Fredrickson, Chase Stallo, and myself arrived in Crawfordsville, Indiana—the site of the inaugural Thor Indiana National—late last night at 2 a.m. Despite the late arrival, we dragged ourselves out of bed this morning, loaded up on coffee, and jetted out to the track in anticipation of checking out the new facility.
Indiana is supposed to be full of flat land and cornfields, right? Well, the cornfield aspect is pretty spot-on, but having not been to the facility prior to the national, the rolling hills that hold Ironman Raceway admittedly caught us by surprise. The majority of the preview photos we saw were of the pro section, which snakes up and down what we believed would be the only source of elevation. Being wrong isn't typically met with reward, but it looks like the old-school fans of motocross el natural may have something to rejoice in.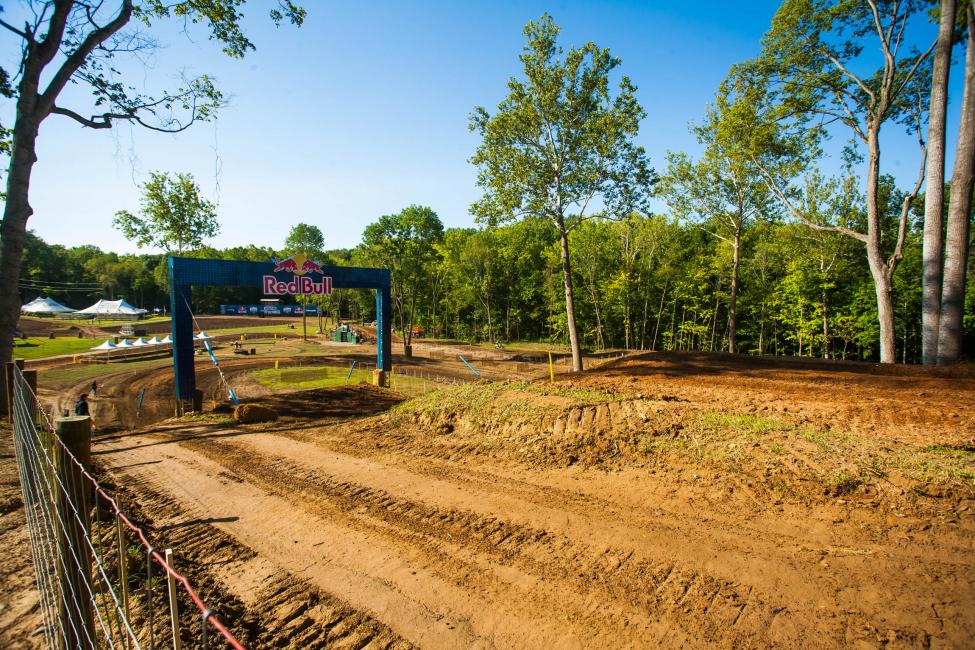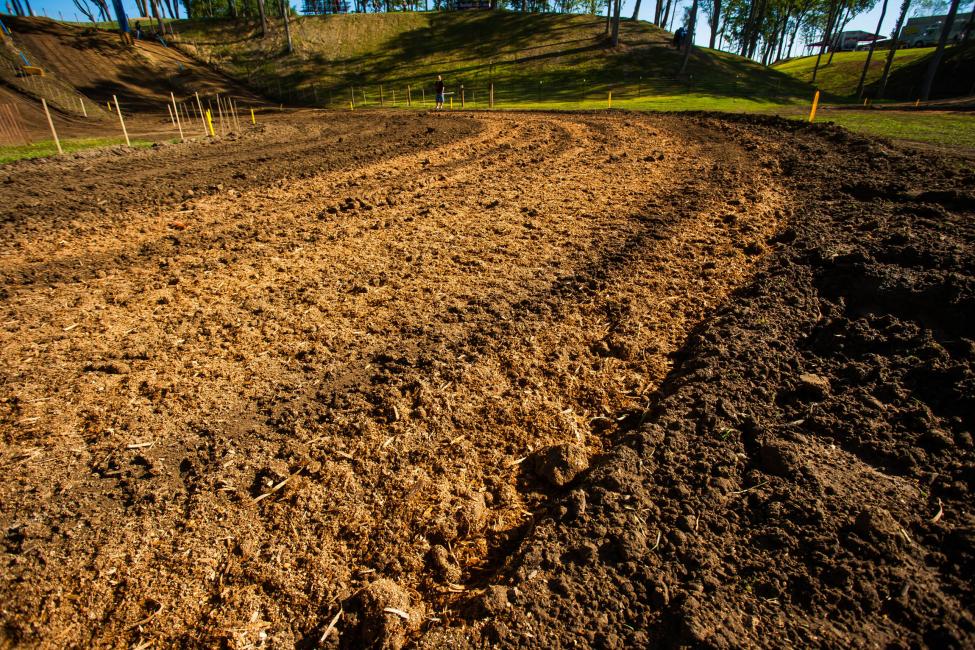 In situations like these, we typically regret not bringing bikes with us, but I was fortunate enough to con Andrew into letting me borrow his CR 125 for amateur practice just hours before we left Morgantown. The most immediate observation I made in the first lap of practice was the tremendous amount of sand and sawdust Marc Peters and crew worked into the racetrack. I doubt the Indiana soil would've been much to complain about, but the deep, rough conditions lend to multiple lines and choppy braking bumps to make sections that aren't littered with huge jumps more technical. The track is going to get rough tomorrow. I'm not sure if it will get as rough as Unadilla, but even on amateur day I'm trying to channel my inner old-man strength to power my way out of deep sections and into a nice rut. Also, in true Marc Peters fashion, there are plenty of inside/outside line variations through the corners and a few of the sweepers that should offer up some exciting racing tomorrow. As for now, back to my field studies!
And check out Austin White's preview film right here.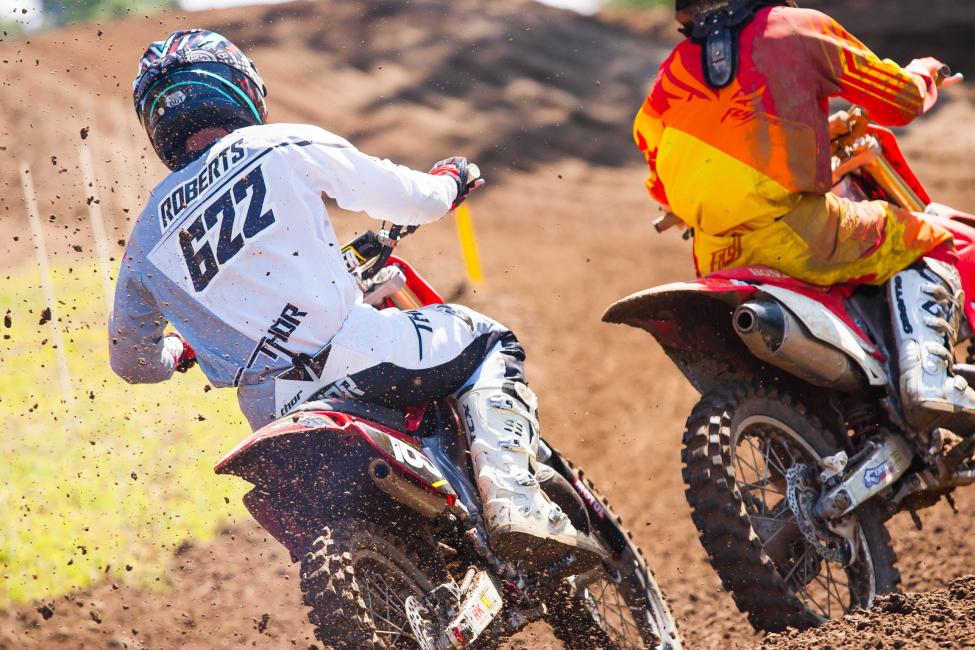 TEAM USA (DC)
Congratulations to all of the kids who rode for Team USA last weekend in Bastogne, Belgium, for the FIM Junior World Cup. Despite some difficulties with the weather, some crashes, and bad luck, not to mention some very fast competition—none of the Americans won their individual classes—they all worked together as a team to claim the "Mini" of Nations overall ahead of Germany and France. The AMA's Kip Bigelow led the team, which included Alex Frye, Conner Mullennix, Jeremy Ryan, Jett Reynolds, Carter Biese, Garrett Marchbanks, Brock Papi, Jon Ames, and Challen Tennant.
"While the FIM Jr. Motocross World Championship is also an individual event, with riders competing for world titles in each class, the primary goal for the nine U.S. riders was to bring home the team title," said Bigelow, who was no slouch himself back in his Michigan Mafia days while riding for Team Dynamic. "Although only the best-placing rider in each class is used for the overall team score, every rider on the team was essential to bringing home the gold. Due to the rain, mud, and extreme track conditions, a team effort was very important. From the day we arrived in Belgium nearly a week in advance of the race, to the checkered flag of the final moto of race day, the team spirit and dedication was never more evident and important. The riders, their families, and the team sponsors made this successful effort possible."
Well done, Team USA Junior!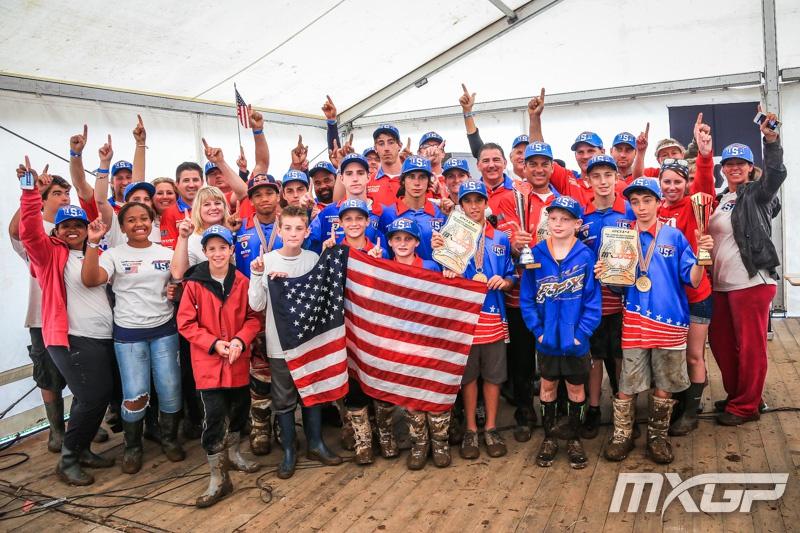 TEAM USA SR. (DC)
And of course last week we found out that Red Bull KTM's Ryan Dungey, Yamalube/Star Racing's Jeremy Martin, and GEICO Honda's Eli Tomac will make up the other Team USA. The AMA's Kevin Crowther was on hand at Unadilla to announce Team USA for the actual Motocross of Nations, which takes place in late September in Latvia in Eastern Europe. Team USA has finished second in each of the last two years after winning for seven years in a row. It will be the sixth-straight year that Dungey has been on the team, tying Jeff Emig for the most consecutive Team USA appearances. This is the second straight for Tomac. For Jeremy Martin, it's his first-ever appearance, and he's the first Yamaha rider on the team since Tim Ferry in 2003. His mechanic? Our own Steve Matthes. And speaking of Martin and Matthes…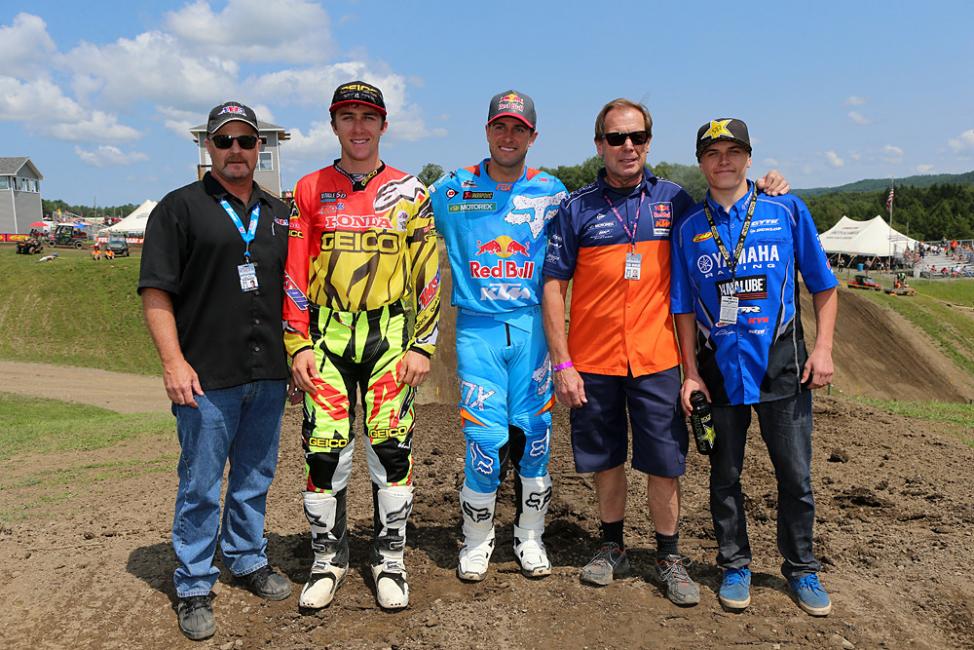 SHOOTING STAR (Steve Matthes)
Looks like Yamalube/Star Racing Yamaha's Jeremy Martin should clinch his first 250 title this weekend, but if he doesn't, it will happen next week in Utah. Either way, what a season for The Bullfrog, and a very unexpected one at that. Martin, along with his teammate Cooper Webb, came out of the gate at Glen Helen with speed for days and never really let up. What a turnaround for Yamaha as well; they had been wallowing for a long time in the small-bike class (no national wins in the 250 Class for ten whole years, since Mike Brown in 2004) with an antiquated bike, and Star Racing itself also made some curious hires and fires when it came to riders and managers. It seemed that the merry-go-round of uncompetitive bike/no leadership/riders who couldn't get it done was just never going to end over there.
But it ended in a hurry this year with the all-new YZ250F (that seems to as fast or faster than anything else out there), and former 125 national champion Steve Lamson as manager, Martin, and Webb. The future seems very bright, especially as both Martin and Webb re-upped for another two years at Star Racing this year. I've been a critic of the program and bike at times (for valid reasons), but you've got to tip your hat to the whole team for showing that they can indeed win the toughest championship in our sport. Congrats to Martin, owner Bobby Regan, Lammy, and the rest of the guys.
And here's a nod to that other Yamaha rider who made it to the winner's circle this summer, Christophe Pourcel.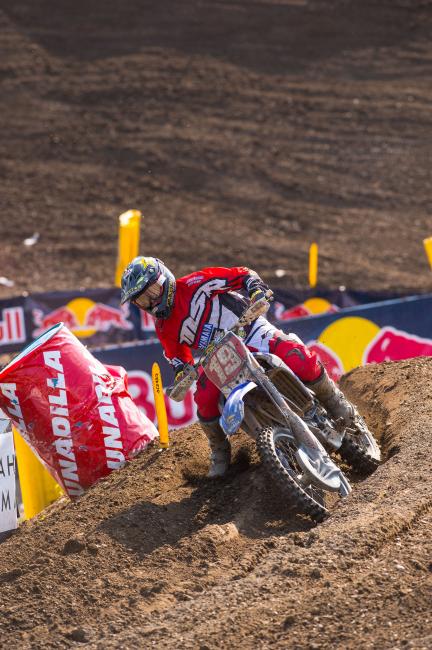 THE NUMBER: 3 (Andras Hegyi)
With Christophe Pourcel's win last Saturday, there have now been three Yamaha winners this year in the class, including Jeremy Martin and Cooper Webb. That has never happened before for the brand in the small-bore class! Yamaha got another record at 'Dilla. It was their sixth win this year in the class, which only happened for Yamaha in 1978 and 1992. In both case Yamaha won also the championship. And it's been since 1994 that a small-bore Yamaha rider has represented Team USA at the Motocross of Nations. Twenty years ago Jeff Emig rode a YZ125 in Roggenburg, Switzerland, for Team USA.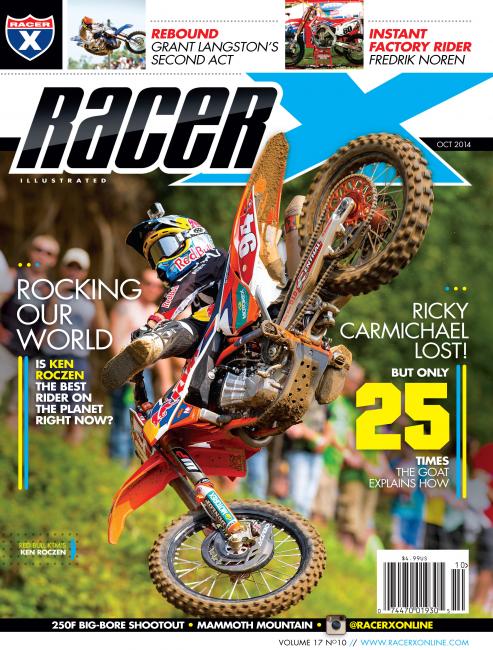 QUESTION MARKS (Steve Matthes)
I was in touch with soon-to-be-former 450 SX/MX Champion Ryan Villopoto this week and simply asked him what he's going to do next year. He promptly sent me back a video of him driving an RC car around the track. There you have it folks, breaking news! I think he's just having fun, which is a sweet summer gig to have. And I don't have any clue what's up with James Stewart, so you can stop tweeting me that question too. I don't know what's wrong with him (dizziness was the explained reason for not racing moto two at Millville), I don't know when he's coming back, I don't know why he's riding during the week yet not coming to nationals, and I don't know anything about his appeal for his provisional suspension from the Seattle drug test. I just don't know, and I don't think anyone does.
And Aldon Baker isn't going to train all the KTM riders next year, after some talk. What I do think is going to happen is he's going to sign Ryan Dungey up under his program to go with Kenny Roczen and Adam Cianciarulo. The fact that this may happen should give you an indication that Villopoto is going to either retire and drive RC cars or take that GP tour and see the world before he retires.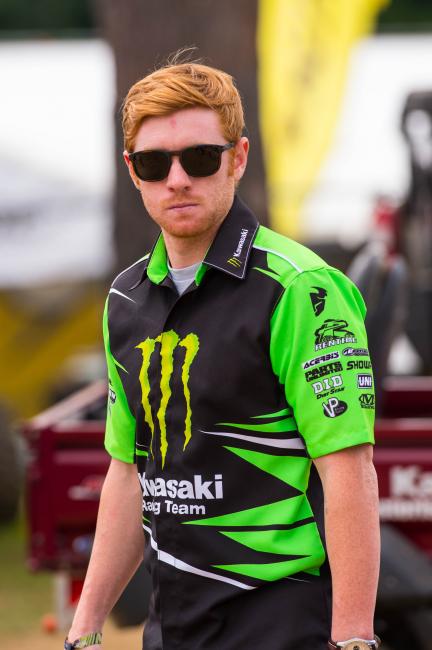 PRO PERSPECTIVE (Jason Thomas and David Pingree)
JT: Racing a new track is always a nice change. Many of these tracks have been on the schedule for decades, and while that adds a historical nuance, sometimes a little variety can spark energy back into the series. It's more than just the dirt and track layout. For the riders and teams, it's a different atmosphere and brings new experiences—new town, new fans, new everything. By now, the monotony of eight months of racing has surely set in, and anything to rekindle things is a welcome element. The riders themselves will have a new track to sort out and no one has a distinct advantage. No one will be sure about anything: how the track will break down, where the fast lines are early in the day, when the track becomes rough, where the ideal starting spot is, etc. These are all new aspects of a new event and bring thought back into the equation. So many of those aspects are hardwired into riders' minds after countless laps on the long-standing tracks.
The new event factor is what I will be watching most closely. Who can figure out the dirt, jumps, and bike setup accordingly with only two short practices? We all know how this 450 Class championship is coming down to the last moto and this new event, followed by only the second-year event of Utah next week, is an interesting variable. The riders and staff will be on their toes tomorrow, analyzing the film and making critical decisions with basically no previous data to rely on concerning the Indiana track. Educated guesses on bike setup and track strategy will be the only route available. Who will make the best decisions and adapt the quickest? We are twenty-four hours away from our answers.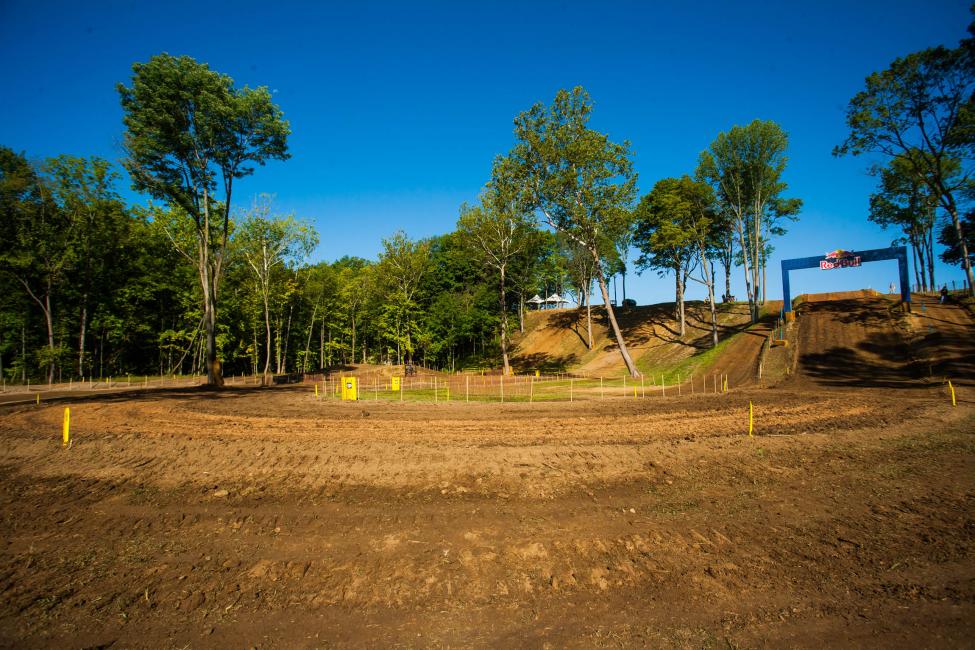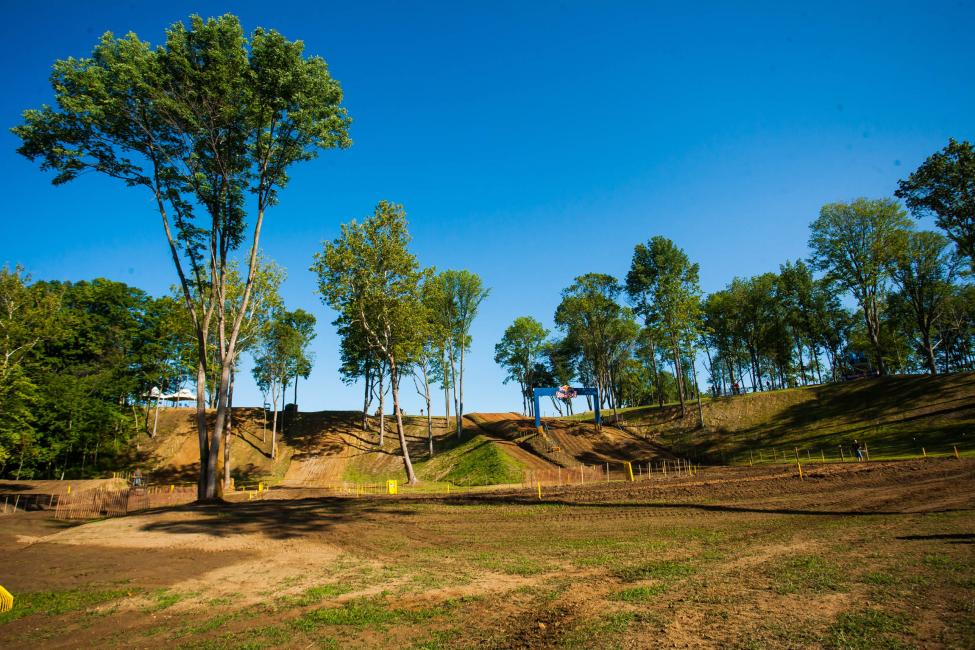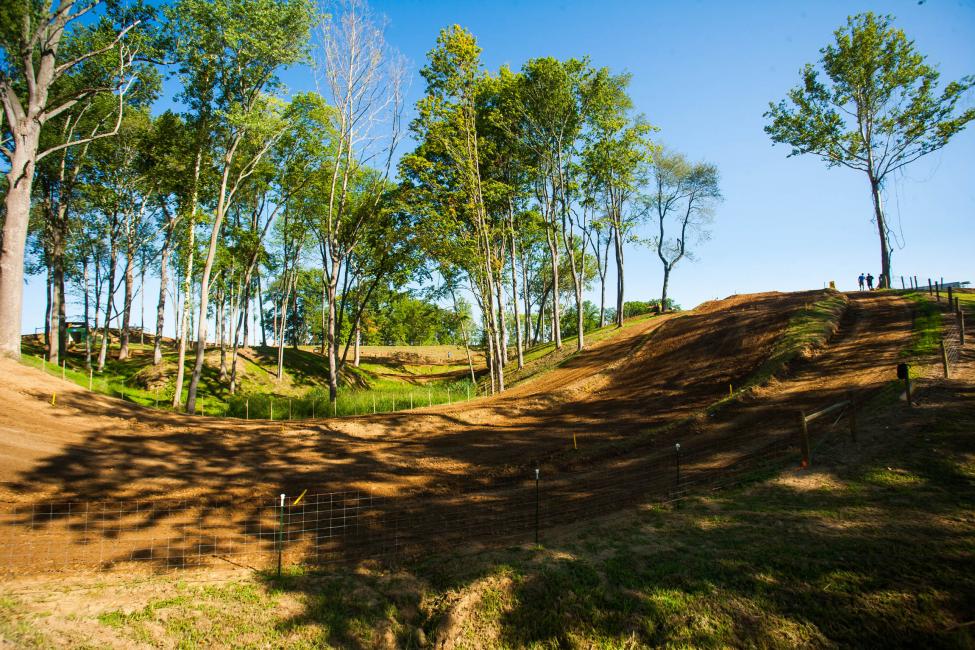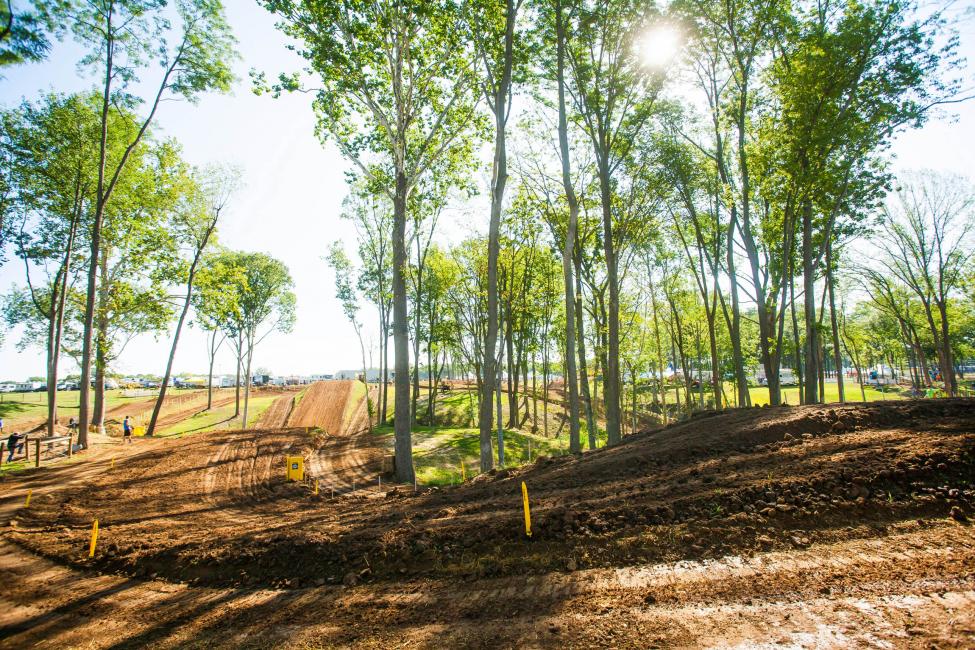 PING: I love seeing new tracks join the series. It doesn't happen often, and when it does the track is typically one that racers have experience on. Pala, Elsinore, and even Muddy Creek are places that many of the guys had circulated frequently. What I really love about Indiana is that unless somebody on the line has been moonlighting in the GNCC Series, they haven't even seen this place. It probably isn't going to change the end results much; the fastest guys will always find their way to the front. However, it adds an interesting element for me. As a first-year venue there are no notes for the teams to look back at and no mental advantage/disadvantage for any rider. The slate is completely clean and the playing field absolutely even. That means we get to see just how efficient the teams are in hitting the mark with setup, and we get to see how quickly riders can adapt to a new facility and find lines as the race day goes on. A big difference between this round and, say, Pala or Elsinore, is that this track doesn't suck. At least the riders were saying good things about it this week during the press event; the dirt is epic and there is some natural elevation. With a 450 title on the line there couldn't be a better time for a straight-up match between the best in the class. Saturday is going to be good.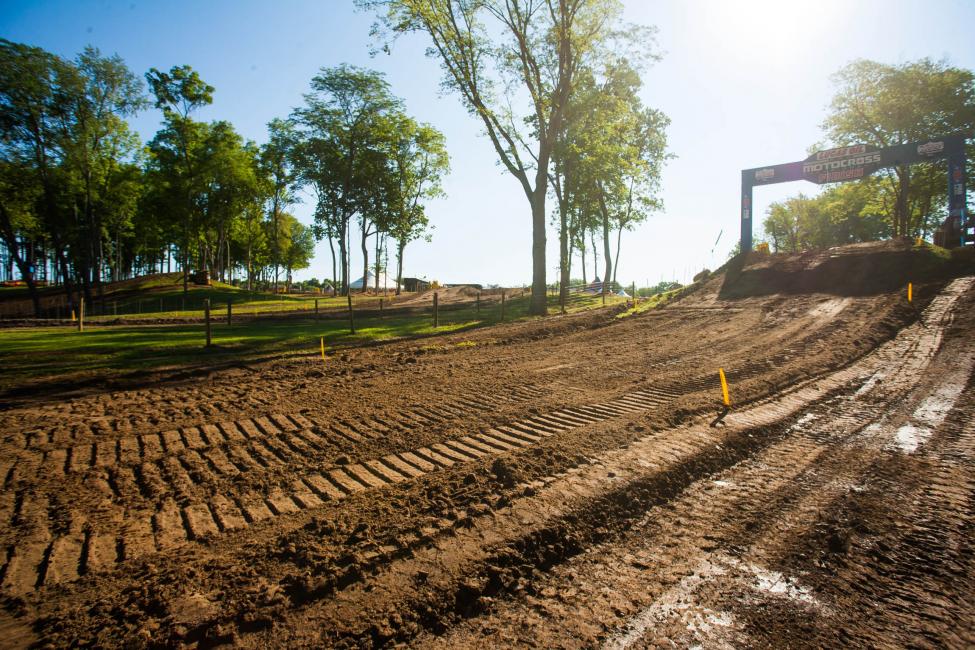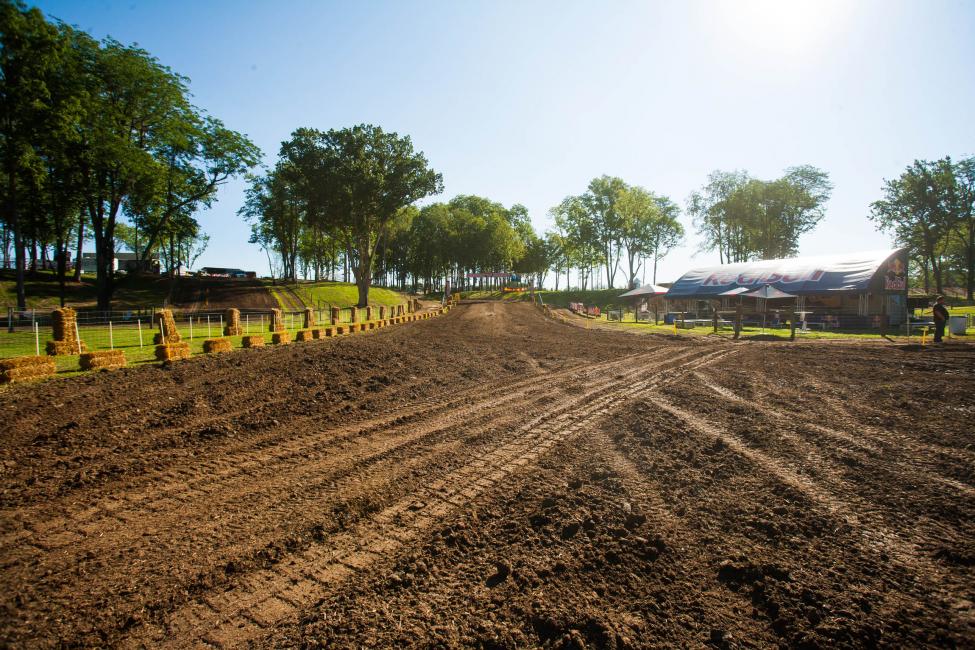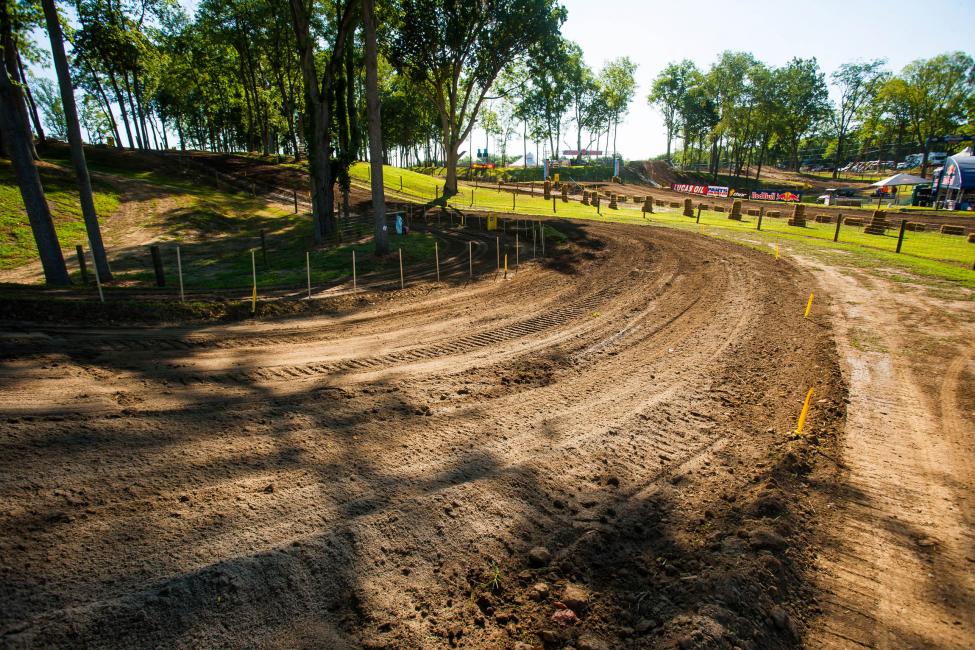 GET WELL SOON (DC)
The popular privateer Robert Lind went down hard last week at Unadilla, and his season is now over. He posted an updated for everyone on his condition:
"First I want to thank everybody for such an amazing support and for all the prayers that's been giving to me. Everyone knows what happened by now at Unadilla this past Saturday, and it will be a long and probably rough way to get back 100%. My fractures on t5 and t6 luckily didn't hit the nerves, and I now got feelings everywhere when everything has been settle down a few days from the crash. Beside some incredible pain, I'm still very blurry in my head and have really bad vision in my eyes, which cause problem with my balance etc, my eye specialist can't do anything about it, so it's just to hope that it will solve it self within the next few weeks when my concussion settles down. I'm far from good but after been seeing pictures of the crash and the damage on my back on the cat-scan, I'm really so happy that I'm not in worse shape then I am, the doctors are positive about my recovery and so am I. I will do everything I can all the way to get back 100% again, and to start my preparations for the Supercross season 2015. Thank you all."
SHAMELESS MATTHES PLUGS (Matthes)
And now here are some cheap ways to get you to go to Pulpmx.com.
Ken Roczen's gear deal was up at the end of this year and Jason Thomas broke down some of the ins and outs of that HERE.
David Vuillemin answered the tough questions from Unadilla HERE.
Lots of stuff happened at the last Canadian national and James Lissimore filed this photo report.
Matt Goerke was the subject of ShortComings column this week HERE.
WATCH IT
Here's a cool new video from Seven.
Austin White produced this awesome Unadilla Remastered video.
RANDOM NOTES
Are you going to the Indiana National this weekend? Stop by the Racer X booth to subscribe or renew and get thirteen issues of Racer X Illustrated plus a six-pack cooler sleeve for just $20!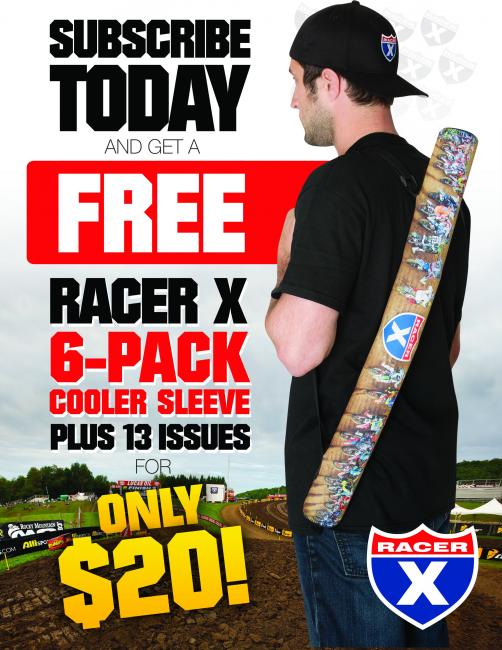 Don't forget stickers are always free at Racer X! Be sure to stop by and get your 2014 #IndianaMX event sticker.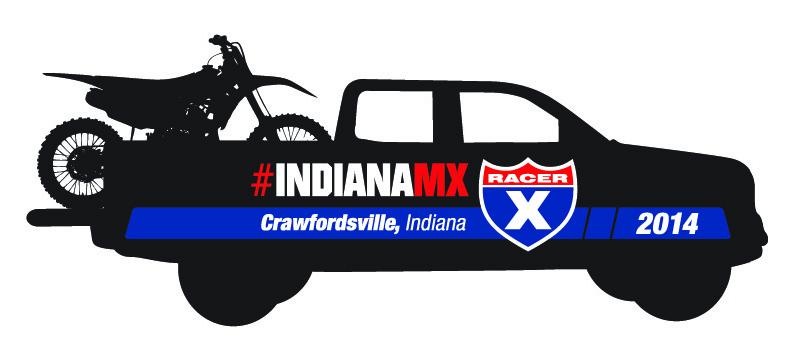 That's it for Racerhead; open practice is over and I have to get back out there to help work on the track. See you at the races.