In The Mag, On The Web is an online feature where we take a behind-the-scenes look at one of the print features in Racer X Illustrated. Check out some more information on 9-5 to 12th Place by Nick McCabe.
Sean Collier was on the path to motocross stardom. He was a top ranked amateur racer with strong race results and demonstrated skills. He turned pro in 2003 with the personal expectation that he would make a career out of racing dirt bikes professionally.
Collier was fast, and scored some decent results. But he also seemed to get injured frequently, and for which caused him to score some very inconsistent results. Along the way he was able to earn several team rides, but it seemed that every time he landed in a big rig, an injury would keep him from taking full advantage of his ride. After eight seasons, and by the end of 2011, both his mind and his body (as well his bank account), were broken. He made one more attempt in 2012, but soon realized that things were not going to work out as professional racer.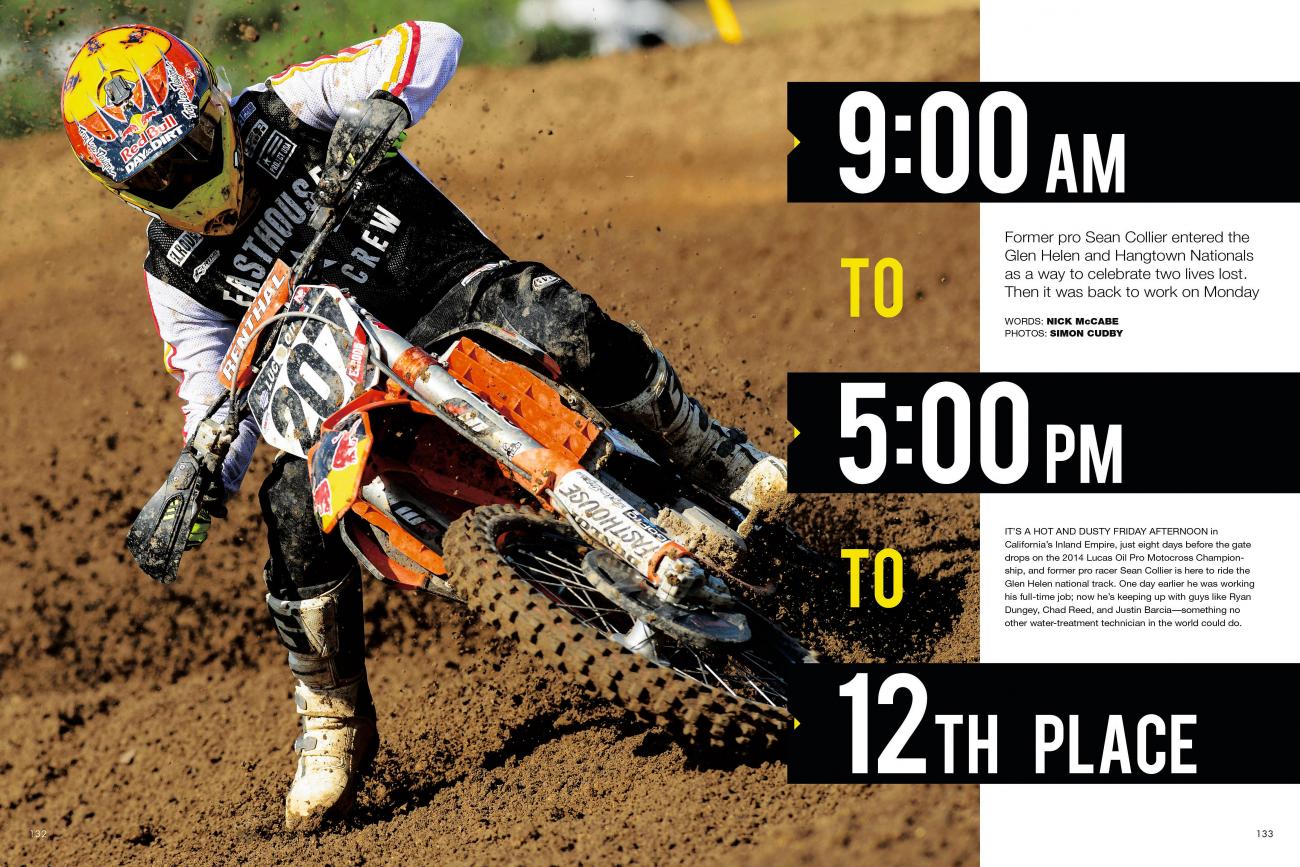 Soon after he started a new career with a full-time job as a water treatment technician. But the racing bug was still in his system. When the 2014 Lucas Oil Pro Motocross schedule was released, Collier realized the season opener was being help on a dark anniversary for both him and his family: May 24 would be not only the anniversary of his cousin's sudden death two years prior from an automobile accident, but it was also the birthday of Tommy Aquino, a close friend of Collier's who was an accomplished road racer and passed away suddenly and well before his time.
So Collier decided to do something for his friend and cousin, and wanted to bring the families together at the races for a fun weekend or two of racing, and in his fallen friends honor.
And what a weekend of racing it was … on a stock KTM, Collier proved to be a contender, and proved that he still has what it takes to race at the highest levels of the sport.
But on the Monday following the races, he was right back at work, taking care of assigned water systems. His goal of bringing together family and friends and celebrating their memories was accomplished.
Read the entire "9:00 a.m. to 5:00 p.m. to 12th Place" feature in the September 2014 issue of Racer X right now or look for the cover below on newsstands to pick up the issue in person.