Mechanicsville, MD
Budds Creek
Lucas Oil AMA Pro Motocross Championship
BTO Sports is your number one source for all of your motocross parts, gear, accessories and apparel. BTOSports.com is a motocross company who is truly dedicated to the sport and to the customer. Proud sponsor of your Racer X Podcasts and the BTO Sports race team.
Budds Creek, round seven of the Lucas Oil Pro Motocross Championship, was the first true test of riders' fitness and toughness. We've been pretty lucky through the first six rounds in terms of weather, but this weekend in southern Maryland, the furnace was turned up high.
You could definitely tell that some riders were taxed pretty hard when the second motos came around. Just twenty-six out of forty riders finished the second 450 moto, and there were a few examples of guys just not having it for the second go around. Hey man, the American motocross series is the toughest in the world in terms of competition, tracks, and now finally, the weather. It just proves that to win an American outdoor national championship, you have to be gnarly.
The Budds Creek track ran counter-clockwise this week and I think it's the preferable way to go. Actually, come to think of it, it's been more than a few years since they ran it the other way. The dirt was prepped to its usual standards, which are pretty much perfect, and the riders weren't challenged much in terms of obstacles, but the constant off-cambers, braking bumps, rollers, and hills provided a tough track.
Here's the trick to Budds Creek. Qualify well and don't DNF. That's it really. Why do I say that? Well, besides being obvious factors to success at any track, it applies a bit more to Budds Creek in my opinion. The start was changed in 2007 for the Motocross des Nations, and it greatly favors the inside gate with its hairpin first turn. Qualifying well gets you a good gate position, and that is likely to get a good start. Get a good start and charge hard for thirty minutes plus two laps, and you will likely get another favorable gate position. Then repeat. If you don't qualify well, you will get a bad start, and that leads to a bad finish. Then your whole day is effed. Don't believe me? Ask Chad Reed or Kyle Cunningham about how awesome their days were when they were stuck on the outside.
After the race Kenny Roczen mentioned how in the second moto he put his leg down in some rollers and jammed it pretty bad. Roczen was in second when this happened and lost four seconds to leader Ryan Dungey, which gave the moto win to Dungey, and also, the overall. And I'm not doubting Roczen at all—I'm sure his leg dab was a contributing factor to Dungey running away, but here's the thing—I don't think that dab mattered all that much. Dungey rode a terrific race to go 2-1 and take the overall win on the day and to me, he was just stronger in the second moto than the German. Unfortunately for Dungey, he didn't gain any points on Roczen in the title chase because of Roczen's great first moto, when he won his fourth moto in a row. But in the heat and humidity, on a rough-ass track, I thought Dungey showed that he had that little extra in the tank.
Going into Millville this weekend, Dungey has to, I repeat he HAS TO, make up some points on Roczen, or this thing is over. Dungey needs it to be hot and humid, and he has to use his intimate knowledge of all things Millville to grab some of the points away from Roczen. Just like the opening round at Glen Helen, Dungey showed that his toughness and fitness can't be questioned, but he's lacking that little bit of speed that Roczen has. This weekend was great, but he's got to do it again.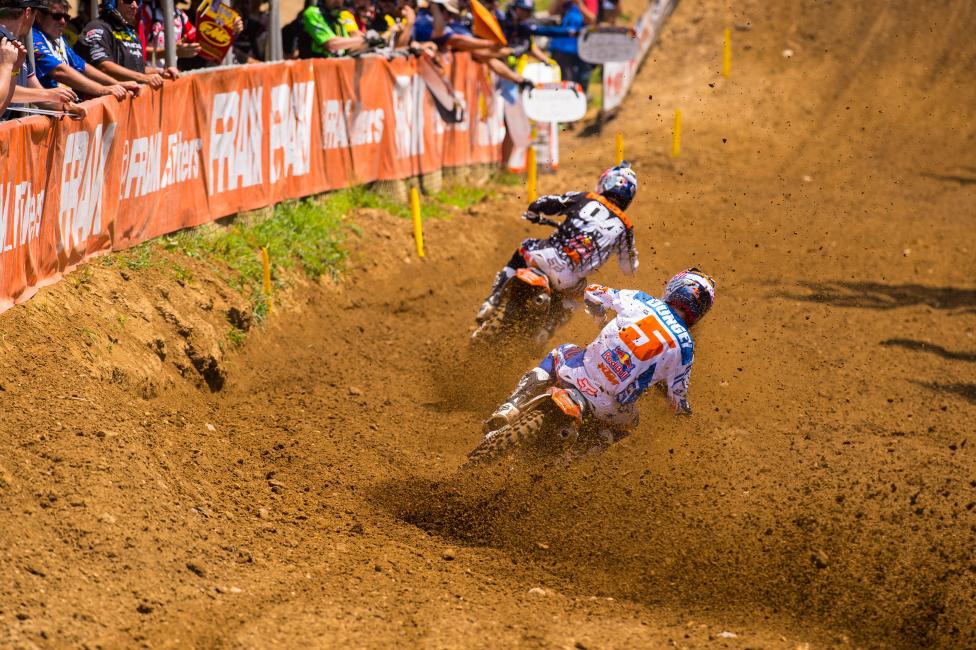 There's no doubt that Roczen has answered some questions about his fitness and ability to withstand the heat from his first couple of years here in America. But the bottom line is that he faded at the end of last year's nationals (maybe it was because he felt he was out of the title hunt after his Millville crash) and at the end of supercross this year. Hiring Aldon Baker and being on fire this 450 series has definitely quieted some critics, but there has to be some doubt based on his past that he would be able to keep up his stellar riding this second half of the series. I'm not saying there should be a lot of doubt, but some; this weekend should be interesting to say the least.
I loved the 250 races this weekend. Talk about mano-a-mano battles between Blake Baggett and Jeremy Martin. These two are slowly building a nice little rivalry here. And to think about it, they're both similar guys and riders. There's nothing really flashy about them; they're in great shape, and they seem to be better at motocross than supercross. They're both smaller dudes, and neither guy is going to be hosting his own comedy hour show on NBC anytime soon. They're nice guys and all that, but they just don't have dynamic personalities. Oh, one more thing they have in common: they're both DAMM fast on a motorcycle.
Baggett seems to be back to his old form—maybe not all the way there, but close enough in the way that Pamela Anderson is still kind of hot. She's not Baywatch Pamela Anderson any more, but hey, it's close enough for me. Last weekend Martin came out on top in their second moto battle, and his archenemy bit him in the second moto (bad starts). I wrote last week that he's got to be more consistent with the starts if he wants to get this title, and really, six out of his last eight starts have been good enough for him to get to the front.
Trainer to the stars Baker certainly has a proven program that works—just look at all the riders' number one plates on the wall to know that. But Baker isn't the only trainer to have an intimate knowledge of the human body. And Baker isn't the only guy that knows how to train for the sport of motocross. And let me be clear, I like Aldon, and he's never, ever claimed he's smarter than other trainers, or that HE makes the rider. This isn't a slam on him at all, and let me get to the point.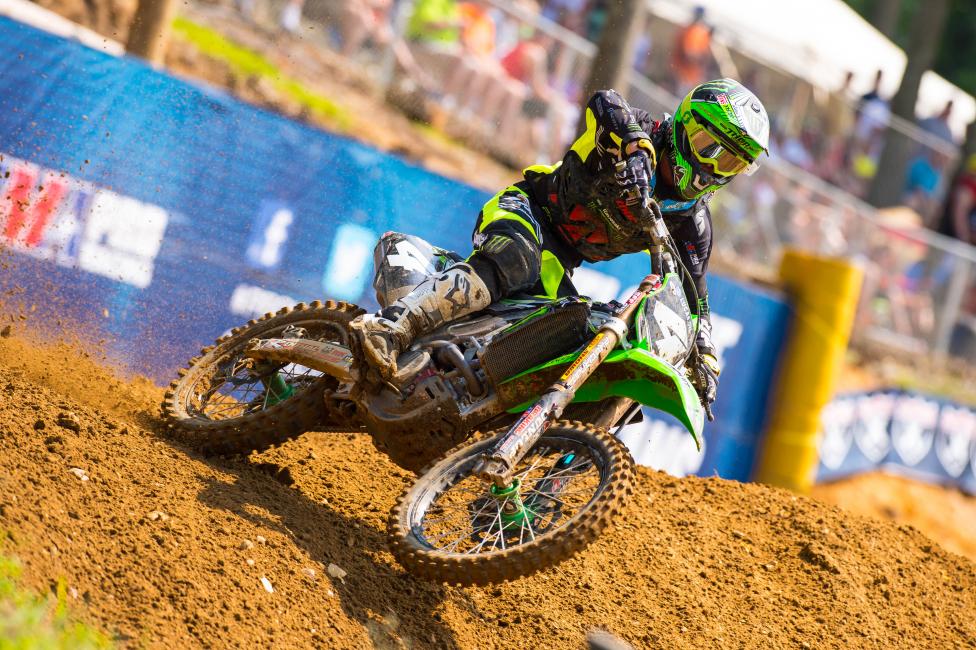 The point is that Baggett left Baker a couple of years ago, and if you listen to some insiders, Blake's career has gone south ever since. That's not entirely true, though. He broke his wrist badly, and that's set him back in a big way. He doesn't have the phenomenal fitness level fitness of his championship season (when he was trained by Baker), but I would chalk some of that inability to get "there" to the wrist. My point is that Baggett looks to be very close to his title level, and goes to show that leaving Baker's program isn't a death sentence like some "insiders" would have you believe. Tyla Rattray, Ben Townley, and Jake Weimer all worked with Baker, and I don't see any national title number one plates on those guys' wall
I spoke to Baggett about leaving Aldon and the perception about his fitness not being the same HERE, and Blake was pretty blunt about it. Some good listening, and again, Baker is a good guy, no ego on him and it's not him that's making claims that he's the Jesus of fitness. It's other people in the pits. Blake Baggett is proof that life (and wins) goes on A.B (After Baker).
Martin's got nothing to be bummed about. He held Baggett off in the first moto, much like he did in last week's first moto. In the second moto Baggett's fitness rose to the surface, and he caught and passed Jeremy to take the win and the overall. Was I surprised at how much he dropped Martin after getting him? Yes, I was, but Martin put a hurt on the rest of the field, and after Baggett was great at Budds last year, maybe he just has to tip his visor to Blake and congratulate him on the great ride.
So, with Baggett getting the win here and Martin heading into Millville this weekend (a track that his parents own and he grew up on), could this be a battle of the immovable object versus the irresistible force? I'm definitely looking forward to this race. Shades of Lake Sugartree in 1986, right?
250 Results
1. 4 Blake Baggett; Grand Terrace, CA; Kawasaki KX250F; 3-1
2. 19 Jeremy Martin; Millville, MN; Yamaha YZ250F; 2-2
3. 17 Jason Anderson; Rio Rancho, NM; KTM 250 SX-F; 1-7 - I've been writing that I thought Anderson would win a moto or maybe an overall before this year is out, and he did at Budds. His first moto was impressive, as he ripped by some heavy hitters to pull away for the win. That's the good part. The bad part is he was getting caught at the end of moto one and looked a bit, ehhh, fatigued on the podium afterwards. Second moto everything caught up to him, and he faded a bit back to the seventh. Still, you have to walk before you can run, and Anderson showed he's got the package to win, so why can't he do it again?
4. 377 Christophe Pourcel; France; Yamaha YZ250F, 6-3 - Pourcel just did his thing, which is getting good starts and fighting like hell to hold off the riders behind him. I thought the heat would affect him more than it did, so that was good, but it's not a good look when you fight like hell to stay in front of a rider, and then immediately drop ten or more seconds behind when they get by you. I don't really care, but trust me when I say other riders notice this, and this move breaks some unwritten rider etiquette rules.
5. 37 Cooper Webb; Newport, NC; Yamaha YZ250F; 5-4 - Webb showed good speed and determination in coming from the back to get these finishes, but it hurt him in the title hunt.
6. 32 Justin Bogle; Cushing, OK; Honda CRF250R; 4-5 - Bogle was a bit bummed out after the race because he was further up toward the front before getting shuffled back. But, hey, a 4-5 day and you're bummed? Not too shabby methinks.
7. 35 Justin Hill; Yoncalla, OR; Kawasaki KX250F; 13-6 - Hill's been dealing with an injury since Muddy Creek that's hurt his preparation and speed work during the week, but this second moto was pretty good, as he charged hard.
8. 21 Cole Seely; Newbury Park, CA; Honda CRF250R; 10-9 - Seely got bad starts and ate dirt all day long, coming up from the back. He's been staying with Justin Brayton down in North Carolina for the last few weeks to help with the East Coast weather and travel. And in more "riders heading to new locations" news, Ben LaMay is staying with Andrew Short in Texas, and Jessy Nelson has been down with Roczen in Florida.
9. 267 Anthony Rodriguez; Venezuela; Yamaha YZ250F; 9-10 - Nice ride by the unheralded rookie. He kept it on two wheels, and this finish is great for him. I honestly don't even know what Rodriguez looks like, but I have been impressed with him this year when he's stayed upright.
10. 25 Marvin Musquin; France; KTM 250 SX-F; 8-14 - Musquin qualified well, and I thought it was going to be a good day for him, but instead, it was just OK. I was very impressed with his ride in the second moto. He crashed in the first turn and was SO far back that he was practically in Baltimore. To get up to fourteenth in the heat and humidity and solider was, to me, anyway, a sign of heart.
11. 50 Jessy Nelson; Paso Robles, CA; Honda CRF250R; 15-8 - Wonder what Nelson think of the Kenny and Adam "Comedy Hour Show" that goes on each day down in Florida?
12. 15 Dean Wilson; Scotland; Kawasaki KX250F; 7-16 - When is Wilson going to start battling for podiums, like I said he would be? I'm waiting and I'm hoping I'll be vindicated for having so much faith in Dean-O.
13. 55 Alex Martin; Millville, MN; Yamaha YZ250F; 14-13 - Terrible starts for Troll and even though Phil Nicoletti didn't go over and talk to Martin all day, I think Nicoletti's black cloud of luck drifted over to the CycleTrader.com Rock River Yamaha team and infected poor Martin. Whenever I go over to the team truck, I see Martin in his underwear. I swear the dude never wears pants around his team truck. He seems to take a long time to get undressed or dressed for some reason.
14. 78 Matthew Lemoine; Baton Rouge, LA; Kawasaki KX250F; 11-17 - Good finish for a good guy that needed some good results.
15. 96 Matthew Bisceglia; Tualatin, OR; Honda CRF250R; 26-11 - The Bisch went down in the first moto, while the second moto was a much better ride.
16. 71 Zachary Bell; Cairo, GA; Honda CRF250R; 17-15 - Where in the heck did Bell's starts go? Anyone check under the couch?
17. 30 Kyle Cunningham; Aledo, TX; Honda CRF250R; 31-12 - Heartbreak of the day here as Cunningham was tenth in the first moto with a lap and a half to go before his bike broke. Then, the crappy gate pick and eating rocks plagued him in the second moto. But, oh, what could have been…
18. 43 Joseph Savatgy; Thomasville, GA; KTM 250 SX-F; 12-22
19. 47 Kyle Peters; Greensboro, NC; Honda CRF250R; 16-18
20. 70 Brady Kiesel; Fort Worth, TX; Honda CRF250R; 18-19- The Southern Maryland club gives away money to a top privateer each year at Budds in honor of the late Kevin Crine, who was a great guy and a very fast privateer for a number of years. Kiesel won it this year, and it's pretty cool that the guys keep Crine's name in the spotlight each year. He was good people…
450 Results
1. 5 Ryan Dungey; Waconia, MN; KTM 450 SX-F FE; 2-1 - An overall win for Dungey AND an appearance on the PulpMX Show. Pretty good week for him!
2. 94 Ken Roczen; Germany; KTM 450 SX-F FE; 1-2
3. 3 Eli Tomac; Cortez, CO; Honda CRF450R; 4-3- Who here thinks Tomac is going to win an overall real soon? That would be me with my hand up.
4. 41 Trey Canard; Edmond, OK; Honda CRF450R; 3-4 - A good day for Canard although I'm sure he's not super pumped on it. He ran up front, passed some guys back, and hung in there.
5. 40 Weston Peick; Wildomar, CA; Suzuki RM-Z450; 6-5 - Great day for Peick, who had a very crappy day last week. We wondered if the fact that he hadn't been to some of these tracks in a number of years was going to hurt him, and after he didn't qualify well again this weekend, those thoughts got louder. Well, screw that theory, because Peick was terrific at Budds Creek. He's a drum and rabbit ears away from being one of the Energizer Bunnies out on the track, as he just keeps going and going and going…
6. 33 Josh Grant; Riverside, CA; Yamaha YZ450F; 9-6 – Man, the Toyota/JGR Yamahas are fast. They seem to always be up there on the starts, and the guys are able to yank dudes up hills. On another note, owner Coy Gibbs showed me the perfect t-shirt for himself this weekend—it was just all black with "Suck it" on the front and back. And if you know Coy, you know that this is his petty much his mantra.
7. 29 Andrew Short; Colorado Springs, CO; KTM 450 SX-F FE; 8-7 - On a track that Short said he didn't like all that much, he scored a typical Andrew Short finish. Short also said that he quit listening to our post-race podcasts because they get him too worked up. That's too bad; we spent twenty minutes last week talking about what a solid and fast guy Short is.
8. 24 Brett Metcalfe; Australia; Kawasaki KX450F; 7-11 - I was wondering what in the heck was going on with Metty in the second moto. I went by the Kawasaki truck afterwards, and they said that he had gotten a rock into his rear caliper and broke his brake line. So, it was all front brakes out there for the 24!
9. 38 Phillip Nicoletti; Bethel, NY; Yamaha YZ450F; 12-8 - Filthy Phil had a decent day, yet he's not going to Millville nor Washougal, as we all know his deal this year. He will be at Unadilla, though. I know, I know; he agreed to this deal and all that, but it doesn't mean I still have to like it. C'mon, Coy, ask Joe for some more money and take Nicoletti to all the races! #freefilthyphil
10. 44 Matthew Goerke; Sun City, CA; KTM 450 SX-F FE; 11-10 - Good day for Matt. What? That's all I got man…
11. 10 Justin Brayton; Fort Dodge, IA; Yamaha YZ450F; 14-9 -Brayton pulled the holeshot in the first moto, but went to the back pretty quickly. Turns out he got a rock in the hand and thought he busted it. After getting it checked out and finding out it's fine, he did better in the second moto.
12. 80 Fredrik Noren; Sweden; Honda CRF450R; 10-16 - I wrote in Racerhead on Friday that I thought the cute little story where the Swedish dude gets a factory Honda ride could actually turn into something where the Noren gets results. He had a great first moto finish after charging through the pack, but crashed in the second moto. Andrew Short told me that Noren was flying, and he was pissed when the #80 flew by him. Noren's been great so far, and I think we'll see some sixths and sevenths from him before this is over.
13. 7 James Stewart Jr.; Haines City, FL; Suzuki RM-Z450; 5-31 - Stewart qualified with a very fast time in a generally slower practice, and I picked him for the win in fantasy moto and on our pre-race pulpcast. HERE. So, clearly, I'm on-board with the #7 here. But never mind his crash and strange ride-off-the-track in the second moto—the first moto he just didn't have the speed that the four guys in front of him had. And to type the words "didn't have the speed" along with "James Stewart" in the same sentence, is weird.
14. 54 Christian Craig; Plymouth, MN; Honda CRF450R; 15-14 - Another good ride from Christian, who is just doing a few races for fun. He told me afterward that he was worked badly after the first moto and wasn't even going to go out for the second moto. And then when you watched him out there, he was literally just cruising around and STILL got fourteenth! Great job by him, and I also saw his dad Mike there.
15. 48 Ben LaMay; Wasilla, AK; Yamaha YZ450F; 18-12 - LaMay got poopy starts all day. And, by the way, this was the fourth time Ben's gotten twelfth in a moto this year.
16. 77 Jimmy Albertson; Shawnee, OK; KTM 450 SX-F; 23-13 - Top Jimmy was fifteenth in the first moto until the last lap, when he crashed and dislocated his shoulder. C'mon, Jimmy!! He was better in the second moto. His score was respectable, since he came in from out of the top twenty and had hurt himself in the first moto.
17. 34 Malcolm Stewart; Haines City, FL; Honda CRF450R; 13-34- On a track that he did well on last year, Mookie did not have a good day at Budds. I'm not sure what happened second moto, but whether it was James, Mookie, or Ronnie, the Stewarts did not have a good day.
18. 95 Evgeny Mikhaylov; Russia; KTM 450 SX-F; 20-15 - KRAOR MEATS! "I will break you…"
19. 761 Cade Clason; Chesterfield, SC; Honda CRF450R; 16-29 - I'm happy for Clason, who tied his best finish of the year in the first moto, and I'm also very happy for Chase Stallo, who loves him some Clason.
20. 977 Paul Coates; Cairo, GA; Yamaha YZ450F; 25-17 – It was the first race for Coates this season, and first points as well. He wins the "Numbers of the Day" award, as it looked like the digits on his bike were straight out of 1988.
Some other news and notes:
- There were a couple of riders showing up on 250 two-strokes to try and race the 450 Class, and I've said it before and will say again … why bother? You may as well take your 250-dollar entry fee and light it on fire. The idea of being a pro motocrosser is to get good finishes for your sponsors and maybe make some money, right? Why would you immediately decide to give yourself a handicap right out of the gate? Would Usain Bolt show up for the 100 meters in flip-flops? I don't get why guys would handicap themselves with a smaller bike. Yeah, yeah, I can hear you people telling me about how the rules are unfair and it should be cc-versus-cc—I get it. But guess what? It's not, and if my aunt had nuts, she would be my uncle. The rules say you have to ride a 250 two-stroke against 450cc four-strokes and why anyone would want to try and qualify, is beyond me.
- The Rockstar Energy Husqvarna Factory Race Team for 2015 is slowly filling up. The plan is to have Jason Anderson on the 450 full-time next year, along with Zach Osborne and Martin Davalos on the 250s, with Davalos jumping to the 450 for the opposite coast. The team wants to have one more 250 guy, and its current rider Joey Savatgy is in the running for the spot along with roughly 746 other riders sending resumes to Bobby Hewitt.
- There were four veteran riders that had rough Budds Creek motos. Chad Reed fell in the first turn of the first moto, fell again later, and pulled off. He predictably got a crappy start in the second moto and pulled off again when he hit a downed rider. Nick Wey was in the process of having a nice second moto until he ate poop down a hill, scoring no points on the day. Ryan Sipes hurt his ankle and DNF'd both motos. And finally, Ivan Tedesco showed up and also went down in the first turn (or soon after) in the first moto. It looked like the heat got to him in the second moto, and one rider told me he was riding on the track at the end of the second moto with NO HELMET ON. I'm serious. All four guys had bad days, and as a guy that sort of came up with these riders (when I was a mechanic), it makes me sad to think of these dudes struggling like they did this past weekend.
- Jason Weigandt and I were talking to Jason Anderson's trainer Jeff Ward after the race, and we were trying to see if Wardy was pumped on Anderson's first moto win. He sort of was, but we were asking about Jason's result in the second moto when Ward mentioned that any finish outside of "one hand" didn't matter. So a sixth or worse doesn't count in seven-time SX and MX champion Jeff Ward's mind. Also, we asked about Anderson being tired that moto, to which Ward replied: "Well, he's still standing, so it can't be that bad," and then he relayed a story to us about having to be wheeled to his rental in a wheelbarrow after a moto because he couldn't stand. Ahhhh, 80s motocross! Catch the fever!!!
- Last week, I asked readers for suggestions for a nickname for Jeremy Martin and got quite a few suggestions. A number of you said his nickname was "Bullfrog" after people shorted his first name to "Jer," and then it became "Jeremiah." We all know the song "Jeremiah has a bullfrog." Eventually Martin's nickname just became Bullfrog. Hmmm, I'm not so sure I like that, but it's better than "Jumpin," which was my suggestion.
Thanks for reading this stuff, send me an email to matthes@racerxonline.com and we can chat about stuff.