Following a very busy first month of the 2014 Lucas Oil Pro Motocross Championship, I packed up the family truckster and headed to the beach for a week of sunburns, bicycle rides, mini-golf, whiffle ball, and general relaxation. In fact, I wasn't even planning on writing much in Racerhead today since it's an off-weekend and there's little going on in motocross....
Unfortunately, the internet now reaches all the way to the beach. When I first started hearing rumors of a failed drug test, I was bummed—motocross is hitting such a high note right now, with huge crowds and great racing at each of the first four rounds. The last thing we need right now is a PED scandal involving one of the top riders.
And then I heard it was James Stewart and my heart sank. He's one of the biggest stars our sport has ever known, and he was coming off an epic win at High Point, his first there since 2008. James could not have been more enthusiastic after the race, seeming like he'd turned back the clock. Now this. If it turned out that he was doping or using some illegal performance enhancing drugs, which usually means a two-year ban, I was afraid his professional career might be over. The internet itself was certainly about to end, burned to ashes in the fiery speculation that built from a whisper to a scream, and then a full-on explosion today, which may forever be known as Press Release Day.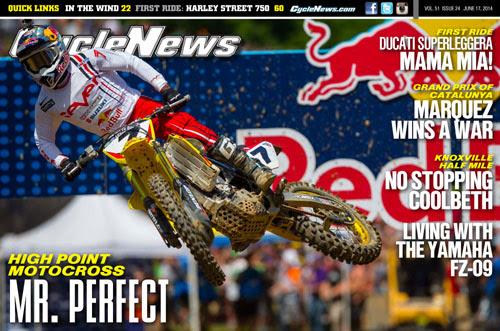 But then things starting coming into focus … while also blurring the issue. For instance, the test in question apparently showed trace amounts of amphetamine, not PEDs, similar to something one might find in someone using Adderall or Ritalin, two commonly prescribed drugs to treat people for a wide range of symptoms, including attention deficit disorder and narcolepsy. Stewart and his team made it clear in the first press release that "the medication in question is and has been prescribed to Stewart by his physician to treat a long-term condition."
Next came the news that the test had been conducted back on April 12, at a late round of Monster Energy AMA Supercross, an FIM World Championship. Now, I don't usually add that last line "an FIM World Championship" because it's kind of long and also a confusing reminder of the late, great supercross wars of the early 2000s, when the AMA and what is now Feld Motor Sports fought for control of the single biggest championship in dirt bike racing. The FIM came into the picture as a co-sanctioning body, and they have remained there since. They brought with them different rules on things like unleaded fuel and sound levels, as well as a drug-testing program with the World Anti-Doping Agency.
Motocross in America also underwent some changes in recent years. For instance, the AMA sold AMA Pro Racing off to Daytona Motorsports Group, who in turn allowed MX Sports Pro Racing, which is run by myself and my older sister Carrie, to take over the rights to the series. But supercross was not part of the deal when the AMA sold AMA Pro Racing, and as a result, SX has an AMA (Ohio) sanction, as well as an FIM sanction, and MX is sanctioned by AMA Pro Racing (Daytona). Other changes included moving the nationals to Saturdays and implementing a new drug-testing program with USADA, the United States Anti-Doping Agency. They came to the third round of the series, Thunder Valley, and took blood and urine samples from several riders, including Stewart. Those test results have not been returned; we expect them any day now.
If all this seems confusing (if not vaguely familiar with Ricky Carmichael's notorious fuel test from a decade ago), it's because it is. In this case, we have three different sanction bodies overlooking two different series, albeit with the same general rules and regulations. You also have two different anti-doping agencies with different jurisdictions and protocol, not to mention two different types of testing—SX testing is urine only, MX testing is both blood and urine.
Regardless, the FIM issued an announcement this morning that James Stewart is "provisionally suspended with effect from June 20 until further notice." Which takes us to this: The FIM-sanctioned series is over. It ended the first weekend in May. It's now late June and the AMA Pro Racing-sanctioned series is at full steam. Stewart is ranked third, 20 points behind Red Bull KTM's Ken Roczen and Ryan Dungey. Stewart's team announced that he is "willingly communicating with WADA and taking all appropriate steps to resolve this matter and plans to be at the starting gate at the Tennessee National in Blountville, TN on June 28."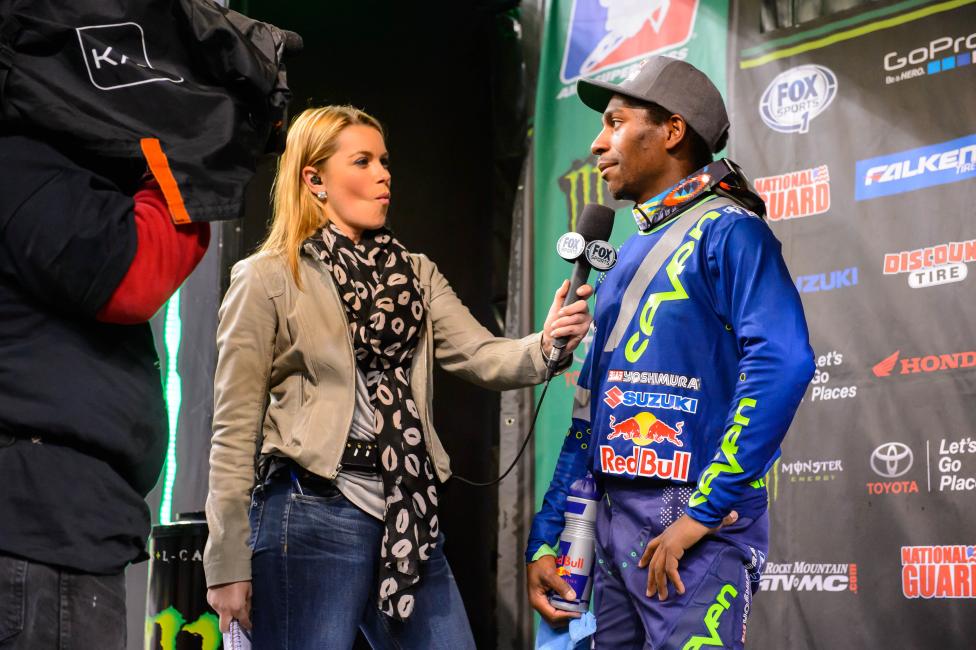 Do you see where this appears to be headed? An athlete failed a drug test for a prohibited substance that he says he had a prescription for, but because the results took more than two months to come out, the series in question is now over and he's well into a different series altogether, one with a different sanctioning body and a different ant-doping agency. They say he's suspended; he says he will be at Muddy Creek.
At this point, I don't really know how this is going to turn out. The AMA and the FIM work closely together, the FIM and AMA Pro Racing not so much, so this is all new ground. What I do know is that nobody wins here. It's bad for SX and MX, and of course for James Stewart and his sponsors. And our sport in general doesn't need the headache of a prolonged scandal of this magnitude. Had the failed test happened in, say, January rather than April, it would likely be behind everyone, no matter which way it went. But this is one sport with two championship series that run back to back, and that complicates this matter much more than, say, a failed test for a football player who has to sit out four games for, say, Adderall or Ritalin.
It's all enough to make a person just want to go away on vacation. Hey, speaking of vacation….
The Other Guys (Weege)
Eric Johnson sent us an interview today with Arnaud Tonus regarding his move from the GPs to the US next year—yes, another victim of the GPs' under-age-23 rule in MX2. Tonus could have raced a 450 in Europe or a 250 here, so he started shopping. That's also why Red Bull KTM has Australia's Dean Ferris over here. Oh, you don't remember him? Dean was following orders, getting through supercross healthy before making a run in the Nationals. Then he went home to Australia and got hurt while riding motocross. I saw Dean a week ago at the KTM dealer show and he's back to riding but thinks it could a month before his wrist is strong enough to race.
So we still really don't know what Ferris will bring to the table here, and we don't know about Tonus either.
Overall, there's a risk involved with any of these guys because it's so hard to gauge the level of MX2. Everyone knows Jeffrey Herlings is a world-class talent and is bad fast. So, how good is being next-best? How to rate the likes of Ferris and Tonus? And they'll be expected to produce in supercross eventually—can they do that? Ferris and Tonus would have had 450 deals in Europe, but they clearly wanted to stay on 250s for a bit, and the 23-year-old rule pushed them out. It's led to quite a bit of scrambling on both sides of the pond. I hope it eventually works out for both, because you can never have too much depth.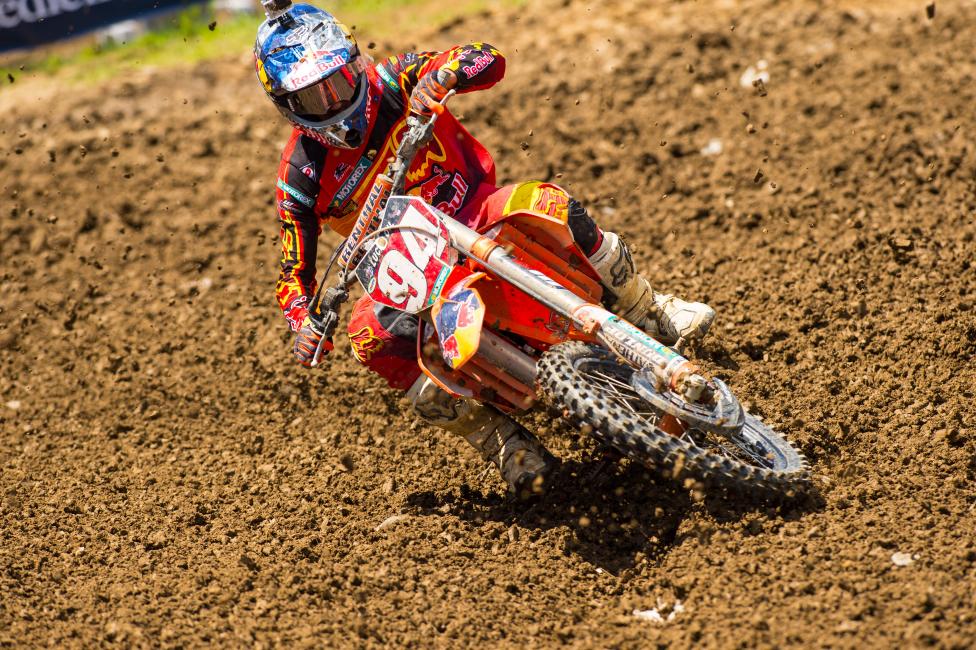 New bench-racing question: Honda Muscle Milk's Trey Canard is on the gas now. Clearly he and the team have made some strides since the opener. Where would Justin Barcia be if he were still racing? And now that Blake Baggett and Monster Energy Pro Circuit Kawasaki have found form, where would you expect the likes of Adam Cianciarulo or Dean Wilson to stand?
Honda has a temp spot to fill with Justin Barcia out for the summer due to ankle surgery. Yesterday: eureka! The perfect fill-in popped into my head. Filthy Fill! Yes, Phil Nicoletti, the designated fill-in for JGR. He's actually available. Phil was only supposed to get the first three nationals for JGR this summer, but he rode well and the team upped him to six. Providing Justin Brayton returns (and he will at Muddy Creek) Nicoletti will be out of a ride after round six. JGR has said all along that Phil is free to go to another team if he finds another deal he likes—and then I talked to team manager Jeremy Albrecht this week and he indicated they'd even let Phil go early if that helped. The team has been operating under a "what's best for Phil" mentality this year. He's certainly fast enough to put the bike in the top ten, and it's hard to find available talent like that. Honda, if you haven't made a move, Phil is much more available than he looks.
The Other Races (Weege)
The Amsoil GNCC Series has one more race before the summer break, and it's a good one to go out on. The Amsoil Snowshoe GNCC takes place at a huge ski resort, which makes for a great place to hang out but a really tough track to ride. Between the crazy hills, rocks, roots, and mud, this is a true test—probably as close to the old Blackwater 100 as any GNCC gets today. Right now the GNCCs have become a showcase for FMF KTM's Kailub Russell. His teammate Charlie Mullins had been his toughest competitor, but now he's out with a broken wrist (suffered while riding some motocross with Justin Brayton!) and Russell is in control.
Honestly, KR is just ridiculous fast, strong, and confident right now, so he's hard to beat no matter who's racing. If you want to bet on a dark horse, Rocky Mountain ATV/MC Yamaha's Josh Strang is your guy. It's been a long, steady climb back to the top for Strang, who won the GNCC title in '10, broke his leg at the end of '11, had to scramble for a ride when the FMF/Suzuki off-road team folded, tried racing WORCS out west, then came back to the GNCCs with his own team last year. He's getting closer to his old form and is probably next-best in the series behind KR right now. Could this weekend's gnarly track get Strang into the center of the podium? You can watch it live on Sunday via www.racertv.com.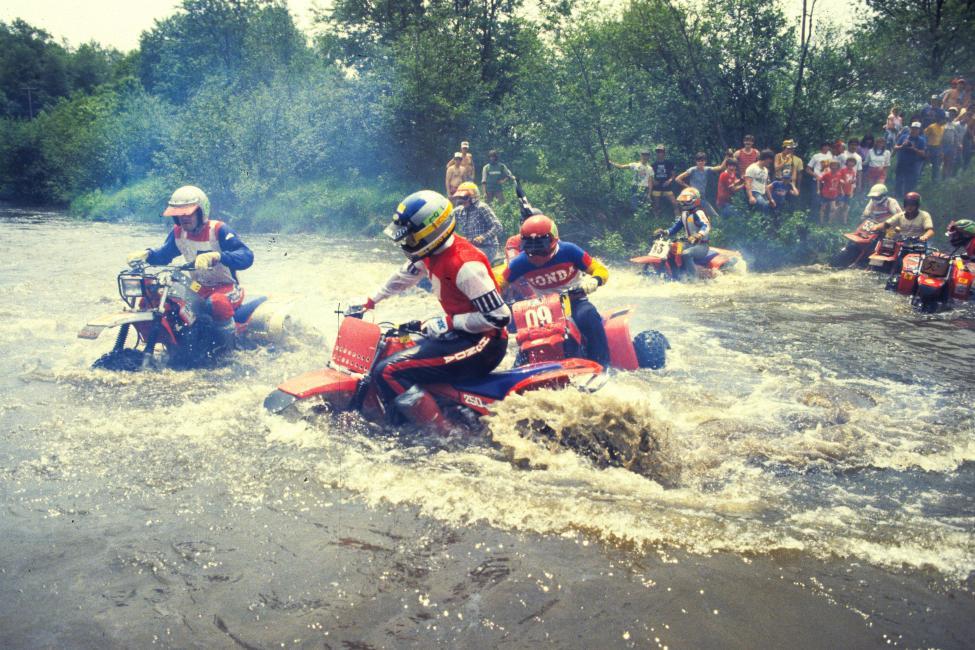 Also, the GEICO Endurocross Series keeps on rolling with an event this weekend in Sacramento. Taddy Blazusiak's championship is under threat again, this time from Beta (yes, Beta!) rider Cody Webb. Webb won the series opener in Las Vegas handily but Taddy bounced back to win X Games gold a few weeks ago in Austin. I've spoken to Taddy a lot about just how serious this championship has become and how focused and prepared the riders are. He told me he's often averaging a heart rate of190 bpm during these races. These boys definitely aren't trail riding.
HEAR ANYTHING NEW? (Matthes)
Obviously, the big news is our first official positive test for a banned stimulant (believed to be Adderall) and the resulting press releases going out from Yoshimura Suzuki and the FIM. And I'm sure we'll get a few more before this is all over. I honestly don't know how this all works between the AMA, the FIM, WADA, USADA, AMA Pro Racing, MX Sports, and CNN (okay, CNN really don't have anything to do with this but I wanted to put another organization into the mix). I imagine there's a real tricky dance going on behind the scenes right now and I wouldn't want to touch it right now. As Axl Rose once sang, "Just a little patience." Soon we'll know more. My early thinking is that this all gets worked out, Stewart gets his proper paperwork to the proper people, perhaps pays a fine, and we all go on living happily ever after. I shudder to think of the other side.
As I type this I'm sitting in Denver on a layover heading up to round four of the Rockstar Canadian National series held in Regina, Saskatchewan. The Canadian series has been pretty interesting with the insertion of Mike Alessi and the SmartTop MotoConcepts team. So far we've seen Alessi get docked five spots for cutting the track after he won a moto and also him hitting the gate (why does he try to guess the drop? HE'S THE GREATEST STARTER OF ALL TIME. HE DOES NOT NEED TO DO THIS!!!!) and coming from dead last to grab the win. By all accounts Mike and Colton Facciotti have been on another level from the rest of the 450MX class and I figured I would go check this out for myself. Josh Hill has been a nice surprise up there making the podium in two out of the three races.
In 250MX, Alessi's teammate Vince Friese has been pretty good, winning three out of the six motos so far while suffering a mechanical in another one that's left him behind KTM rider Kaven Benoit in points after three races. Minnesota rider Jesse Wentland has been also riding well as has defending champion Austin Politelli of the Leading Edge Kawasaki team.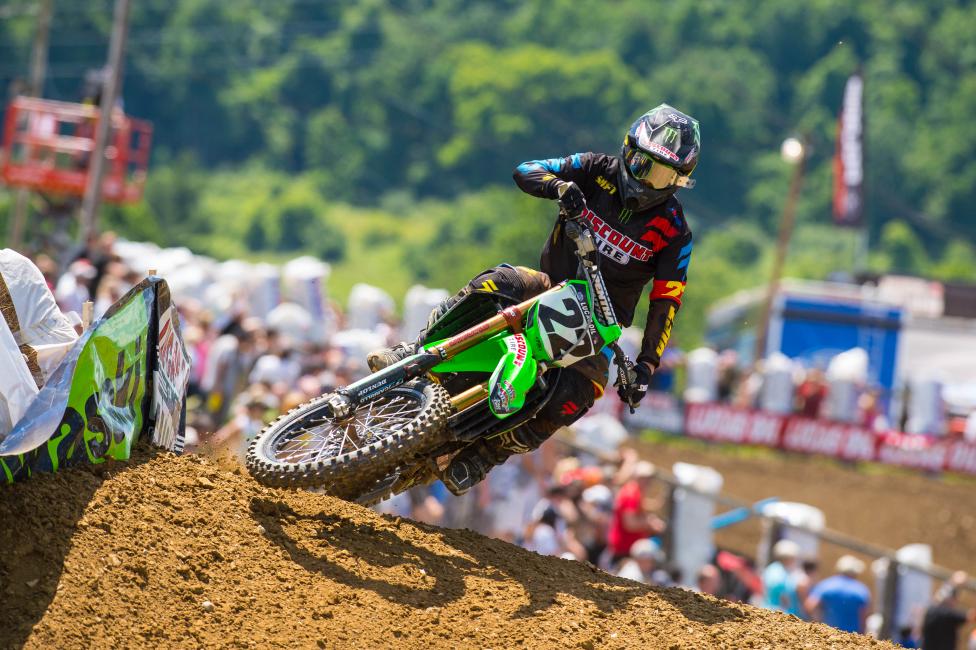 Weather is calling for 50 percent chance of rain, and this track is not going to be fun if the rains do come. I know it's raining up there today, so we could see some shake-ups in the points if it gets wet tomorrow. Stay tuned to Racer X on Twitter and Instagram and we'll be sending some stuff through. Meanwhile I'll be sure to report on what time the Canadians are going to string the Jason Thomas dummy up and light it on fire for his Twitter battles with the Maple Leaf fans.
Now some links!
Jason Thomas took a crack at what he thinks the 250 class is going to look like next year here.
Paul Buckley is one of the sport's top photographers and sent through a couple of his retro Johnny O'Mara photos and wrote a little story for MX Captured here.
Former factory superstar David Vuillemin answered some of the key questions from High Point here.
THE NUMBER: 40 (Andras Hegyi)
Jeffrey Herlings is the youngest rider to get forty Grand Prix wins in world championship history. The Dutch motocrosser is the fifth rider to reach that mark, joining Stefan Everts, Antonio Cairoli, Joel Smets, and Joel Robert. But Jeffrey's much younger than these legends. Herlings will turn 20 years old this September and he's running only his fifth season in world championship.
WATCH IT:
/2014/06/18/racer-x-films-blake-baggett-in-the-spotlight
/2014/06/17/racer-x-films-remastered-high-point
Random Notes:
Funny reader comment from "Rooster5" in response to Ping saying "you might as well add fifty points to Martin's total right now for the Millville round" in this weeks' Ask Ping: "I'm truly happy for Martin and everyone involved, but all the talk about Martin crushing the field at Millville has me feeling like Jeremy will be wishing that he was a member of Smith family from rural Idaho."
KLIM Technical Riding Gear has released their new lifestyle catalog. Check it out here.
Vurb Ride Day for Austin Mincey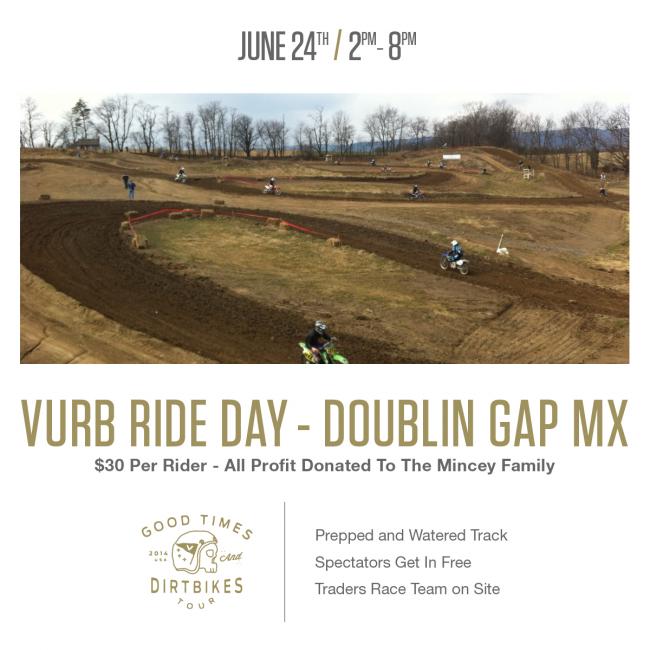 Headline of the Week
Ah yes, the El Cajon Zone, once the fastest town in the nation (Rick Johnson, Broc Glover, and Ron Lechien were residents, among others) is still pretty fast. We spotted this Tweet on the Lowe's Racing (NASCAR) Twitter page:
The Mayor of El Cajon proclaims today to be @JimmieJohnson Day in the State of California! JJ gets a key to the city!
Also, a PR from Tucker Hibbert today explained he will not be able to race this weekend's Canadian National due to his motor home breaking down. This has to be the first PR explaining a motor-home breaking down as the cause of a missed race—but in Tucker's defense, his has a garage on the back and is essentially his pit setup. He'll be back up to Canada soon and also has plans to race the RedBud National.
Okay, that's all for this week. Thanks for reading Racerhead. See you at the races.