Glen Helen Raceway
San Bernardino

,

CA
Glen Helen
Lucas Oil AMA Pro Motocross Championship
More often than not, the opening round of the Lucas Oil Pro Motocross Championship creates more questions than it answers, but today, there were several riders who made their intentions for the summer resoundingly clear.
In the 450 Class, those riders were the Red Bull KTM duo of Ryan Dungey and Ken Roczen, but before we talk about them we need to talk about JGR Toyota Yamaha's Josh Grant, who hands down put in his best ride in years to win the season's first moto in front of his hometown fans. He did it in style too, taking the holeshot and leading every single lap, despite very heavy pressure from Ken Roczen at the closing stages of the race. The fans were going nuts after that one! Unfortunately his second moto wasn't quite as spectacular, as a first lap crash and then another later put him way back, but he kept charging hard and ended fifteenth to salvage points and fifth overall. Let's hope it's a sign of things to come from Grant.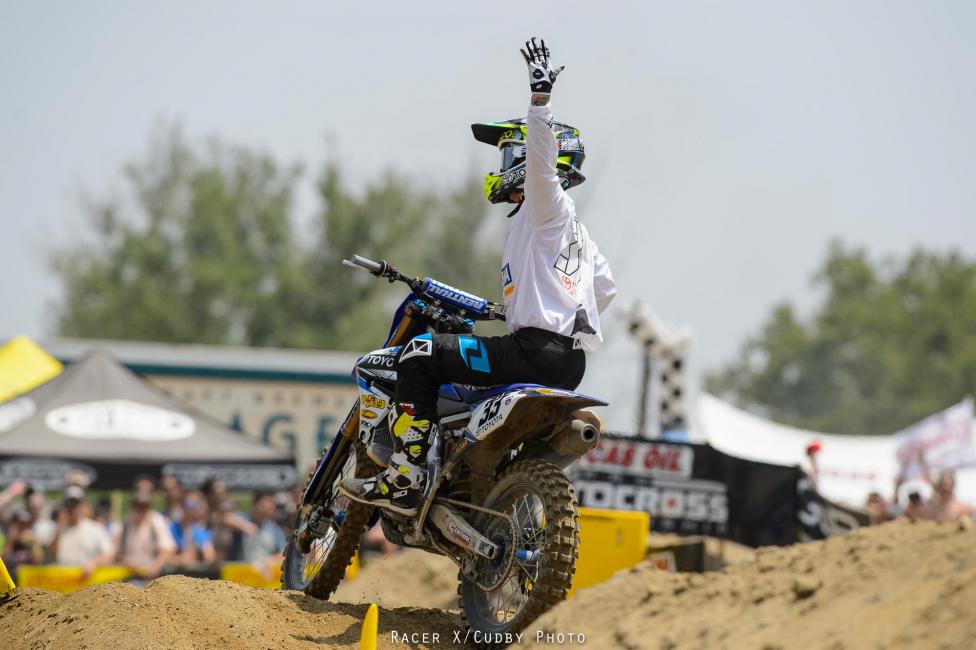 Grant's teammate Phil Nicoletti had his moments, too, as he started right behind Grant in moto one to make it a Toyota/JGR 1-2 early on. A few laps in Nicoletti started to get severe stomach cramps and slowed his pace, but he rode a wide bike to help let his teammate get away. He finished 11th.
Bummer of a day for Ken Roczen, who went 2-2 for second overall. Wait, in what world is 2-2 for second overall in your first 450MX race a bummer? The world in which you get second in each moto by inches, which is exactly what happened to Roczen. Yes both times! In the first moto he reeled in Grant and was applying vice-like pressure in the final laps. On the second half of the final lap he was able to try a few moves on Grant but nothing stuck. He tried a sneaky inside move right before the finish line, but Grant reacted by pinning it and flat-landing the finish line jump to win by four tenths of a second.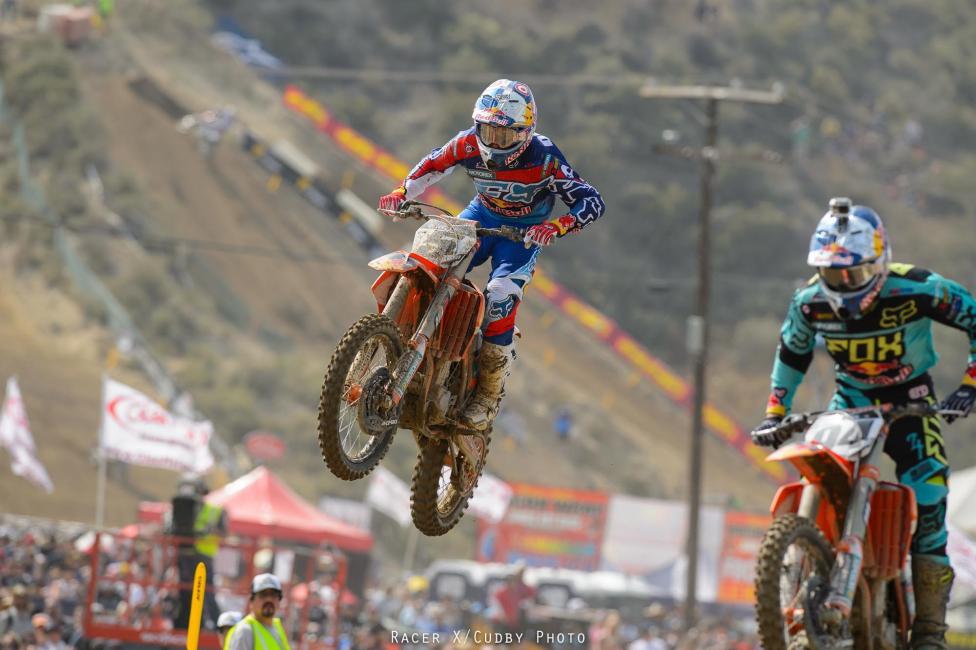 Roczen then led every single lap of the second moto, except the most important lap of all. He and Dungey put on a great battle, but it looked as though Roczen would escape with the win after Dungey got hung up with a lapper just before the white flag. But Dungey caught back up, and near the end of the final lap he did what Roczen wasn't able to do to Grant; pass him and take the win. The two teammates came close as they battled right to the finish, but Dungey made a clean, yet aggressive pass to steal the moto win and the overall with 3-1 scores.
How about Trey Canard? He rode very well for third overall. In moto one he was fourth when he had to slow for a lapper and James Stewart crashed into the back of him. The Team Honda Muscle Milk rider had a hard time getting his bike started again and lost a ton of spots. But he didn't give up, and rallied back to seventh and took third in the second moto for third overall. He wasn't as fast as the KTM duo in the moto, but he was faster than everyone else.
Canard's teammate Justin Barcia had fourth all but set in the first 450 moto, until his chain broke. He came back for fourth in moto two.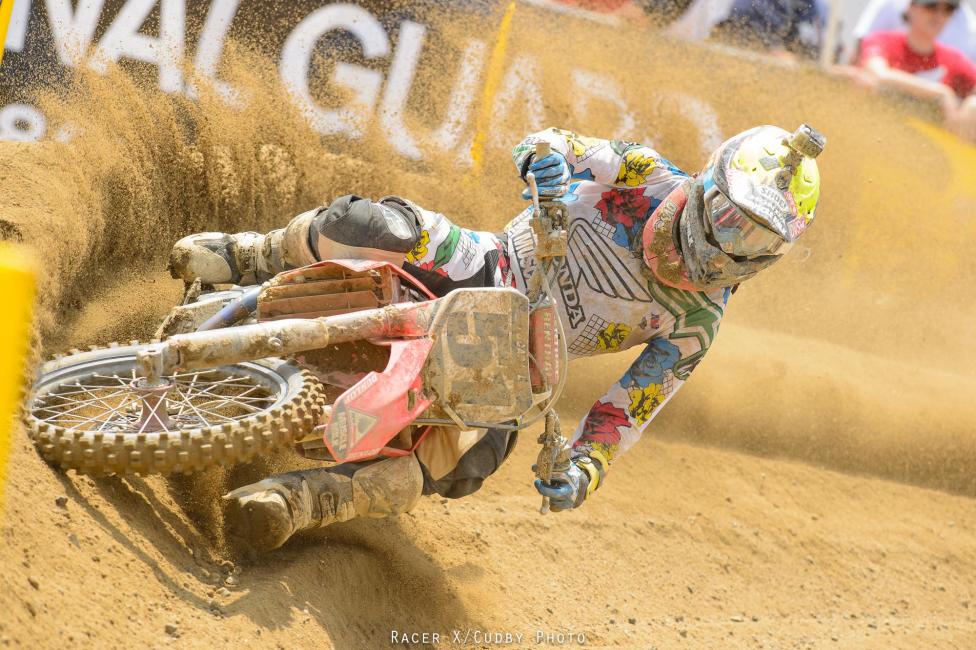 Worst luck in 450s? BTOSports.com KTM's Andrew Short, who had bike problems while running seventh in moto one, then crashed back to 19th in moto two while running in a similar position.
Raise your hand if you picked Brett Metcalfe to beat James Stewart in his first race aboard the factory Monster Energy Kawasaki. Nobody? Okay. Not that Metcalfe isn't capable of getting great finishes like his 4-5 for fourth overall, but he hasn't had a whole lot of time on that bike, and it's been several years since he raced a full season here America. Props to the Australian who skipped the Canadian National series and earned this fantastic result in America.
As for Stewart, he was okay. Not terrible, not spectacular. And he had that tangle with Canard. Stewart said on press day that it's a long season and he just wants to get through the opener, and he can at least say he's done that.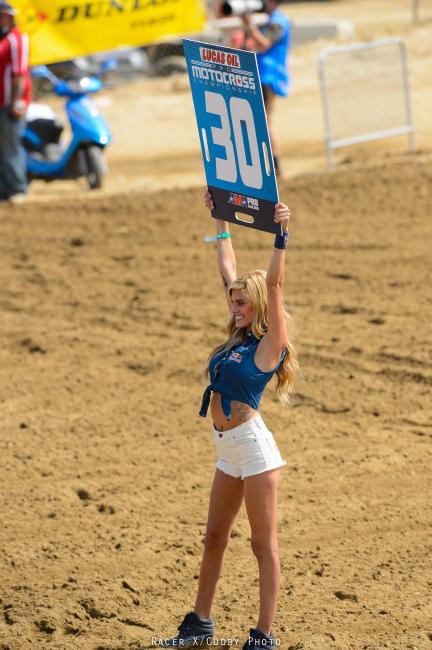 Weston Peick finished ninth overall, which is good, but he rode at a level that would normally garner a better overall result. He took fifth in the first moto and was working through the pack after a bad start in the second moto when he got together with Jake Weimer and went down. Better equipment doesn't always equal better results, but Peick's fifth in the first moto indicates that sometimes it indeed does. It's going to be fun to see what he can do with factory equipment and resources for the rest of the season.
In 250s, Jeremy Martin absolutely, positively dominated. Like, crazy dominated. It wasn't even close in either moto. He just shot into the lead THREE times because the second moto had a red flag restart, so he just went back to the gate, grabbed the lead again and opened up a 20-second gap. Why so good? J-Mart says his Yamalube/Star Racing Yamaha YZ250F is way faster than last year; he says the chassis flexes more and is more comfortable to ride; he rode the California Classic race at Glen Helen the weekend before the New Jersey SX and got his bike setup dialed; he went back to Ricky Carmichael's farm down in Florida to put in some hard training. Did we mention that fellow Minnesota native Ryan Dungey trains at RC's? Did went mention Dungey won the overall in the 450s?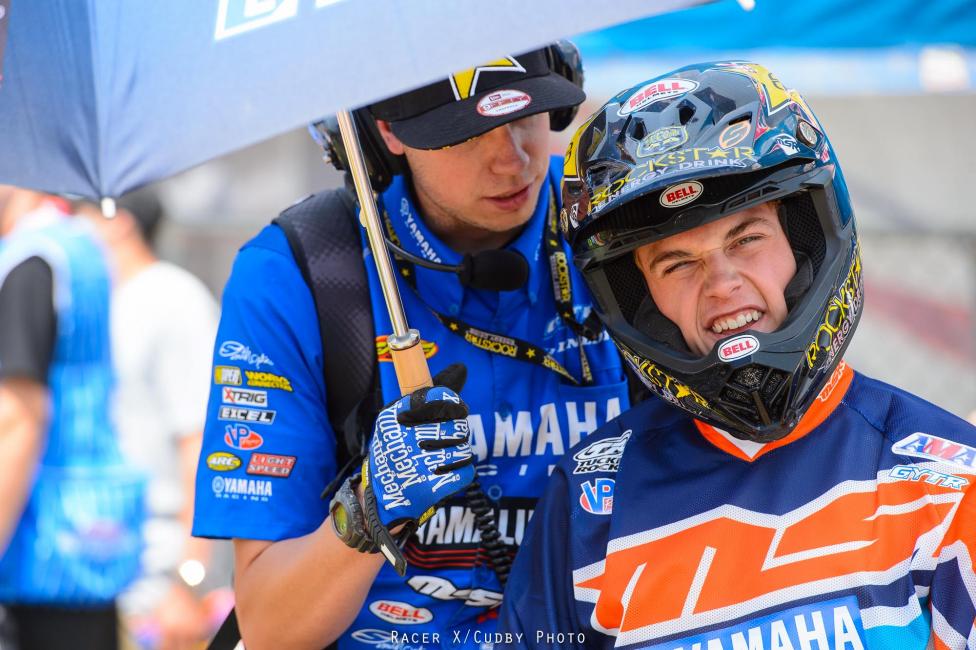 And Martin's teammate Cooper Webb went 2-2 for second overall! Yamaha went from not having won a 250F National since 2004 to going 1-2 in both motos!
Only bad Yamaha 250 news: Anthony Rodriguez was running well in the first moto, but a crash ruined his chances of posting a good result. A crash on the start of the second 250 Moto, which brought out the red flag, resulted in a concussion for the Yamalube Star Racing Yamaha rookie.
Zach Bell probably didn't come into Glen Helen hoping for to go 16-16 for twentieth overall, but the good news is that he made it through both motos healthy, and he even holeshot the first moto led briefly. If he hadn't stalled in the first moto, this result would be better too.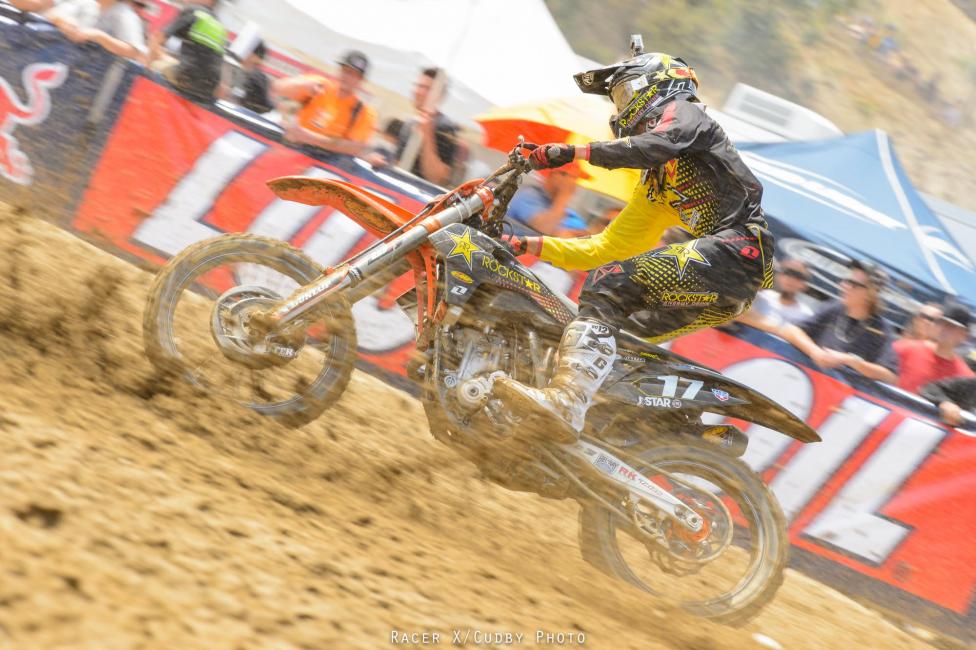 Good news and bad news for Rockstar Energy Racing KTM's Jason Anderson. He charged up to third in moto one, but the bad news is that his motor let go late in moto two when he was running fourth. He had third overall in the bag if it would have held together.
The absolute bummer of the day award goes to Monster Energy Pro Circuit Kawasaki's Dean Wilson. He finished sixth in the first moto and was running fifth late in moto two when he caught a bump wrong and went over the bars going down one of the steepest downhills on the entire track. His bike bounced flipped end over end spectularly, and Wilson lay motionless for several minutes. When they were finally able to help him off the track, it looked like he had some sort of leg/knee/foot injury. Later we found out it was a severe cut on the back of his knee. Supposedly no structural damage to the knee, but it will require surgery to fix.
It wasn't a good day all around for Pro Circuit. Blake Baggett snagged third in the second moto, but otherwise you had bad starts and crashes all around with Baggett, Wilson and Justin Hill. The team was holding a pretty serious-looking meeting after the race.
After setting the fastest times in both qualifying sessions, Valli Yamaha's Christophe Pourcel went 7-5 for fifth overall. Afterward he wasn't ecstatic, but he was pleased. He said it was his goal to get through the first round healthy with a decent result, so props to him for accomplishing that goal in his first race in quite a while.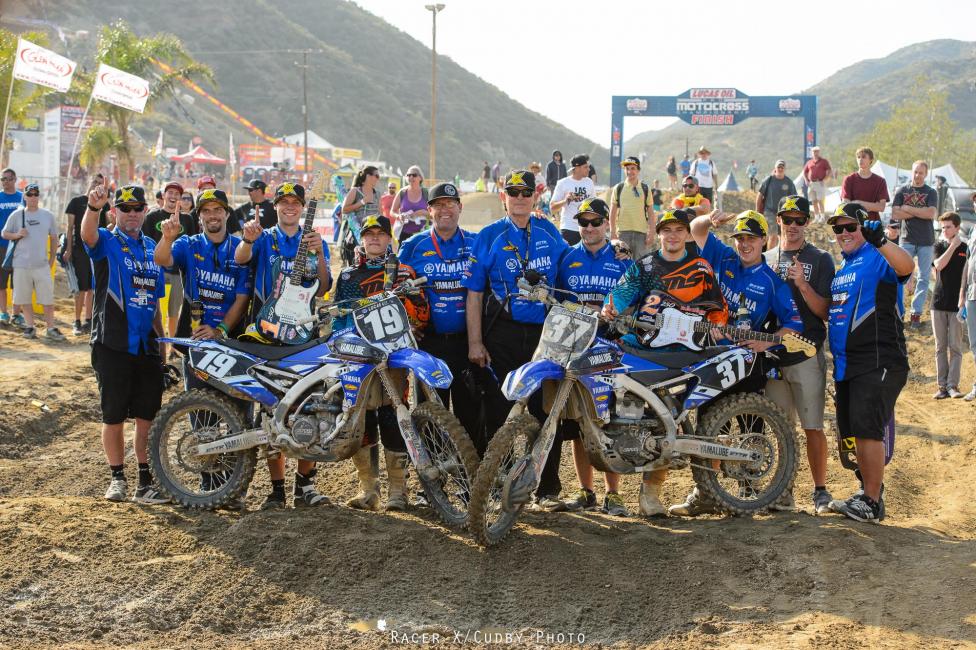 For full results and point standings, go here.