Welcome to Racerhead and halftime in America. Well, halftime in the sense that we are now in that blessed fortnight of two straight weekends off before racing begins again. Monster Energy Supercross is over and Lucas Oil Pro Motocross is soon to be upon us. And things will be much different this summer, as we will crown two new champions in the 250 and 450 Classes.
In case you've been camping way, way out of any cell or internet service, you know the saga of what happened to Monster Energy Kawasaki's Ryan Villopoto. After claiming his fourth straight SX crown, RV made the announcement we'd all been waiting for that he would park his #1 KX450F in order to get some much-needed work done on his knee. Hopefully it's something he can get over easily and he'll return ready to go after an unprecedented fifth straight SX title in 2015. That means his #1 plate outdoors is up for grabs, as is Eli Tomac's 250 National Championship. Eli has already moved up to the 450 full-time (though he is a question mark for Glen Helen after cracking his collarbone last week). It opens the door to a new champion in that class, or maybe the return of an old one like Blake Baggett or Dean Wilson. (And for that matter the 450 title could also be going back to familiar hands like those of Ryan Dungey, James Stewart, or Chad Reed.)
Of course Villopoto being out puts a bit of a damper on things, but this is motocross, and no one should ever begrudge a rider who takes time off to heal up or extend his career—and RV has certainly earned the right to make those decision based on his dominant success these past four years. Even now, even though he hasn't raced in the MXoN the past two years, I believe he is the best all-around rider in the world. While Villopoto may not be quite as fast as Tony Cairoli or Jeffrey Herlings in the sand, he would be a hell of a lot closer to them at Valkenswaard than they would be to him at Anaheim!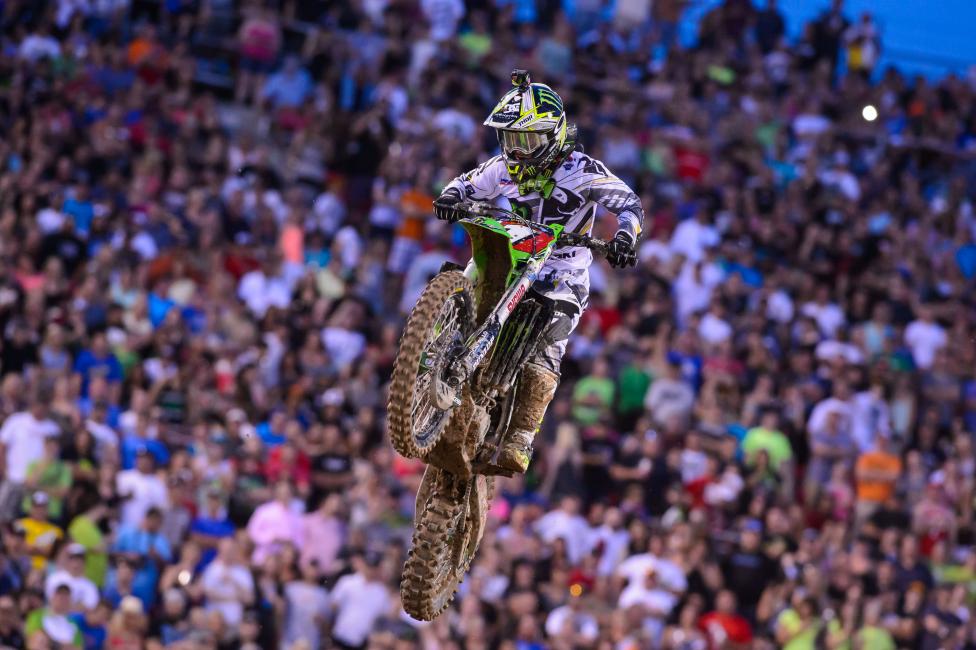 In motocross, when one program goes off-air, another comes back on. In this case we have the return of Discount Tire Kawasaki's Chad Reed to action, and the return of highly respected veteran Brett Metcalfe to the AMA circuit, as the Australia-born Canadian champ gets an excellent gig as the replacement for the U.S. champ at Monster Energy Kawasaki. Baggett and Darryn Durham are both coming back for Pro Circuit (though Baggett was only off the last couple of rounds of SX). And then there's the most fascinating comeback of all, that of Christophe Pourcel, the two-time 250 SX and one-time MX2 World Champion. He came close to winning the 250 outdoor title twice, only to be thwarted by Dungey (2009) and then Trey Canard (2010). Now he's teamed with another man who's been missing for some time, former Honda team manager Erik Kehoe, on the Valli Yamaha team. Our Aaron Hansel caught up with Kehoe this week for this Between the Motos feature.
Next Friday, May 16, we will be participating in the Racer X Ride Day at Glen Helen Raceway, site of the opening round. The day will see advertisers and industry friends out on the track in the morning, followed by an exclusive pro rider session that afternoon. We are working with Glen Helen to turn the track over to AMA Pro licensed riders entered in the Red Bull Glen Helen National for three hours, for a full shakedown of the track that is being created by Jody Weisel and Karl Scanlon for the May 24 race. The idea is to give all the pros a place to ride and test and just stretch out on a national caliber track the week before the Lucas Oil Pro Motocross Championship starts.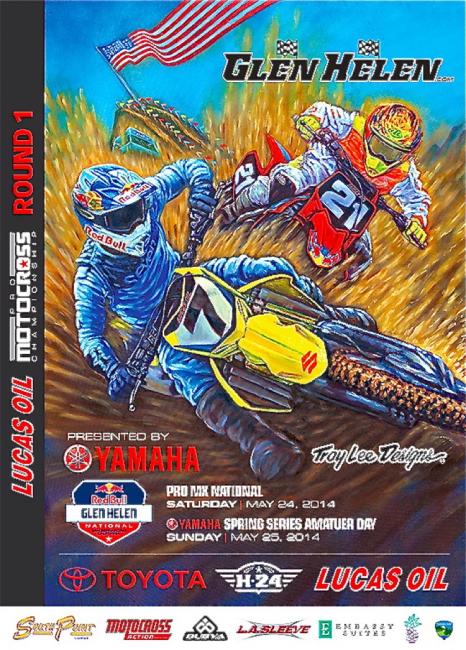 In fact, Glen Helen cleared the track yesterday for an hour to give pro riders a chance to check out the track as it was still coming together, and to allow Weisel and Scanlon a chance to see how it all looked. Years ago Jody began working with Karl on creating the GH national track after being disappointed in what he saw at one of their earlier nationals. Since then he's jumped into the challenge of putting together many different designs and obstacles that incorporate Glen Helen's epic hills with the sandy bottom portion of the track. Jody and I have had our differences of opinion over the years, but the passion he has for Glen Helen and the pride he has in his track design are unquestioned. I can't wait to get out there next week and see what he came up with for the first national at Glen Helen since 2009, and then watch the pros get out there and get down to business on it. Jody told me this afternoon that the fastest times yesterday were just over 2:15, and he anticipates the track will get faster (and no doubt rougher) as it breaks in. I also spoke to Ryan Dungey, and he said he enjoyed the track yesterday, it flowed well, and he was excited to race on it once it's all finished.
So let's dive into the rest of Racerhead here, starting with some of those men like Reed and Durham coming back from injury.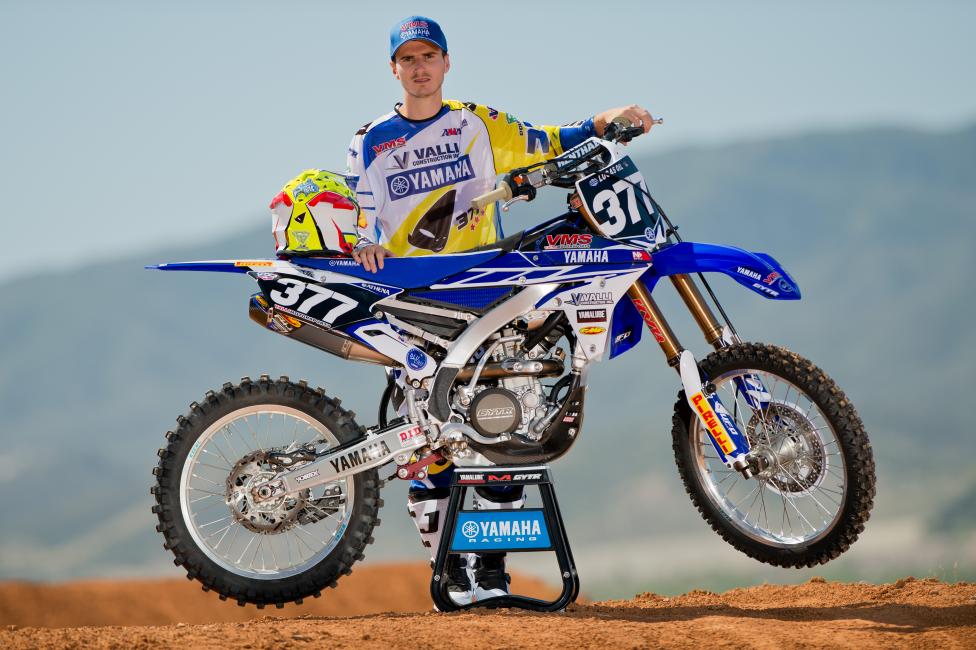 PRO PERSPECTIVE – GETTING HEALTHY (David Pingree and Jason Thomas)
Ping: The goal is always to roll to the line at the first round 100 percent ready to go. In motocross, that doesn't always happen. Chad Reed posted a video of him riding this week and commented about how bad his hands were going to be. Certainly Chad will be digging himself out of a hole right from the start as the Lucas Oil Pro Motocross Championship launches in fifteen days. Even if his cardiovascular fitness is okay, there is no replacing seat time on the bike to build strength in your hands, arms, legs, back, and pretty much everything else. Not to mention his shoulder will still be somewhat weak and more susceptible to injury if he falls on it.
Reed isn't the only one showing up with deficits. Jason Anderson is fresh off of cracked/bruised/separated ribs. Rockstar Energy KTM's Davi Millsaps will be testing his new knee (and racing his new KTM) for the first time in one full year of being on the sidelines. GEICO Honda's Zach Bell will be shaking out the cobwebs after his shoulder surgery. Monster Energy/Pro Circuit Kawasaki's Darryn Durham will make his 2015 debut after yet another injury. And former 250 Motocross Champion Blake Baggett is coming off an eye injury.
The list goes on and on. Some injuries are worse than others and will affect results more than others. But for all these riders, the opening weeks will be spent feeling out these injuries, working through them, and trying to build confidence, momentum, and fitness as the series goes on. Welcome to professional motocross racing.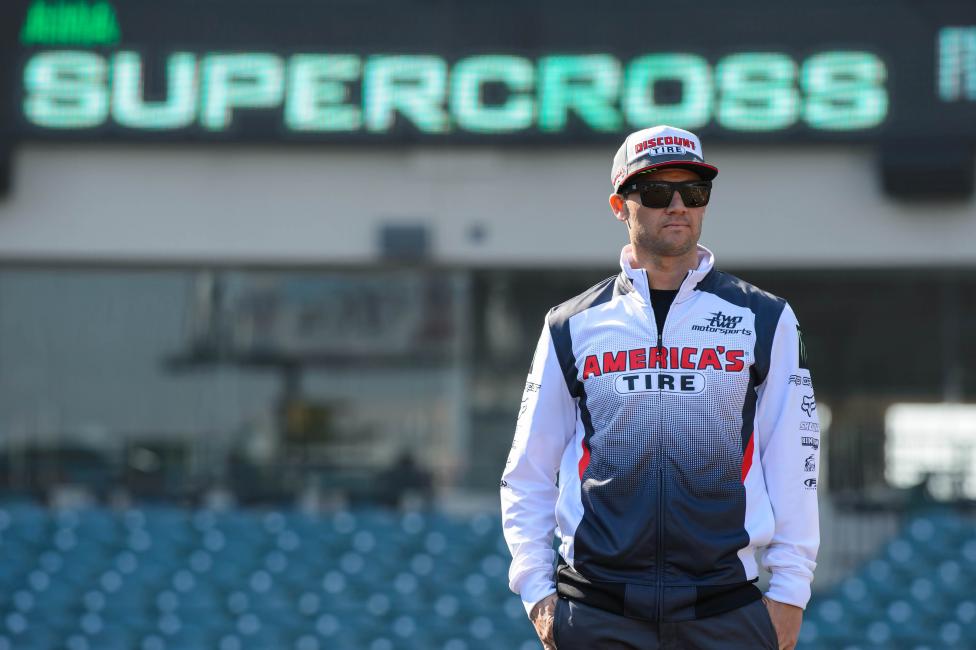 JT: As Ping said, coming into a series as grueling and hard-fought as the Lucas Oil Pro Motocross Championship at less than 100 percent is a tough row to hoe. The small silver lining is that everyone will be feeling it out in one way or another, but the pace and intensity increases quickly. The cobwebs from supercross will shake out and the level will skyrocket. There are a ton of riders who will face this daunting task on May 24 as Ping listed. The best advice I can give is to focus on the starts like never before. The difference between a good start and a bad start is big when all systems are go but monumental when dealing with previous injuries or setbacks. Staying out of the chaos on those early laps and latching onto the leaders can make your day much smoother. Starting up front also helps find the pace that healthier riders have built up. So for Reed, Millsaps, Durham, and others, here's a tip: Practice those starts like your dad's name is Tony! It could make your Glen Helen a lot better than it would be starting in the back.
THE NUMBER: 6 years, 9 months, 12 days (DC)
Here's one for my fellow-bench racers who love the little things in motocross—stats, trivia, streaks, etc. When the gate drops on the Red Bull Glen Helen National, it will mark the first time since August 12, 2007 that we have seen someone racing with #4 on an outdoor national track. That was the day Ricky Carmichael rode out with an easy 1-1 win, marking his 102nd career national win. He was wearing his trademark #4 even though he was the defending champion—for the seventh year in a row in the 450 Class!
Now #4 belongs to Blake Baggett, who chose it as his permanent digit after winning the 2012 Lucas Oil 250 Pro Motocross Championship. Baggett wore #1 last summer, and while we've seen BB wear #4 in supercross, we have not seen him don it outdoors yet.
Here's the thing: Knowing how fast Blake is—especially at his home track of Glen Helen—don't be surprised to see #4 finish its first outdoor national in six years, nine months, and twelve days the same way it did in 2007.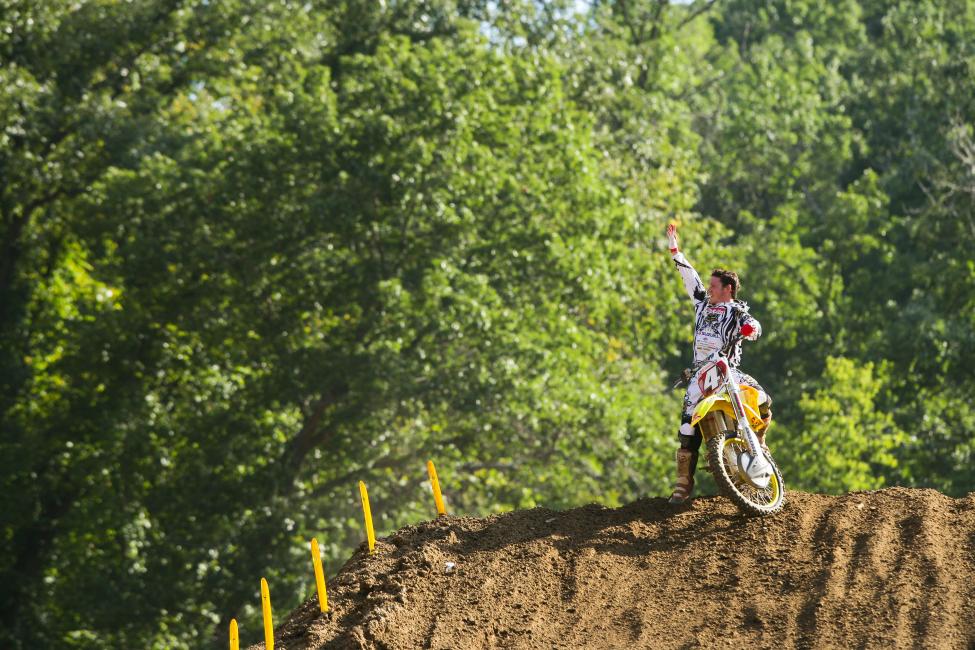 NO REST FOR THE WEARY (Steve Matthes)
First off, I'm thankful that there's an off weekend this weekend and next. I think it allows everyone in the industry to exhale and relax a little bit….
Everyone but the mechanics, that is! There is no doubt that the busiest stretch for the sport's unsung heroes is the week before Anaheim and the week or two before the first outdoor national. Generally speaking, the mechanic has to completely build a test bike for his rider during supercross, so you're doing your normal work back at the shop and somewhere in there you build a bike completely new. While you're testing out at the outdoor tracks, you're always thinking about what your SX bike needs and making sure that you're keeping up on that maintenance.
Then supercross ends and you break that bike down. Nowadays the outdoor-spec motor and the indoor-spec motor are pretty close to the same thing. It wasn't like that back in the two-stroke days, but things are pretty standard now for SX and MX. You want a very powerful but very smooth motor that you're able to ride hard for thirty minutes plus two laps. With the advent of electronics here, you can do a lot with ignition mapping and EFI programs to help you with that while the internal parts of the motor (piston, cams, transmission) stay the same.
And now that SX is over, the real work begins. It's getting to the shop at 7 a.m., loading up the box van, and heading to Glen Helen, Milestone, or Competitive Edge for a day's testing. It's there that you change triple clamps, suspension, bearing races, linkages, and everything else out there in the sun and wind. Your "breaks" are when the rider is out on the track and you're working the stopwatch and pit board to give them their times.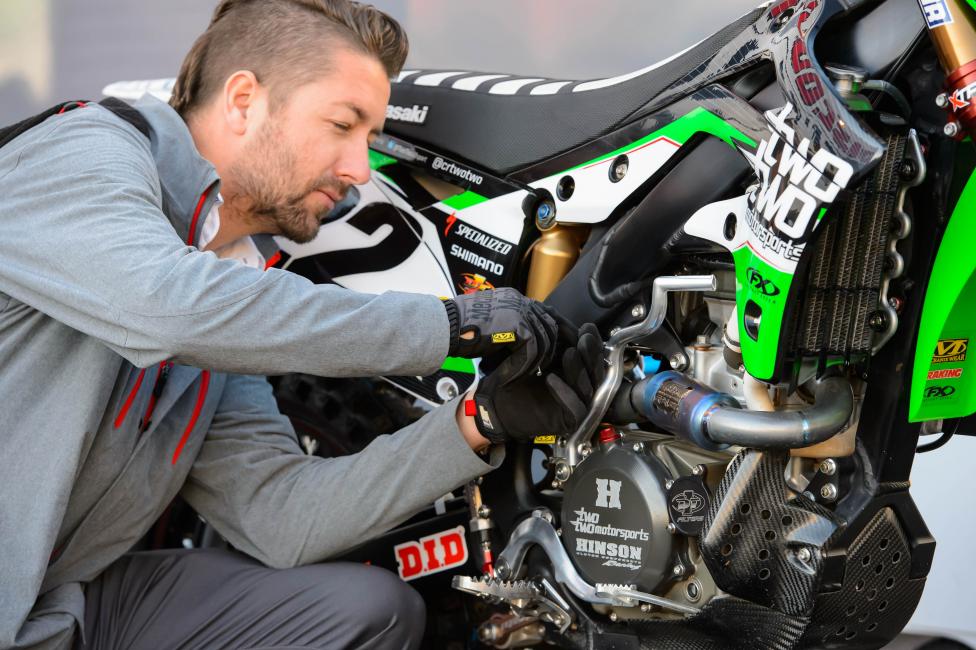 After the day is over you're driving back to the shop, unloading everything, and washing the bikes, changing the oil and clutch, an air filter, and anything else you need to do for that next day's test session at 7. You're sunburnt, tired, your hands and feet are sore, and things are just ramping up for the next day....
I can remember many days like these. Sometimes your hands are sore from pulling wrenches all day, they're cut up (contact cleaner in cuts is always awesome), and it's three to four days a week of this for the next couple months. You're basically maintaining a race bike in between being out on the track. Weekends off? Nah, probably not.
When you're a mechanic around this time of the year, you can't wait for the races to begin so you can get back into your normal routine and relax a little bit.
Let's put it this way: It's not a lot of fun out there at the tracks right now.
PLANNING AHEAD (Aaron Hansel)
Red Bull KTM's Ryan Dungey is one of the best racers in the world, so it came as a bit of a surprise when I heard him say he was still trying to figure out what makes him tick in supercross while being interviewed by GuyB from Vital MX and myself immediately after his runner-up ride in Las Vegas.
"Since winning that championship in 2010 it's been very hard," Dungey said. "We've had some runs where we've been dominant in supercross and motocross, but supercross hasn't come easy, and I feel like I'm trying to find myself there and what makes me tick. I feel like I learn something every week, and it's forcing me to think about things more."
He admitted that not winning is killing him, and when asked what he wanted to change for next year he replied, "Consistency, wins, and … you know those races where you look back and know you needed to rise to the occasion? I want that. I want to rise to the occasion and take charge."
Dungey's obviously looking ahead, and luckily for him, so is KTM. In the interview, Dungey mentioned that he's already had a chance to ride a the 2016 bike and that he thinks it's going to help him take his game to the next level in supercross next year.
But wait, we said 2016, and next year is 2015. What gives? Turns out KTM is going to roll out another replica bike, just like when Dungey first joined the team in 2012.
"We have the 2016 bike coming for next year," Dungey explained. "We got to test that on Monday, and I think we've got some good stuff there. We've been on this bike for three years and it's been a work in progress, but I think we've done a good job. But this next bike I think is going to elevate our team that much more. It will be a 2016 bike next year that we'll be running in 2015. They're going to make a replica bike and build enough of them so that we'll be able to race it [according to AMA homologation rules]."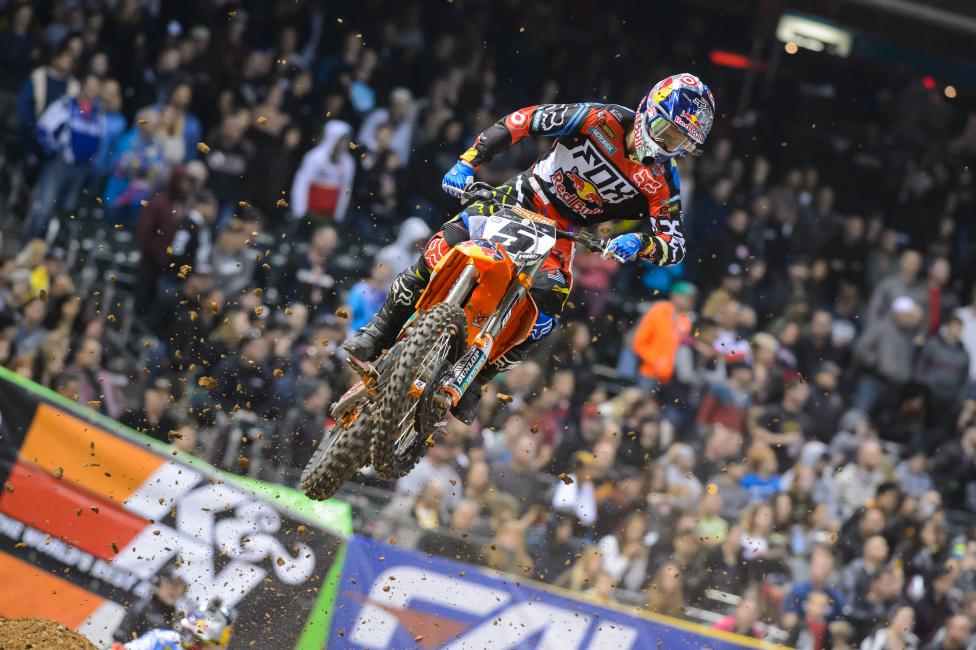 We'll have to wait to see if the bike brings Dungey another championship, but you can bet it's going to be a very cool piece of equipment that gets plenty of attention.
And if you're wondering about how the new bike will affect Ken Roczen, it probably won't, because he'll probably be racing against it—several sources are saying he will be riding an RCH Suzuki beginning next year.
THE ROOTS MX (DC)
I've been lucky enough to be around motocross racing and the motorcycle industry for most of my life, and along the way I have seen some pretty innovative things seemingly come out of the blue—new bits that have practically stopped me in my tracks and made me think, Wow, I don't know where that came from, but that could be a game-changer! Some of them really were, too, like the first time I saw Crusty Demons of Dirt, or watching Jeremy McGrath throw his nac-nac for the first time in (AMA) supercross at Orlando '94. (Of course there have been other times when I have been impressed by some new products that never really caught on, like Slater Skins, Start Bars, and those funky little Bob Hannah De-Handlers.)
I bring all of this up because yesterday I got an email with a link to something called The Roots MX, a new digital magazine about "the roots of motocross." So I clicked on it and started combing through it....
Wow! That's all I can say. The Roots MX is a very well-produced, easy-to-navigate product—well done, considering this was its first drop at a starting gate. (In other words, it's no Cannondale.) It was built by Rachel and Jason Witt, who did track support for Lucas Oil at all of the outdoor nationals and many amateur races last, as well as Ben Le-Haise. The Roots MX also includes video support from Austin White, which is a big part of what we liked about this piece: The videos are embedded in the pages of race reports, and it features all kind of fast kids and cool tracks from the West Coast and The Road to Mammoth. Oh, and one other thing: it's free. That's always a plus. Check out The Roots MX right here.
I spoke to Rachel Witt today about The Roots MX and she says it's something they have wanted to do that just brings together all the events they attend through photography and video and the whole social media aspect of today, and just build the readership by giving it away and sharing their work with fellow enthusiasts. So give it a look. I'm sure we will be seeing a lot more of The Roots MX in the weeks and months to come.
And while I'm thinking of it, there's another product to keep an eye out for soon that should also be extremely well-polished and clean for a first-time offering: Vurbmoto's META motocross book. We've seen some glimpses of it and it looks very impressive; check out a preview right here.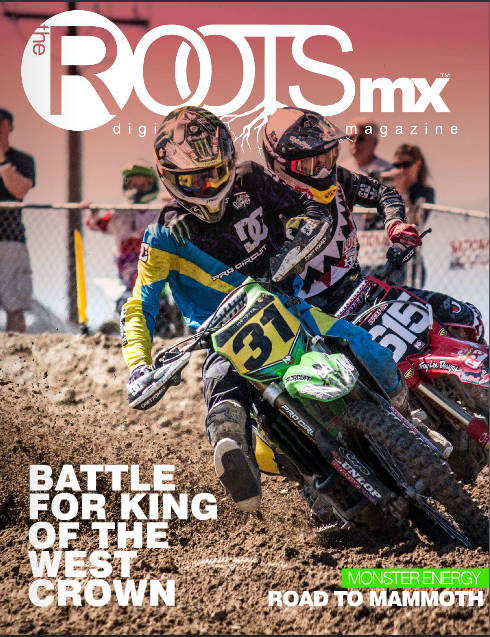 THE NUMBER: 4 (Andras Hegyi)
Dean Wilson is the first rider to ever win a main event in four consecutive seasons in 125/Lites/250 SX category. He is also the first motocrosser to not win a championship while having eight wins in 250 SX. Wilson is the twenty-first rider to get at least eight wins, and all of the other twenty won a championship. Wilson is the fourth rider to get eight wins, joining Travis Pastrana, Denny Stephenson, and Keith Turpin in that category. Again, those three riders all have a championship; Wilson doesn't. But he does have that AMA 250cc National Motocross Championship from 2011.
WMX (DC)
Earlier this spring, BJ Smith came to Morgantown to work on a feature article about the current state of women's pro motocross. With all of the changes going on with the WMX, he wanted to document the status of where the sport has been and where it's going for ESPN. BJ is a longtime television producer and journalist and a regular contributor to Dirt Rider and occasionally Racer X as well. The piece came out yesterday online, and I think he did a very good job of presenting a complex problem: what to do with the WMX now that it no longer fits into the Lucas Oil Pro Motocross Championship. You can check out the article and the accompanying video right here.
One thing I would like to clarify from the video portion: Multi-time champ Ashley Fiolek conveys in the video that we were replacing the WMX with a 125 class. That is not the case. There is not enough time in the one-day format for any other class, be it the women or 125s or anything else. I'm sure people were talking about it when the decision was made to move the WMX out of the series, and while it would certainly be an interesting class to add, MX Sports has no intention of adding a third division of any kind to the Lucas Oil Pro Motocross Championship.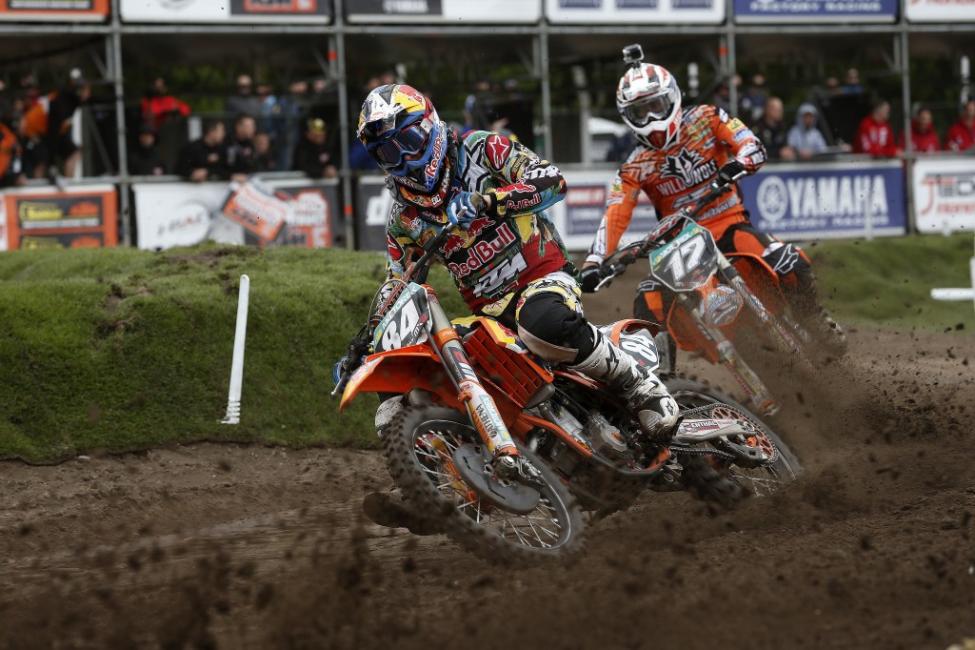 HERLINGS (Andras Hegyi)
With his fifth straight win in the sand at Valkenswaard in his home country of the Netherlands, Jeffrey Herlings has already reached another legend on the all-time Grand Prix wins list. The young Dutch phenomenon has thirty-six GP wins, matching him with the five-time 500cc World Champion Roger DeCoster. But the 20-year-old Herlings got there much quicker than The Man. Herlings is running his fifth GP season, while DeCoster needed fifteen seasons to get to thirty-six wins. DeCoster raced in the between 1966 and 1980, winning in his last year on a Honda—and at 36 years of age!
How is this possible? The GP schedule is much longer now than it used to be, with seventeen races each season compared to ten to twelve when Roger was racing. And Herlings has been just plain dominant in the MX2 class, winning the last twenty-one races he's entered (he missed two in the last two years with an injury).
And speaking of Herlings, he will be leading the MX2 riders into Talavera, Spain, this weekend, a return to one of the more popular tracks of yesteryear. You can watch it on www.mxgp-tv.com online for a fee, or watch it free sometime Sunday evening on CBS Sports Network.
HEY, WATCH IT!
Here's a quick preview of the 2014 Lucas Oil Pro Motocross Championships, which begin just 15 days from now: May 24 #GlenHelenMX.
Gregg Brotman of Radmx.com sent us a link to his very cool highlight reel from the Ricky Carmichael Daytona Amateur Supercross a few weeks back, featuring some of the top fast young riders in the country.
HEADLINES OF THE WEEK
RYAN VILLOPOTO TRIES TO PUT THE RUMORS TO REST
Listen up Blowhards! Ryan says, "As for me, I still plan on racing."
Motocrossactionmag.com (Monday)
VILLOPOTO IN, OUT, IN & FINALLY OUT
"Did he mislead his fans? Couldn't Ryan could have told the truth weeks ago?"
Motocrossactionmag.com (Tuesday)
RANDOM NOTES
Got a note from Chris Williams, who will be working on the Lucas Oil Pro Motocross Championship with Lucas Oil Studios, after the Las Vegas Supercross:
"I was watching Vegas SX from the comfort of my couch and I damn near spilled my drink when I heard Ralph say something along the lines of, 'In fourth place is Bracken Hall from Wyoming." Being from the Cowboy State myself I rarely find people in this industry who've even BEEN to Wyoming, let alone a fellow native. That's the first I've ever heard of someone from wyoming qualifying for a 450 main. Has anyone from Wyoming ever qualified for a supercross main event?"
Not that we know of. Anyone out there know if Wyoming has been in the results over these past forty years of Monster Energy AMA Supercross?
Williams himself added, "I poked around on each rider page and searched for WY. Someone from WY finished 17th in the 250 class at Lakewood in 1984. Another rode and qualified for a few 450 nationals from 2005-2009 and earned 1 national point. But I couldn't find anyone who had raced a supercross main event. You might have a bonafide first-ever there! I've never heard of Brecken Hall before, but considering it snows like 8 months out of the year in Wyoming making the main event in Las Vegas is pretty impressive!"
The MX Track Builders just finished an impressive side-by-side supercross track down at MotoRanch. Want a track like that? Keep up to date with the latest track building projects at mxtrackbuilders.com. To schedule your next track building project call them at 847-204-9817.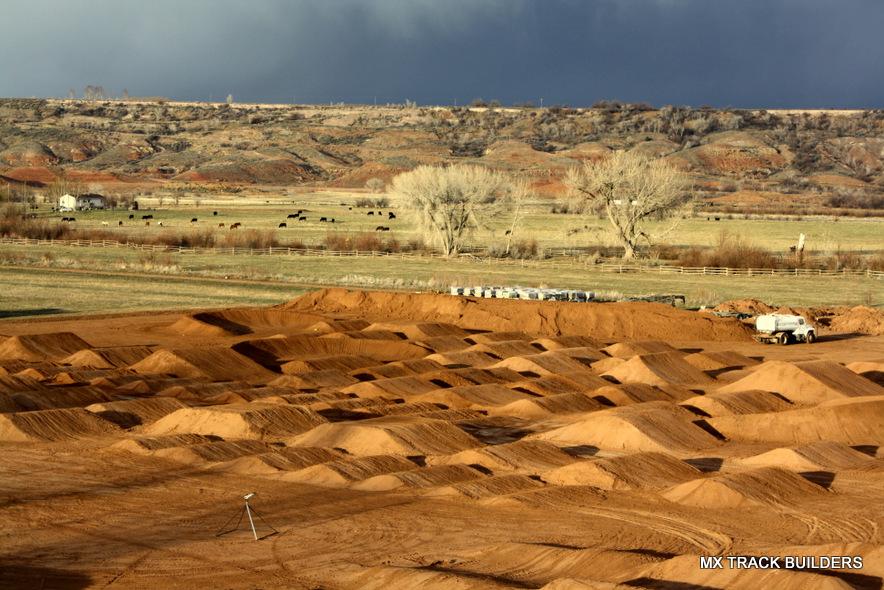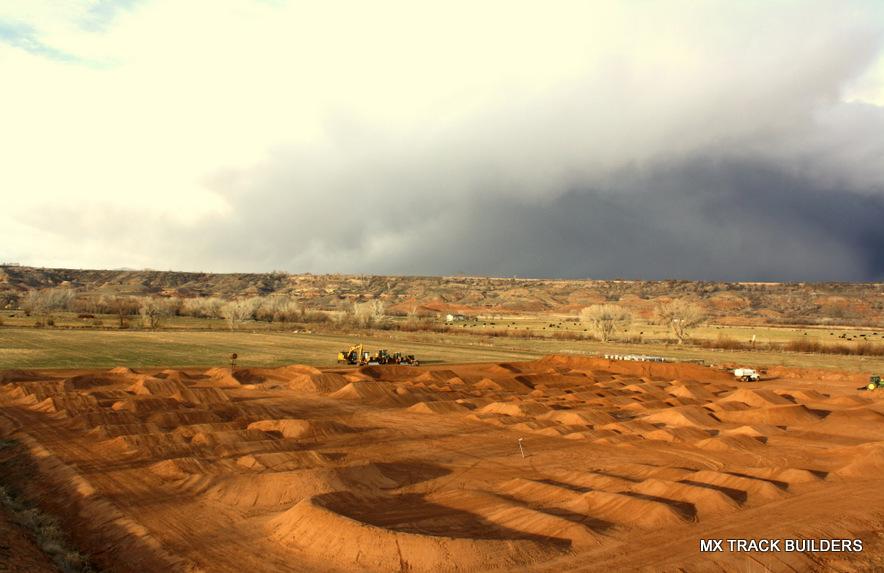 The great Bob Hannah and Paul Buckley team up to talk about The Hurricane's favorite tracks with some sweet photos here.
Former factory rider David Vuillemin answers the questions from Las Vegas SX here.
For the latest from Canada, check out DMX Frid'Eh Update #20.
ProMotoFan.com just announced the winners of their 2014 Fantasy Supercross Championship. Check it out at ProMotoFan.com. While there, you can also register for the upcoming Fantasy Motocross Series.
Swizcore over on Pulpmx.com thinks that this RV injury stuff is nonsense and who cares? Here.
That's it for Racerhead. Don't forget about Mother's Day on Sunday. Two weeks to go until Glen Helen.... See you at the races!