By Jason Weigandt and Steve Matthes
Ryan Villopoto, Monster Energy Kawasaki, 1st in 450SX
Nice ride, this is what you wanted. Had to go to the Semi but more track time for your fans.
It was good, I might have taken Mike's [Alessi's] gate again [like last week]. Because I was on the left side of the gate.
No, he was on the right.
Oh, okay. Yeah it was good. I did feel off in the qualifier, even in the Semi I didn't think I was that good.
What was wrong?
I don't know. I just didn't feel that good.
Nervous?
No I wasn't nervous. It took me three starts and the third one finally I didn't get a good start. First one I was late, second one I felt like I got a good jump but I spun a little out of the front. Third one was good. Track was—I thought it would be a little bit better, not as gnarly, from what it looked like on track walk and stuff. It was treacherous.
Guys said the bottom of the jumps were bad, the transitions.
Yeah, but the ruts didn't go all the way to the top, they started at the bottom and kind of faded as you went toward the top. Wasn't as bad as having them go all the way up the takeoff.
Nice main event. I didn't see you making any mistakes. Stew was maybe catching you a little bit at times, maybe it was lappers, but I'm sure you were marking him, and then you pulled away at the end.
No it was good, I knew where he was. He was jumping that quad or something.
Which was not really faster. Did you guys time it?
No we didn't time it. I wasn't thinking about jumping it. Definitely knew where he was. Lappers were a bit of an issue I'm sure for both of us, but I was able to get through them pretty quickly and keep focusing on hitting my lines. The more laps we did the harder the track was getting.
The main event was maybe the best you rode the whole time and the track was the gnarliest.
Maybe the first practice.
Yeah, but they don't time those.
They do, they just don't count. Was I on top of the beast?
Yeah you were but…
Yes! There you go, Matthes. I was on top of the beast. If you had a camera you could have taken a picture and said "Fastest in practice."
Okay, okay. Lots of pressure for you in Seattle here. Obviously you would have wanted to wrap it up but you didn't quite do it. But you have lots of family and friends—does it take away from focusing like you would in a place like St. Louis or whatever?
I don't think it takes away from my focus, but I've definitely had some good races here—I won my very first supercross in the 450 class here, but I've had some bad ones too. It was nice to have good weather here.
So you can just ride around in New York. You could get 19th and still probably clinch this thing.
I don't know. What is it?
You have 48. So…18th.
You were wrong.
[Laughs] Well, I'm sure that's the plan, ride around in 18th.
Yeah, but there's a truck on the line.
Yeah, the three race series for the Toyota truck! You're one point back! So you can go up there and talk about your Raptor again.
Yeah so I can talk about trading it in for my Raptor. – Steve Matthes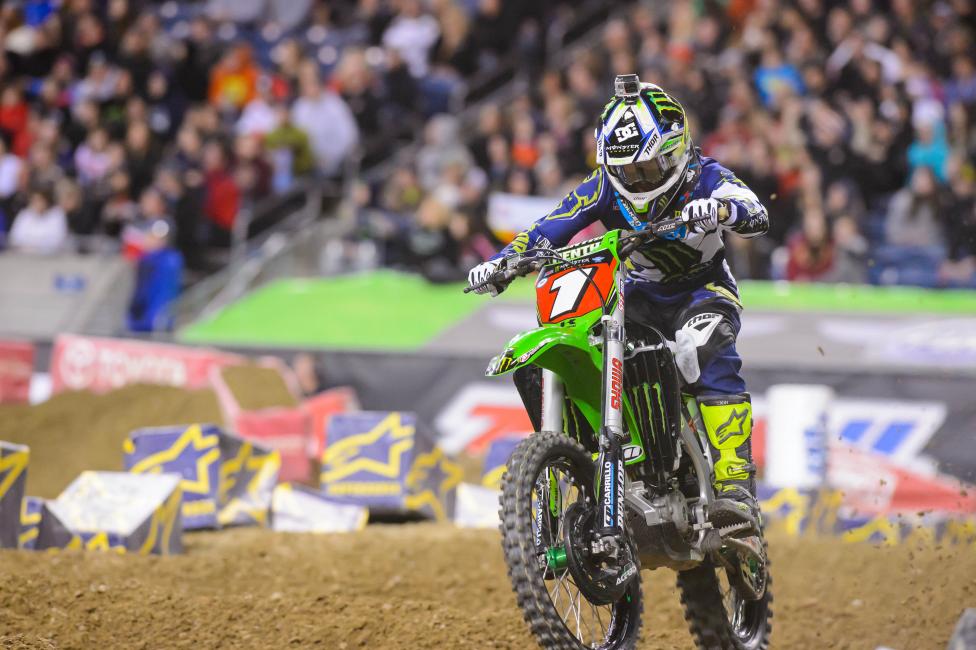 Eli Tomac, GEICO Honda, 4th in 450SX
That was one of the best of the year, maybe the best.
It was the best for me. The other race I got the podium it didn't really feel like a real one because obviously the best guys kind of crashed. A podium's a podium, but here we are. This was my best race. On the start in the main actually Weston Peick flinched next to me, and then I had a big flinch too. I was somewhat lucky on where I came out. It wasn't too bad. Had to make a couple passes. I battled with Shorty, and we battled in the heat race a little bit. After that I kind of settled into fourth and Dungey was in front of me. We were yo-yoing each other like crazy. I was like, I might catch him a little bit, and then he would pull it out a little bit. Really was the guy who was nailing the rhythm sections. For me, I was struggling on, there was like this little 3-5-3 if you want to call it that after the mechanics. That was the section that was kind of balling me up where I felt like I could have been better. If I would have had that maybe I would have caught him. But every guy in front of me is a crusty old veteran so maybe I'll be there soon. Just need a few more races under my belt.
So what's turning around here? Last week I thought was good. It's definitely some progress these last couple weeks.
I actually made quite a few bike changes today, found a better balance towards the end of the night. Found my best setup during the heat race and the main, so that was good. And then me just getting better and better and healthier.
How is the track? It seemed like you could mistakes pretty easy the way the dirt was. Is that the way it was?
It was kind of like a normal, nasty rutted track. It wasn't like a typical Seattle, though. There was a lot harder base this year. I don't know if it was stored differently or if it just didn't rain as much. Normally it would be really bad, like almost a mudder. This year it was like a normal East Coast track.
But it had like motocross bumps.
It did. After the set of whoops there were some good bumps, some good chatter. Then the second set of whoops before the finish line, that was kind of nasty and a little bit sketchy. There were some monster ruts in that section I was struggling after the mechanics. Huge ruts, like full peg-draggers.
And supercross bikes are not good in some of that chatter?
No, just getting kind of chattered, bouncing around, not hooking up.
You're happy?
I'm happy. It was solid. It sucks being the guy not on the podium, but it's an improvement. – Jason Weigandt
Andrew Short, BTOSports.com KTM, 8th in 450SX
You were in some battles tonight for sure.
Yeah, eighth place. I had great starts tonight. I felt really strong. Towards the end I had a really hard time adapting with the track; it deteriorated a lot more than I anticipated, especially after we went backwards down the start straight, that next triple. I really didn't know how to attack that once I couldn't complete the triple. I kept casing it. I went inside, the rut was so big. I was mind-boggled. I needed to plan a little better ahead, but overall one of the toughest Seattle tracks I've ever ridden.
Really?
I mean, the mud is obviously difficult. When it's like that you just go with it, but for the conditions, the great weather, it was tough for me.
So even some of the not super muddy ones, the kind of inbetweeners, this was harder than those, even though it was totally dry?
I thought so. It kept me on my toes the whole time. I felt like there was no rest, and I was surrounded by guys the whole time. I felt like I was getting dogged on the inside. I didn't know if I should block the inside and go outside. Nights like tonight are really fun for racing and that's what I live for. I wish I would have came out a little better but I'm looking forward to these next two races to try to finish off the season strong. I feel like it's been a good year so far. – Jason Weigandt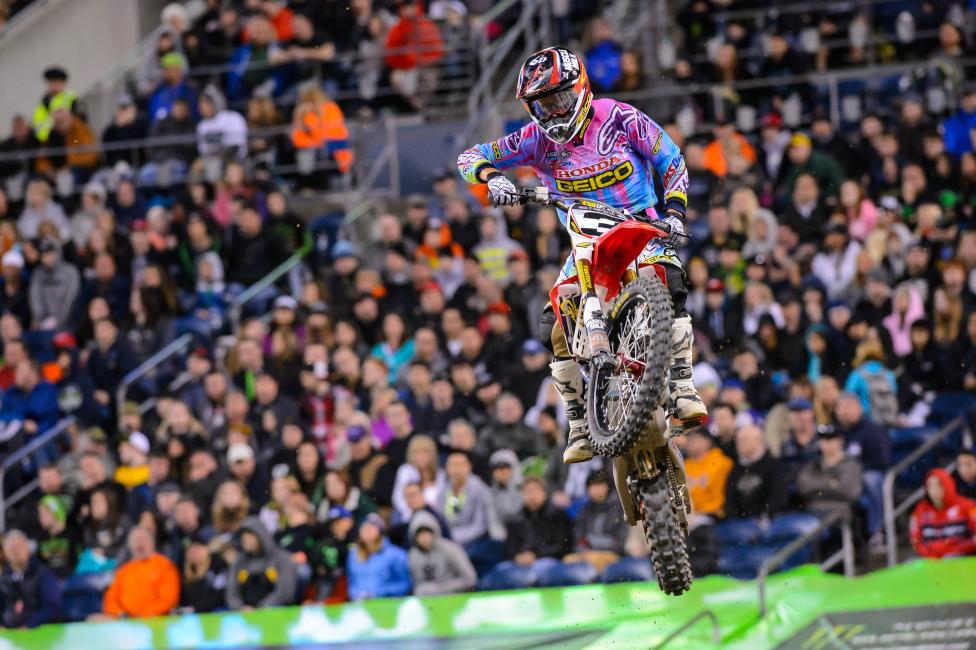 Justin Hill, Monster Energy/Pro Circuit Kawasaki, 3rd in 250SX
That was a wild race. That was a lot of passing, a lot of battles, a lot of action.
A lot of cat-and-mouse and stuff going on. I didn't come into the night feeling so good. I had a lot of crashes and just kind of told myself I was all right all day when really I was hurting quite a bit. But we got through it and got on the box. To me, how I feel, box tonight was great, just because of how the week went and last weekend. I'm happy to do well again before another little break and spend some time with my family over Easter. It is my home race so I get to spend time with family and friends for this week. Then get back on the grind again for Vegas and outdoors.
Did you crash when you were riding up here?
I crashed in press day here on Thursday, I crashed really bad. So that's what did me in.
So most of the week while you were home you were okay?
Yeah, actually my days at home were awesome. My tracks are good and all that. My days at home are good and I'm hoping to have some more days while I'm here that are good. It was just press day, but I'm all right. I'm just sore. I'm just going to hobble home and get better and get back to training.
So you should be able to ride this week and stuff?
0h yeah, I should be all right. I'm just limping around is all. Just banged, and bruised up. – Jason Weigandt
Weston Peick, Motosport/Peick Racing, 11th in 450SX
I started out about seventh, got a pretty good start, so I was running around in seventh for a while, and Barcia ran me real high and I just lost the front end and went down pretty hard. I was about 13th place and was just trying to get myself back together and get to 11th place. I was trying to get to the front but I couldn't go much further, everyone had kind of checked out. I ended up crashing for the second time. It wasn't the best night and I salvaged 11th after nothing in the last two. This year it's been top ten or on the ground. So I'll take the positive and be happy being on the bike at the end of the night. – Steve Matthes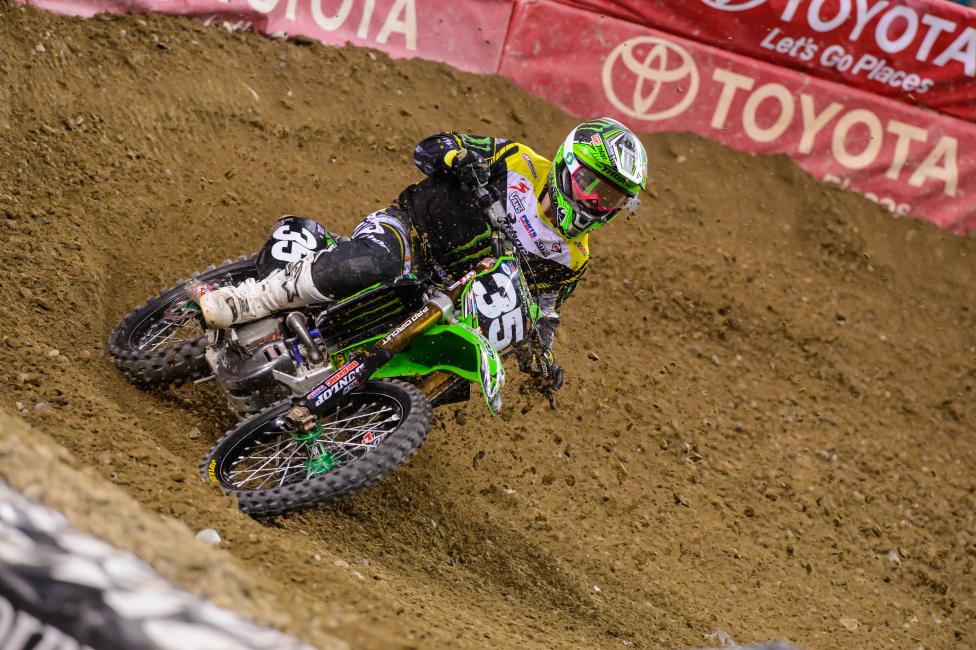 Dean Wilson, Monster Energy/Pro Circuit Kawasaki, 4th in 250SX
Look, you can holeshot and take off and win one of these by 20 seconds, or you can do what you did tonight. Kind of the way things are going for you these days.
Yeah, honestly, I'm disappointed, but I'm out of the points so it doesn't hurt as bad. I just want to win races. I'm always there and always have the opportunity to do it but somehow I'm not getting it done. I don't know, silly mistakes on my part. Probably trying too hard to win, I should be like "Who cares?" but I care too much. I want to win. I just need to learn from it. My starts were incredible tonight so I'm pumped on that. Heat race, just trying to keep the fans excited, I crashed while out front. It was pretty gnarly but I survived that and still won which was awesome. The main event, got the holeshot and that one felt really good. The first lap, I went inside with the whoops before the finish, I was just trying to shorten the track up and I tried jumping through the whoops. I went in too hot, stood myself up and Seely got by me. I was just trying to stay calm and go after Seely, I went for the pass, washed the front end and that was all she wrote.
I like that you're not making excuses.
Thank you. My bike has been awesome, my riding has been really good. The first step to being successful is you have to be honest with yourself. I know what needs to be done. This sucks, the opportunities have been there and I haven't gotten it done. – Steve Matthes
Michael Leib, Rocket Exhaust, 11th in 250SX
I'm tracking the Michael Leib/Jake Canada battle to see who will do the most with the least, but Canada pulled some points on your tonight.
Yeah, we came in tied, but Canada definitely pulled some points on me tonight. It was tough, these two weekends we knew would be difficult, we didn't even think we'd be able to do it. I broke my leg and tore a bunch of ligaments in my ankle four weeks ago, so to only be three points behind Canada, that's kind of a win for me. I was running sixth or seventh but kind of made a rookie mistake. Malcolm [Stewart] was sliding his rear around this corner all night long, and I just put my front wheel where he put his rear wheel. It wasn't a dirty pass, it was a stupid mistake on my part. – Steve Matthes