Rogers Centre
Toronto

,

Canada
Toronto
Monster Energy AMA Supercross Championship
What the hell was going on here? Blame Canada? This was one of the craziest days and nights in recent supercross history, with drama and problems for both points leaders, an insane come-from-behind charge for the win by James Stewart, and some hard knocks for others, too. All in all, a weekend that reminds us that no lead is safe in racing, and anything can happen at any time.
Such as? Ryan Villopoto didn't even ride a single lap of practice all day, instead spending the afternoon at the hospital and using the provisional rule to get the 21st gate pick in his heat race. He had food poisoning. Wait? Provisionals? Didn't they go away years ago? Ah, you're thinking about the old "top ten in points gets a gate in the main event even if he doesn't qualify" provisional. That rule is indeed gone. The new rule says top ten in points get an automatic heat race gate even if they don't qualify (or even ride) in the afternoon (Monster Energy conspiracy theorists, calm down, Josh Grant hurt his shoulder at round two and didn't qualify through practice but they were readying the 21st gate in the heat race for him, although he chose not to race in the end). So RV took the bad gate in the heat, started okay, finished about ninth, then qualified through the semi and looked to really be struggling in the main. But he put his laps together and ended up a decent sixth to salvage points—he actually passed a few riders down the stretch. For a while, though, it could have been bad—Kawi people really weren't sure if he was going to be able to race at all. "We made the best of a bad scenario [today]," said Villopoto. "I woke up in a lot of pain this morning and the Asterisk Mobile Medical Crew thought it was best I [go to the hospital] to get checked out. I got out of the hospital and was lucky to make it in time for the night show. We salvaged a lot of points and I'll go to the doctor back [home] in California to make sure we're ready for St. Louis next weekend."
Adam Cianciarulo had been doing a great job riding like a consistent veteran, but the law of SX averages caught up to him this time. He crashed bad early in the first untimed practice and popped his shoulder out (busy day for Aldon Baker, eh?). The Asterisk medical team popped it back in. He went out and got 14th in qualifying. Then he got a good start in the main and looked solid in second until the shoulder popped out again, so he went back over to the medics and got the shoulder popped back in so he could rejoin the race. That lasted a lap, until he finally pulled off for good to hand over the points lead. The kid definitely showed he's got heart!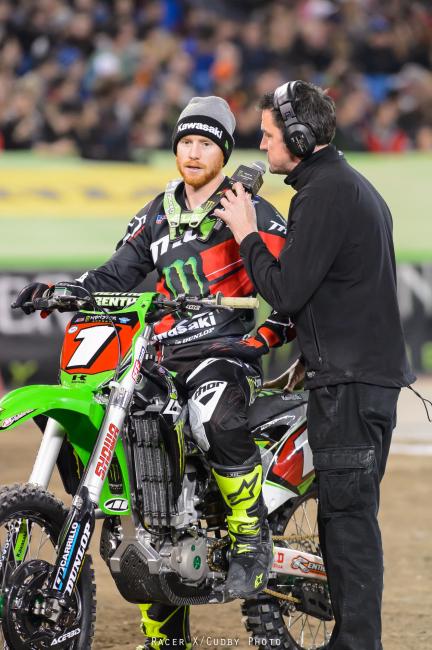 Meanwhile Justin Bogle went out and won his first ever 250SX. Bogle's been through some hell in the last two seasons, knee surgery, missing all of supercross last year with a broken wrist, and nearly all of it again this year with a broken back. But he made it back for Dallas, rode well at the first few races, and found another gear last weekend in Detroit. He carried that forward to Toronto, where he snagged the holeshot and just took off—this one was just in the cards for him. Now, your next question should be: "What if Bogle wasn't coming back from injury at the first few rounds, where would he be in points?" Well, you don't have to worry about that because thanks to Cianciarulo's problems Bogle is actually back in the title hunt anyway, sitting third just five points down. "I'm definitely happy," Bogle said. "Both of my parents are here, my birthday is tomorrow, I got my first win, pulled a holeshot -- finally, first time in my professional career in Supercross. It feels good, definitely. I'm in the hunt for the championship, but I don't want to think about that. What got me back in the hunt was trying to win races and going out and doing my thing. I'm going to keep doing that, and it'll play out how it plays out. Hopefully, it plays out in my favor."
And we really, really wonder if AC will be able to go next weekend now that he's popped the shoulder out two times. The East gets three weekends off after that.
Martin Davalos is your new points leader, but there was so much drama in Toronto that his mega crash in practice last weekend in Detroit seems but a distant memory. He gutted out a sixth last week and that now looms huge in the standings. On this night, Davalos was fastest in qualifying (of course) and won his heat (of course) but couldn't match Bogle in the main. He also then washed out, fell, and almost got caught in the podium battle. So here's the 250 East title battle in a nutshell: a rookie with a now jacked shoulder, Davalos, who has been down at some point in nearly every main event this year, and Bogle, who hadn't even won a supercross main until a few hours ago. 250 East, you so crazy!
Yes, Blake Baggett was once in the title hunt, too, and he was coming through traffic after a (shocker) bad start and making a bid for third. Then he crashed, and the throttle literally got ripped off of his bike. That was the end of his night. Matt Lemoine represented for the privateers with a strong third, winning a duel to the finish with Jeremy Martin, who also had his best ride of the year and ended up fourth. Lemoine really turned it on last week in Detroit and brought that style here for the podium.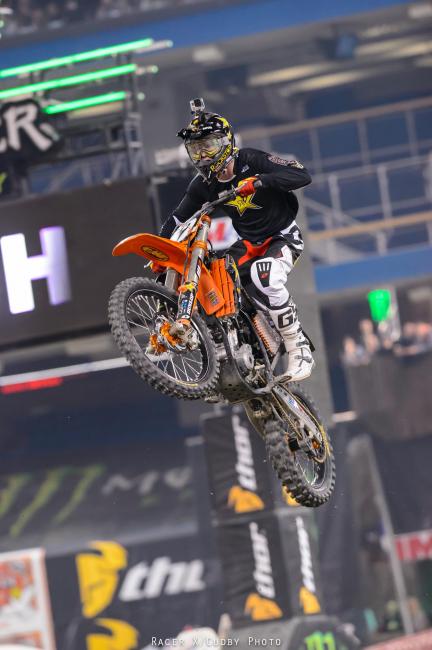 Now let's return to James Stewart, who we mentioned at the top as the race winner in 450s. This was old school James Stewart. Bubba-style James Stewart. He had a terrible start in the main and had no business even thinking about winning—he was 14th in turn one! He was tenth early! He was a full straightaway behind the leaders! But then he started jumping crazy stuff. A triple before the finish. Something crazy in the next lane. And something even crazier in the next rhythm lane, and that allowed him to make up, at times, a second a lap on the rest of the field. The track was getting really rutted by the second half of the race and James was hitting the ruts in different spots because he was jumping different rhythms. It was impressive and the Toronto crowd loved it. They lit up with each pass and the growing idea he could get the come-from-behind win. He picked off Ryan Dungey, then Ken Roczen, then Justin Barcia did his best to hold him back but it wasn't happening. James was just ridiculous on this night. His 49th career win makes him second all time now—to think back in January it looked like Chad Reed was about to pass him for third. "That was probably one of my best races ever, I'm speechless," said Stewart. "To pass [Ricky] Carmichael and move into second on the all-time wins list is special. This hasn't even set in yet. The fans kept me motivated tonight. I heard them through every pass, it was great."
It was definitely Barcia's best race of the year. He finished second and looked to have the win in hand until Stewart started going nuts. Dungey's third was a typical Dungey third. Also impressive was Justin Brayton, who was back on after a few bad races. He finished fourth, but was one of the few jumping some of the rhythms Stewart had—in fact Brayton was actually the first to jump one of the triples, and Stewart picked it up from him. Brayton was on the gas late, got Roczen for fourth and closed up on Dungey, too.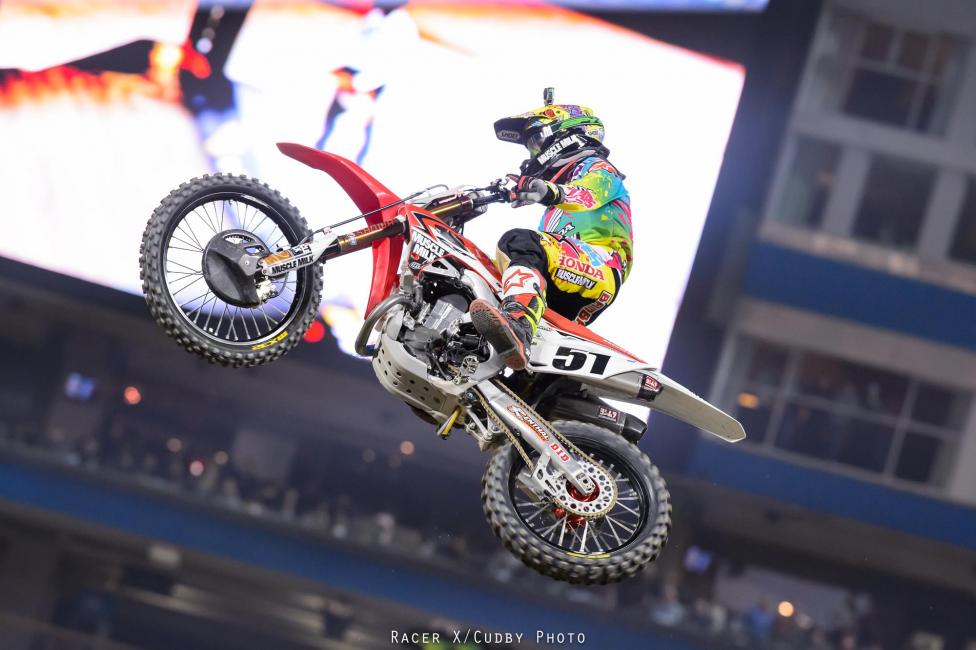 Weird one for Roczen. He holeshot the main, Barcia got him, but it looked like a private duel for the win between he and Barcia. The bottom fell out late, though, and Stewart, Dungey and Brayton ate him up, leading to a fifth.
We know there's a lot to cover here but we have to mention Weston Peick, who was on it again and snagged seventh. Dean Wilson was eighth, Josh Hill ninth and Matt Goerke tenth. Goerke has been much better the last few weeks, but it was an off night for his BTOSports.com KTM teammate Andrew Short, who had a season-long streak of top tens snapped with an 11th.