Ford Field
Detroit

,

MI
Detroit
Monster Energy AMA Supercross Championship
Yoshimura Suzuki's James Stewart is the same rider who won two in a row and looked ready to challenge for this Monster Energy Supercross Championship, except now he's coming off of three bad races and facing a massive deficit in points. He's still riding well though, and took off with the Detroit win on Saturday night. Even better, the win, the 48th of his career, ties him for second on the SX all-time win list with Ricky Carmichael.
Racer X: Talk about the start of the race, getting into the lead.
James Stewart: I got a great jump and I think I checked up a little too much going into the first corner. Guys were going down. When you hit the deck on the first lap or have something happen the last three weeks you're trying to stay up. My guys told me, if you stay up the first lap you might be all right. So I did that. Cole [Seely] was riding good. The track was kind of one-lined, so you had to kind of pick your passes. If you went in too deep you'll kind of lose the front and go into the guy. So I think I got him right before the finish line. I was able to get on the inside of him and get around him and just ride a solid race from there.
I saw one spot in the heat race about two turns from the end, I saw the front end go, big slide there.
Yeah I almost lost the front. The last couple weekends I feel like we kind of missed the setup for the main event. Last weekend I rode really good but its just two laps down [after an early mechanical problem] it doesn't really matter. But I kind of used that race as kind of a gauge, fitness, everything. Daytona's a tough race. But this weekend we struggled all day and even after the heat race I was telling those guys, we've got to get it. And we made the changes like we have been all year and we got it right for the main event. Definitely happy. The guys work hard. You give it 100 percent every week whether you win or get 20th but this always helps the motivation to keep going and try to build for the rest of the season and for outdoors. I think we've got six races left and I guess my goal right now is to see if I can get second in points, at least keep the top three, and I'd like to be second all-time in wins, that'd be nice.
Is that what it's coming down to now, is whoever gets the setup? Everybody's so close. You hit the setup, then you're in?
I think so. I think all day we didn't have the best setup. The track was really slippery. Last year I could go five or six races in a row where I just didn't ride good. But the last three races this year, it's unfortunate, I've been riding good and lost all those points. My season's been pretty solid when you consider how I've been riding, it's just unfortunate and it sucks to be riding the best I probably ever have, or at least the best I have in a few years, and kind of just run into some bad luck. But it kind of shows right there, if I get a start I can win races and it feels good.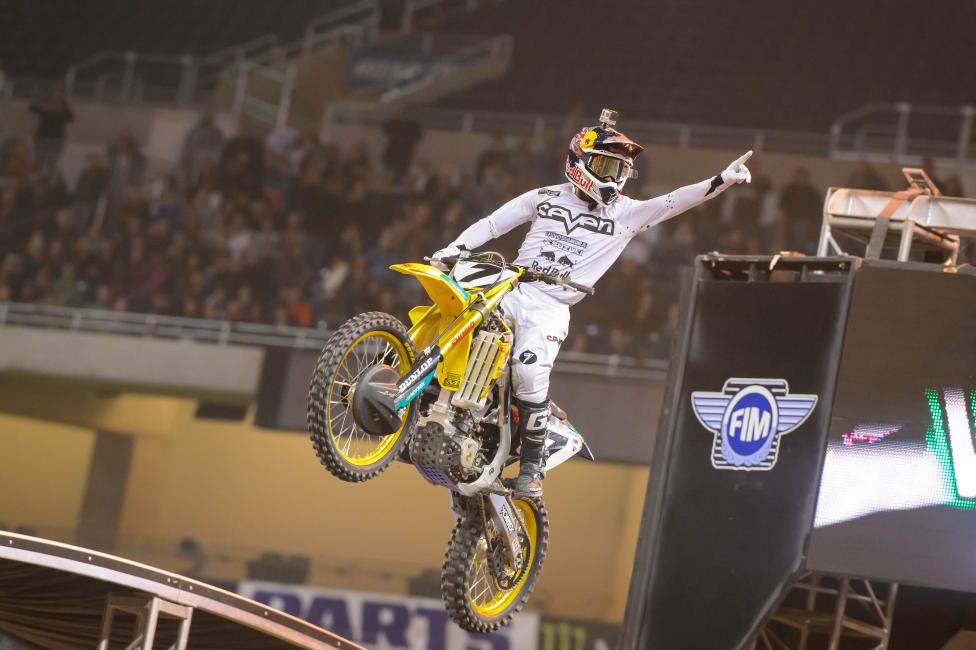 Later, Steve Matthes caught up to James again in the pits:
Hey, great ride, you pulled out pretty good but I guess at the end you did see him [Ryan Villopoto].
Yeah I was gauging him the whole race and was able to get a gap on him and pull away for a little bit… I actually stalled it out there. I got three little bumps and got it started. One more and I would have had to have pulled that kickstarter out. I was able to get it going and didn't lose too much time. The last couple of laps I knew where he was and I was able to ride it out to the finish.
We do this little pre-race podcast thing and we were talking about you specifically, you had the second best time, but I saw you go down twice, it was a little bit of a rough practice for you.
Yeah it was. We struggled all day. I think Ryan was riding really good all day—even in the heat race, we won, but it wasn't flawless. We just tried to make some changes. Again, I've been riding good all year, but it's unfortunate the last few races we lost a bunch of points, even riding good. I knew if I had a start I could be up there and win races, so I proved that and was able to do that. I was happy to save my best for the main.
At one point, two straight wins and you were only 14 points down. Fastest guy in practice at some races, but one first turn crash, one damaged header pipe, and one mistake by yourself, and you were 50 points down. It's got to be frustrating.
Yeah it is. It's frustrating to have that, but I was more frustrated last year to not even be that competitive for wins. Obviously the championship is almost gone, but I could still salvage second in points, or whatever. My goal right now is to try to beat Ricky's record, and tonight I tied it so that's special. The championship is the main thing, that was the goal all year and I really haven't changed that. I haven't really changed my riding, it's unfortunate what happened. The good news is I'm riding good, I'm probably riding better than I have been for the last few years, when things are right I can be competitive and get some wins. And even when things are right, sometimes we have some weird luck. I told the guys on the team that there's nothing I can do—it is what it is and I put the effort into it. We won tonight and it was good.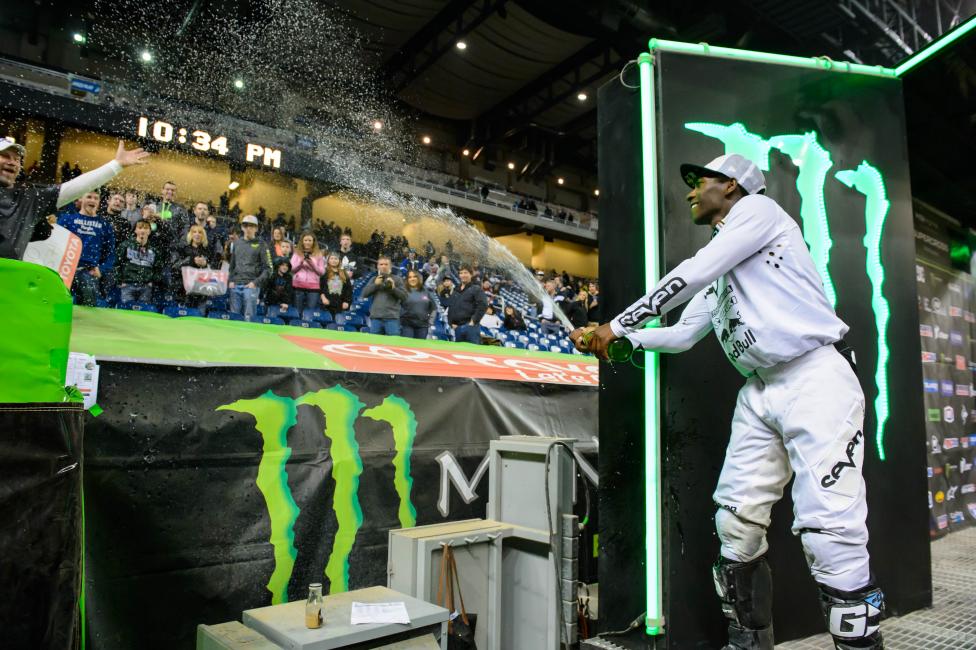 Props to you guys—I was a mechanic for a long time and I never brought an exhaust header down to the mechanic's area. So good job to at least salvage a few points there.
Yeah, two laps down. I was actually passing people. It actually took [mechanic, Rene] a few moments to recognize what was wrong. I mentioned something before the parade lap, we were having clutch issues and he thought it was that, so he never really looked down at the header, but he did it, I passed a lot of people, I was fast, I rode hard and finished 18th [laughs].
It's not over, this championship, but if you finish second and have the most wins—right now you're tied with RV with three—at least that's something you can hang your hat on?
Yeah obviously I want the championship, but I definitely want to be known as a guy that had the potential to win, and you prove it with race wins. The points are one thing, but all that I can say is that I put the effort in, and I kept the same attitude, and I think the team sees that.